HBL (formerly Habib Bank Limited) now referred to as HBL Pakistan is a Karachi based multinational bank. It is the largest bank in Pakistan.
Founded in 1941, HBL became Pakistan's first commercial bank, in 1951 it opened its first international branch opened in Colombo, Sri Lanka. In 1972 the bank moved its headquarters to the Habib Bank Plaza, which became the tallest building in South Asia at the time. The bank was nationalised in 1974 and privatized in 2003 when Aga Khan Fund for Economic Development acquired a controlling share.As of 2016, the bank has presence in over 25 countries spanning across four continents, including 1500 branches in Pakistan and 55 branches worldwide.[1] Habib Bank Limited About Us It has operations in Hong Kong, Kenya, Nepal.[2] HBL Corporate Information
| Title | Description |
| --- | --- |
| Details | |
| Type: | Bank |
| In Urdu: | حبیب بینک لمیٹڈ |
| Nick Name: | HBL |
| Name: | Habib Bank Limited |
| Traded As: | Karachi Stock Exchange |
| Industry: | Financial services Banking Capital Markets |
| Founded: | Bombay (now Mumbai, India), in 1941 |
| Headquarter: | Habib Bank Plaza, Karachi, Pakistan |
| Key People: | Nauman Dar President & CEO |
| Product: | Loans, credit cards, Savings, Consumer Banking etc. |
| Revenue: | ₨114.75 billion (US$1.1 billion) – 2015 |
| Net Income: | ₨35.1 billion (US$330 million) – 2015 |
| Founded: | 1941 |
| Customer service: | +92 21 111 111 425 |
| CEO: | Nauman K. Dar (29 Sep 2012–) |
| Total assets: | ₨2.20 trillion (US$21 billion) – 2015 |
| Number of employees: | 14,000+ |
| Subsidiaries: | First MicroFinance Bank-Pakistan Etc |
| Company Profile | |
| Location: | Karachi Pakistan |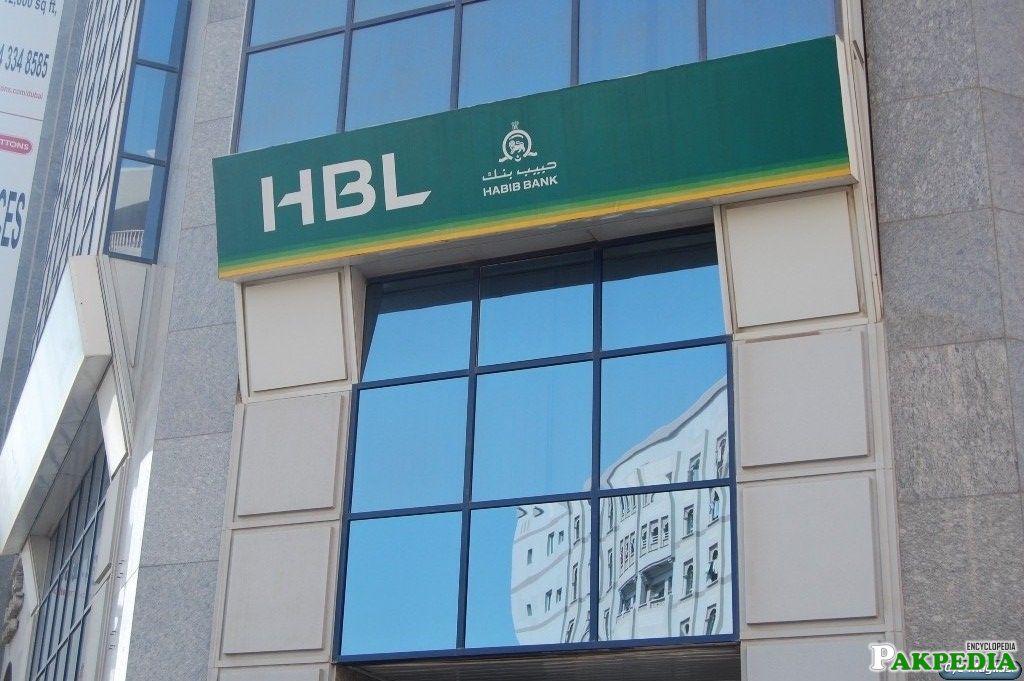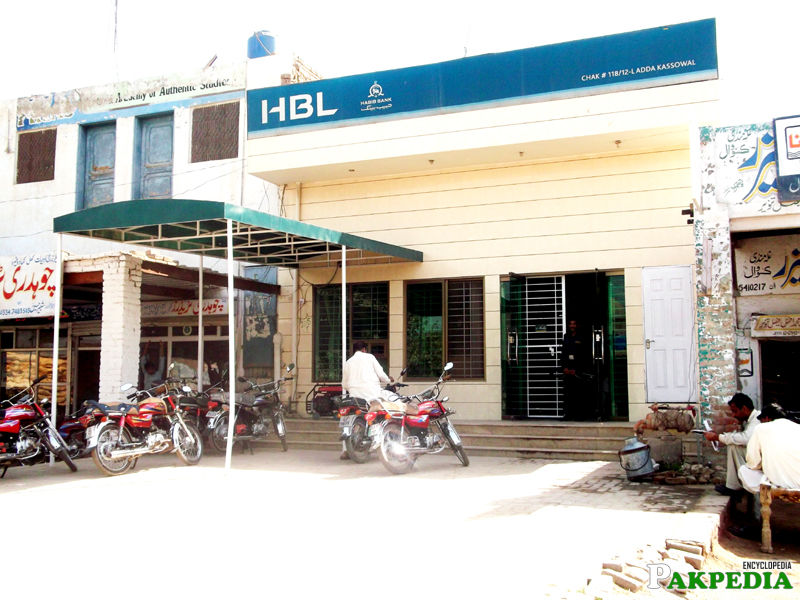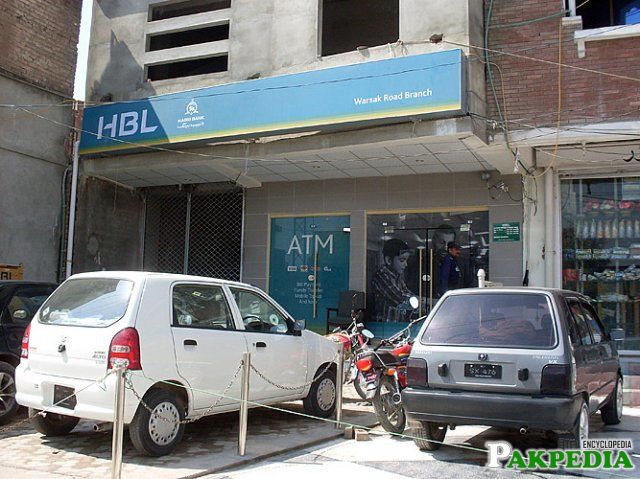 History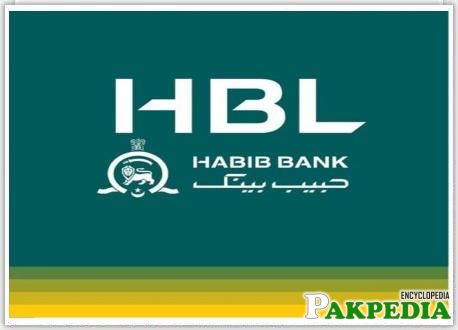 Originally established in 1941, HBL moved its operations to Pakistan in 1947 at the request of Muhammad Ali Jinnah, hence becoming the first commercial bank to lay its foundation in the country. Embarking on a progressive journey, HBL continued to grow and expand in the successive years. The Bank's first international branch opened in Colombo, Sri Lanka in 1951, while the construction of the iconic Habib Bank Plaza was completed in 1972, the year that also marked the commemoration of HBL's 25th anniversary.
With a sizeable domestic share HBL was nationalized in 1974. The Bank became a trend setter in the banking industry, acquiring lion's share in inward foreign remittances and a major market share in loans to small industries, traders and farmers. International operations expanded and HBL now operates in over 25 countries across four continents.
In December 2003, Pakistan's Privatization Commission announced that the Government had formally transferred 51% of HBL's shareholding to the Aga Khan Fund for Economic Development (AKFED) against an investment of PKR 22.409 billion (USD 389 million). In February 2004, management control of the bank was handed over to AKFED. By April 2015, the Government of Pakistan divested its entire shareholding of 41.5% through the Privatization Commission of Pakistan, thereby officially making HBL Pakistan's largest private bank.[3] Habib Bank History
Ease Rules for Banking
After successful negotiations by the Ministry of Commerce, Chinese authorities have eased the regulations for Pakistan's financial sector which will make it easier for Habib Bank Limited (HBL) to establish a branch in China.
HBL will be the first South Asian commercial bank to open a division in China. It will be located in China's northwest city of Urumqi.
HBL to Open Branch in China
The minister said after successful negotiations with the Chinese authorities under the Trade and Investment Agreement 2009, they relaxed their criteria for Pakistan's banking sector by curtailing the currency reserves limit from $20 billion to $15 billion.Additionally, the authorities waived the condition of operating successfully for three years and restricted the use of Chinese currency to only one year.
The banking channels will be opened under the Trade and Investment Agreement signed by the two countries. Under the agreement, both sides have agreed to provide concessions to each other in 11 sectors including the banking sector.
Dastgir was optimistic that the step would enhance trade facilitation between the two countries and they would now be able to open letters of credit with HBL instead of a foreign bank.
"This initiative will also help Pakistan's banking channel to reach the Central Asian countries bordering Urumqi."
China cuts cost estimate by another $200 million for Gwadar LNG pipeline
Replying to a question, the minister said availability of Pakistan banking channels in China would also be helpful in overcoming the challenges of over and under-invoicing in bilateral trade as most of the businessmen conducted trade through cash.
HBL Chairman of Board of Directors Sultan Ali Allana said HBL's initial plan was to cover the China-Pakistan Economic Corridor trade route and it would then expand its branches to other cities of China.
He said they had got approval from the Chinese authorities and the first branch would be opened in Urumqi before the end of current year.
"HBL has a long-term strategic plan in China and will broaden its channels in other cities in future with appropriate investment," said Allana.
The commerce minister appreciated the HBL's initiative to avail itself of the concession under the bilateral trade agreement. Following HBL's example, he said, other commercial banks would take steps to take advantage of the relaxation in rules offered by the Chinese authorities. [5] HBL Branch in China
HBL Profits
Banking industry has seen a shortfall in its consistent growth recently. In the first fiscal quarter of the year 2016, profits were down for various banks  as Habib Bank Limited saw a decline of 9 percent in its first quarter of 2016, and MCB Bank saw a 22 percent decline in its profitability.
Reasons for the shortfall in profitability include the heavy expense incurred for sponsoring Pakistan Super League in Dubai, declined income from interest and different sources.
According to financial results disclosed to shareholders, HBL made a profit of Rs 9.034 billion in the first quarter of 2016 which is less than 9 million from the corresponding period of last calendar year. Last year the profit stood at Rs 9.934 billion for the same period.
The bank witnessed negative growth in its interest income which was presumed to go down since the interest rate stayed at 6 percent since September 2015 in the country. It earned Rs 35. 7 billion as interest income whereas its mark-up expenses stand at Rs15.5 billion. This totaled a net income of Rs 20.18 billion for the bank.
The bank showed a decline of 15 percent to stand at Rs 6.532 billion by end of March 2016 as against of Rs 7.75 billion recorded by end of March 2015. Under this head, the bank lost its margins through foreign exchanging earning and share from associate companies and joint-ventures.
The administrative expense of HBL saw an increase of Rs 1.62 billion or 15 percent from the previous year. They increased to Rs 12.105 billion from Rs 10.48 billion in administrative expenses recorded in the similar period of 2015.
Habib Bank also opened up its branch in China as well.
The next quarter of 2016 is also set to be tough for banks. This is because the majority of commercial banks, having posted a handsome growth in capital gains the outgoing year of 2015, may see variant drop in unrealized capital gains subsequently after significant maturity of long-term Pakistan Investment Bonds (PIBs) in 2016.
HBL overall revenue earning stands at Rs 26.24 billion in the first quarter of 2016 as against of Rs 26.291 billion in corresponding period of 2015.
Board of Directors
Sultan Ali Allana

Chairman

Nauman K. Dar

President & CEO

Moez Jamal

Director

Sajid Zahid

Director

Mr. Shaffiq Dharamshi

Director

Agha Sher Shah

Director

Dr. Najeeb Samie

Director [7] Board of Directors