In a morning show
With Drama Cast
With Talat Hussain
With Yumna Zaidi
With Saba Qamar and Danish Taimoor
Biography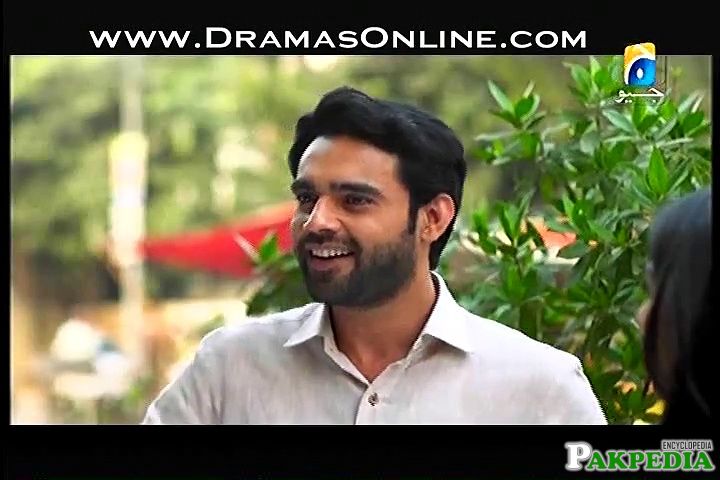 Hassan Niazi is a Pakistani actor and model. He was born on 3 February 1981 in Lahore Pakistan. Hassan completed his school and college from
Lahore
and started his career as actor. In 2007 he got short role in a Telefilm 'Drama Fever'. He played role as Irfan in that telefilm. In 2008 he got chance to work in a Pakistani film 'Ramchand Pakistani' which was directed by Mehreen Jabbar and he played role as Deepak in that film. Same year in 2008 he also got chance to play a vital role in TV One drama 'Sipahi Maqbool Hussain' since then he appeared in many Pakistani dramas in which Ek Tamanna Lahasil Si on HUM TV, Meri Behan Meri Dewrani on ARY Digital, Kankar on HUM TV and Anaya Tumhari Hui on Geo Entertainment are famous one. In 2016 hassan Niazi played lead negative role in famous Pakistani movie 'Maalik' which was directed and produce by Ashir Azeem and was super hit movie. Hassan Niazi played role of corrupt Chief Minister in that movie. He did all types of roles in his acting career but he is well known for negative roles in drama and films too. Hassan Niazi also did work in many brands commercials and walk on ramp for big brands.  
[2]
Biography Biography
Showbiz Career
As soon as he started his career in the entertainment industry, he made his place among those who have been known due to their unique capabilities. His potential was further enhanced as he persistently contributed to this field. At the time when he was attached to the industry, private television channels were contributing to the field rapidly; therefore he too received offers from them, and many of the channels did telecast his performances. 
[3]
Showbizz Career
List ofTV Dramas
| | |
| --- | --- |
|  Drama |  Year |
|  Sipahi Maqbool Hussain |  2008 |
|  Ishq Ki Inteha |  2009 |
|  Gumshuda |  2010 |
|  Nikhar Gaye Gulab Sarai |  2012 |
|  Ek Tamana Lahasil Si |  2012 |
|  Meri behen Meri Dewarani |  2012 |
|  Ek Nazer Meri Taraf |  2013 |
|  Talkhiyan |  2013 |
|  Kankar |  2013 |
|  Kisey Apna Kahain |  2014 |
|  Mere Meherban |  2014 |
|  Tum Mere Pass Raho |  2015 |
|  Anaya Tumhari Hui |  2015 |
|  Sun Yara |  2017 |
|  Sita Bagri |  2017 |
|  Pinjara |  2017 |
List of Movies
| | |
| --- | --- |
|  Ramchand Pakistani |  2008 |
|  Maalik |  2016 |
[4]
Films Films
Hassan Niazi Defying Conventions
The high-handed artisan's journey -– from a salesman and tea-seller to TV commercials, mainstream dramas, and now the silver screen -– makes for a gruelling itinerary, but one with a pleasing ending. I magine a teenager busy wrapping up wholesale tea on the eve of his seventeenth birthday – while his mother felt sorry for him – he replied back with an air of affirmation that tomorrow others will pack it for him. Such was his confidence and he proved it to be true. Enter 2016, dressed up in a charcoal striped suit with a crisp white shirt; his new get-up for a French ad campaign with full-grown whiskers Hassan gives a strange aura which undoubtedly adds years to his age. Hassan Niazi is now a well known name in the industry. He started off small and fortuitously got roped in a few TV commercials and plays, but as luck would have it, he was aiming beyond the skies. "I was an extremist since childhood; a dreamer and this quality kept me committed to this profession," he says adding, "I never wanted to live an ordinary and unknown life! I aspired to become a cricketer but accidently ended up in media." When his father permitted him to join the industry, he asked the young chap to read a few lines from
Allama Iqbal
's poetry. "It said 'Khuda se husn ne ek roz ye sawal kiya, Jahan mein kiun na mujhe tu ne lazawal kia' . I didn't understand a word of it and my father explained how this world is just a tale about a long night of not-being; even the sun sets every day!" From that day onwards, despite hardships and achievements, the actor is down to earth and considers fame as a step towards success. "There's a huge difference between fame and recognition. Earlier I used to think either one is famous or a nobody, until recently when a number of people recognised me just after hearing my voice. I noticed that fame is easy come and easy go while acknowledgement is something which stays with you no matter what!" Hassan's acting expedition didn't start smoothly. The first question raised was Niaziyun ka bacha ye bane ga? In response he boldly asked his father to remove the dish antenna from his rooftop and ban watching TV at home. "I asked my family to let me live my life. I moved to Karachi in 2003, lived in a recording studio for a year and worked as a bahar wala… it's not easy to cut your feelings down and strive to be someone here!" Hassan puts forward. 
[5]
Hassan Niazi