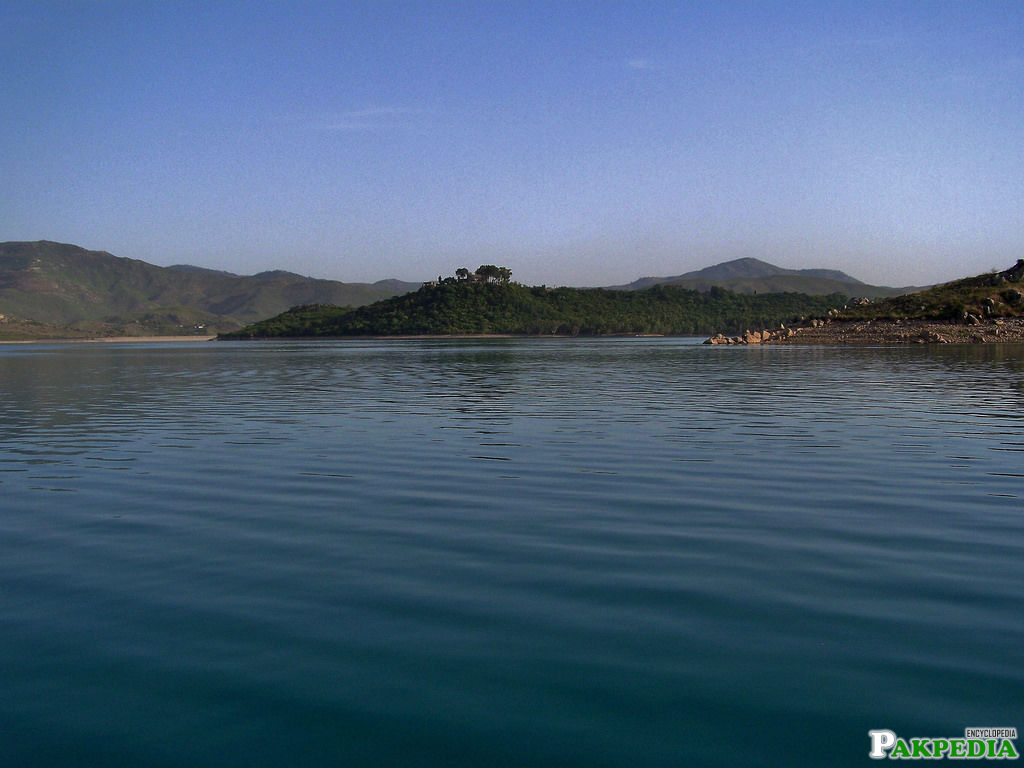 Khanpur Dam Haripur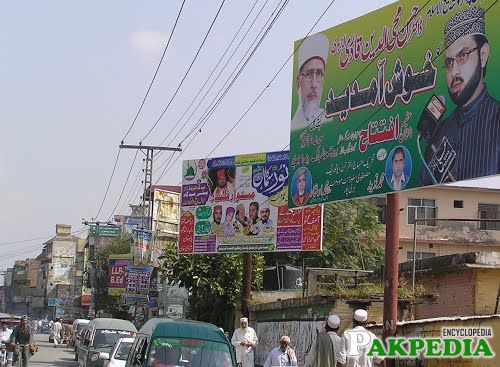 Haripur City
Model City Haripur
Haripur
University of Haripur
About
History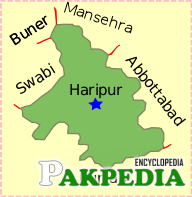 Haripur was founded by the Sikh general Hari Singh Nalwa in 1822 and became the headquarters of Hazara until 1853.
[2]
Dsal.uchicago - edu
Hari Singh Nalwa was appointed by Maharaja Ranjit Singh as the second Nazim of
Hazara
after the first Nazim Amar Singh Majithia was killed by the local populace at Nara.
[3]
Tribuneindia.com - Retrieved
Haripur was built as a fortress surrounded by a wall which was 4 yards (3.7 m) thick and 16 yards (15 m) high and had only four openings. That fort later became the city police station and local government offices.Drinking water was provided by digging a tank. Many small drainages were dug to carry sullage water. A small river, the river Dore, passes through the city, feeding the Tarbela Dam.An obelisk marks the grave of Colonel Canara, a European officer of the Sikh Artillery, who fell in 1848 defending his guns single-handed against the insurgents under Chattar Singh.
[4]
Imperial Gazetteer - India
In 1851, the 4th (Hazara) Mountain Battery was raised at Haripur from Hazara gunners, who were trained by Majtt, a British officer and first deputy commissioner of  Hazara , in order to defend the district. The Hazaras embarked on many campaigns throughout the province.
[5]
King - emperor.com.
The population in 1901 was 5,578 and the income and expenditure during the ten years ending 19023 averaged Rs. 17,800. In 1903-4 the income and expenditure were Rs. 19,100 and Rs. 20,000 respectively.
Industries
There are many factories of various sizes on the Hatar Industrial Estate including the most modern SSP Fertilizer unit (Double A Fertilizers), and the presence of these industries means the district plays an important role in national economic development. One of the most prominent industries in the Haripur district is known as Cactus Fertilizer (formerly Pak-China Fertilizers) which is the largest producer of phosphate fertilizer in Pakistan with an enormous production capacity of 500 tons a day.Haripur's role in the agricultural field is also important. The district provides fruit and vegetables not only to
Peshawar
but also to Islamabad and the 
Punjab
 .
[6]
galaxytruthby - shah
Famous Personalities
Khan Sahib Abdul Majid Khan Tarin OBE, of Talokar, one of the earliest Muslim League leaders in Hazara
Sahib HE Abdus Salim Khan, senior Pakistani diplomat and ambassador
Field Marshal Ayub Khan military dictator and ( President of  Pakistan ), who was from the village Rehana, a few miles from Haripur. His son Gohar Ayub Khan is prominent figures in Pakistani politics
Air Marshal(R) Anwar Shamim. He also belonged to Haripur
Raja Sikander Zaman Khan was born in Khanpur town. He remained Chief Minister of NWFP, and Federal Minister for Water and Power besides other offices he held during his political career
Education
In 2000 2001, Haripur had 907 government primary schools, including 656 for boys and 251 for girls. In addition to government primary schools, 166 mosque schools were also in the district. The primary school population (59 years) consisted of 101,670 students, of which 52,240 (51.38%) were boys and 49,430 (48.61%) were girls.The district had 83 middle schools (56 for boys and 27 for girls), during 2001.
[7]
Education - spot.com
Allama Iqbal Open University
Campus of the Hazara University