Mir with the former Prime Minister of the United Kingdom, Tony Blair.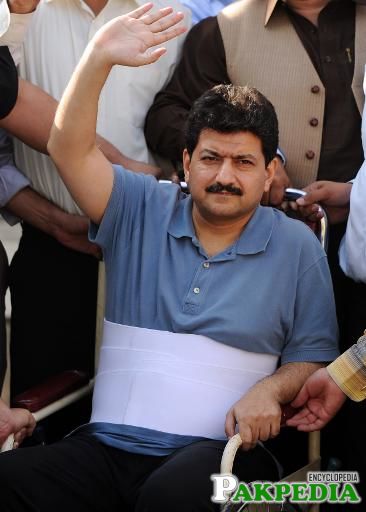 Leading Pakistani TV journalist Hamid Mir, who survived an April attack by gumen in Karachi
Hamid Mir
Hamid Mir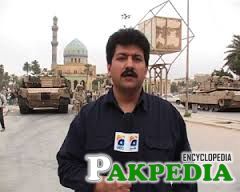 Hamid Mir
Background
Mir was born in Lahore,
Punjab
, in July 1966. He studied and completed his secondary education at University Laboratory School New Campus and Government Central Model School, Lahore. He received his intermediate degree from Government Science College and his Bachelor of Arts (B.A) degree from Government College. He earned his Master of Arts (M.A) in mass communications from the University of Punjab in 1989. He played cricket but left the sport after the sudden death of his father.
Family
Mir belongs to a literary and journalistic family. His grandfather, Mir Abdul Aziz was an
Urdu
, Persian, and Punjabi language poet from Sialkot. Mir's father, professor Waris Mir, was also a columnist for Daily Jang and a critic of military dictator general Ziaul Haq, for which he was removed from the chairmanship of the Mass Communication Department of the University in the 1980s.According to Mir, his mother lost her whole family during migration from Jammu to Pakistan in 1947 after the independence in 1947. Her brothers were killed by Hindu rioters in front of her eyes. Her mother was kidnapped and she saved her life by hiding under the dead bodies of her own relatives. His father died on 9 July 1987 under mysterious circumstances at the age of 48; it has been alleged that he was poisoned by the military regime. Mir entered the field of journalism immediately after the death of his father. Mir has three brothers, two are also journalists. Amir Mir and Imran Mir. Mir's wife worked with Pakistan television and for a private television channel for many years. The couple has two children. His children and wife were forced to spend at least three months outside Pakistan from May 2007 to July 2007 for security reasons
Journalistic career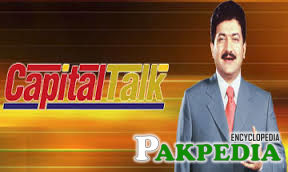 Mir joined the Daily Jang (Lahore) in 1987 and worked there as sub-editor, reporter, feature writer and edition in charge. In 1994, he broke the submarines purchase scandal in Daily Jang. Some close friends of Asif Zardari (husband of then Prime Minister
Benazir Bhutto
) were involved in that scandal, along with some Navy officials. Mir lost his job the day his article was published.In 1996, Mir became the editor of the Daily Pakistan in Islamabad, making him the youngest editor of any national Urdu newspaper in the history of Pakistani journalism. He lost his job again in 1997, when he wrote an article in the Daily Pakistan about the alleged corruption of prime minister Nawaz Sharif. Also on 25 December 1997, he launched Daily Ausaf (Islamabad) as founding editor. Mir went eastern Afghanistan, where he investigated the escape of Osama bin Laden from Tora Bora mountains in December 2001. Mir visited the caves of bin Ladin, during the American bombing. Mir also disclosed that it was U.S.-backed Northern Alliance leader Hazrat Ali who provided safe passage to bin Laden after getting a huge bribe.In 2002, Mir joined
GEO TV
as the Northern Region editor. Since November 2002, he has hosted GEO TV's Capital Talk, a political talk show in which top Pakistani politicians from the government and opposition have appeared. He is also writing a biography of Osama bin Laden, as well as a weekly column in Daily Jang.
[2]
Journalistic career hamid mir
Notable papers awards and work
Awarded Hilal-e-Imtiaz on 14 August 2012 for his services in Journalism by the PPP government under President Zardari.
Mir interviewing al-Qaeda leader Osama bin Laden.
Earned an All Pakistan Newspapers Society (APNS) award for best columnist (Urdu) for the years 1996,1997, and 1998.
Received the Maharishi Samman Award for Excellence in Journalism announced by Trust for Media Studies, in Jodhpur, India in March 2005.[3]GCU award by alma mater
Awarded the Fatima Jinnah Gold Medal from the Ministry of Women Development, Government of Pakistan for writing and speaking in support of women's rights, in August 2005.
Interviewed Osama Bin Laden for the Daily Pakistan in 1997, for the Daily Ausaf in 1998, and for the Daily Dawn in 2001.The latter was the first interview after 9/11 by any journalist, and the BBC and CNN declared it an international scoop. The Monthly Herald announced that interview as the scoop of the year in its annual issue of December 2001.
On 26 March 2010, The foundation of South Asian Association for Regional Cooperation Writers and Literature have nominated Mir for the SAARC Lifetime Achievement Award [4] Life time  acheivement award 2010.
In December 2011, Hamid Mir received Several Death Threats after he hosted a TV show on Influence of ISI in Pakistan Politics.
Hamid Mir received The People's Choice category award for the most favourite current affairs anchor and news channel in March 2012.
On 13 April 2013, a video surfaced on social media showing Hamid Mir receiving "Friends of Liberation War Honour" award by Sheikh Hasina. The video created a minor controversy in Pakistan
Hamid Mirs father Waris Mir nominated for Bangladeshs civilian award
Dhaka: The Bangladeshi government has nominated late Professor Waris Mir, father of Geo News anchor Hamid Mir, for the highest civilian award of the country.According to TV reports, Waris Mir was nominated for his outspoken criticism against the 1971 operation by
Pakistan Army
in the then East Pakistan, which lead to the split of Pakistan and formation of Bangladesh. Waris Mir was nominated by the Bangladesh Prime Minister Sheikh Hasina Wajid, daughter of Sheikh Mujibur Rehman, who was the founder of Bangladesh.
[5]
Hamid Mir's father nominated for bangladesh civilian award
Divisive issue
Pakistan's military, which controls the ISI, said that this amounted to defamation and demanded action. Public opinion was deeply divided. Many in the journalist community also criticized Geo for going overboard with its coverage. The channel was ordered off air for 15 days by Pakistan's Electronic Media Regulatory Authority.No direct link between ISI and the attack was found. A three member commission was set up by the prime minister to investigate the incident and release a report within three weeks. No report was issued.Although Geo has been back on the air for several months, many believe the dispute between the powerful media house and the country's military is still unfolding. CPJ's Dietz thinks the campaign against Mir may be another way of "continuing pressure" on Geo.The atmosphere for working journalists in Pakistan has steadily deteriorated, according to both journalists and rights organizations like CPJ. Threats to journalists and their families come from multiple groups, including the ISI, some political parties, and extremist groups. Asked if the latest threat against a famous journalist will add a chill to freedom of expression in Pakistan, Dietz replied: "No, the atmosphere is already chilled. It's freezing cold, frankly. People are afraid all the time."
[6]
Divisive issue
More Threats for Pakistani Journalist Hamid Mir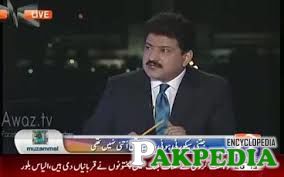 Bob Dietz, the New York-based group's Asia coordinator, says an "intense campaign" to denounce Hamid Mir started last week after he wrote in his weekly column that Pakistan should officially apologize to Bangladesh for atrocities committed in 1971, when Bangladesh seceded from Pakistan.Mir's column appears in the Urdu-language Daily Jang.Mir planned to attend an upcoming journalists' conference in Bangladesh, hosted by Prothom Alo, which includes discussions on the issues of 1971. Last year in Bangladesh, Mir had referred to books written by Pakistan army officers that admitted to atrocities against Bengalis.
[7]
More threats for Pakistani Journalist Hamid Mir