Hulwa Puri Break fast
Hulwa Puri Terditional Dish
Hulwa Puri Yummm
Hulwa Puri
Hulwa Puri Heavy
About
Ingredients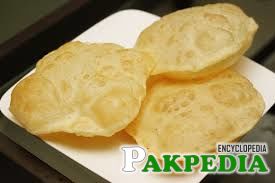 2 cups semolina (sooji)
1 cup sugar
1/4 tsp yellow food color
10 almonds, boiled
20 pistachios, boiled
4 cloves
6 cardamoms
1/2 cup oil
10 raisins
For Puris
1 cup whole wheat flour
1 tsp sugar
Salt to taste
Salt to taste
Method Of Halwa Poori
For Halwa
Heat oil in a pan, split the cardamoms and put them in it.
Add semolina and fry till it is cooked, take out the fried semolina in a bowl.
Heat sugar and little water in a pan to dissolve the sugar. Mix food color in this.
When everything is combined then add semolina. Add almonds, pistachios and raisins. Take out in dish and serve with hot pooris.
For Poori
Put flour, sugar, salt and 1tbsp oil in a bowl and mix well. Gradually add in little water and knead it into hard dough.
Cover the kneaded dough with soaked thin cloth for a little while.
Make small balls, pat the balls lightly with oil and roll them out.
Heat oil in a wok and fry the pooris in it. Drain on paper towel.