Hafeez Centre is Pakistan's no. 1 online classifieds platform. Our aim is to empower every person in Pakistan to independently connect with buyers and sellers online. Want to buy your first car? Want to sell commercial property to buy your dream home? Hafeez-Centre is for you. Whatever you want to sell or buy, we promise to get it done. Direct contact with seller and buy used or brand new stuff online, anywhere in Pakistan. Just browse and find your required item, call seller at his mobile or send an email and buy product. Content created and posted by Hafeez Centre users is dedicated to the public domain.[1] Hafeez Centre is Pakistan's no. 1 online classifieds
| Title | Description |
| --- | --- |
| Information | |
| Location: | Lahore, Punjab, Pakistan |
| Postal Address: | Main Buleward Road Gulberg Lahore 54000 Lahore, Pakistan |
| Nickname: | Biggest I.T. Bussiness Plaza in Lahore |
| Type: | I.T. Bussiness |
| Local Language Name: | حفیظ سینٹر |
| Coordinates : | 31.5161° N, 74.3430° E |
| Website: | https://www.hafeez-centre.com/ |
| Basic Information | |
| Architectural Style: | New design |
| Built At: | Main Buleward Road |
| Open hours : | 11AM–10PM and Sunday (Holiday) |
| Specification | |
| Union Office: | +92 423 5871266 |
| Special Information | |
| Genre : | I.T. market in Pakistan |
| Products: | Mobiles,Computers,Laptops,Accessories |
| President of Hafeez Centre : | Mr. Fayyaz Butt |
| V. President: | Mohammad Iqbal |
| Vice Chairman: | Usman Khan |
| Sr. Vice President: | Sh Usman |
| Vice Chairman: | Abdul Samad Gillani |
| Finance Seretary: | Tariq Ali Khan |
| General secretary: | Shaikh Mohammad Fayyad |
| Marketing & Sales Office: | +92 423 5871266 |
| Call The Customer Support: | +92 423 5871266 |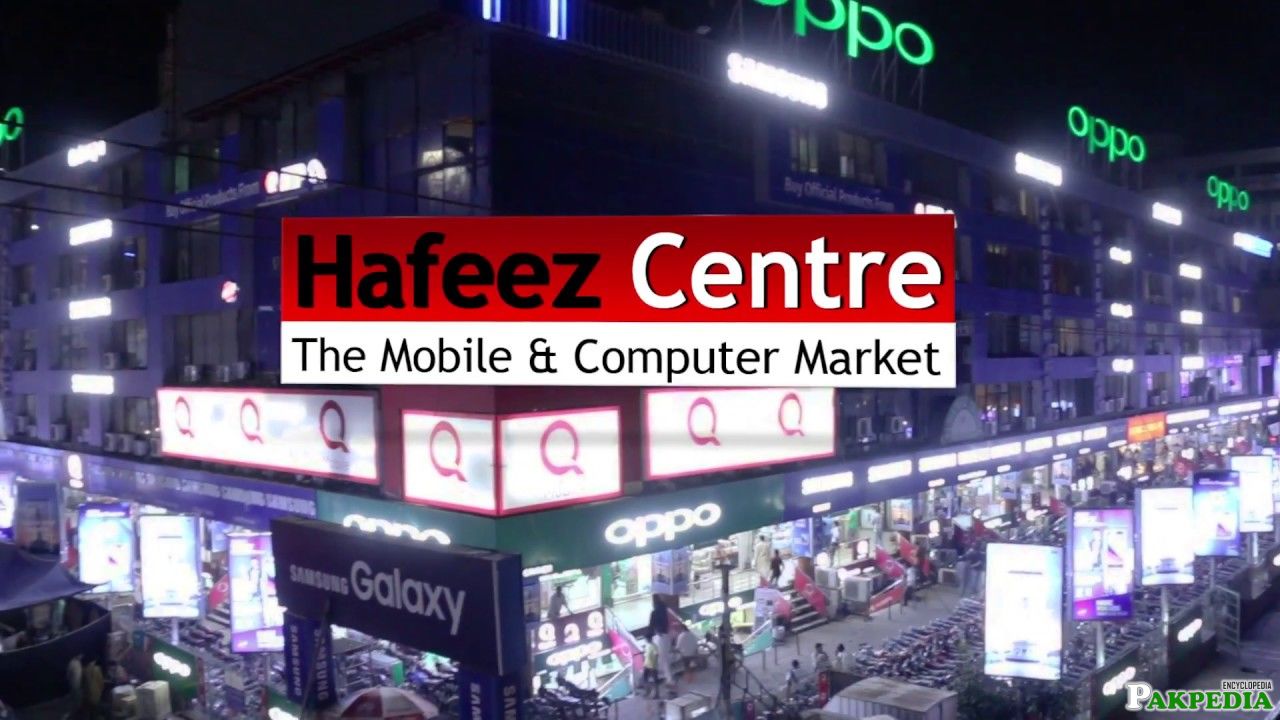 About
Detail Imformation
Welcome to Hafeez-Centre.com for people of Pakistan to direct buy, exchange or sell stuff throughout Pakistan over internet. The purpose of this website is to provide FREE trading platform to sellers and buyers so that they can interact and trade with each other directly, eliminating the role and commission of broker/middle-man. Be-ware of scam websites of hafeez centre Pakistan which will attract users and show huge ads for own benefit of people behind those sites. Be careful while trading goods online as well. You yourself are responsible for any mishap. This website is mere a facility which brings traders, buyers and businessmen colse. Direct contact with seller and buy used or brand new stuff immediately, anywhere in Pakistan. Used or brand new computers, laptops, accessories, MAC, printers, scanners, TV, mobile, iPhone, iPod, smart watches, digital cameras, cars, motorbikes, woofer system, home theatre system, home appliances, furniture, car deck, CD player, DVD player, stereo tape recorder, microwave oven, fridge, refrigerator and more. You can afford anything for your home. Just browse and find your required item, call seller at his mobile, direct contact him and buy your dream. Its all free! You can do the following at Hafeez-Centre.com[2] Welcome to Hafeez-Centre.com people of Pakistan
Direct Buy Electronics, Mechanics and more
Direct Sell Electronics, Mechanics and more
Direct Exchange Electronics, Mechanics and more
Maintain your Products and Price Listing (catalog) as a Seller
Privacy Policy
Data Privacy
Information at hafeez-centre.com are not shared with any other third party. You choose when to share, what to share and how much to share.
Any emails you receive from hafeez-centre.com will be related to your activity at this website and for notice which you choose to get informed about realted to the website.
If you have subscribed to our mailing list, we will occasionally e-mail you news, promotions and offers about our updates or new services.
We do not store your phone numbers or emails for any purpose of our own. You choose to share your mobile number or email so that users may contact you in case they want to contact you about the product they are selling and you want to buy that from them. Whenever you choose to close account with us, all of your information will be deleted permanantly from our databse. You control your own account for yourself.
When you create an account, you are asked to provide us with your e-mail address and your phone number so that users may contact you directly.[3] We do not store your phone numbers or emails
Any personal information that we collect from you is strictly for the purpose of providing you with a certain service you are interested in with us.
Under no circumstances, will we ever disclose any of your personal information to anyone who is not directly involved in providing you with the product/service you've asked for at the website.
Disclaimer
At hafeez-centre.com you will post your items or products which you like to sell and your contact information for buyers so that they may contact you directly. Everything here is submitted by users of hafeez-centre.com. We do not share any profit for any listing or any deal here. This website is for users facility so that they may sell or buy directly used or brand new stuff from each other. If you find anything that you think must not be here then please contact us. We will remove that listing/post/resource/comment immediately from here. Please inform us if you find anything irrelevant here. This website is not by any means at commercial purposes. We do not collect personal information from users or visitors unless they choose it to share themselves and we never sell information and never use these for commercial purposes. We can remove anything from here without any notice or change privacy policy any time. [4] At hafeez-centre.com you will     post your items
Ads Policy
We may use advertisements at this website that are kept inromative and non-intrusive as much as possible. Some advertisers might use/request cookies when their ads appear on the website. Third parties may be placing and reading cookies on your browser, or using web beacons to collect information as a result of ad serving on this website. We use third-party advertising companies to serve ads when you visit our website. These companies may use information (not including your name, address, email address, or telephone number) about your visits to this and other websites in order to provide advertisements about goods and services of interest to you. [5] We may use advertisements at this   kept inromative
Terms Conditions
If you use hafeez-centre.com services, you are bound with the following terms and conditions.
You will provide the correct phone number and email address which can be used by the users of this website to contact you directly.
You will not spam.
You will not use abusive language.
You will not post rude or abusive language anywhere.
You will not spam in comments.
You will not post irrelevant links here.
You will upload relevant image whenever you post any item for sell.
You will remove your item from here once it will be sold. We do not remove items or products from here. It is your responsibility to delete your product from here when it is sold so that you may avoid further calls about that product.[6] We do not remove items or products from here
You will not post pornography or abusive stuff.
You will not post rubbish photo/images here. (Result: immediate permanant ban)
Failing to comply with above terms and conditions, your account, product listings, mobile number, email address, IP address can be deleted and banned permanantly from Company website.
Guidelines
Please keep the following guidelines/rules in mind while buying, selling, listing or using the Company website .
Guidelines for Sellers
Write a meaningful title for your item. Spell your item correctly so it can appear in relevant search results.[7] Spell your item correctly so it can appear in relevant
Post your valid contact information (email/Mobile No./Phone No.) for easy communication with buyers.
Mention condition/usage of item if its not brand new.
Always give clear description of your item including any defect(s)
Post original picture o item.
Always mention all accessories, box, manuals & warranty of item if included.
Mention your reasonable demand for the item.
Post reasonable demand, its good idea to check latest prices from market.
To give buyer confidence, seller may mention reason for selling.
Do not post same item multiple times, it will be deleted and your account will be blocked.
Do not spam, your account will be deleted.
Do not create spam accounts and use your original information. Spam accounts will be blocked.
Guidelines for Buyers
Always get the idea of current market price of an item before negotiating with seller.[8] Always get the idea of current  ———   market price
Check the condition, accessories & warranty of item carefully.
Buyer may check the stability, re-sale value & market feedback of particular item.
Guidelines for buying used Mobile Phones
If a locally used or more than one year old cell phone looks like a brand new one, check it more carefully, its may be painted.
To check whether the phone is painted or not, carefully examine the edges of screen ,the speaker and mic place you will defintly find some evidence of spray paint.one more thing if the surface of the phone is a little bit rough or grainy slightly scratch the phone's paint with your nail ,if its painted the paint will be removed.
Check the accessories that comes with the phone.
Check the original body of the phone.
Attach the charger and charge the phone for 5 mins.
Check the incoming and outgoing voice with and without handsfree
Check LCD contrast.
Check the seal of the warranty even if the cell's waranty expired.[9] Check the seal of the warranty even if the cell's
If phone is in warranty match the IMEI number of the warranty card and the phone, usually printed on the back side of phone under the battery.
Always Make a real call from the phone and verify the incoming and outgoing voice.
Thoroughly check the menu play with the phone,turn it On and OFF couple of times.
Remove the battery for couple of minutes and reinstall it again to verify the health of the battery.
Ask the seller why he wants to sell, is there any problem with the cell.
Mobile Phone Verification Repaired or not
Check the warranty seal.
Examine the all Screws very carefully if a little bit paint is removed or all the screws are not alike then the set has been opened.
See the edges of the phone,the line between the upper and lower halves of the body. Press phone slightly if there is a little bit play between the upper and lower half then the set may be repaired.