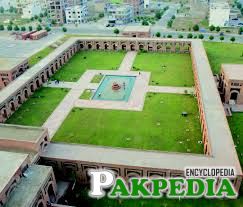 GRAND JAMIA MASJID LAHORE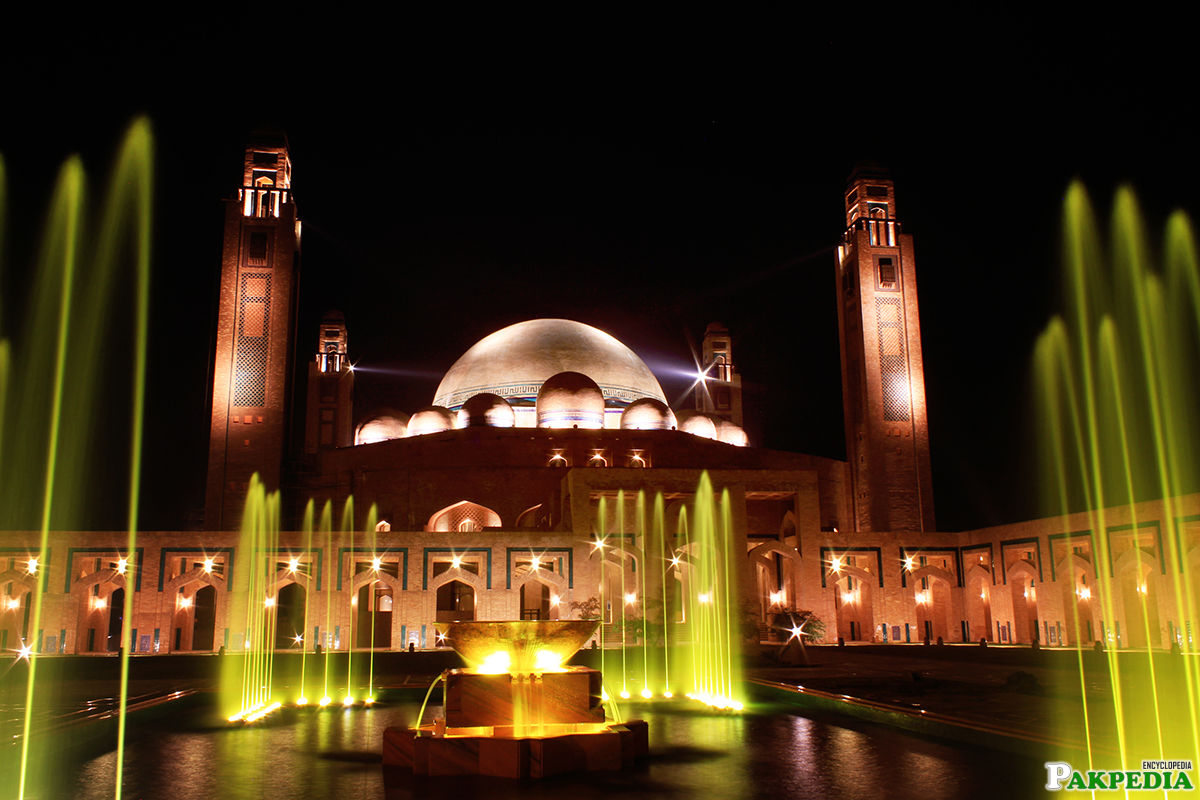 Worlds 7th Largest; Capacity of 70,000 
Pakistan's Largest Indoor Praying Facility; 25,000
The Grand Jamia Masjid is a proud identity of Bahria Town Lahore and will symbolize Pakistan through out the Islamic World. Truly a masterpiece, the mosque interior is absolutely magnificent, with breathtaking views representing the fusion of traditional Islamic architecture with Pakistani culture. The carpet has been custom-made and imported  from Turkey, there are over 50 luminous Persian chandeliers, creating a vibrant Islamic ambiance.
The structure comprises of 4 minarets, each standing tall at 165 ft. and a Grand Dome in the center, which is surrounded by 20 smaller domes. The most fascinating feature about this masterpiece is that the exterior consists of 4 million, 2.5 inch handmade Multani tiles made from special Multanimitti and hand placed by the craftsmen. Placing these tiles alone took 4 years to complete. The total capacity of this magnificent piece of Islamic architecture is 70,000 making it the worlds 7th Largest mosque. It has an indoor capacity of 25,000, labeling it Pakistan's Largest Mosque. There are dedicated praying areas for women, a school and an Islamic Art Gallery. [2] Worlds 7th Largest; Capacity of 70,000
Architecture of The Veil
Islamic architecture is often referred to as the architecture of the veil and the Grand Jamia Mosque is testament to this fact. What seems like a simple yet elegant structure from the outside, transforms into a mystical journey of Islamic art and tranquility that absorbs the beholder deep into its beauty & serenity.
The magnificent interior is a treat in the daytime and an absolute delight to feast on during the evening with a mood enhancing ambiance created by the hundreds of luminous Persian-Shamadan style chandeliers imported from Turkey, reflecting crisp white light.
The extraordinary blend of calligraphy, geometrical forms and floral decoration along with large-scale Kashi Kari creates an ambiance like none other. Kashi Kari is a Persian mosaic art that involves ceramic assortments on tiles in geometrical shapes and patterns. The finest craftsmen from Multan, Lahore and Hala were chosen for the tile-work.
Heavenly Transcendence
The base of the entire structure is elevated 20 feet above the ground, with the rooftop elevating to 80 feet and the Grand Dome placed in the center like a majestic crown surrounded by 20 smaller domes. Marking the extremities of the entire structure are the towering minarets standing 165 feet tall, the Grand Jamia Masjid instantly makes a powerful impact on the beholder. The mosque invites you in magnanimously, with 6 arched shape wooden doors and then dazzles you with views of white chandeliers, tile-mosaic and frescos of extraordinary beauty. The Center Dome is the crown jewel of this magnificent piece of craftsmanship. Rising 40 ft. in height and spreading 50 ft. in width, it gives the feel of royalty to the entire mosque. The tradition of the usage of domes in Islamic architecture comes from the Dome of The Rock in Jerusalem, which was the first dome built by Muslim Arabs. It represents the vault of heaven and is a symbol of Heavenly transcendence in Islam.
[3]
Heavenly Transcendence
Pakistans third largest mosque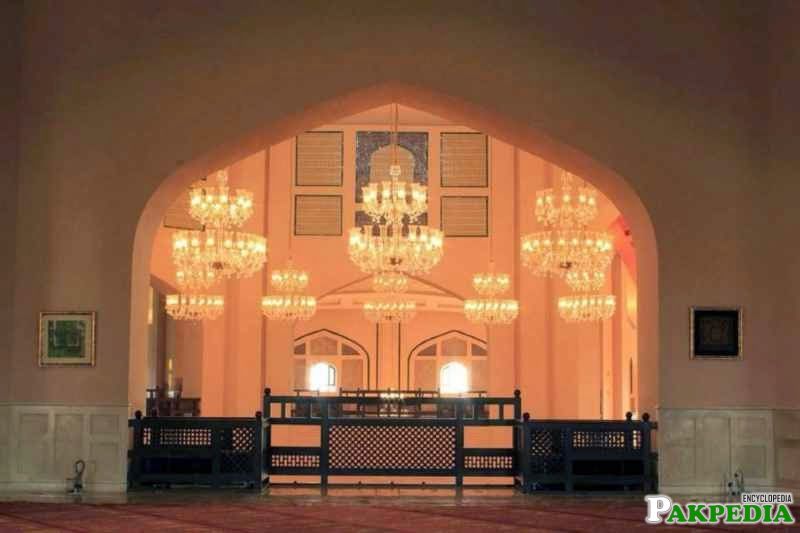 The construction of Pakistan's third largest mosque has been completed at a cost of over Rs 100 crore and opened for the public here. 
The "Bharia Town Jamia Masjid" is the third largest mosque in Pakistan after Badshahi Masjid and Faisal Masjid. 
The main hall of the mosque can accommodate 25,000 people and it has a total capacity of 70,000. 
The mosque has 21 domes and four 165 feet high minarets. "These specifications make it the largest mosque in Pakistan. [4] Pakistan's third largest mosque
Beauty Of Worlds 7th Largest Mosque In Lahore Pakistan
Mosque has got great Importance In Islam because Mosque is a place where Muslims gets together five times a day to offer Prayer. Mosques are also hubs for Islamic studies and Islamic discussions. the number of mosques around the world would be in millions. thousands of these mosques are known for their history, beauty and other aspects.
recently World's 7th largest mosque was Inaugurated In Bahria Town Lahore Pakistan. This Mosque is built by owner of Bahria Town Malik Riaz Hussain. its a huge and beautiful Mosque where more than 70000 people can offer prayer at one time.
I got the chance to offer Jumah Salaah in this mosque last week and I was really Impressed. Let me share some photos of this great Masjid. [5] Beauty Of World's 7th Largest Mosque
Unparalleled achievement Zardari
Former president Asif Ali Zardari on Tuesday inaugurated the world's 7th largest mosque located in Bahria Town.
Flanked by Bahria Town Chairman Malik Riaz Hussain, renowned religious scholars, and government officials, Pakistan Peoples Party (PPP) co-chairman inaugurated the grand mosque.
Addressing the ceremony, Zardari said the mosque is a priceless gift for the nation.
Talking about his inspiration for the mosque, Malik Riaz said he had offered Eid prayers in Malaysia at the Mahathir Mohamad Mosque in 2006 and decided then to build a similar mosque in Pakistan. He also vowed to construct a big mosque in Karachi.
The mosque, which is constructed at a cost of over Rs4 billion, has an outdoor capacity of 70,000 and an indoor capacity of 25,000 people, making it the largest mosque in Pakistan.
It represents a fusion of traditional Islamic and Pakistani architecture.
With custom-made carpets from Turkey and over 50 luminous chandeliers imported from Iran, the mosque has a vibrant Islamic ambiance.
The structure comprises four minarets, each 165ft tall, and a grand dome, which is surrounded by 20 smaller domes.  The most fascinating feature is the exterior, which consists of 4 million, handmade Multani tiles. [6] Zardari inaugurates Pakistan's largest mosque