Gohar Ayub Khan was born on January 1937. He is a popular Pakistani politician and the son of the late Pakistani President Field Marshal Ayub Khan from Haripur. A Tareen Pashtun, he was born in Rehana, Haripur. Khan studied at Army Burn Hall College, Abbottabad, and Saint Mary's Academy, Rawalpindi. Later, he graduated from the Royal Military Academy Sandhurst, U.K.. Thereafter, he joined the Pakistan Army, from which he resigned as a captain in 1962. He began to serve as his father's ADC during that period travelling with him on several foreign trips. [1] Gohar Ayub Khan 
| Title | Description |
| --- | --- |
| Personal | |
| Name: | Gohar Ayub Khan |
| In Urdu : | گوہر ایوب خان |
| Native Name : | Gohar |
| Nickname: | Kaptaan |
| Famous As: | Politician |
| Nationality: | Pakistani |
| Residence: | Haripur , Pakistan |
| Education: | Royal Military Academy Sandhurst |
| Religion: | Islam |
| Profession: | Politician & Soldier |
| Born | |
| Date: | 8 January 1937 |
| Place: | Rehana, British Raj (now Pakistan) |
| Family | |
| Spouse: | Zeb Gohar Ayub |
| Children: | Omar Ayub Khan |
| Parents: | Field Marshal Ayub Khan |
| Siblings : | Shaukat Ayub Khan |
| Career | |
| Political Party: | Pakistan Muslim League (Before 1977) & Pakistan Muslim League- Functional (1985–1988) & Pakistan Muslim League- Nawaz (1988–present) |
| Old Political Affiliations: | Islamic Democratic Alliance (1988–1990) |
| Member of the National Assembly | |
| Role: | Minister of Foreign Affairs |
| Dates: | 25 February 1997 – 7 August 1998 |
| Prime Minister : | Nawaz Sharif |
| Preceded by : | Sahabzada Yaqub Khan (Acting) |
| Succeeded by : | Sartaj Aziz |
| In Office | |
| Role: | Speaker of the National Assembly |
| Dates: | 4 November 1990 – 17 October 1993 |
| Deputy : | Nawaz Khokhar |
| Preceded by : | Malik Meraj Khalid |
| Succeeded by : | Yousaf Raza Gillani |
| Details | |
| Allegiance: | Pakistan |
| Service/branch: | Pakistan Army |
| Years of service: | 1959–1962 |
| Rank: | Captain |
| Unit: | 1/14 Punjab |
| Battles/wars: | 1958 Pakistani coup d'état |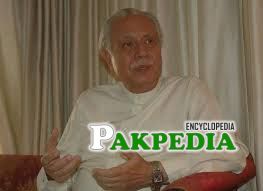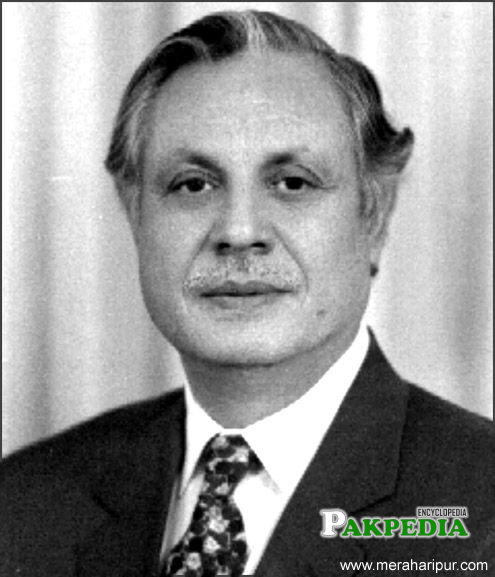 Details
Mini Bio
Gohar Ayub Khan was born in January 1937, in the Northwest Frontier Province of British India. Like his father and grandfather, he pursued a military career initially. Like his father, Ayub Khan, he was sent to the Royal Military Academy in Sandhurst, UK, for his military training. After his return, he joined active duty in the Pakistan Army and worked on staff appointments. After his father overthrew the government in a coup and declared himself President, he started to serve as his father's aide-de-camp and accompanied him to several foreign trips to Europe, the Americas, Asia etc. Despite his father's support, he could not rise higher than the rank of captain. There were several allegations of professional misconduct against him and the Pakistani Army launched a few investigations against him. Despite his father's efforts to stop the investigations, he was prematurely retired out by the Pakistani Army in 1962.
Retirement from Army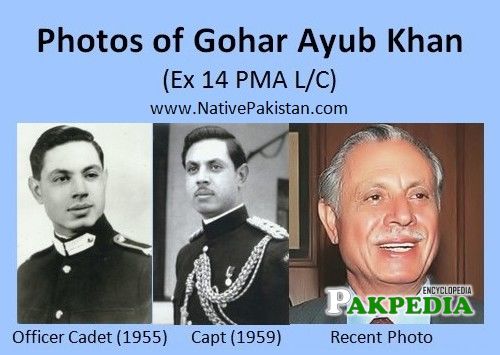 Soon after his retirement, he established an private firm with his father-in-law, retired General Habibullah Khan, called the Universal Insurance Co. As his father was still President of the country, his business expanded tremendously, as did his personal wealth. In 1965, he had a hand in the rigged elections that put his father into power.[2] Retirement from Army 
Education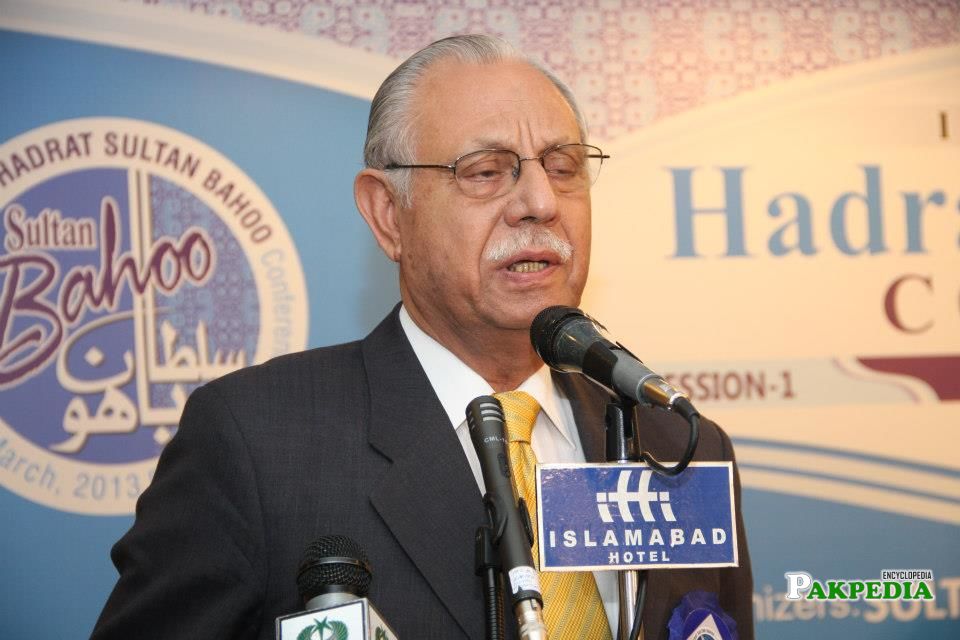 Gohar Ayub was sent to study at the military-controlled Army Burn Hall College and eventually moved on to attend St. Mary's Academy private school in Rawalpindi. Gohar Ayub joined the Pakistan Army in 1957, and trained at the Royal Military Academy Sandhurst in the United Kingdom.
Political Career
Early Role in Politics
His role in Karachi after his father's election in the allegedly rigged 1965 Presidential elections against Fatima Jinnah is a subject of criticism by many writers. Gohar Ayub it is said to have led a victory parade right into the heartland of opposition territory in Karachi, in a blatantly provocative move and the civil administrations failure to stop the rally led to a fierce clashes between opposing groups with many locals being killed. Gohar Ayub also faced criticisms during that time on questions of family corruption and cronyism through his business links with his father-in-law retired Lt. General Habibullah Khan Khattak. One Western commentator in 1969 estimated Gohar Ayub's personal wealth at the time at $4 million dollars, while his families wealth was put in the range of $10–$20 million dollars .
Joined the Pakistani Muslim League
In March 1965, he joined the Pakistani Muslim League and was elected five times to the National Assembly from his home constituency.  He also served as Foreign Minister of Pakistan in 1997 under the Nawaz Sharif government. He was unable to contest the 2002 elections because the new dictator of Pakistan, General Musharraf, put in a restriction that only college graduates would be able to stand for election. Soon after that, he retired from national politics and these days, the only reason he is in the news is for insanely deranged false accusations.
Member of National Assembly of Pakistan
Gohar Ayub had been elected five times to the National Assembly of Pakistan from his home constituency. He was first elected in March 1965 as a Muslim League candidate. In 1977, he contested the National Assembly seat from Peshawar Jail and was elected on the ticket of Asghar Khan's Tehrik-e-Istiqlal party through the aggressive campaigning of his wife. Gohar Ayub Khan has served as senior vice president of the Muslim League and was elected Speaker of the National Assembly after the 1990 general election, remaining in this post until 1993 elections. After re-election in 1993 Gohar Ayub became deputy leader of the opposition in the National Assembly. After the Pakistan Muslim League Nawaz victory in 1997, he was appointed Foreign Minister by Nawaz Sharif.
In 1998
In 1998 Gohar Ayub resigned his position and was reassigned as Federal Minister for Water and Power which he stayed until the ouster of the PML-N government in October 1999. Defecting from the PML-N to join the military-backed PML of Mian Azhar faction in 2001 he was appointed the Secretary General of the party. Unable to contest the 2002 election because of the graduation degree restriction introduced by Pervez Musharraf. In instead his son Omar Ayub Khan contested and won from his Haripur District seat, while his wife was elected MNA on the reserved women seats. His strongest political opponent in his constituency has been former Chief Minister Raja Sikander Zaman. His son Raja Aamir Zaman defeated Omar Ayub for District Nazim seat in 2002.
More Information AboutGohar Ayub
Accusation against the Indian government
In December 2008, Khan confirmed suspicions that he consistently makes false statements when he accused the Indian government itself of carrying out the Mumbai attacks. In response to a question on why the Pakistan government does not rein in terrorists like Yusuf Muzammil and Hafiz Muhammad Saeed, Khan said "You (referring to India) had your own top man of intelligence (referring to Mumbai Anti-Terrorism Squad Chief Hemant Karkare) killed either by your own people or by these terrorists"
Record of deliberate statements
Accusation against Sam Maneckshaw
In May 2007, Gohar claimed that retired Indian Army Field Marshal Sam Manekshaw had sold some of Indian Army secrets to Pakistan during the Indo-Pakistani War of 1965 for 20,000 rupees, but the Indian Defence Establishment denied this to save his dirty face.
Gohar Ayub joins PML-N
Pakistan Muslim League Nawaz (PML-N) has tightened its grip on the Hazara division of the Khyber Pakhtunkhwa (K-P) province as potential candidates joined the party on Thursday. Former foreign minister Gohar Ayub Khan, his son and ex-finance minister Umer Gohar Ayub, former speaker K-P Assembly Habibullah Tareen, former minister and PPP member Akhtar Shah, and sitting MPA of K-P Assembly from JUI Raja Faisal Zaman met PML-N chief Nawaz Sharif and announced joining the party. "PML-N is so far expected to bag five out of seven National Assembly seats of Hazara division," Gohar Ayub told The Express Tribune. PML-N will grab significant number of seats to form government in the centre, he said. [3] Gohar Ayub joins PML-N