Ghulam Haider and Lata Mungeshkar
Ghulam Haider and Lata Cumpose A song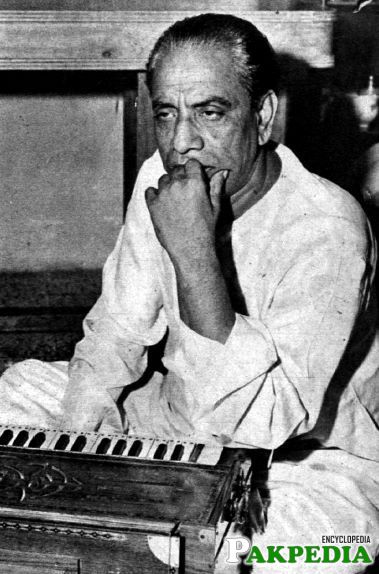 Ghulam Haider the great Legend
Ghulam Haider an old photo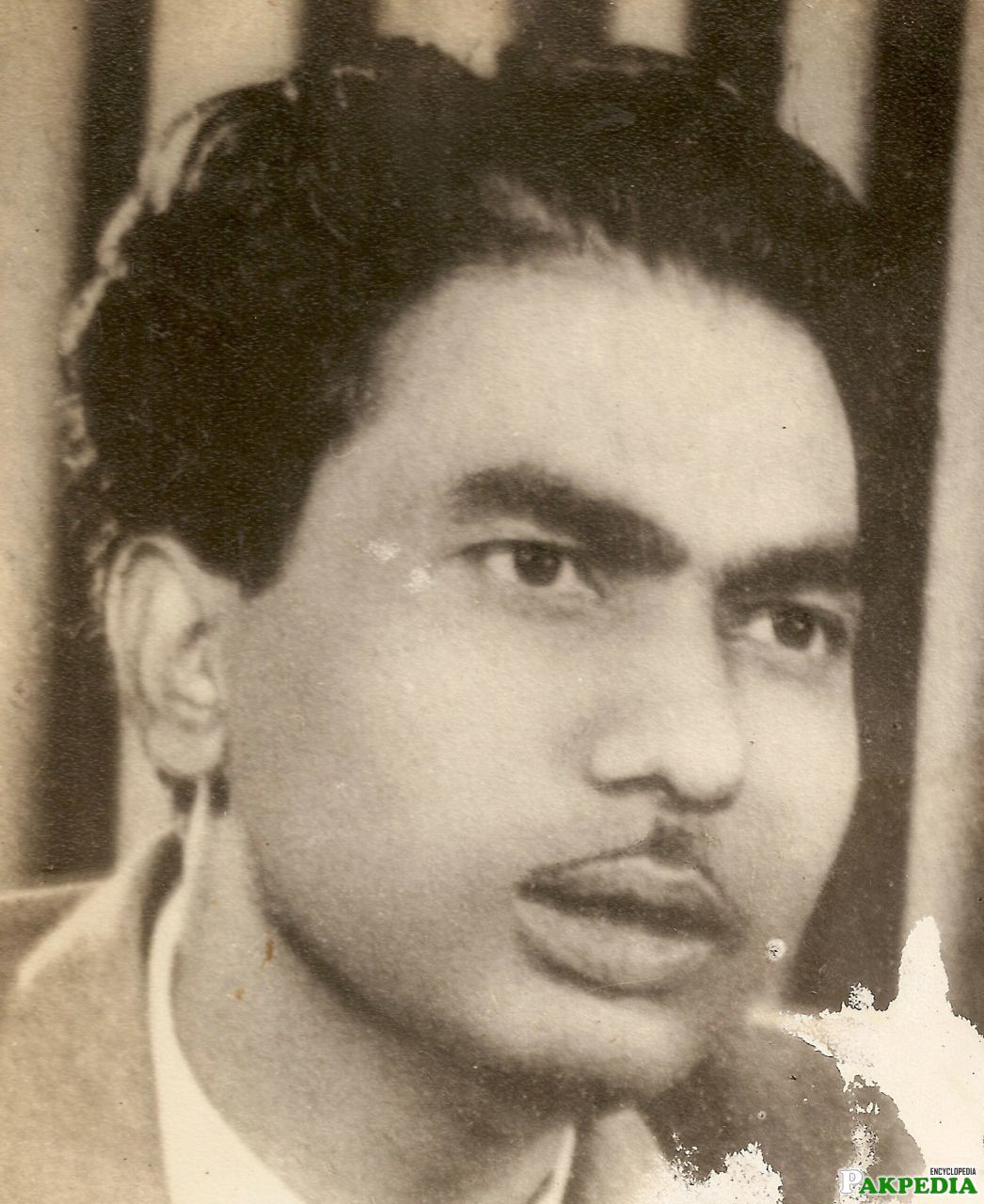 Ghulam Haider in Young age
About
Early Life
He studied dentistry and learnt music from Babu Ganesh lal. Giving up dentistry, he worked in the theatre in Calcutta as a harmonium player - first at the Alfred Theatrical Company and then the Alexandra Theatrical Company. He briefly worked with the Jenaphone recording company as composer and broke into films in Lahore with the father-son duo of Roshan Lal Shorey and Roop Kishore Shorey.He got his big breakthrough film with D.M. Pancholi's Punjabi film Gul-e-Bakavali (1939) followed by Yamla Jat (1940), both starring Noor Jehan.His biggest hit came the following year with Khazanchi (1941). The music of Khazanchi caused a revolution. By then Music Directors of the 1930s, who had embellished films with their exquisite compositions set in classical ragas, were beginning to sound commonplace. Khazanchi's refreshingly free wheeling music not only took the audiences by storm but also made other music directors sit up and take notice. Combining popular ragas with the rich verve and rhythm of
Punjab
i music, Haidar ensured that the Indian film song would never be the same again.
[2]
Haidar ensured that the --------   Indian film song
Musical Career
His biggest hit came the following year with Khazanchi (1941). The music of Khazanchi caused a revolution. By then Music Directors of the 1930's, who had embellished films with their exquisite compositions set in classical ragas, were beginning to sound commonplace. Khazanchi's refreshingly free wheeling music not only took the audiences by storm but also made other music directors sit up and take notice. Combining popular ragas with the rich verve and rhythm of Punjabi music, Haidar ensured that the Indian film song would never be the same again.
[3]
The music of Khazanchi ---   caused a revolution
Ghulam Haiders association
Ghulam Haider's association with Pancholi was to last until 1944 - a period during which he scored scintillating music for Choudhary (Punjabi 1941), Khandan (1942), Zamindar (1942) and Poonji (1943). He moved to Bombay where he worked in films like Chal Chal re Naujawaan (1944), Phool (1944), Humayun (1945), Bairam Khan (1946) and Shama (1946). The soundtrack of Shama was noticable for a dextrous use of tabla in such songs as 'Gori Chali Piya Ke Des..', 'Ham Gharibon Ka Bhi Poora Kabhi Armaan Kar De..' and 'Ik Tera Sahara..'. As Naushad put it, the tabla "spoke the words". His best-known compositions were sung by Shamshad Begum and invoke Punjabi folk and extensively featured percussion instruments like the dholak.
[4]
Ghulam Haider's association ----   with Pancholi
While in Bombay
While in Bombay, Ghulam Haider also composed music for Bombay Talkies' Majboor, featuring Lata's 'Dil Mera Toda..', Wali Saheb's Padmini, Diwan Pictures' Barsaat Ki Ek Raat, Pancholi's Patjhad and Filmistaan's Shaheed, all made in 1948. It was Haider who gave Lata Mangeshkar her first major break in Hindi films with Majboor (1948) and took her to S. Mukherjee to sing in Shaheed (1948) but Mukherjee rejected her saying her voice was too thin! Haider warned him that this 'poor little thing' would soon put every other singer in the shade including Noorjehan! Other singers he introduced were Sudha Malhotra and Surinder Kaur. Shaheed and Kaneez (1949) were among his last big hits in India. In the former, as patriotic songs go who can forget Watan ki Raah Mein Watan ke Naujawan Shaheed ho? The song was used twice in the film, the first at a brisk tempo to raise the moral of the revolutionaries and the second slowly and solemnly as the revolutionary's dead body is carried to the cremation ground.
[5]
Ghulam Haider  composed music Bombay Talkies
Migrated To Pakistan
Following the explosion of an ammunition laden ship in the Bombay docks towards the end of the II nd world war, and the mass exodus of its citizen from the city, Ghulam Haider's musicians migrated to Lahore. In vain, did Haider plead with them to stay on: he offered them two months' salary in advance and a secure shelter. But they refused and bid them a tearful farewell. Later Ghulam Haider himself left for Lahore and floated his own concern 'Filmsaz', in partnership with Nazir Ajmeri and actor S Gul. Their maiden production Gulnar was released early in November, 1953, and a few days after, the great composer himself passed away. His funeral on November 10 was attended by prominent people from all branches of fim trade. The news of his death cast a gloom over Bombay. The Cine Musicians' Association called a special meeting to mourn his death.
[6]
Following the explosion ------   of an ammunition
Memorable Films
Gul-e-Bakavali (Punjabi) (1939)
Yamla Jat (Punjabi) (1940)
Khazanchi (1941)
Khandaan (1942)
Zamindar (1942)
Poonji (1943)
Phool (1944)
Humayaun (1945)
Majboor (1948)
Shaheed (1948)
Kaneez (1949)
Gulnar (1953)
Popular compositions
Ek Kalee Naazon Ki Palee (film: Khazanchi 1941)
Tu koun si Badli mein, mere Chand hay aa ja (singer: Noor Jehan, film: Khandan (1942)
Mere liye jehan mein chain hay na qarar hay (singer: Noor Jehan, film: Khandan (1942)
Sajan Aa Ja, Rajan Aa Ja (film: Bhai 1944)
Chamko Chamko Bijaliya, Han Bijaliya (film: Chal Chal Re Naujawan 1944)
Mujhe Madhur Lagata Hai Unsey (film: Chal Chal Re Naujawan 1944)
Ai Chand Tu Bata De (film: Humayun 1945)
Data Toree Daya Se Abb Des Hamara (film: Humayun 1945)
Ho Chand Chamaka Andhere Me Aaj Hai: (film: Humayun 1945)
Ashkon Pe Huwa Khatam Mere Gham Kaa Fasana: film: Bairam Khan (1946)
Gulshan Pe Hai Bahar, Koyal Kee Hai Pukar (film: Jag Beeti (1947)
Ham Hain Dukhiya Iss Duneeya Me (film: Jag Beeti (1947)
Aaj Mohe Sajan Ghar Jana (film: Majhdhaar 1947)
Aa Jao Beedeshi Baalama (film: Padmini (1948)
Aajaa Bedardi Baalama (film: Shaheed 1948)
Aana Hai Toh Aa Jao Gar (film: Shaheed 1948)
Ab JiKe Koyi Kyaa Kare (film: Majboor (1948)
Watan ki rah mein, watan ke no-jawan shaheed ho (singer: Mohammed Rafi, film: Shaheed 1948)
Lo, chal diye woh ham ko tasalli diye baghair (singer: Noor Jehan, film: Gulnar 1953)
Bachapan Ki Yadgaro, Mai Tumko Dhundhatee Huun (film: Gulnar 1953)