The run-of-river Ghazi Barotha Hydroelectric project is located around 100km from Islamabad, on the Indus River in north west Pakistan. It involved the construction of a partial river diversion at Ghazi, 7km downstream from the Tarbela dam.The most outstanding feature of the project is that it will provide power peaking capacity throughout the year with full power generation during the months of May and June when there is reduced generation of power from Tarbela and Mangla as a result of low reservoir levels.
| Title | Description |
| --- | --- |
| Information | |
| Location: | Attock District Punjab |
| Country: | Pakistan Stating |
| Coordinates: | 33°46′48″N 72°15′35″E |
| Construction Began: | 1999 |
| Opening Date: | 2002 |
| Construction Cost: | US$ 2.1 billion |
| Owner(s): | WAPDA |
| Power Station | |
| Commission Date: | 2003–2004 |
| Type: | Run-of-the-river |
| Hydraulic Head: | 69 m (226 ft) |
| Turbines: | 5 × 290 MW Francis-type |
| Installed Capacity: | 1,450 MW |
| Annual Generation: | 7.037 billion units (7037 million GWh) |
| Dam and Spillways | |
| Height: | 50 |
| Spillway Capacity: | 18,700 m3/s (660,000 cu ft/s) |
| Impounds: | Indus River |
| Reservoir | |
| Active Capacity: | 25,500,000 m3 (20,700 acre⋅ft) |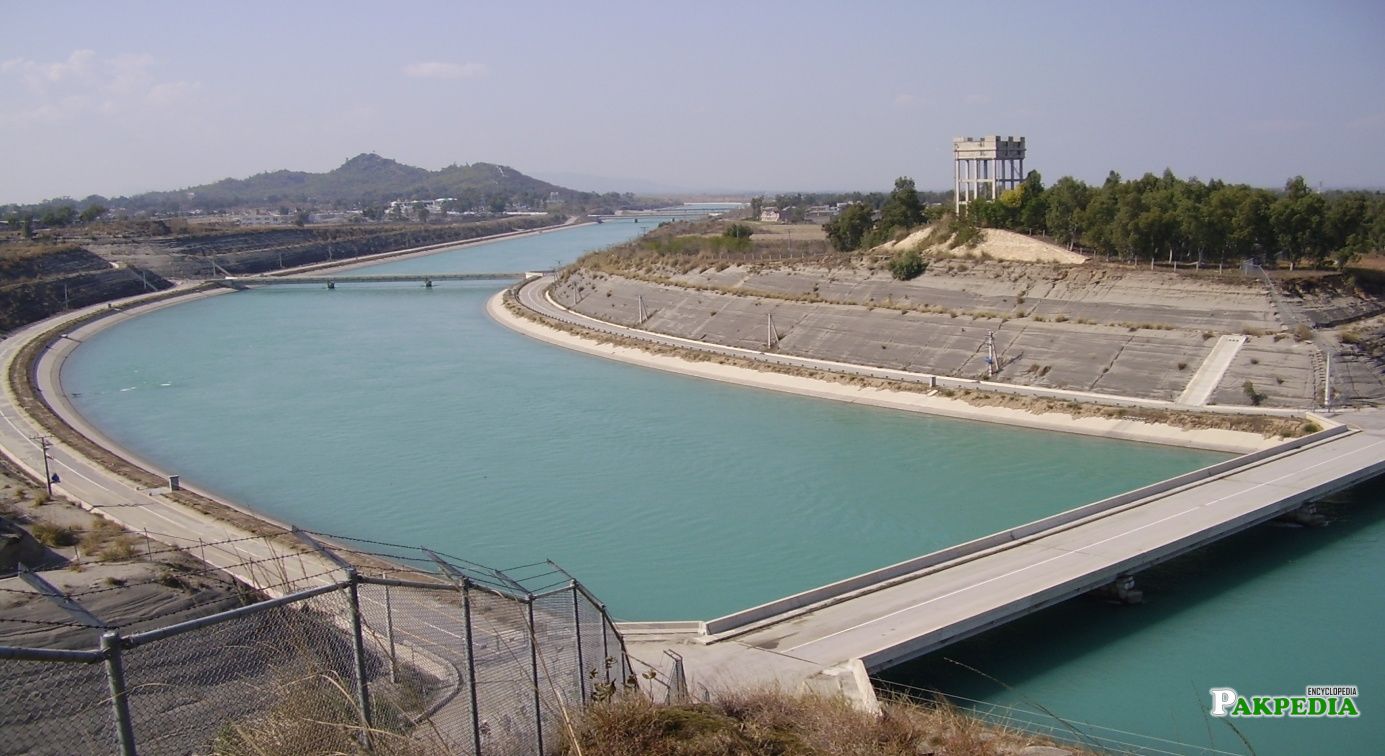 Details

Ghazi Barotha Hydropower Project with a generation capacity of 1450 MW and an average energy output of 6600 GWh is located on the Indus river downstream of Tarbela Dam in Distt. Attock City (Punjab) at a distance of 92.7 KM from Islamabad. The project was completed during the fiscal year 2003-2004. This is a major run of river and environmentally sustainable project designed to meet the acute shortage of peak power demand in the country.[1]  Location 
Demand For Electricity

The shortage of electrical power at affordable cost has long been identified as one of the main hurdles to the industrial and economic growth of Pakistan Country. The demand for electricity is growing rapidly and requires a considerable increase in the rate at which new generating capacity is introduced. Presently demand is met through a mix of thermal and hydroelectric plants. The percentage of thermal power generation has continued to increase in recent years, with a noticeable impact on unit cost of generation. WAPDA has continually sought to maximize the country's capacity for Hydropower generation and reduce the dependence upon thermal power generation.
Project implementation Contracts

In the Feasibility Report, the time for Project implementation of Civil and M&E contracts was estimated as 63 months starting from 01 April 1993. With the approval of PC-1 of Preparatory works including land acquisition, relocation, resettlement, and construction of colonies and other infrastructure for Project were commenced in 1995. The implementation of the Project ultimately came to fruition with the inauguration ceremony of the commissioning of Unit No.1 and Unit No.2 on 19 August 2003 by the President of Pakistan Pervez Musharraf. The work on the commissioning of other units continued and Unit no.5 was commissioned in April 2004. The construction of the North Head pond was completed in December 2004, thus completing the implementation of the Project works.[2] Project Implementation Contracts
Construction Delays and Problems

Delays, including project funding, labour disputes and contractor payments, were a problem throughout construction. In September 1997, the project stalled as the Pakistan government had not matched funding by the donor companies, due to government deficit cutting measures prompted by the IMF. Some of the plans for bridges and culverts associated with the project had to be abandoned.In 2001 the World Bank, which is one of the main sponsors for the project, threatened to withdraw funding.This dispute stemmed from the government's questioned ability to resettle the 900 inhabitants of the area.
Sponsorship

Completed in 2003, the project was sponsored by the government-owned Water and Power Development Authority (WAPDA). It identified the Ghazi Barotha project as an opportunity to build a large-scale installation with minimal disruption. At 1,450MW, the plant accounts for over 10% of current Pakistani capacity, making a major contribution to its expansion programme. Resettlement was limited to around 900 people. Ghazi Barotha is a run-of-the-river plant, with no need for massive dams or reservoirs.
Thermal Independent Power Producers
Pakistan's energy strategy is to encourage thermal Independent Power Producers (IPP), but to undertake selected hydropower projects nationally. In this way they both hope to attract managerial and operational skills as well as financing from the private sector, whilst developing the most economically viable hydro projects in an environmentally acceptable manner. The Ghazi Barotha project was particularly attractive as provides power to meet peaks in demand throughout the year and allows full power generation during the months of May and June when low reservoir levels mean that output from other hydropower projects is reduced.
Ministry of Power and Water
Power demand and supply in Pakistan was expected to create a considerable deficit by 2010. The Ministry of Power and Water therefore devised a plan for future projects (both thermal and hydro) called 'Vision 2025'.[3]  Sponsorship 
Project Financing

The PC-I of the Project was approved by Government of Pakistan in July 1994 at a total cost of Rs. 89840 million. The total cost which has been incurred on the Project is Rs. 96957 million. The Project has been funded by WAPDA supported by the following international lending agencies:
World Bank
Asian Development Bank
Japanese Bank for International Cooperation
Kreditanstalt fuer Wiederaufbau (KfW)
European Investment Bank
Islamic Development Bank