Ghayyur Akhtar was a big name of Pakistani showbizz
Ghayyur Akhtar appeared in many films and radio productions
Ghayyur Akhtar on Geo TV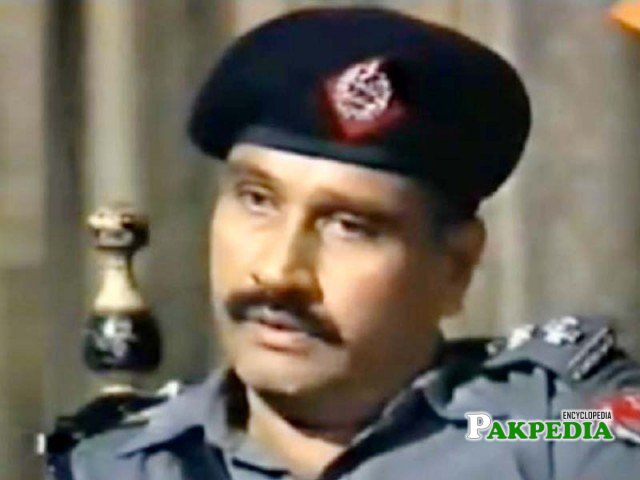 Ghayyur Akhtar in a police role
An old picture of Ghayyur Akhtar
Detail
Early Life
Over the years, Akhtar appeared in many films and radio productions but he found fame in television dramas. Born in 1946 in Lahore, Ghayyur Akhtar started his acting career in the late 1970s. By the 1980s he had already established himself in several dramas such as 'Khawaja and Sons', 'Sona Chandi', 'Free Hit', 'Ghar Aya Mera Perdesi', 'Afsar Bekare Khas', 'Rahain', and 'Sitara'. 
[2]
 Early Career 
Professional Career
He started his professional career from Radio Pakistan,
Lahore
, in the 1970s and got immense popularity after appearing in TV plays in the 80s. His performances in drama serials such as Khwaja and Sons and Sona Chandi on the PTV were appreciated by the viewers. Akhtar was particularly famous for his comedy roles. His popular plays include Waris, Path Jarh, Rahain, Aiank Wala Jin, Sitara and Afsar Bekar-i-Khas. He also performed many roles in about a dozen films and debuted in Direct Hawaldar.
[3]
 Professional Career 
Pakistan Radio
Ghayyur Akhtar joined radio in 1968. He participated in every section of radio: comparing, drama, propaganda, features, documentaries etc. he was also a compare of a popular program "Sohni Dharti". Keeping his services in view, he was honoured as an "Outstanding Artist" of Radio Pakistan in 1998. he was one and only  artist of Radio who enjoyed Outstanding rating in two different categories (Drama and Comparing) at the same time.
Theatre
Ghayyur Akhtar started his theatre carrer in 1970. In 1979, He enjoyed the rarest honour being the only Asian Writer who wrote two parts of a stage drama named "Kut-kutarian". He worked as Writer, actor, Director and Producer. He has written more than 10 plays for theatre. He performed in more than 50 plays. He also performed the best Punjabi Lok Drama on stage throughout Europe and Middle East. He played the leading role of "Waris Shah" in this drama. He was also approved Director of Pakistan Arts Council Alhamra Arts Council and "Punjab Arts Council".
List of stage dramas
Ham se bhar kar kon
Hawa ki beti
Hello uncle
High jump
Huqa pag te Restaurant
Jahil family te mai 8th pass
Janam janam ki maili chaadar
Janoon
Khatara 440Watt
Kisa ik muhabat ka
Kut-kutarian (Part-1 and part-2)
Laddan patti
Lalay di jaan
Lotay aur Lifafay
Mai khoobsurat hu
Mirza Ghalib band road per
Mohabbat is ko kehtay hain
Mr Baazigar
Naam k Nawab
Naya makaan
No chance
No lift
Paisa bolta hai
Raatain jaagti hain
Awards
Pride of Performance Award in 2009
Tamgha-e-Imtiaz Award in 2003
Graduate Award
Graduate Award (2001–02, Radio Pakistan)
Pakistan Broadcasting Corporation (1999–2000, Organized by Radio)
PTV Regional Award for Drama Artist (2002–2003).
Asian Award (1993–94, PTV)
Musawar Award (1991–92, PTV)
Baho Award (1993–94, PTV)
Shezan Award (1994–95, PTV)