Karachi is the city which is full of historic gems. Frere Hall, Karachi is an iconic limestone structures which is a  fine example of Gothic architecture. The hall is situated in a quieter part of Karachi. It is a well preserved English building which is still remain in its full glory.
| Title | Description |
| --- | --- |
| Information | |
| Location: | Fatima Jinnah Rd, Karachi |
| Nickname: | Frere Hall |
| Type: | Historical building |
| Category: | Museum |
| Current use: | Library,Event venue,Exhibition hall |
| Intended use: | City or town Hall |
| Local Language Name: | Jinnah Garden |
| Coordinates : | 24.8475° N, 67.0330° E |
| Timing: | Monday-Saturday (9am-5pm), closed on sunday |
| Telephone: | (021) 99204325 |
| Nearby Landmark : | Marriott Hotel Karachi |
| Details | |
| Architectural style: | Neo- gothic |
| Architecture: | Henry Saint Clair Wilkins |
| Constructed in: | August 1863 |
| Built in the honor of: | Raised in memory of Sir Bartle Frere (Commissioner of Sind 1851-1859, |
| Material: | Masonry structure |
History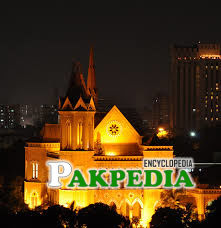 The Frere hall is situated centrally in the elite area of the city between Fatima Jinnah Road and Abdullah Haroon Road in the middle of two tremendous lawns which expands till the road. The place is in the Civil lines which is just beside to the famous Marriott Hotel of Karachi. 
Foundation
The building was intended to serve as Karachi's town hall, and was designed by Henry Saint Clair Wilkins,after having been chosen from among 12 possible choices. The building's land was purchased at a cost of 2,000 British Indian rupees, which had been donated by WP Andrew of the Scinde Railway, and Sir Frederick Arthur Bartholomew. The total cost of the Hall was about 180,000 rupees, out of which the Government contributed 10,000 rupees, while the rest was paid for by Karachi municipality. Work commenced in August 1863, and completed in October 1865, though work on the building had not been entirely completed by the time of its inauguration. In 1877, the British rulers decided to establish rules for the Badminton games which were gaining much popularity at that period. [1] foundation
Architecture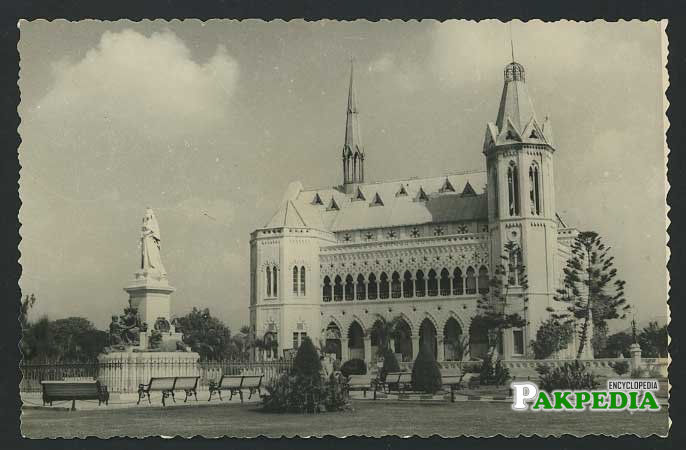 Frere Hall was built in the Venetian-Gothic style that also blends elements of British architecture with local architectural elements, the building features multiple pointed arches, ribbed vaults, quatrefoils, and flying buttresses. Carving on the walls and beautifully articulated mosaic designs are visible on multiple walls and pillars. The building is built primarily out of local yellow-toned limestone, with stone details formed from white oolite stone quarried from the nearby town of Bholari. Red and grey sandstone is also used in the building, which was quarried from the Sindhi town of Jungshahi. A tall octagonal tower is located in one of the building's corner that is crowned by an iron cage, the roof of the hall is coated with Muntz metal. The Hall is surrounded by two lawns originally known as "Queen's Lawn" and "King's Lawn" which after independence were renamed as Bagh-e-Jinnah, or "Jinnah Gardens"..  [2] architecture
An honorary building
Following the death of Sir Henry Bartle Edward Frere in 1884, the building was renamed in his honour. Frere was a British administrator who was known for promoting economic development in Sindh, as well as for making the Sindhi Language the language of administration in Sindh, rather than the Persian language which had been favoured by the Mughals.
Frere Hall hoisted many functions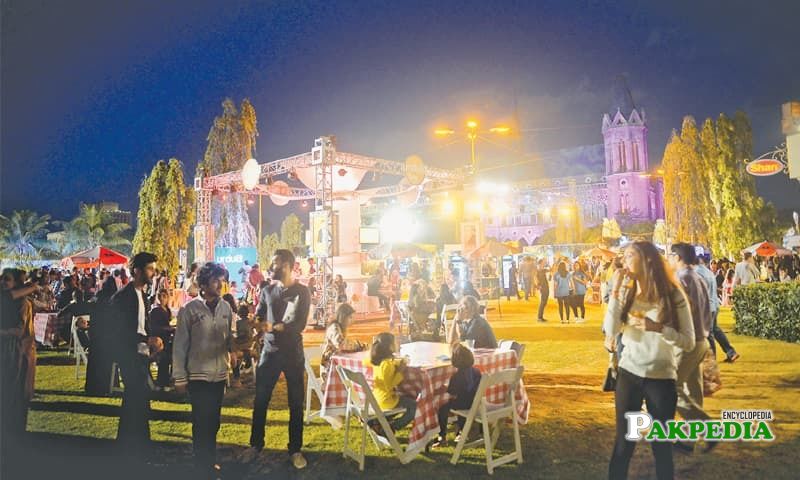 Although Frere hall was intended to built as town hall or city hall in British raj time. But after the independence of Pakistan till present, Frere hall is used for public picnic place as well as Frere hall is also serving as library, event venue, event hall under the supervision of Municipal authority of Karachi . [3] library,gallery  
Liaquat Library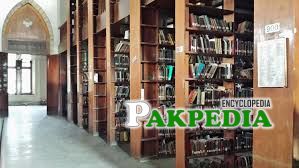 The Frere Hall is also remembered for the Liaquat National Library, housing close to 70,000 books in the ground floor of the building. These books comprise a variety of subjects, ranging from geography, science and history to religion, social science, arts and literature. The collection also includes rare manuscripts, technical reports, journals, and a remarkable collection of atlases.
Perhaps the most impressive collection is that of old Dawn and Jang newspapers, which, according to Library Manager Mohammad Ali, date back to 1952. The Library itself is also almost just as old, he exclaims proudly. While the condition of the Library has deteriorated over time, especially since the reopening of the Frere Hall, some work has been started by concerned authorities to restore it to its original condition. 
Exhibition space
Frere Hall houses a number of stone busts, including that of King Edward VII, which was a gift from local Parsi philanthropist Seth Edulji Dinshaw. Frere Hall also houses oil paintings by Sir Charles Pritchard, who was a former Commissioner of Sindh.
Sadequain Art gallery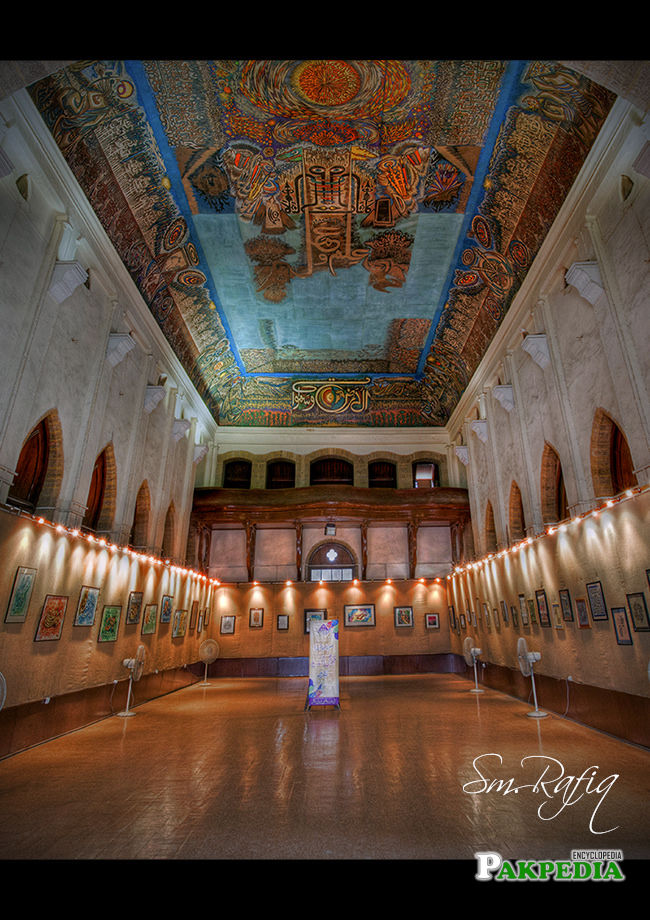 While the Liaquat National Library attracts a fair share of visitors, the Sadequain Art Gallery on the first floor gets the most visits. Named after prolific Pakistani artist Syed Sadequain Ahmed Naqvi, the gallery hosts a sizeable collection of some of his best works. Many of the paintings and calligraphy displayed at the gallery involve an eclectic mix of Western and local artistic appreciations – one of the reasons why Sadequain's work is so highly regarded. Gallery Manager Mansoor Ahmed sums up the Gothic element in this building as one supporting "a well-ventilated design with no artificial lighting". The ceiling of the Gallery Hall showcases the last piece created by Sadequain, and is the only "artificial" element featured in a building that has otherwise been preserved in its original state for the last 150 years.  [4] Gallery
Book fare
A book fair is arranged on every Sunday in its courtyard which has now become the center point of amusement for the people who loves literature in Karachi and other parts of the country.
Weather vane was stollen

In September 2015, during renovation of Frere Hall, the historic rooster shaped weather vane was stolen. The then Chief Secretary Sindh Siddique Memon took notice of 'theft' of a rooster-shaped weather vane which used to sit atop Karachi landmark Frere Hall. Chief Secretary spokesman Naukhaiz Anwar Siddiqi said Memon has also ordered Karachi Commissioner and Karachi Municipal Corporation Administrator Shoaib Siddiqui to submit a report on the incident within two days. A television channel took notice of the missing weather vane, prompting a response from the chief secretary. Suspicions of theft arose as the the rooster-shaped weather vane, which is said to have been removed from a spire of the historical building while renovations were underway. The weather vane was later restored. [5] rooster  
Frere hall was sealed
The hall was closed periodically between 2002 and 2011 due to numerous attempted terrorist attack on the nearby US consulate,and was not reopened permanently until 2011 when the consulate was relocated to a site further away. It is now directly administered by the Karachi Municipal Corporation, and hosts several festivals.
Glimpse of a different culture

The Frere Hall speaks volumes about an entirely different time, place, culture and society. One cannot help but be overwhelmed by the realization that the stone-carved walls, complex mosaic designs, railings and brackets of this glorious structure were in existence almost two centuries ago, transmitting ancient societal norms, values and traditions through space and time. In this mind-bending context, one identifies this monument as a distinct crossroads between the past and present of Karachi.