Fazal-ul-Rehman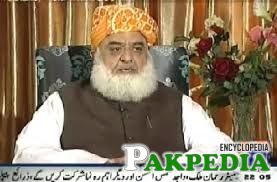 Fazal-ul-Rehman interviewing Geo News
Fazal-ul-Rehman
Fazal-ul-Rehman
Fazal-ul-Rehman
Profile
Maulana Fazal-ur-Rahman, a dedicated scholar of Islam was born on June 19, 1953 in village Abdul Khel, Dera Ismail Khan. He is the son of Hazrat Maulana Mufti Mahmood (r.a), a great Islamic scholar and politician who defeated the then invincible Zulfiqar Ali Bhutto in the 1970 general elections from Dera Ismail Khan. Mufti Mahmood (r.a) has also served as chief minister of NWFP, today's KPK.
Matriculated in 1970 from Multan. Maulana Fazl ur Rehman is an alumnae of Dar-al-Ulum Haqqania, Akora Khattak. This passionate leader actively started taking part in the Islamic union at the student level and was selected to preside Jamiat Talaba-e-Islam, NWFP in 1974.
In 1979, he started imparting his knowledge as a teacher in Jamia Qasim-ul-Ulum, Multan. After the sad demise of his father Maulana Mufti Mahmood, Maulana Fazal ur Rahman was entrusted and enthroned with the mutual consent to take care of the scholarly seat of learning.
This dynamic leader was exiled from the province Balochistan under the orders of Chief Martial Law Administrator in the year 1980. His quest for enforcement of Islam could not be compromised despite all repressive measures at by the government including sending Maulana to jail for more than four times.In addition to his stature as an accomplished scholar, Maulana Fazal ur Rahman has proved his abilities as a seasoned politician.
Rose to national politics in 1988, Maulana Fazal-ur-Rehman has been elected to National Assembly on multiple occasions. While exercising his duties as a parliamentarian he put forth the point of view of Pakistan government at several international platforms; including his address to the UN committee for Human Rights, as well as the General Assembly of UN on the collective issues of Palestine and Kashmir in 1994.
He was appointed as Chairman of the parliamentary committee on foreign affairs in the second government of Prime Minister Benazir Bhutto. He was Leader of the Opposition between 2004–2007, as he was leading a sizable contingent of opposition parliamentarians (mainly from MMA).
He left no stone unturned to support the Afghanistan and courageously condemned the latest US bombing on Afghanistan.
Family Profile
Maulana Fazal-ur-Rehman is the Ameer of Jamiat Ulema-e-Islam. Maulana Fazal-ur-Rehman is son of religious and political leader Maulana Mufti Mahmood. 
[2]
Family Family
Education
Rehman studied at the local Madrassa, a religious seminary, in DI Khan. Later, Rehman was accepted at the University of Peshawar where he studied Islamic studies, earning BA degree in Islamic studies in 1983. Rehman went to Cairo, Egypt, after being accepted at the Al-Azhar University. Unlike many of his colleagues who have only received degrees from madrassas, Rehman is an alumnus of Al-Azhar University and studied and researched in religious Theology there, under reputed religious and divinity research scholars. In 1987, Rehman completed and published his master's thesis on political aspects of Islam and was awarded M.A in Religious studies from the Al-Azhar University. Upon returning to Pakistan, he participated in 1988 general elections for state parliament.
[3]
Enter Reference Here
Career in National Politics
After returning to Pakistan, Rehman participated in 1988 general elections on a platform religious platform from a JUI(F) ticket. It was during this time period, Rehman built relations with Prime Minister Benazir Bhutto and got acquainted with Prime Minister Benazir after she ordered an armed action in Jalalabad of Communist Afghanistan. Rehman is a fundamentalist with a difference, known for his proximity to former Prime Minister Benazir Bhutto and had been under her political science circles as early as 1989. Although, a fundamentalist, he remained in the camp of the political alliances and parties led by Benazir Bhutto that were opposed to conservative leader,
Nawaz Sharif
and the Pakistan Muslim League. Only did he contest the election in alliance with the PML, in 1990 general elections, and then too he lost
Public status and image
Wikileaks US visit and political support
Generally, a fundamentalist who holds strong Anti-American sentiment in the country, Rehman has been criticised for shifting towards leftist sphere.The Wikileaks secret cables exposed Rehman when he cordially invited US Ambassador to Pakistan, Anne Patterson, to a state dinner in Islamabad in which he sought her support in becoming prime minister and expressed a desire to visit America.
According to Rehman's personal aide, "All important parties in Pakistan had to get the approval" of the US Referring to Rehman, Patterson mentioned "He has made it clear that....his still significant number of votes are up for sale". The cables also highlighted the contradictions of other prominent figures. Amin Fahim, a Bhutto follower hoping to run for Prime Minister, led an Islamic religious party "while enjoying an occasional bloody mary"