Biography
Tall and handsome, with a Comptonesque mop of hair that led him to feature in advertisements as Pakistan's own Brylcreem Boy, Fazal's ability to cut and seam the ball at a fair pace led him to be compared - in style and stamina - to England's Alec Bedser. He was especially difficult to handle on the artificial pitches widely used in
Pakistan
in the 1950s: Neil Harvey, the great Australian batsman of the time, said that Fazal "could make the ball talk" on matting.
[1]
Biography
Fazal came from an educated and well respected lineage; his grandfather Allah Ditta graduated from King Edward Medical College and was one of the first Muslim doctor's in the sub continent.
Education and Family
Born and brought up in
Lahore
, Fazal took a master's degree in economics at Islamia College.He married the daughter of Pakistan's first captain, Mohammad Saeed, and is survived by two sons and a daughter.
[2]
Education and Family
Career
At the age of 19 Fazal was selected to play for India on its maiden tour to Australia in 1947-48, which went to be his only chance to play against Sir Don Bradman who  retired that year. He even attended the conditioning camp for the tour, but amidst mass murder and bloodbath in the region, Fazal had to flee the country in haste."I was informed about the slaughter when I reached the airport. I could not go to Delhi and Lahore. A kindly passenger gave me his ticket, and I managed to travel to
Karachi
. The incident changed my life. I decided to stay in Pakistan. I had a lot in India, emotionally and financially, but I had to reconcile myself and settle down in Pakistan," he recalled.
[3]
Career
Leading Bowler
In 1949-50, Fazal was the leading bowler on Pakistan's tour of Ceylon and when Ceylon returned the visit in 1950 he took 20 wickets in two representative matches. This was a trailer of what was in store.
England
In 1951 England (MCC Team) decided to visit Pakistan for two side games and two unofficial Tests as break from their tour to India. First three games were drawn at
Sialkot
, Lahore and
Bhawalpur
as the two teams headed to Karachi.Fazal had picked up a thigh injury in Lahore and was ruled out of the match. "A day before the match, while I was in my hotel room (in Karachi), I switched on the radio and found that I had not been selected in the team. I could not believe that I had been dropped, and was crestfallen," wrote Fazal in his autobiography 'From Dusk till Dawn'.One of the selectors Dilawer Hussain called him at night and asked him to come to the Karachi Gymkhana Ground in the morning for the game. Dilawer lied to the other selectors that the Board Chairman Justice A. R. Cornelius had ordered Fazal's selection.
Winning Runs
By lunch on day one, England was five down and Fazal had picked four. "Son, you've saved me from the gallows," said Dilawer to Fazal as he walked into the pavilion for lunch.Three days later Fazal hit the winning runs that would secure Pakistan Test status.
Wagah Border
In 1952 the Pakistani team crossed the Wagah Border for their inaugural Test series that started in Feroze Shah Kotla, Delhi. Before the game a pretty looking girl told Fazal, "Good luck, but you can't win against India." After Pakistan's innings defeat she approached Fazal again and repeated her lines. This time an emotional Fazal replied: "If you want to see India lose, better come to Lucknow."
Blue Eyes
Next, Pakistan toured England in 1954. The Pakistani team was invited to the Buckingham Palace and introduced to Queen Elizabeth, where she asked why Fazal had blue eyes unlike his countrymen. Later, he got special invitation to the queen's annual Royal Garden Party. Some people suggest that it was due to Princess Margaret (Queen Elizabeth's younger sibling) that Fazal was invited to the annual event for several years to come.
Hanif Mohammad
Hanif Mohammad, Pakistan's first star with the bat, recalled: "He was a great human being, always willing to help anyone who sought his advice. All our wins since we started playing Test cricket were indebted to him." Fazal might have played for India: the senior Nawab of Pataudi wanted him in his side for the 1946 tour of England, but the other selectors thought he was too young; he was selected for the 1947-48 tour of Australia, but then came Partition, and he chose Pakistan. He was instrumental in getting the new country Test status: his six for 40 in an unofficial Test against the 1951-52 MCC tourists helped convince Lord's of Pakistan's suitability.
Long Career
He had a long career in the police force, running the sports department where he groomed several top-class hockey players, and was still working, as director of a textile firm, when he had a heart attack in his office.
National Selector
Fazal served as a national selector, conducted coaching camps at the Gaddafi stadium, Lahore, wrote Talash-e-Haq, an Urdu publication in which he discussed religious affairs, and penned an autobiography, Dusk To Dawn. He was also a prominent cricketing voice on
Pakistan radio
and television in the late 1970s and early 1980s.
Finished Tour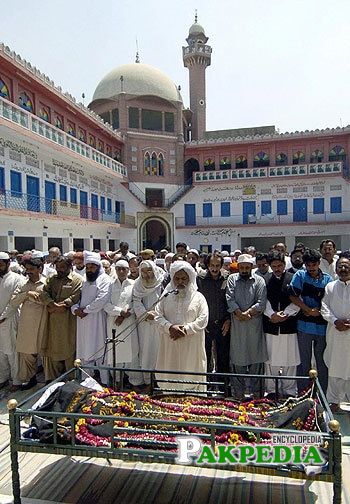 Though Fazal missed several games through injury, he finished the tour of 1954 with 77 wickets at 17.53 runs apiece and died on 30 May 2005.
Batting and Fielding Averages
| | Mat | Inns | NO | Runs | HS | Ave | 100 | 50 | 6s | Ct | St |
| --- | --- | --- | --- | --- | --- | --- | --- | --- | --- | --- | --- |
| Tests  | 34 | 50 | 6 | 620 | 60 | 14.09 | 0 | 1 | 2 | 11 | 0 |
| First-class | 112 | 147 | 33 | 2662 | 100* | 23.35 | 1 | 13 | | 39 | 0 |
Bowling Averages
| | Mat | Inns | Balls | Runs | Wkts | BBI | BBM | Ave | Econ | SR | 4w | 5w | 10 |
| --- | --- | --- | --- | --- | --- | --- | --- | --- | --- | --- | --- | --- | --- |
| Tests | 34 | 53 | 9834 | 3434 | 139 | 7/42 | 13/114 | 24.70 | 2.09 | 70.7 | 6 | 13 | 4 |
| First-class | 112 | | 25932 | 8837 | 466 | 9/43 | | 18.96 | 2.04 | 55.6 | | 38 | 8 |