Fawad Hussain Chaudhry is a lawyer, politician, journalist and anchor by profession. He belongs to a politically famous and strong family of politicians. His forefathers have played important roles in the before and after partition politics of Pakistan.
| Title | Description |
| --- | --- |
| Personal | |
| Name: | Fawad Hussain Chaudhry |
| In Urdu: | فواد حسین چوہدری |
| Famous As: | Fawad Chaudhry |
| Nationality: | Pakistani |
| Residence: | Lahore |
| Education: | Studied Law, GCU, Lahore |
| Religion: | Islam |
| Profession: | Politician |
| Company: | First Law Company |
| Twitter: | https://twitter.com/fawadchaudhry |
| Facebook: | https://www.facebook.com/chaudhryfawad.hussain |
| Born | |
| Date: | 7 April |
| Zodiac: | Aries |
| Place: | Jehlum,Punjab,Pakistan |
| Family | |
| Ethnicity: | Punjabi |
| Spouse: | Married |
| Parents: | Iftikhar Hussain Chaudhry |
| Siblings : | Faraz Chaudhry(Brother) |
| Relatives: | Shahbaz Hussain, Farrukh Hussain(Uncles) |
| Career | |
| Political Party: | PTI |
| Serve As: | Media Spokesperson |
| Old Political Affiliations: | Pakistan Peoples Party (PPP) |
Fawad Chaudhry Biography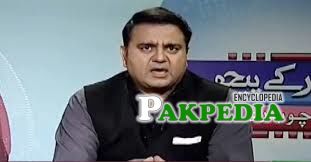 Born on April 7, Chaudhry Fawad Hussain opened his eyes to strong political and educated family. He is from Jehlum Punjab. Studied at Government College Lahore then went abroad for higher studies and return Pakistan with a degree of Barrister.
Fawad Chaudhry Family Background

The Chaudhry Altaf family, as it is now known, belongs to the Jatt clan and has historically been part of Jhelum district's politics. Khan Bahadur Chaudhry Ferozuddin was the maternal grandfather of Chaudhry Farrukh Altaf, twice the district Nazim of Jhelum and the son of former Punjab governor Chaudhry Altaf Hussain.  Chaudhry Altaf Hussain was elected a member of the West Pakistan Assembly in 1956 but could not win in the 1970 general elections for the National Assembly. He was nominated to the Ziaul Haq Majlis-i-Shura in 1981. He lost the election in 1985 (as an independent) and in 1988 as a Pakistan Peoples Party nominee against Raja Mohammad Afzal, another stalwart of Jhelum. Chaudhry Altaf won as a PPP nominee in 1990 by defeating Raja Afzal of the Islami Jamhoori Ittehad. For a short while between April and July 1993, he worked as the governor of Punjab. He was reappointed to the same post in April 1994 and died in office on May 21, 1995. No member of the family contested the 1993 general elections and in the 1997 polls, Chaudhry Farrukh Altaf (as a PPP nominee) lost against Raja Afzal. Chaudhry Altaf's younger brother, Chaudhry Iftikhar Hussain, was appointed a judge of the Lahore High Court in 1994. He became the chief justice of the LHC in 2002 and retired from the office in 2007. In 2002, Chaudhry Shahbaz Hussain, another younger brother of Chaudhry Altaf, was elected MNA from NA-62 on a PML-Q ticket. He went on to work as a federal minister between 2002 and 2007. He lost both the National Assembly seats of Jhelum, NA-62, and NA-63, in 2008 as a PML-Q nominee at the hands of the PML-Nawaz's Raja Mohammad Safdar Khan and Raja Mohammad Asad Khan, the sons of Raja Afzal who has since crossed over to the PPP.
 [1] family 
Legacy Continues
Chaudhry Farrukh Altaf ( son of Chaudhry Altaf Hussain) and Chaudhry Fawad Hussain (son of Chaudhry Iftikhar Hussain) contested NA-62 and NA-63 respectively in the elections.
Professional life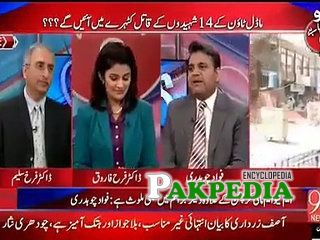 He is a lawyer by profession. He got his own chamber named "First Law Company" in Lahore. After quitting with PPP he joins Express-News as a political analyst. He left Express and joined ARY News as an analyst in program Siyasat ya Sazish but left that also and now has joined Dunya News and Anchoring a Show named Sayasat hai Ya Saazish. Then He has left Dunya News and joined 92 HD and co-host a talk show 'Ye Ho Kiya Raha Hai'. Now currently He is an Anchor on Geo News and hosting his programme " Khabar Ke Peeche". 
Political Career
He was considered as a strong and time-tested companion of President Pervez Musharraf. He was working as a General Secretary of APML( All Pakistan Muslim league)in Punjab. Later he joined PPP but due to some personal conflicts, he left Pakistan Peoples Party.
PTI appoints Fawad Chaudhry

Pakistan Tehreek-e-Insaf (PTI) appointed Fawad Chaudhry as a party spokesperson. party issueda staement that "It is hereby notified that Fawad Hussain is appointed as the party spokesperson," said the notification issued by PTI's Secretary General Jahangir Tareen. Party chairperson Imran Khan also confirmed the development, saying the party has "a team of PTI spokespersons to represent us on TV and media".
NA-63 Jehlum

Chaudhry was been issued a party ticket for NA-63 jehlum where his ancestral hometown situated. He issued a statement where he said that he is very grateful to PTI Chairman Imran Khan for giving a chance to become pti family. Fawad Hussain Chaudhry participate in NA-63 Jhelum elections with PTI ticket but lost by the candidate of Pakistan Muslim League-Nawaz (PML-N).
General Elections 2018
Fawad Chaudhry contested the General Elections of 2018 from two Constitutions, NA-67 (Jhelum-II)and PP-27 (Jhelum-III) and luckily he defeated his both competitors. From PP-27 (Jhelum-III) he defeated Nasir Mehmood of PMLn by gaining 67,003 votes, while from NA-67 (Jhelum-II) he defeated Nawabzada Raja Maqbool of PMLn by receiving 93,102 votes. After his major victory, he appeared a talk show where he talked about his desire of becoming the Chief Minister.
Federal Minister for Information and Broadcasting.
On 18th August 2018, Imran Khan formally announced his name as a Federal Minister of Information and Broadcasting, while on 20th August 2018 after two days he officially became the Federal Minister for Information and broadcasting.
Barred from Senate Session
Information Minister Fawad Chaudhry has obstructed from the ongoing Senate sessions by the Senate Chairman Sadiq Sanjirani on 15th November for saying harsh words for other members during his speech and then not apologizing when questioned. In that speech, Chaudhry had also accused Senator Mushahidullah Khan of indulging in nepotism. Rehman Malik responded over this matter by saying that such behavior of ministers is unacceptable in any case. Fawad Chaudhry showed his disappointment over this decision by saying that no one is pleased with this decision and the prime minister will soon take some notice of it.
Fawad Chaudhry advises CM Sindh to resign
Federal Minister Fawad Chaudhry has instructed the CM of Sindh Murad Ali Shah to give his resignation as he is facing serious charges of corruption. He further said that the federal government wants to inhibit and weaken the Sindh government. He said that "Prime Minister Imran Khan has directed that no such impression should be attributed to the federal government."