Pakistani Civil Servant
Fawad Meeting with Former PM of Turkey Ahmet Davutoglu
With Nawaz Sharif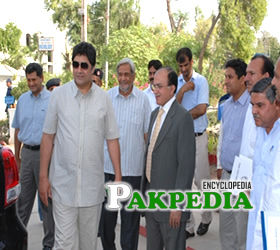 With Other Members
In Meeting
Biography
Fawad was born in
Rawalpindi
Pakistan to a middle class family.He is the youngest of five brothers. His father name Muhammad Yaqub was a Kashmiri migrant and a graduate of Sri Pratap College, Srinagar, 1935.Fawad has obtained his LLM (Corporate Finance) degree from King's College, University of London, U.K. with key areas of study including capital market regulation, international finance, international trade, institutional and legal aspects of multilateral financial/trade institutions, and reorganization and restructuring of public sector organizations.
[1]
Biography
Career
Training
He was trained in 1982 as a lawyer at the
University of Punjab
and also underwent two years management training (1987-89) at the Civil Services Academy,
Lahore
. His core competencies include working at multilateral trade and finance organisations, including WTO, UNICTAD, IMF, World Bank, WTO framework including basic organisational principles and legal knowledge of dispute settlement mechanism, agreements on trade, agriculture subsidies, International Business Law and Finance including joint ventures and technology licensing, International Trade Law, trade promotion and facilitation, market analysis and resolution of business disputes through arbitration.
[2]
Training
Secretary to Chief Minister
Before being posted at the PM House, Fawad Hassan Fawad served as Secretary to Chief Minister (Implementation), and Punjab from July 2012 to April 2013, Secretary Excise and Taxation,
Punjab
from July 2011 to July 2012, and attended staff course for senior management course at National Institute of Management Lahore from April to July, 2011.
Secretary Health Punjab
From February 2010 to April 2011, he served as Secretary Health Punjab, from November 2008 to February 2010 as Secretary Communication and Works Punjab and from April 2008 to November 2008 as Secretary Services and General Administration Punjab.
Additional Secretary
Fawad Hassan Fawad also served from December 2001 to September 2002 as Additional Secretary , Services and General Administration Department, Punjab, from November 1999 to September 2000 and May 1998 to March 1999 as Deputy Secretary and Principal Staff Officer to Chief Secretary , Punjab, March 1999 to  November 1999 as Deputy Commissioner Lahore and from March 1997 to May 1998 as Principal Staff Officer to Principal Secretary to Prime Minister of Pakistan.
[3]
Additional Secretary
Fawad Hassan Fawad also served as Joint Secretary , Economic Affairs Division, from April 2013 to June 4 2013.
Services
His services in financial sector included his appointment as Senior Group Advisor, Jehangir Siddiqui Group, Executive-in-Charge Infrastructure Development Division
Bank Alfalah Ltd
from August 2005 to November 2006 and Commercial Counselor, Embassy of Pakistan, Germany from September 2002 to August 2005.
Deputy Commissioner Quetta
From July 1994 to March 1997, Fawad Hassan Fawad served as Deputy Commissioner Quetta, Deputy Secretary to Chief Secretary ,
Balochistan
from January 1993 to July 1994 and Assistant Commissioner,
Quetta
and Hub from August 1989 to January 1993.
Achievements
Fawad has also various awards and achievements to his credit, including Executive Secretary , University of London Post Graduate Law Society, British Council Chevening Scholarship for Masters-in-Law, Director General's Award for All Round Performance, 15th Common Training Programme, Civil Services Academy, Lahore, Editor `Cry of the New Born' (Civil Services Academy Magazine), Coach, Pakistan Universities Youth Basketball Team and National Colour in Basketball.
Motivated Letter To FBR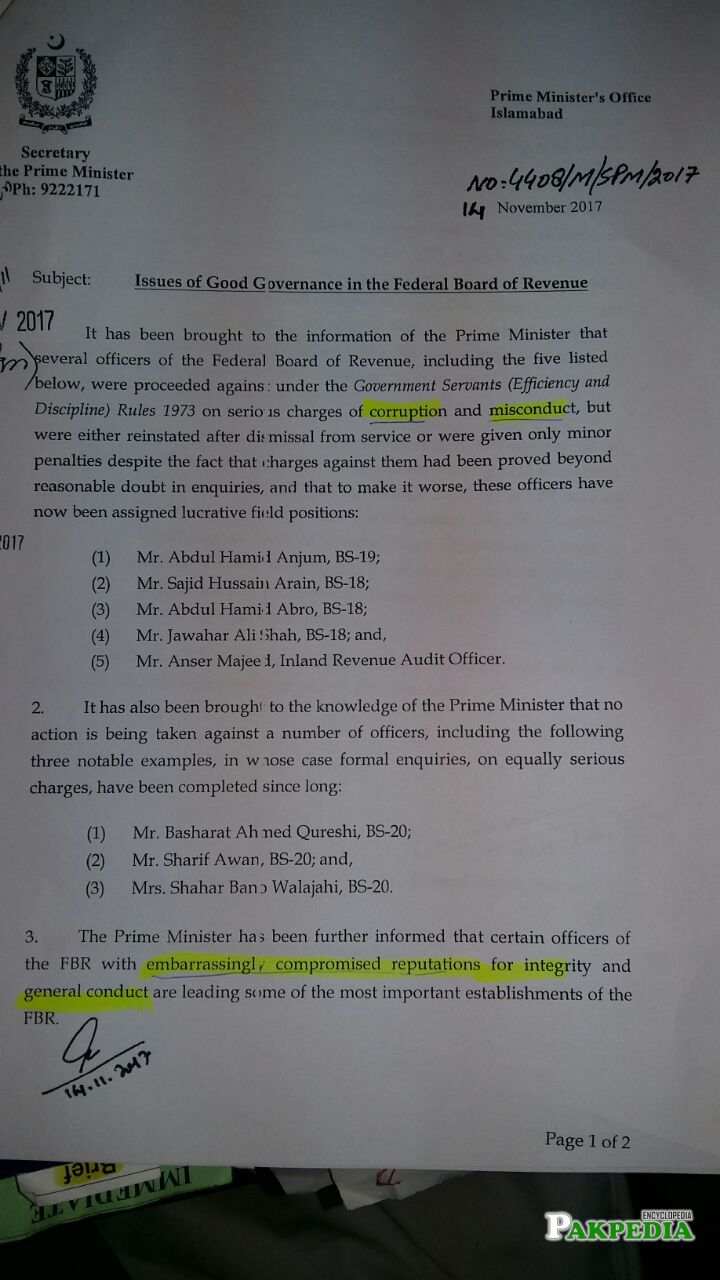 On 14 November, 2017, an unprecedented letter was written by Fawad Hasan Fawad, Secretary to the Prime Minister to Chairman FBR on "Issues of Good Governance in the Federal Board of Revenue". This letter was then leaked to the media and appeared with some spicy additions in some newspapers and TV channels. It is indeed surprising that out of all the Federal Government departments, only FBR was singled out for this unique treatment.
[4]
Motivated Letter To FBR
Background
The background of this letter is that a few days earlier, in a meeting where some contenders for the position of Finance Minister were present, Chairman FBR Tariq Pasha was grilled about his performance. It is no secret that Pasha is very close to
Ishaq Dar
and was posted as Chairman FBR by him. So it was inevitable that following rumours of Dar's resignation, the vultures would be circling and preparing to pounce. The post of Chairman FBR is one of the most powerful and lucrative posts in the Federal Government, so many an aspirant would be dreaming of replacing the incumbent. It is a just simple matter to circulate unsubstantiated allegations to put Pasha on the defensive and then use such a letter to displace him.
Ashiana Housing Case
National Accountability Bureau (NAB) Lahore office has summoned Fawad Hasan Fawad, Principal Secretary to Prime Minister Shahid Khaqan Abbasi in the Ashiana Housing Scheme case.According to sources, Fawad has been summoned as a witness and is expected to appear before NAB Lahore.The order issued on behalf of NAB Lahore's Director General stated that the inquiry against PLDC and LDA officials among others 'has revealed that you are in possession of information / evidence regarding award and cancellation of contract in respect of Ashiana-e-Iqbal Project launched by Punjab Land Development Company (PLDC)'.In view of the reasons mentioned above, Fawad Hasan Fawad has been 'called upon to appear before Combined Investigation Team (CIT)' in order 'to record statement'.
Mian Shehbaz Sharif
Talking to a press conference after his appearance before the committee,
Shehbaz Sharif
said that he could have issued a written statement to NAB, but appeared before the group since he is a law-abiding citizen, while also saying that "the summons by the body were based on ill intentions."CM Shahbaz also stated that during his meeting with the committee, he asked numerous questions regarding the case but the probing unit had no answer to the
Pakistan Muslim League-Nawaz (PML-N)
leader's queries.He also said that he has a responsibility as the CM to ensure government functions properly, while he also asked the attendees whether saving money for the nation was a crime."As the chief minister, I am the in-charge of the province, the government functions due to performance. Is it a crime to save money for the nation?" said Shahbaz.
Notification
NAB had issued a notification on 17 Jan 2018 saying that an inquiry is being conducted against official of Development Company (PLDC), Lahore Casa Developers, Lahore Development Authority and others pertaining the housing scheme case.
[5]
NAB