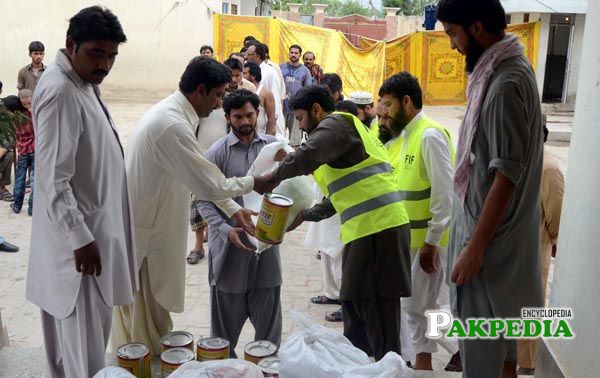 People of FIF Distributing goods among people
Members of FIFP
Members of FIF attending Funeral ceremony
Falah Insaniat Foundation Lahore
Rescue training workshop
Founder of FIF
Hafiz Muhammad Saeed, is a Pakistani national born in Sargodha on May 6, 1950. He is a Chairman of Jamaat-ud-Daawa (Party of Preachers), and is accused of 2008 Mumbai terrorist attack. He is individually designated by the United States Department of the Treasury as a Specially Designated National under Executive Order 13224. In December 2008, United Nations also designated under UNSCR 1267. There is $10 Million American bounty on the head of Hafiz Saeed. In January, 2015, Jamaat-ud-Daawa was banned by Government of Pakistan and the bank account of Hafiz Saeed has been frozen by the Foreign Office of Pakistan. 
[1]
Founder Founder
Chairman of FIF
Hafiz Abdul Rauf is Chairman of Falah-e-Insaniat Foundation Pakistan (FIF) and also a member of the proscribed organization Jamaat-ud-Daawa.
Falah Insaniat Foundation Pakistan
Falah Insaniat Foundation also known as FIF is a welfare wing of the Jihadi militant group Jamaat-ud-Daawa. At the forefront the services of Falaah Insaniat Foundation include provision of water projects, relief camps, medical camps, daycare centers and post-disaster rescue operations in remote areas. This organization is developing a soft corner among the affected fraction of the society through its charitable work for recruitment. Jamaat-ud-Daawa openly held rallies for promoting the agenda of Saudi in Yemen conflict. Falaah Insaniat Foundation is also endorsing the agenda of Jamaat-ud-Daawa in support of Yemen conflict on social media.
Recruitment and Financial Resources
Falah-e-Insaniat Foundation Pakistan (FIF) is actively recruiting people by buying the affection through their charitable work for the people displaced due to conflict and disasters.  The volunteers of a proscribed organization, Jamaat-ud-Daawa, are working in the rescue teams of FIF.  Falah-e-Insaniat Foundation Pakistan (FIF) raises funds and cultivates local support for their groups during disasters. It is using the tools of social media to target audience across Pakistan and the Pakistani Diaspora community around the world to gain support for their philanthropic activities. The extended activities of this organization reflect that there are huge human and financial resources.  FIF also uses social media to carry out its advertisement and fund raising.  
Free Medical Camp
Falah e Insaniat Foundation (FIF) held 14 medical camps in 9 cities. Camps were held in Lahore, Multan, Karachi, Peshawar, Rawalpindi, Hyderabad, Gujranwala, Nankana and Kasur. Medical assistance was provided to 2364 patients. 22 specialist doctors medically examined patients. As well as, 45 paramedics offered their services. Ultrasound, Blood, sugar and hepatitis tests of 560 people were also determined. Free medicines worth of 500 thousands Rupees were also distributed among patients. Number of patients affected from different diseases like general physician, eye, nose, ear, throat, gynae, children, surgery and skin benefited at these camps. Spokesman FIF Salman Shahid told that free medical camping in country is continued in 12 months of year. With the help of mobile medical units, Medical camps are being arranged at Union council level. He said that FIF provides free healthcare facilities to 1 millon people annually.
Vehari
FIF held free medical camp at Machhiwaal. Around 1300 patients were medically examined at camp. Free medicines were given to patients. Surgeon Doctor Abu Zar Saleem, Children Specialist Doctor Hasan Sardar, Eye Specialist Doctor Muhammad Adeel, Homeo Doctor Muhammad Abdullah, Doctor Muhammad Tariq, Doctor Muhammad Akram, Doctor Usman Haider, Doctor Umar Altaf and paramedics offered their services. Facilities of blood grouping and sugar test were also provided. Honorable personalities of area visited camp and thanked FIF for organizing such camp.
Islamabad
Free medical camps were arranged by Falah e Insaniat Foundation in different areas of city. More than 1000 patients were treated at 3 camps. Camps were held at Shahzad Town, Turnool and G-7. Around 400 patients were checked at Shahzad Town, whereas more than 600 patients were treated at Turnool and G-7. Doctors and paramedics medically examined the patients. Glasses along with medicines were distributed freely. According to Head FIF Islamabad Tayyab ul Rehman, FIF is taking steps to humanity.  For this purpose, medical camps are being held. He announced to establish rescue centre in each sector and to make dispensary in rural areas of Islamabad.
Multan
Falah e Insaniat Foundation (FIF) arranged free medical camp at Khawaja Colony, Bosan Road. In camp, around 400 patients were medically treated. Large number of children and women were medically examined. Free medicines were also given at camp. 8 member staff including paramedics and doctors provided healthcare facilities. Head FIF Multan Muhammad Rashid monitored medical camp. He said that lower class is benefiting from medical camps. Our mission is to provide free healthcare facilities to people at doorstep.
Kasur
A free sugar camp was held at Chak No 60, Kot Radha Kishan City. Camp was arranged by Falah e Insaniat Foundation (FIF). MBBS Doctor Arsalan Butt treated 128 patients. Free medicines were also given them. At camp, Sugar test of 58 people was determined. Head FIF Kasur Muhammad Bashir supervised camp. He said, "Our aim to provide healthcare facilities to people at doorstep. These camps would be arranged occasionally.
Hyderabad
Falah e Insaniat Foundation (FIF) arranged free blood grouping camps. camps were held at Lalu Shaari, Chowk Hala Naka, Kali Mori, Sachal Sarmast Colony, Tulsi Das Road and other areas. More than 1000 determined their blood. Head FIF Muhammad Abdullah said that FIF believes in humanity.
Faisalabad
Falah e Insaniat Foundation Faisalabad arranged free eye camp at Al-Fayyaz Colony, Satyana Road. Specialist doctors checked up eyes of 470 patients. Free medicines were also given. Tests of Hepatitis B and C were also determined whereas 70 glasses were distributed among eyes patients.
Lahore
Falah e Insaniat Foundation (FIF) holds free medical and blood grouping camps. 11 free medical camps were held at Kasur Pura, Manga Mandi, Mohlanwal, Gulshan e Ravi, Kot Lakhpat and Shahdra. More than 3000 patients were treated at camps. Specialist doctors medically examined patients. People were also given medical advice. Laboratory tests of dozens people were also determined. FIF also provided medicines worth of thousands of Rupees.  
[2]
Free medical camp
Contact Details
Address : 4 - Lake Road, Chuburgi, Lahore
Landmarks : Chaubarji Chowk, Chauburji Chowk, Lake Road
City : Lahore
Phone : +92-42-37230550
Fax : +92-42-37230548
Takeover of Charities
The government of Pakistan plans to seize control of charities and financial assets linked to Jamaat-ud-Dawa (JuD) leader Hafiz Saeed ,  Pakistan's government detailed its plans in a secret order to various provincial and federal government departments on December 19, three officials who attended one of several high-level meeting discussing the crackdown told Reuters. Marked "secret", a Decemeber 19 document from the finance ministry directed law enforcement and governments in Pakistan's four provinces to submit an action plan by December 28 for a "takeover" of Saeed's two charities, Jamaat-ud-Dawa (JuD) and the Falah-e-Insaniat Foundation. Spokesmen for the JuD and FIF both said they could not comment until they receive official notifications of the government's plans. "We don't have any intimation about any crackdown so far," FIF spokesman Salman Shahid told Reuters. Punjab's provincial government had put Saeed under house arrest for 10 months this year 2018 for violating anti-terrorism laws.  
[4]
Takeover of charities