Faiz Ahmad Faiz (فیض احمد فیض) was an influential intellectual and a revolutionary poet. His poetry has been translated in to several languages including English and Russian.
Faiz Ahmed Faiz also appeared in some tv shows. He published eight books and all of them were sold in huge numbers. Faiz Ahmad Faiz also worked for British Indian Army but later submitted his resignation in 1947. He died in 1984, but still remains in the hearts of literature admirers.
Ranjish.com is the best place to read all Faiz Ahmad Faiz Poetry.[1]Fiaz ahmad fiaz info
| Title | Description |
| --- | --- |
| Personal | |
| Name: | Faiz Ahmad Faiz |
| In Urdu: | فیض احمد فیض |
| Nick Name: | Faiz |
| Famous As: | TV Host |
| Nationality: | Pakistani |
| Education: | Arabic literature B.A., MA English Literature Master of Arts |
| Religion: | Islam |
| Profession: | Poet and Journalist |
| Notable works: | Naqsh-e-Faryadi Dast-e-Sabah Zindan-nama |
| Literary movement: | Progressive Writers' Movement Communist Party of Pakistan |
| Genre: | Ghazal, Nazm |
| Alma mater: | Murray College at Sialkot Government College University Punjab University |
| Ethnicity : | Punjabi (Jat) |
| Language: | Punjabi Russian English Urdu Arabic Persian |
| Awards : | MBE (1946) Nigar Awards (1953) Lenin Peace Prize (1962) HRC Peace Prize Nishan-e-Imtiaz (1990)Avicenna Prize (2006) |
| Academia and literacy: | In 1936, Faiz joined a literary movement, (PWM) and was appointed its first secretary by his fellow Marxist Sajjad Zaheer. In East and West-Pakistan, the movement gained considerable support in civil society.In 1938, he became editor-in-chief of the monthly Urdu magazine |
| Military service: | In 1935 Faiz joined the faculty of Muhammadan Anglo-Oriental College at Aligarh, serving as a lecturer in English and British literature. Later in 1937, Faiz moved to Lahore to reunite with his family after accepting the professorship at the Hailey College of Commerce, initially teaching introductory courses on economics and commerce. During the midst of World War II, he enrolled in the British Army in 1942 |
| Born | |
| Date: | 13 February 1911 |
| Place: | Sialkot District |
| Family | |
| Spouse: | Alys Faiz |
| Children: | Salima (b. 1942) Muneeza (b. 1945) |
| Died | |
| Date: | 20 November 1984 |
| Rest Place: | Lahore, Punjab, Pakistan |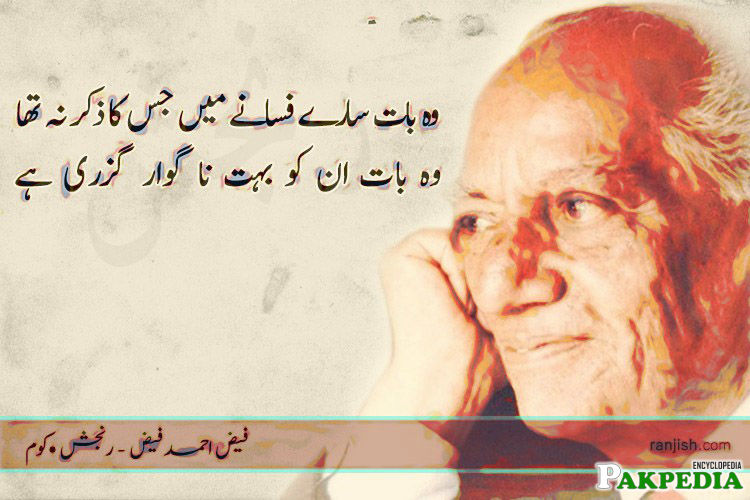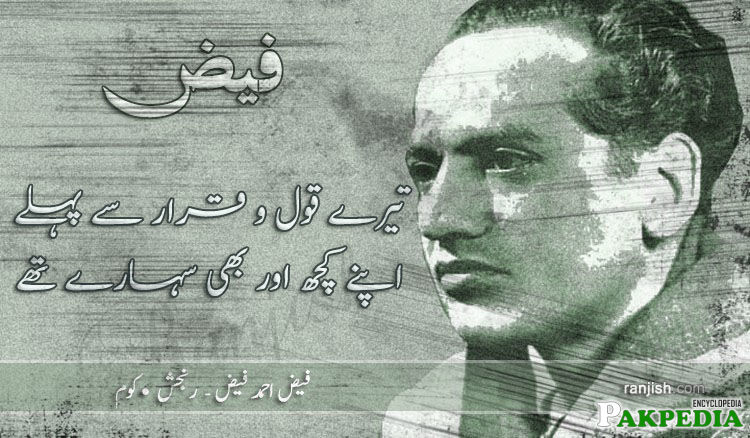 Life History Of Poet Faiz Ahmed Faiz
Faiz Ahmed Faiz was born on February 13,1911 in Sialkot. He is the most famous poet of Urdu. His mother name was Sultan Fatima and father was Sultan Muhammad Khan..Faiz's father was lawyer and he had also interest  in literature.Therefore, Faiz interest in literature was in his blood.Faiz started memorizing Holy Qur'an when he was 4 years old. He started his primary education in Sialkot and learned Urdu, Persian and  Arabic. He also studied English  literature.He passed B.A  Arabic from Government college Lahore.Faiz passed M.A English in 1932. He started branch of  Progressive Writers  Movement.  He was a distinct poet.Pakistan government awarded nishan-e-imtiaz for his best literary work.Faiz was the best Asian poet to be awarded Lenin Peace prize in 1963. In 1964 he was appointed as Principal In Abdullah Haroon college Karachi.In 1972 he became the chairman of Arts council of Pakistan.
In 1975 Faiz Ahmed Faiz received  Afro-Asian prize.In 1980 Faiz dedicated his book "Mere Dill Mere Musafir" to the Palestine leader Yasser Arafat. Many books of Faiz Ahmed Faiz translated in other languages.5 books of Faiz Ahmed Faiz  translated in Sindhi and were launched on his anniversary.In 2011 faiz centenary celebrated in Asia,north America,and Europe.[2] Life history of fiaz ahmad fiaz
Marriage
In 1941, Faiz became affectionate with Alys Faiz, a British national and a member of Communist Party of the United Kingdom, who was a student at the Government College University where Faiz taught poetry. While Alys opted for Pakistan citizenship, she was a vital member of Communist Party of Pakistan, played a significant role in Rawalpindi Conspiracy Case when she brought together the communist mass. Together, the couple gave birth to two daughters Salima and Moneeza Hashmi
Faizs Early Poems
Faiz's early poems had been conventional, light-hearted treatises on love and beauty, but while in Lahore he began to expand into politics, community, and the thematic interconnectedness he felt was fundamental in both life and poetry. It was also during this period that he married Alys George, a British expatriate and convert to Islam, with whom he had two daughters. In 1942, he left teaching to join the British Indian Army, for which he received a British Empire Medal for his service during World War II. After the partition of India in 1947, Faiz resigned from the army and became the editor of The Pakistan Times, a socialist English-language newspaper.[3] Early poems fiaz ahmad fiaz
Academia and literacy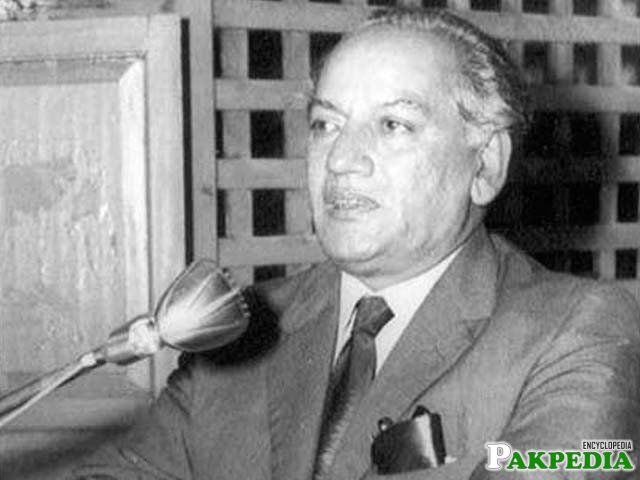 In 1936, Faiz joined a literary movement, (PWM) and was appointed its first secretary by his fellow Marxist Sajjad Zaheer.In East and West-Pakistan, the movement gained considerable support in civil society. In 1938, he became editor-in-chief of the monthly Urdu magazine "Adab-e-Latif (lit. Belles Letters) until 1946.In 1941, Faiz published his first literary book "Naqsh-e-Faryadi" (lit. Imprints) and joined the Pakistan Arts Council (PAC) in 1947. From 1959–62, Faiz served as the secretary of the Pakistan Arts Council, and later became Rector of Abdullah Haroon College in 1964. The same year, Faiz became the vice-president of Pakistan Arts Council in 1964.
Faiz was a good friend of Soviet poet Yevgeny Yevtushenko who once said "In Faiz's autobiography… is his poetry, the rest is just a footnote". During his lifetime, Faiz published eight books and received accolades for his works. Faiz was a humanist, a lyrical poet, whose popularity reached neighbouring India and Soviet Union. Indian biographer Amaresh Datta, compared Faiz as "equal esteem in both East and West". Throughout his life, his revolutionary poetry addressed the tyranny of military dictatorships, tyranny, and oppressions, Faiz himself never compromised on his principles despite being threatened by the right-wing parties in Pakistan. Faiz's writings are comparatively new verse form in Urdu poetry based on Western models. Faiz was influenced by the works of Allama Iqbal and Mirza Ghalib, assimilating the modern Urdu with the classical. Faiz used more and more demands for the development of socialism in the country, finding socialism the only solution of country's problems. During his life, Faiz was concerned with more broader socialists ideas, using Urdu poetry for the cause and expansion of socialism in the country.
Yeh dagh dagh ujala 1947

Faiz never wrote much specifically about Partition. He may have believed that to make statements about such issues was the job of politicians. In the years leading up to 1947, Faiz and most intellectuals considered freedom from colonial rule as the most important matter. He wrote: 'We all knew that we wanted independence from the British but what this would look like, what shape it would take, all of us had only a vague idea about that'. It would be safe to say that no one (including politicians) expected the human catastrophe that Partition eventually brought.     Alys was in Kashmir at the time of Partition along with her young daughters. They were lucky to avoid the bloodshed, and managed to reach home safely. During those horrible days Faiz never hesitated going to the most dangerous places as a correspondent and often amazed his foreign friends and counterparts from western news agencies with his courage and boldness.    Faiz at this time was the Editor of the daily The Pakistan Times, the flagship publication of Mian Iftikharuddin's Progressive Papers Limited. Whatever Faiz expressed in his poems, he also wrote in his paper.  He wrote several editorials and essays in those days filled with grief over the pointless massacres, the terrible killings of thousands of innocent people and appealed for sympathy and aid for the victims and for an end to the bloodshed.    His most famous poem from that era influenced a whole generation and is always quoted whenever Partition is discussed. Subh-i-Aazadi was Faiz' first poem written after independence on August 14, 1947.  Professor Fateh Mohammad Malik has written: "It is surprising that those who express anger at the dawn of independence being labeled a 'blemished dawn' and a 'night-stung morning' fail to see the aching love for Pakistan in those lines especially when the wounds inflicted by Radcliffe were still fresh and our political leaders were openly lamenting the deceit and treason of the British."     Faiz had been to East (Indian) Punjab and had seen the devastation and bloodshed with his own eyes. Partition displaced up to an estimated 12.5 million people in the former British India, with estimates of loss of life varying from several hundred thousand to a million. The remnants of the violence and the mutual hostility and suspicion between India and Pakistan plague their relationship to this day.[4]Yeh dagh dagh ujala fiaz ahmad fiaz
Faiz Ahmed Faizs Works
Naqsh-e faryadi (1943)
Dast-e saba (1952)
Zindan namad (1956)
Mizan (1964)
Dest-i tah-yi sang(1965)
Harf harf (1965)
Sar-e vadi-ye sina (1971)
Mat¯a`-i lauh o qalam (1973)
Rat di rat (1975)
Intikh¯ab-i Pay¯am-i Mashriq : manz¯um Urd¯u tarjumah (1977)
Sham-e shahri-yaran (1978)
Mere dil, mere musafir (1980)
Nuskha-Hai-Wafa (1984)
Poetry in Translationspan classtooltip-cn ref-link idref-link-5a hrefref-link-dt-5 sup5supaspan classtooltiptext Poetry in translation a hrefhttpswww.poets.orgpoetsorgpoetfaiz-ahmed-faiz classexternal-link target_blank fiaz ahmad fiazaspanspan
Poems (1962) trans. by V.G. Kiernan
Poems by Faiz (1971) trans. V.G. Kiernan
The True Subject: Selected Poems of Faiz Ahmed Faiz (1988) trans. Naomi Lazard
The Unicorn and the Dancing Girl (1988) trans by Daud Kamal, ed. by Khalid Hasan
The Rebel's Silhouette (1991) trans. Agha Shahid Ali
The Rebel's Silhouette: Selected Poems (1995) rev. ed. trans. Agha Shahid Ali
Faiz Ahmed Faiz Poemsspan classtooltip-cn ref-link idref-link-6a hrefref-link-dt-6 sup6supaspan classtooltiptextFiaz ahmad Fiaz a hrefhttpswww.poemhunter.comfaiz-ahmed-faizbiography classexternal-link target_blank poemsaspanspan
Each star a rung, night comes down the spiral staircase of the evening. The breeze passes by so very close
Before you came things were just what they were: the road precisely a road, the horizon fixed, the limit of what could be seen, a glass of wine was no more than a glass of wine. 
I am being accused of loving you, that is all It is not an insult, but a praise, that is all My heart is pleased at the words of the accusers
I longed for your lips, dreamed of their roses: I was hanged from the dry branch of the scaffold.
Do not ask, my love, for the love we had before: You existed, I told myself, so all existence shone, Grief for me was you; the world's grief was far. Spring was ever renewed in your face
Loneliness like a good, old friend visits my house to pour wine in the evening. And we sit together, waiting for the moon, and for your face to sparkle in every shadow. 
This is the way that autumn came to the trees: it stripped them down to the skin, left their ebony bodies naked. It shook out their hearts, the yellow leaves, 
Speak, your lips are free. Speak, it is your own tongue. Speak, it is your own body. Speak, your life is still yours. 
My heart, my fellow traveler It has been decreed again That you and I be exiled, go calling out in every street,
 The Incarceration Of Loneliness 
On the far horizon waved some flicker of light My heart, a city of suffering, awoke in a state of dream My eyes, turning restless, still dreaming, the morning, dawning in this vacuous abode of separation 
Some Lover To Some Beloved! 
Down the memory lanes, on which you've strolled since ages past They will end if you walk farther a step or two Where exits the turn towards the wilderness of forgetfulness 
If they snatch my ink and pen, I should not complain, For I have dipped my fingers In the blood of my heart. 
It is spring, And the ledger is opened again. From the abyss where they were frozen, those days suddenly return, those days that passed away from your lips, that died
We shall see Certainly we, too, shall see that day that has been promised to us.
Main Objective
In Pakistan: To promote peace and harmony amongst people of all races and
nationalities, transcending religious, ethnic and linguistic differences.
Globally: To present Faiz as the ambassador of the soul and feelings of the people of
Pakistan by projecting his poetry and other literary works, as well as his struggle for world
peace and prosperity. [7] Main objectives fiaz ahmad fiaz
Golden history of Faiz has endend

The golden history of Faiz has ended in 1984, in the city of Lahore where he passed away and lived many years as a home ground. In fact, when we memorize anything about Faiz our
feelings become virtuous because of the life, which he had gone through and did so many struggles. He was also a main rooter in prolonging Urdu Language as well as the polisher of
the people of Pakistan. His works translated in many languages, and he is valuable in the
literary world.In the end, I must conclude that we, the youth of Pakistan, will give them a commodious honor on a Faiz Centenary and search his message in his glowing writing by his pen. By this,we surely attain and succeed in our goals of life.[8]Golden history of fiaz ahmad fiaz has ended