If you are looking to discover Faisalabad, Pakistan, leave plenty of time for sightseeing tours – you wouldn't want to miss out on top attractions like Faislabad Hockey Stadium! And before you go, make sure to read Expedia's Faislabad Hockey Stadium sightseeing & tourist guide,[1] top attractions like –  Faislabad Hockey Stadium filled with all you need to know for the best Faislabad Hockey Stadium experience possible
| Title | Description |
| --- | --- |
| Information | |
| Location: | Faisalabad, Pakistan |
| Nickname: | Hockey Stadium |
| Type: | Ground |
| Local Language Name: | ہاکی سٹیڈیم |
| Coordinates : | 31°25′3″N 73°6′56″E |
| Full Name: | Faisalabad Hockey Stadium |
| Owner: | Pakistan Hockey Federation. |
| Capacity: | 36,000 |
| Surface: | asto trough |
| Scoreboard: | Manual |
| Total area (in marla): | 3.75 |
| Rooms (total): | 1 |
| Total area (sq. yard): | 113.44 |
| Facility: | Broadband internet available Open car spaces Secure parking |
| Details | |
| famous as : | modern and powerful floodlights |
| Tenants: | Pakistan national field hockey team |
| government had approved it along: | installation of floodlights and construction of a hostel for players |
| Faisalabad Hockey Stadium: | 3rd largest hockey stadium of Pakistan |
| Teams: | Pakistan national hockey team as well as regional |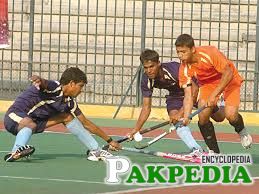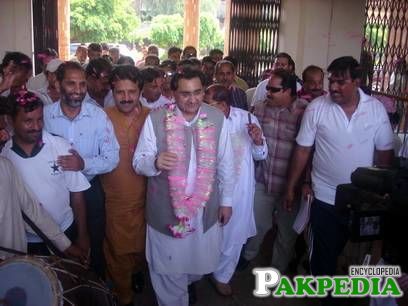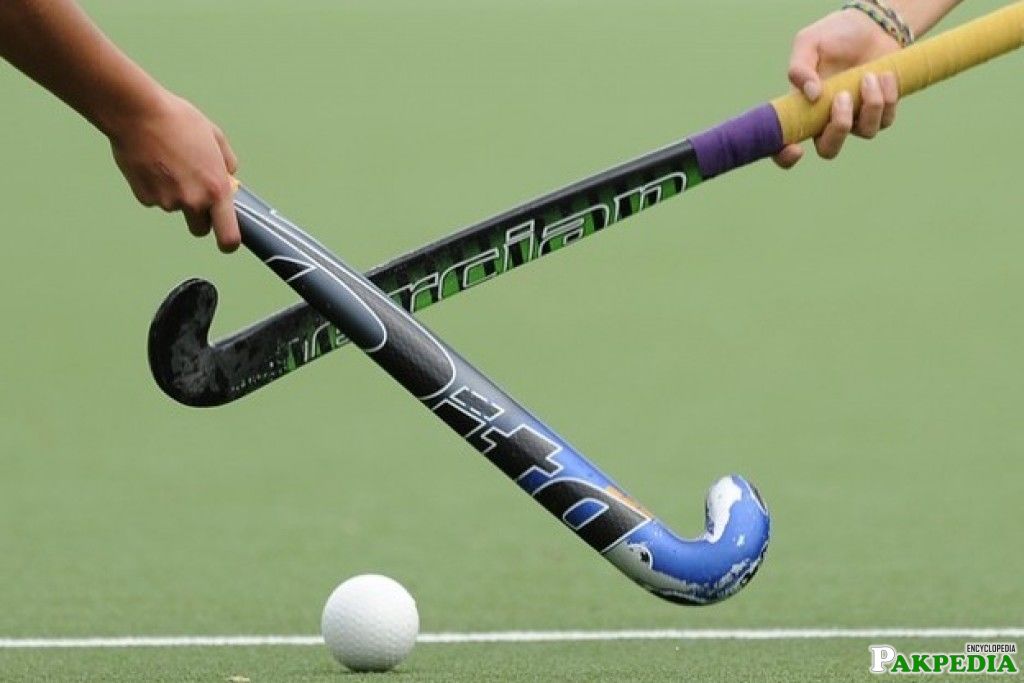 About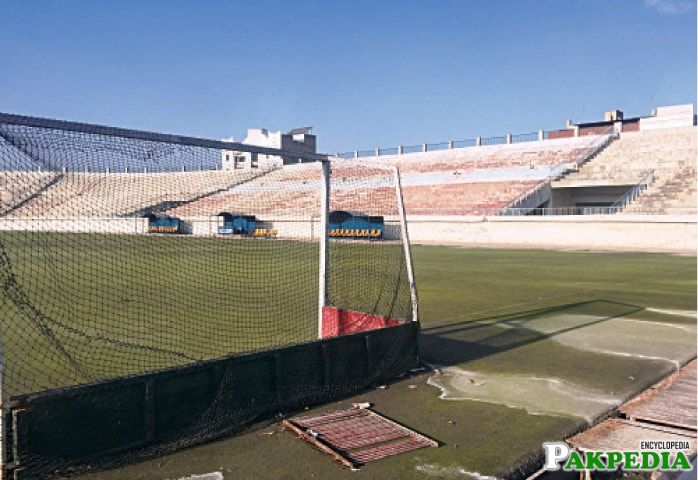 History
The hockey stadium in Faisalabad is in a pathetic condition as its astroturf has completed its life span about eight years ago.
The Faisalabad Development Authority (FDA) has sold most of its shops leaving no source of earning for the administrator to even maintain the stadium expenses.
A number of its iron grills being used to cover a drain to maintain the water of astroturf and stairs of the ground are broken. Shed of players' enclosure roof is placed along the wall of stairs while plaster of the ground at different points is also in a rundown condition.[2] hockey stadium in Faisalabad –  is in a pathetic condition  
Roads leading to the stadium and its drainage system are also in bad condition as shops have been sold to the people engaged in vehicles service station business.
The stadium was constructed in 2002 and then Punjab governor Khalid Maqbool had inaugurated it on April 16, 2003. An imported astroturf with a life of five-year had been laid in 2003.
Potholes and visible cuts can be seen at the astroturf. Nothing is in sight for the replacement of the astroturf while players say the government had approved it along with installation of floodlights and construction of a hostel for players[3] approved it along –  installation of floodlights
Property Features
3.75 Marla shop is available for sale.
It is located at Hockey Stadium, Susan Road, Faisalabad.
One of the best things about this shop is that it is located in one of the busiest area of the city.
All Basic facilites available here.
About Susan Road Faisalabad
 It is a 2km long road linked with Imtiaz Shaheed Road towards North-eastern side and Jaranwala Road towards West-southern side. It is alongside Madina Town.
 Hafiz Restaurant & Chicken Sajee, Four Season Restaurant & Ice Bar, Nasim Tikka Shop, Fri Chicks and many other famous food points are located on this road.
 Imperial Store, E Mart, Tile Select, Somis Garments & Boutique and Faces are located here.
 Many commercial banks like Bank Alfalah, MCB, Meezan Bank Ltd, Silk Bank and United Bank have their branches on Susan Road.
Punjab Social Security Hospital is also located here.
 Faisalabad Hockey Stadium is also located nearby.
 Faisal Public School is located here while Govt. College for Women is located within proximity.
All facilities are available here.[4] All facilities are available here – Faisalabad Hockey Stadium  So! In order to avail the preferred services please mention Lamudi.pk when contacting to your agent
Faislabad Hockey Stadium Car Rentals
Whether you're road tripping through the state or venturing around the city, do yourself a favor and rent a car in Faislabad Hockey Stadium, Pakistan. When you sit behind the wheel of your rental car, you can forget about hailing taxis and memorizing public transportation schedules. Because with access to a car rental in Faislabad Hockey Stadium, you're free to travel where and when you want. Thanks to a set of wheels, experience the freedom of exploring the entire area on your own watch. Spend the morning browsing a museum on one side of town and then hit up an attraction on the opposite side of town in the afternoon without a care in the world.[5] access to a –  car rental in Faislabad Hockey Stadium
If you're in search of a cheap car rental in Faislabad Hockey Stadium, Pakistan suiting all your needs, look no further than our selection of vehicles right here on Expedia. From large vans spacious enough to comfortably fit your whole family to sporty convertibles to cruise around in style, we offer it all. Browse our fleet to acquire a luxury rental with all the latest technology or a compact economy car with ideal gas mileage. Whatever kind of vehicle you picture yourself driving on the open road with, we'll help you find it. You'll come across numerous Faislabad Hockey Stadium car rentals matching not only your preferences, but your price range too. Book our cheap discounts, buckle up, and start your adventures with a rental car today
Best Places to Stay Near Faislabad Hockey Stadium
Our database of resorts and hotels in Faisalabad supplies all you need, so you will definitely have selections near Faislabad Hockey Stadium that you'll adore. Faisalabad welcomed more than a few visitors last year, so get researching. You'll rest assured when booking time is here, too: sightseers of all kinds would suggest their Faisalabad hotel to a buddy. Need help deciding? You're a click away from all the inside information you need. [6] Best Places to Stay –  Near Faislabad Hockey Stadium
Largest hockey stadium
Injuries are common at the stadium during practice because of the astroturf condition.
Being the third largest hockey stadium in the country, it has a capacity of around 25,000 people.
The stadium had hosted various tournaments of local and national level, including the national hockey championship.
All affairs of the stadium remained with the FDA till three years back when it was handed over to the Faisalabad Commissioner.
Commissioner Naseem Nawaz told Dawn that efforts were under way to upkeep this national asset.
He said funds would be arranged for the replacement of the astroturf so as to promote the national game among the youth.
He said the divisional management was trying its level best to provide maximum facilities to students.
Former prime minister Raja Pervaiz Ashraf had in December 2012 announced a new astroturf for the hockey stadium in Faisalabad, but it proved only a hollow slogan.
The district administration has allowed the construction of a building just a few feet away from the stadium which can be a security risk because of its height.
Capicty
it is 3rd largest hockey stadium of Pakistan after Lahore and Karachi having capacity of 36000
Administration
it is controlled by Pakistan Hockey federation(PHF). PHF also look after the management and other issues of stadium with cooperation of provincial and local governments.
Facilities
it is well equipped stadium. it has flood lights and other training facilities.
Teams
it is home ground of Pakistan national hockey team as well as regional teams. [8] home ground of –  Pakistan national hockey team Many national level tournaments such as National hockey championship had been organized here.
Hotels near Faislabad Hockey Stadium
Hotels within 3 miles of Faislabad Hockey Stadium
Faisalabad Serena Hotel
Hotels within 4 miles of Faislabad Hockey Stadium
Hotel One Faisalabad
Hotels within 5 miles of Faislabad Hockey Stadium