Faisal at Mazak raat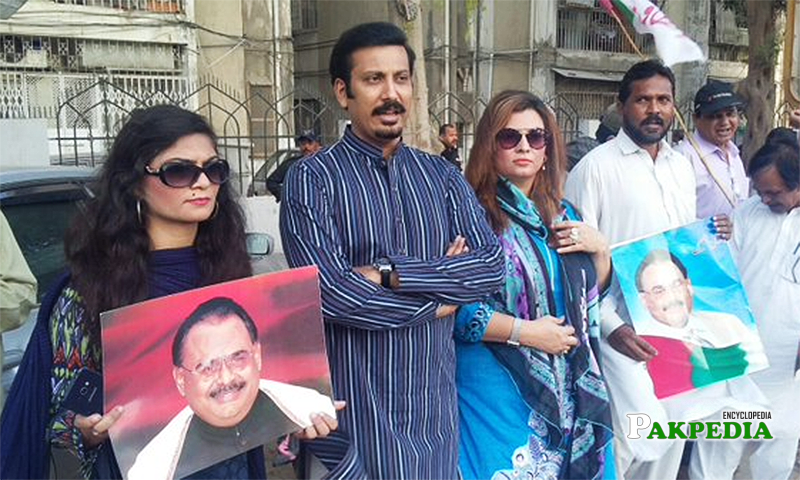 During protest with other leaders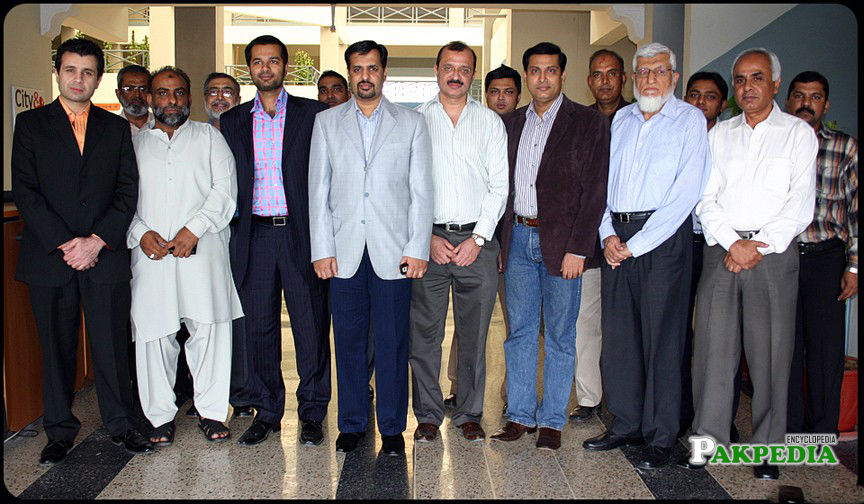 With Shehryar Niazi and Mustafa Kamal during visit to MITI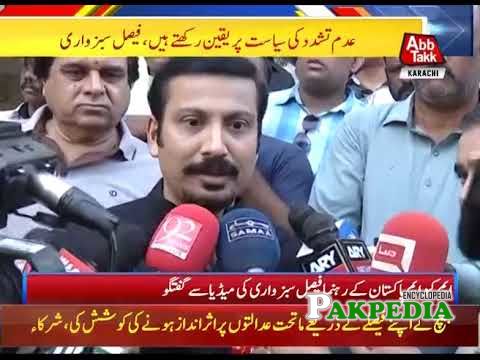 While talking to media
While speaking at press Conference with other members
Biography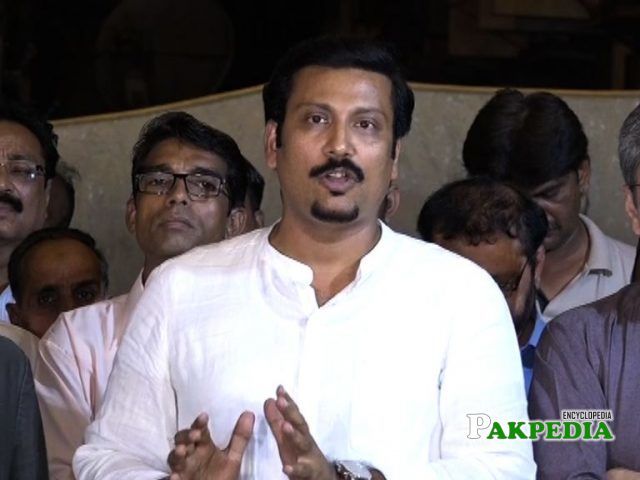 Born in 1975, Faisal Sabzwari is a member of the Muttahida Qaumi Movement's Rabta (Coordination) Committee as well as of its Central Executive Council. Sabzwari is highly regarded as a party stalwart, with which his association goes back to his student days, when he was the head of All Pakistan Muttahida Students Organisation (APMSO), MQM's student wing. Sabzwari, a graduate of the Preston Institute of Management Science and Technology (Pimsat) and the
University of Karachi
,has been an MPA in the Sindh Assembly twice — once from 2002 to 2007 and then again from 2008 to 2013. He is married and has 3 daughters. 
[1]
Biography Biography
Career
In the 2002 election, Sabzwari was elected from PS-118 (Gulshan-i-Iqbal and adjoining areas), while in 2008, he was elected from PS-126 (Gulistan-i-Jauhar and adjoining areas). Also in 2008, Sabzwari was accused by
Pakistan Peoples Party's
candidate from NA-253, Faisal Raza Abidi, of mistreating female polling agents during the election. During the tenure of the 2008-2013 Sindh Assembly, Sabzwari served as the provincial minister for youth affairs as well as MQM's deputy parliamentary party leader. Sabzwari has said that large land holdings must be taxed and has also spoken out against the proposed Kalabagh dam, saying it would be detrimental for Sindh. In 2013, he was identified as one amongst many non tax-paying Sindh MPAs. 
Muttahida Quami Movement P
Muttahida Quami Movement (Pakistan)  is breakaway faction of the now Muttahida Qaumi Movement, founded by
Farooq Sattar
whom declare disassociation from Muttahida Quami Movement's founder and leader
Altaf Hussain
, The faction was announced after release of Farooq Sattar from 8 hours abduction of Pakistan Rangers. on 8th November 2017, MQM Pakistan and
Pak Sarzameen Party
announced "establishment-sponsored" merger declaring that entity will choose new name for the party. Inter-Services Intelligence is referred as establishment in Pakistan.  
[2]
Muttahida quomi movement
Seminars and Conference
| | | | |
| --- | --- | --- | --- |
| Event | Participated as | Country | Year |
| Seminar | Participant - Provincial Autonomy -LFP | Pakistan | 2006 |
| Seminar | Participant - Electioneering -IRI | Pakistan | 2007 |
| Workshop | Participant - Legislative Training USAID | Pakistan | 2006 |
| Workshop | Participant - Transparency of Elections - NDI | Pakistan | 2007 |
| Workshop | Speaker - Dialogue with UK Parliamentarian -PILDAT | Pakistan | 2006 |
[3]
Seminars and Conference
Expelled from Party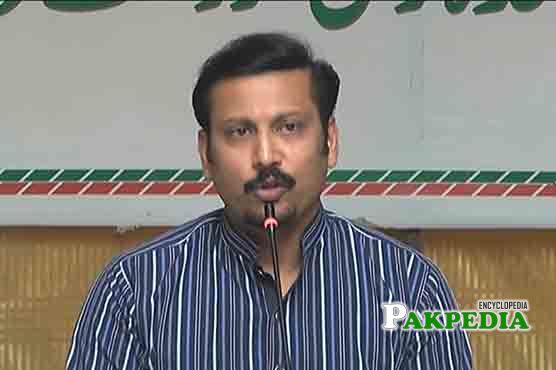 The Altaf Hussain-led Muttahida Qaumi Movement (MQM-London) has expelled several key leaders from party membership for "violating discipline". MQM-London's deputy convener Nadeem Nusrat chaired a meeting in London and announced that the basic membership of
Amir Khan,
Faisal Sabzwari, Khawaja Izharul Hassan and Kishwar Zehra has been revoked for violating party discipline, a press statement by the party. The party, in its statement, has advised "loyal members" to avoid keeping any contact with the expelled leaders. 
[4]
Expelled from party
Delegationsent to Farooq Sattar
Member of Muttahida Qaumi Movement-Pakistan (MQM-P) Rabita Committee Faisal Sabzwari said on 6th Feb 2018 that a three-member delegation had been sent to discuss matters with party chief Dr Farooq Sattar. While talking to the media, he said that the delegation includes senior party leaders Saeed Sattar, Rauf Siddiqui and Javed Hanif. According to Sabzwari, the delegation has been handed over the mandate over the matter by the Rabita Committee. Sabzwari further said that he was hopeful that the recent situation in the party would be sorted out. On 6th Feb morning, Sattar had called his party members for an important meeting today, in which he said he would make a 'major disclosure'.  
[5]
Delegation Delegation