faisal qureshi
faisal qureshi
faisal qureshi
faisal qureshi
faisal qureshi
faisal qureshi
Profile
Personal Life
Faisal Qureshi was born in Hyderabad,
Sindh
. His father was principal of Government City College, Hyderabad. Faisal attended early schooling in Lahore and graduated in graphic designing from National College of Arts. He started his career as a play writer with his brother Imran Qureshi. Faisal wrote and acted in various plays and then became VJ by hosting a show Video Junction which was previously hosted by Hadiqa Kiani in 1995. He gained popularity by producing the sitcom Teen Bata Teen which was aired on
PTV Home
in 1990s. Faisal then directed many comedy-dramas and sitcoms including Ulta Seedha and Uski Suno Awaz which were aired on GEO Entertainment. He has also directed television commercials and music videos.
[2]
Life career faisal
Started his career
Faisal started his career as a child artist from PTV's play Emergency Ward. He was also work in television plays Ab Ghar Jane Do, Hum Tum, and Andhera Ujala as a child actor. He has been a serial actor since the age of 18. His first big appearance on television and the one that people most identify him with was the character Boota in Toba Tek Singh. From that rustic role, he has played mostly urbane characters in serials such as Ahsaas and Harjaee. 
[3]
Faisal started his career as a child artist from PTV's play
About Family
A couple of years ago, after shuttling between Karachi and Lahore quite frequently, Faisal made
Karachi
his home where he lives with his mother Afshan Qureshi, who's a famous Film Actress of her time. Faysal married twice but both didn't work, he has a daughter and a son. Faysal interacts with his fans through Facebook and twitter.
[4]
A couple of years ago, after shuttling between Karachi
Faisal Qureshi- the Ufone Man
The name often mixes up the two flawless celebrities of the Pakistan showbiz industry. Therefore introducing him with Ufone is what all you need to know.  Faisal Qureshi is a great entertainer and he normally wears his glasses which were way simple and typical previously, but now, thanks to the new trend, he has also switched to the wayfarer family
[5]
Faisal Qureshi the ufone man
Faisal Qureshi isconsidered as the best advertiser of the Ufone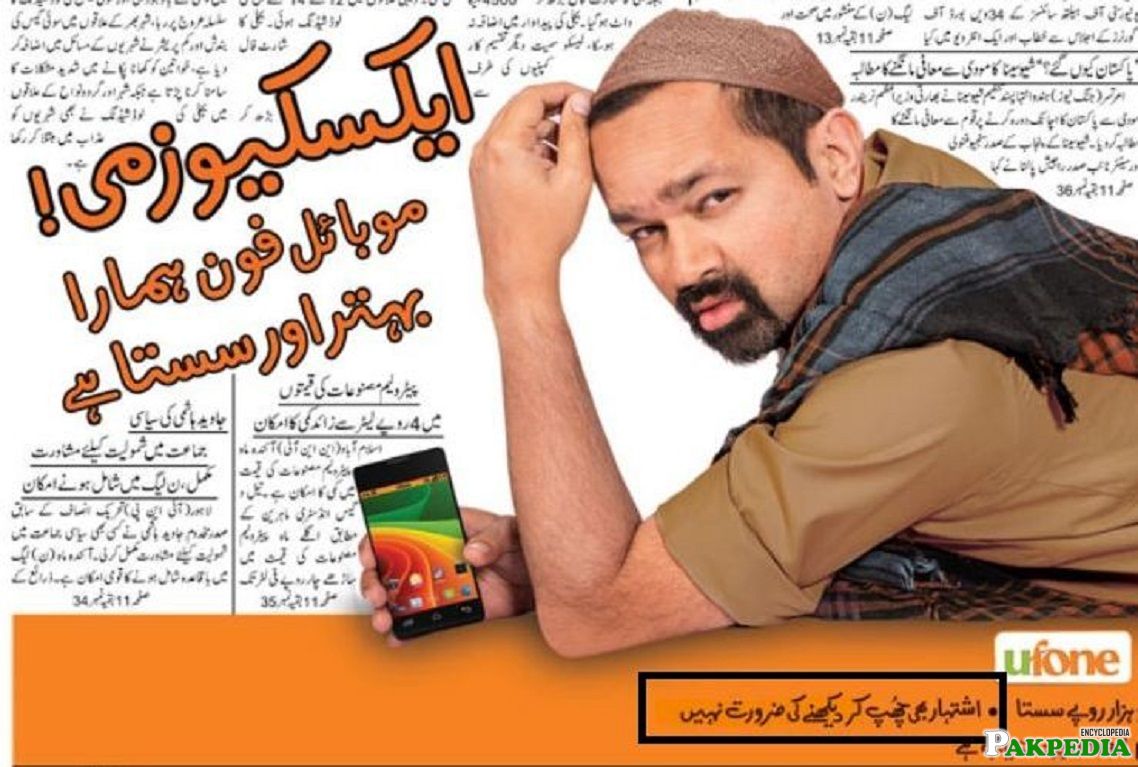 Faisal Qureshi in a curved position marketing the new phone of Ufone SmartU5a that is the 3D handset by the Ufone. Before going for further detail of the mobile set, it is important to mention here that Ufone has actually made respond over the Mobilink ad by showing the Nargis Fakhri that was according to the nation a vulgar advertisement.Faisal Qureshi and Mikal Zulfiqar are considered as the best advertiser of the Ufone for acting in the hilarious TV and paper ads of the Ufone that almost goes viral. But this time, Ufone came with a new style although this style is copied from it's rival cellular company but the idea of using the Faisal Qureshi is totally different.As it is mentioned earlier, Jang Newspaper has taken no kind of risk for publishing the Ufone recent ad in its
Quetta
edition. Moreover, Ufone and fully used the Desi culture of the country in the shape of Topi and Arabic scarf.
[6]
Faisal Qureshi ufone curved Ad
Teen Bata Teen
Featuring a trio of roommates — played by Faisal Qureshi, Adeel Hashmi and Ali Tahir as Shafoo — certainly got lots of laughs, as the background score of 'Can Can' was the perfect complement to their attempts to make money or get the girl. Salman Shahid as the 'kharoos buddha' trying to woo an older woman and getting chased by an invisible dog became the highlight of almost every episode. This kind of light comedy is perhaps what all of us need as an escape from the the seriousness of real life.
[7]
Teen Bata Teen faisal Qureshi
`
List of TV Dramas
No.
Program
Role
Channel
1.
Kollege Jeans (2000)
Faisal Qureshi
PTV
2.
Teen Bata Teen
Shafu
3.
Ulta Seedha
producer and director
Geo Entertainment
4.
Uski Suno Awaz