Engro Corporation's consists of six businesses, which  include Fertilizers, Foods, Chemical Storage & Handling, Trading, Energy and Petrochemicals.Engro Corporation's vision is to be a leading provider of world class products and services in the emerging & frontier economies in the energy, consumer and agricultural-inputs businesses thereby delivering on our promise of creating value for a multitude of stakeholders.
| Title | Description |
| --- | --- |
| Details | |
| Type: | Engro Corporation |
| In Urdu: | اینگرو کارپوریشن |
| Traded As: | Production of Fertilizers, Foods, Chemicals, Energy and Petrochemicals |
| Industry: | Conglomerate |
| Founded: | Basic Foundation: 1957 as Esso/Mobil Joint Venture, Company Incorporated 1965 as Esso Pakistan Fertilizer Company Limited |
| Headquarter: | Karachi, Pakistan. |
| Key People: | Muhammad Husnain (Chairman) |
| Product: | Engro Urea, Engro DAP, Engro Zorawar, Engro Zarkhez, Zingro, Olpers, Olwell, Tarang, Omore Ice Cream, Dairy Omung, Olfrute, SABZ, Engro Rupiya Certificate |
| Revenue: | PKR 157.208 Billion (2016) |
| Operating income: | Net income Increase PKR 69.107 Billion (2016) |
| Total assets: | PKR 290.333 Billion (2016) |
| Total equity: | PKR 169.091 Billion (2016) |
| Parent : | Dawood Group |
| Number of employees: | 3,768 (December 2016) |
| Information | |
| Website: | http://www.engro.com/ |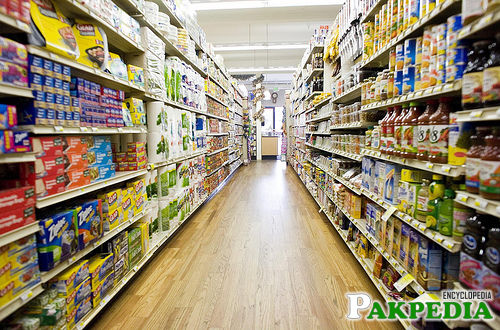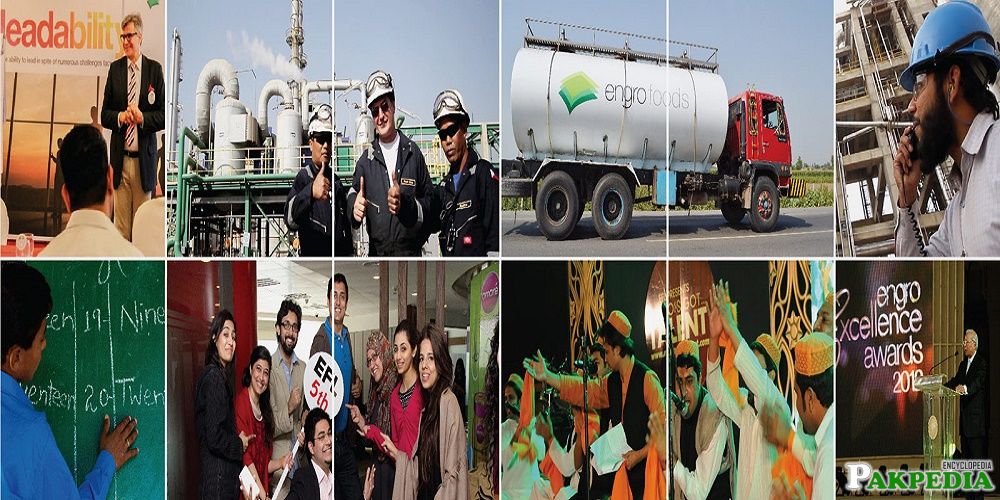 Details
Basic Information
Currently, Engro's portfolio consists of a varied business portfolio, which include fertilizers, foods, chemical storage & handling, trading, energy and petrochemicals. Fuelled by the vision of becoming the premier Pakistani enterprise with a global reach, passionately pursuing value creation for all stakeholders Engro's investments in agriculture, foods, energy and chemicals are all designed to deploy inclusive business models to pursue an integrated and inclusive growth for all who interact with our businesses. They create positive impact not just in the lives of our stakeholders, but across the entire economy. Integrated in the agricultural sector and reaching out to over 1.5 million farmers, they provide PKR 77 billion of farm inputs and procure PKR 19 billion of farm produce, converting it to consumer food products which provide convenience, hygiene and nutrition to over 12 million consumers each day, every day. [1]  Basic Information 
History


Engro is one of Pakistan's most progressive, growth oriented organizations, yet they never forget where we came from. Their history is a part of who we are today. Their diverse range of companies represent our rich legacy of innovation and growth.[2]  History 
Leadership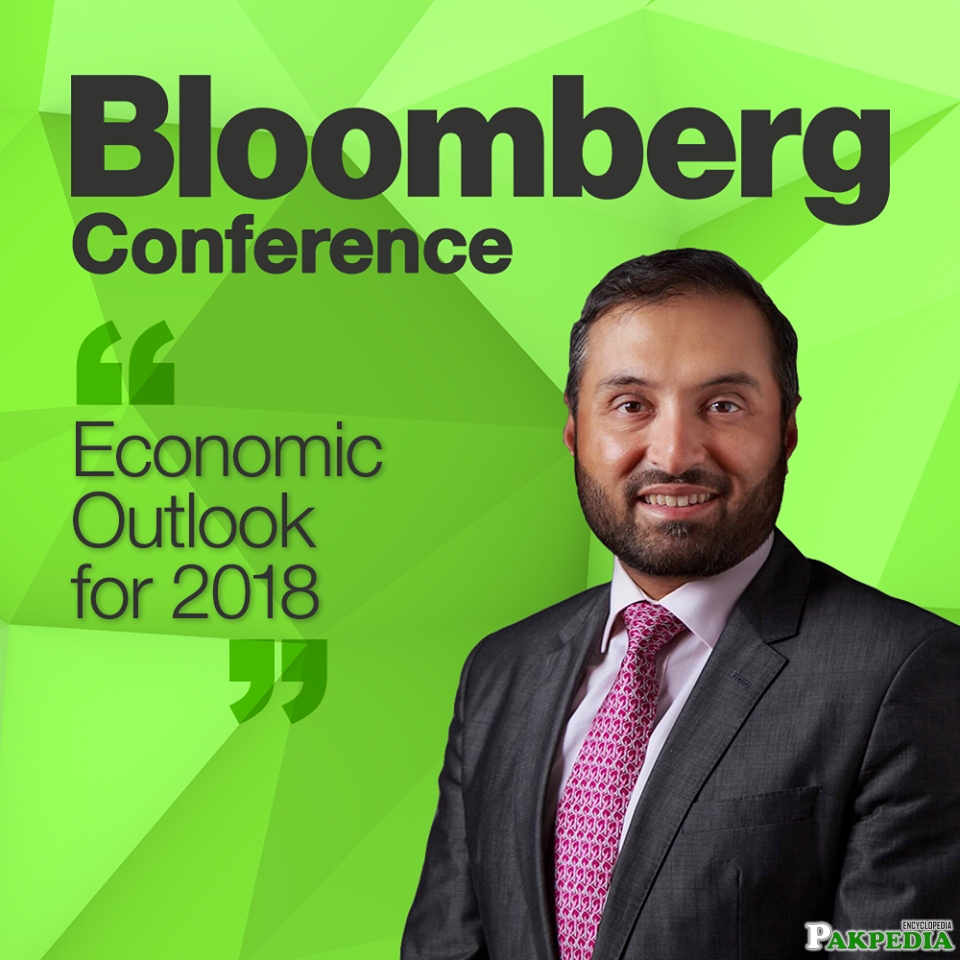 Engro's leadership consist some of the most enterprising leaders of the corporate world in Pakistan. These individuals are responsible for conceptualizing and articulating goals that bring their people together in pursuit of set objectives. They lead the company with a firm commitment to the values and spirit of Engro. In their journey to become a profitable, growth-oriented and sustainable company, their management structure has evolved to create a more transparent and accessible organization.
Executive Committee
President & CEO
Ghias Khan (President Engro Corporation)
Ruhail Mohammed (Chief Executive Officer,Engro Fertilizers Limited,Engro EXIMP Limited)
Shamsuddin A. Shaikh(Chief Executive Officer Sindh Engro Coal Mining Company)
Imran Anwer(Chief Executive Officer Engro Polymer & Chemicals Limited)
Jahangir Piracha(Chief Executive Officer Engro Vopak Terminal Limited & Engro Elengy Terminal Limited)
Ali Raza Mehdi(SVP & CHRO Engro Corporation)
Nadir Salar Qureshi (Chief Strategy Officer – Engro Corporation)
Mohammad Asif Sultan Tajik(Senior Vice President Manufacturing Engro Fertilizers Ltd) 
Hasnain Moochhala(Chief Financial Officer Engro Corporation Limited)
Board of Directors
Hussain Dawood (Chairman)
Ghias Khan (President Engro Corporation)
Muhammad Abdul Aleem (Director)
Abdul Samad Dawood (Director)
Shahzada Dawood (Director)
Values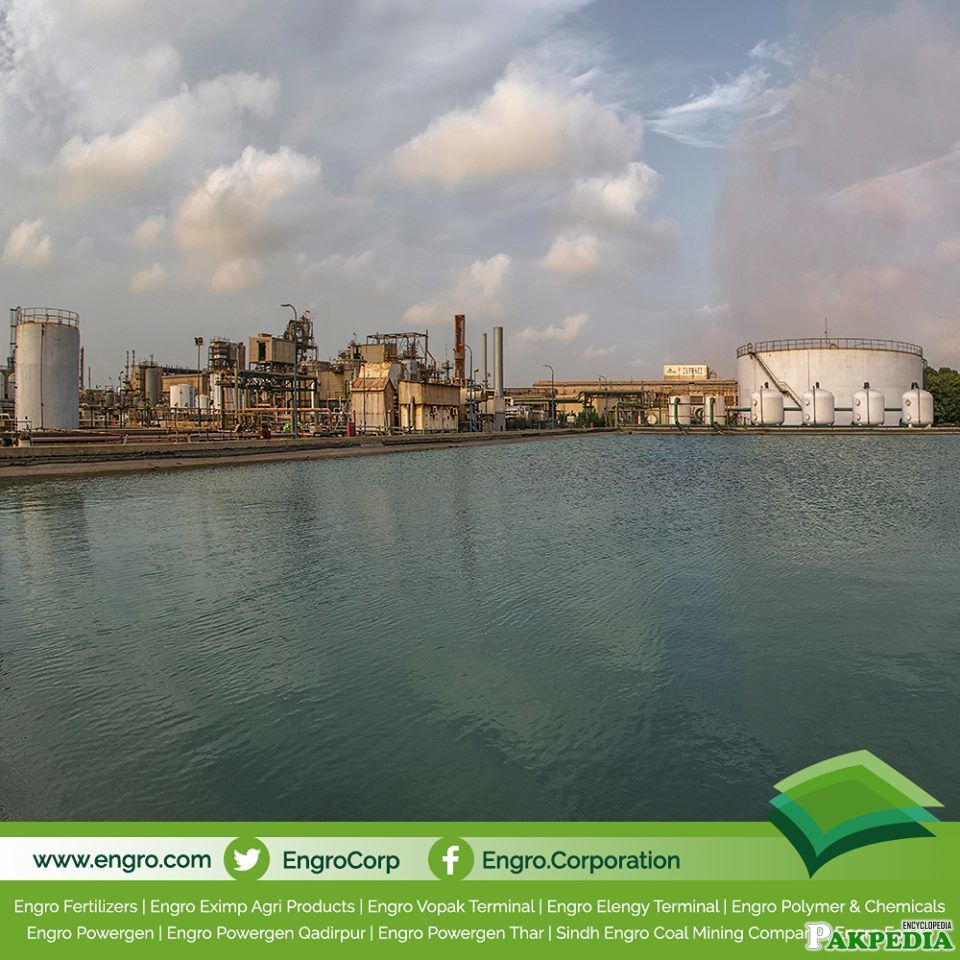 At Engro, they support their leadership culture through unique systems and policies which ensure open communication, foster an environment of employee and partner privacy, and guarantee the well-being and safety of their employees. Their core values form the basis of everything we do at Engro; from formal decision making to how we conduct their business to spot awards and recognition. At Engro they never forget what they stand for. Following are their core values:
Health Safety Environment
They will manage and utilize resources and operations in such a way that the safety and health of our people, neighbors, customers, and visitors is ensured. They believe their safety, health and environmental responsibilities extend beyond protection and enhancement of their own facilities.
Ethics and Integrity
They do care how results are achieved and will demonstrate honest and ethical behavior in all their activities. Choosing the course of highest integrity is their intent and they will establish and maintain the highest professional and personal standards. A well-founded reputation for scrupulous dealing is itself a priceless asset.
Their People
They strongly believe in the dignity and value of their people. They must consistently treat each other with respect and strive to create an organizational environment in which individuals are fairly treated, encouraged and empowered to contribute, grow and develop themselves and help to develop each other. They do not tolerate any form of harassment or discrimination.
Innovation and Risk Taking
Success requires them to continually strive to produce breakthrough ideas that result in improved solutions and services. They encourage challenges to the status quo and seek organizational environments in which ideas are generated, nurtured and developed. Engro appreciates employees for well thought out risks taken in all realms of business, and for the results achieved due to them, acknowledging the fact that not all risks will result in success.[3]  Values 
Engro Corporations Businesses
Engro Fertilizers Limited
Engro Fertilizers Limited, a wholly owned Engro subsidiary, is one of the leading fertilizer manufacturing and marketing companies in the country. It is primarily enaged in manufacturing and marketing of urea and NPK fertilizers. As an example of synergies between Engro's business lines, Engro Eximp imports phosphate based fertilizers which are distributed and marketed through Engro Fertilizers network as an extension of Engro's overall fertilizer portfolio. The business offers a wide variety of fertilizer brands, which include some of the most trusted names by Pakistani farmers. These include Engro Zorawar, a high-phosphate fertilizer developed for alkaline soils. Engro Zarkhez is a high-end blended fertilizer product that offers a unique balance of nutrients for a wide variety of crops. Zingro is an imported zinc micro nutrient, meant to overcome zinc deficiency in a wide range of crops.
Engro Foods Limited
Engro Foods Limited is an 88% owned subsidiary engaged in the manufacturing, processing and marketing of dairy products, ice cream and fruit juices. The business owns two milk processing plants in Sukkur & Sahiwal and operates a dairy farm in Nara. As an example of Engro's pursuit of excellence, the business has established several brands that have already become household names in Pakistan such as Olper's (milk), Omore (ice cream), Olper's Lite (low fat milk), Dairy Omung (UHT dairy liquid), Tarang (tea whitener), Omung Lassi and Olfrute. (fruit juice) amongst others. The business has also acquired and operates Al Safa Halal, a meat processing company based in Canada.
Engro Polymer and Chemicals Limited
Engro Polymer & Chemicals Limited is a 56% owned subsidiary of the group and the only manufacturer of polyvinyl chloride (PVC) in the country, in addition to manufacturing and marketing caustic soda. The Company's vinyl chloride monomer (VCM) plant began production in the first quarter of 2010 successfully making the plant the only fully integrated Chemical Complex in Pakistan. The firm markets its products under the name of "SABZ".
Engro Powergen Limited
Engro Powergen Limited owns and operates Engro Powergen Qadirpur Limited, a 220 megawatt power plant and the group's first initiative in the power sector of Pakistan, which is 10% directly owned by the holding company and 84% owned by Engro Powergen. The remainder is owned by the International Finance Corporation (IFC), a subsidiary of the World Bank, and employees. In 2010, Engro Powergen entered into a joint venture with the Sindh government, to establish the Sindh Engro Coal Mining Company Limited, to mine coal from Thar Block-II.
Engro EXIMP Private Limited
Engro Eximp (Private) Limited is the group's commodity trading business that deals primarily in the import and trading of phosphate-based fertilizers for Engro Fertilizers Limited such as DAP, MAP, MOP and SOP, and also imports micronutrients like Zinc Sulphate, which it supplies as raw materials to Engro Fertilizer's Zarkhez plant for manufacturing blended fertilizers. In addition, Eximp also manages the procurement, processing and export of rice to markets in the Middle East and the European Union. Over the past five years, Engro Eximp has become the single largest importer of phosphates and potash fertilizers in Pakistan.
Engro Vopak Terminal Limited
Engro Vopak Terminal Limited is a joint venture with Royal Vopak of the Netherlands. Engro owns 50% of Engro Vopak Terminal Ltd., a business engaged in the handling and storage of chemicals and liquefied petroleum gas (LPG). In November 2010, the business completed 13 years of safe operations without a single employee losing a day's worth of work due to injury.The business launched Pakistan's first cryogenic import facility for ethylene, in line with the group's overall motto of pursuing and enabling excellence.
Elengy Terminal Pakistan Limited
Elengy Terminal Pakistan Limited is a 100% owned subsidiary of the company, which has been created to establish and operate a terminal for the handling, regasification, storage, treatment and processing of Liquefied Natural Gas (LNG) , Re-gasified Liquefied Natural Gas (RLNG), Liquid Petroleum Gas (LPG), Natural Gas Liquid (NGL) and all other related liquids, gases and chemical & petroleum products.[4]  Six Businesses 
Contact Information
Engro Corporation Limited
8th Floor, Harbor Front Building, Marine Drive, Block 4,Clifton, Karachi, Pakistan
Engro Corporation: +92 21 111211211
Engro EXIMP: +92 21 111211211
Engro Fertilizers: +92 21 111211211
Engro Foods: +92 21 35296000
Engro Foundation: +92 21 111211211
Engro Powergen: +92 21 111211211
Engro Polymer & Chemicals: +92 21 111411411
Engro Vopak: +92 21 111311311
Sindh Engro Coal Mining Company: +92 21 111211211