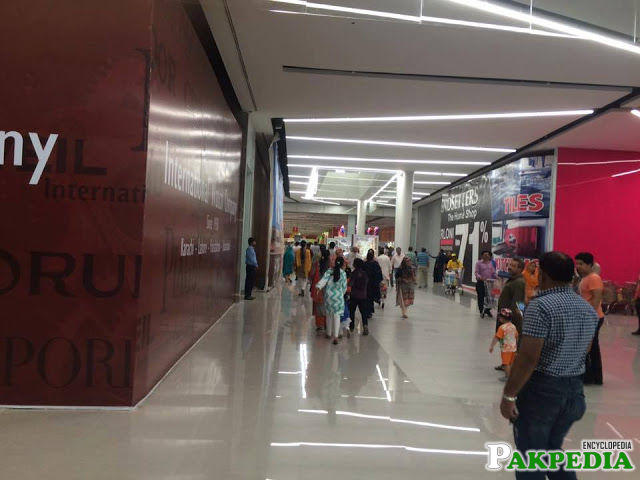 Emporium Mall Lahore
Emporium mall Lahore has 11-storey building and total area of this mall is 2.7 million square feet. The construction cost of the emporium mall Lahore is Rs. 25 billion and it is owned & developed by the Nishat Group. The Emporium mall Lahore is the largest mall in
Pakistan
and more than 200 International and local brands having their outlets in emporium mall. Emporium mall Lahore also promotes entertainment activities along with shopping so the building of emporium mall has a nine screen multiplex cinema, the cinema named as Universal Cinemas and it is also Pakistan's largest cinema. Emporium mall Lahore is breaking records in Pakistan as it is the largest shopping mall and having largest cinema of Pakistan within its building along with that emporium mall also contains the country's largest food court which have sitting area that accommodates 3000 people at a time. Emporium mall also contains Fun Factory Park (kids play area), The Bounce, banquet halls (where functions can be arranged), restaurants, emporium mall also have Pakistan's largest hypermarket named Hyper star (This is the 2nd branch of hyper star in Lahore, other and 1st branch is in fortress square)Along with all other facilities emporium mall Lahore will be having a 110-Room five-star hotel. Emporium mall uses solar panels for power back-up to facilitates its users as well as it is an environment friendly decision to use solar power instead of using generator or other resources which may provide power back up but at the same time they are not good for environment and increase the air pollution and also costly on the same time as they consume heavy quantity of fuel to provide full power back up to such a big mall..
[2]
Emporium Mall Lahore
Inauguration of Emporium Mall
Emporium mall Lahore is opened on June 30, 2016, It is in self is a city within a city, encapsulating a world away from the hustle bustle of the human race. The Emporium Mall stands tall as an exemplary illustration of future living. It is the only such medley of retail and leisure perfection. Emporium mall Lahore is designed by UK-based architectural firm AHR-Global which provides a rich indulging experience to enjoy the flavors of the world. Dominating the hip urban Lahore's skyline and setting precedence for eminence in quality shopping, hospitality and the concept of exclusive customer service, The Emporium Mall Lahore is a place where there is much to explore and much to experience. The project of the emporium mall Lahore is developed by Guaranteed Engineers as lead contractors and roof & columns are constructed by Izhar Construction. This thing provides a sigh of relief to especially those persons who does not have belief in Pakistani construction industry. The contractors and management tries to build this mall with earthquake resilient structure to avoid the possible loss in case of the earthquake. The Emporium Mall Lahore is located adjacent to
International Expo Center
in Johar Town Phase 2 Lahore.Management and administration of emporium mall Lahore have the consultancy of following firms/organizations to run the operations of the emporium mall steadily,
Marcus Wilkins & Ali Naqvi, AHR-Global, UK (Project Architects/Consultants)
WSP, UK (Security consultants)
Design Technique (Way Finding consultants, UK)
Electrolyte (Lighting consultants, UK)
Fahim, Nanji & deSouza (Pvt.) Limited (Mechanical-Electrical-Plumbing (MEP) Building Services, PK)[3] Emporium Mall Inauguration
Emporium Mall Facilities
Emporium mall Lahore is in the lime light because it is providing very good and eye catching facilities which attract both customers as well as to the brands, below is some facilities which are being provided by the emporium mall Lahore,
State of the art planning
Sound construction
Beautiful interiors & exteriors
Earth quake resilient structure constructed
Firefighting system installed
Vast parking space
Spacious lobby and circulation areas on floors
Wide stairs & corridors
High speed lifts
Fast moving escalators
Food courts, cafe, restaurants
World famous fashion brands
Mr. Mian Mohammad Mansha, who is the Chairman of Nishat Group is the master mind behind this huge project of emporium mall and he reveals his thoughts about this project he said that with the aim to regenerate consumer vitality and introduce a premium retail experience to Pakistan, the Nishat Group is proud to showcase the country's most ambitious retail complex, The Emporium Mall Lahore. This landmark project is set to change the commercial face of the city and make it a retail destination of choice for people across the country and indeed, the region.
[4]
Emporium Mall Facilities
Emporium Mall Brands
Other than the jobs offered by the emporium mall Lahore there are hundreds of jobs opportunity in mall as there are over 200 brands having their outlets in emporium mall Lahore so every shop/outlet do require staff to run their operations. Outlet operation staff would be sales man/ sales manager/ technical resource / helpers and some outlets may have their own security staff as well. So all these jobs are created by the emporium mall some of them are directly created by emporium mall and some of them are indirectly created by the mall. Other than all brands or all outlets "Hyper star" also have their place in emporium mall and they are having Pakistan's largest hyper market where everything is available under 1 roof to its customers and they require more than hundreds of staff for their store as it covers huge area and they also have almost all type of customer needs stuff so they require huge number of staff like store managers, floor managers, sales team, helpers, loaders, cleaners etc… for their store.
[5]
Emporium Mall Brands
German Ambassadors Visit to Emporium Mall
Mr. Thomas Drew the British High Commissioner to Pakistan visited the site on the first of April 2016 before the mall is opened for the public. He was pleasantly surprised and completely wondered by Emporium Mall and the progress. It is very honor and delightful for the team of emporium mall Lahore that he told them that this project is a remarkable addition to Pakistan's economy as it opens up more avenues for foreign investment within the country as well as it will also changing Pakistan's perception in the western world where they think that Pakistan is a place of security concerns but after having such remarkable places like the emporium mall Lahore the western world will think that Pakistan is a place of optimism, potential and a place of hope. Mr. Thomas said he's impressed with the way the team have managed to achieve and he would like see further development of this kind in the future. Remarks like this what Mr. Thomas have given is encouraging for the team of the emporium (who really deserves this) mall as well as for Pakistan. Pakistan is a huge, untapped market especially by the foreign investors and Emporium Mall Lahore is paving way for this market to be explored and developed. I am copying here the exact words of Mr. Thomas drew here so one can know that we Pakistanis can do much better as of what people are thinking about us, "It's projects like these which overcome the perception that will in the end pull Pakistan out of the perception as a place of security concerns, and instead be seen as a place of hope, a place of potential and that's a huge market so congratulations on what you've done so far." The German Ambassador to Pakistan, Ms. Ina Lepel, also visited Emporium Mall Lahore site on Tuesday, 17th May, 2016. She discusses the prospects of the mall with the management of the mall and she also have a look at the progress of the mall at that time.
[6]
Emporium Mall Visit Germen Ambassador's
Emporium Mall Lahore Shop Price
The emporium mall Lahore is catching attraction of the public as well as many distinguished persons who visited the emporium mall and having very good experience of doing work. For Shop Price and booking in emporium mall Lahore investors can Contact at:
Phone: +92 42 3259 2000
Email: info@nishatemporium.com
Official Website: nishatemporium.com
Location Address: Adjacent to Lahore International Expo Centre, Abdul Haque Rd Johar Town, Lahore, Pakistan.[7] Emporium Mall Shop Price
Conclusion
At the end I would say that the emporium mall Lahore is a must visit place, all those who yet not visited this beautiful mall should have and see that what we Pakistanis do have, you will feel proud after visiting the emporium. We should have promoted these type of projects it will give a good image of ours to other world and it will also encourage the team, they will be more relaxed and focused and will plan for upcoming projects as well as this encouragement and people appreciation will attract new investors weather they are local (like the emporium investors) or international investors to invest more in Pakistan.
[8]
Emporium Mall Conclusion