From the often chaotic and fratricidal court of India's Mughal Empire sprang perhaps the world's most beautiful and serene monument to love – the Taj Mahal.  Its designer was the Mughal emperor Shah Jahan himself, a complex man whose life ended in tragic circumstances.
| Title | Description |
| --- | --- |
| Personal | |
| Name: | Al Azad Abul Muzaffar Shahab ud-Din Muhammad Khurram |
| In Urdu: | ال آزاد ابوالمظفرشہاب الدین محمد خرم |
| Famous As: | Shah Jahan |
| In Urdu: | شاہ جہاں |
| Nationality: | Mughal, Timurid |
| Religion: | Islam |
| Profession: | Emperorship |
| Number: | 5th Mughal emperor |
| Reign: | 19 January 1628 –31 July 1658 |
| Born | |
| Date: | 5 January 1592 |
| Place: | Lahore, Mughal Empire |
| Family | |
| Ethnicity: | Temurid |
| Spouse: | Kandahari Mahal, Akbarabadi Mahal, Mumtaz Mahal, Fatehpuri Mahal, Muti Begum, |
| Children: | Aurangzeb, Dara Shukoh, Jahanara Begum, Shah Shuja, Murad Bakhsh, Roshanara Begum, Gauhara Begum, Parhez Banu Begum, Husnara Begum, Sultan Luftallah, Sultan Daulat Afza, Huralnissa Begum, Shahzadi Surayya Banu Begum, Sultan Ummid Baksh, |
| Parents: | Jahangir( father), Jugat Gosaimi (mother) |
| Siblings : | Khusrau Mirza, Parviz Mirza, Shahryar Mirza ,Jahandar Mirza, Sultan-un-Nissa ,Begum Daulat-un-Nissa ,Begum Bahar Banu, Begum Sultan, Begum Iffat Banu , |
| Died | |
| Date: | 22 January 1666 |
| Rest Place: | Agra Fort, Agra, Mughal Empire |
| Monuments by Shah Jahan: | Taj Mehal, Agra Fort, Diwan-e Khaas, Diwaan-e Aam, Shahjhan abad, Red Fort, Jama Masjid, |
| Consort: | Taj Mehal |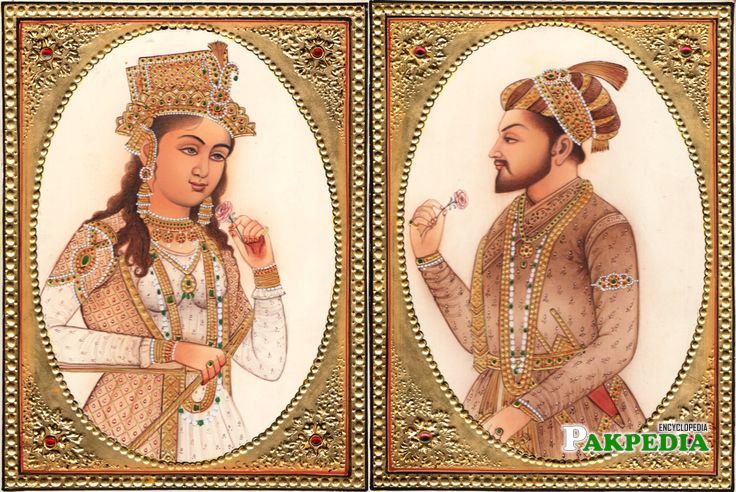 Life History

Shah Jahan (Shahab-ud-din Muhammad Khurram) was one of the most successful emperors of the Mughal Empire. He was the fifth Mughal ruler after Babur, Humayun, Akbar and Jahangir. After winning the war of succession post the demise of his father Jahangir, Shah Jahan successfully ruled the empire for 30 years. During his reign, the Mughal Empire thrived, making his reign the golden era of the empire. Though Shah Jahan was an able administrator and commander, he is best known for the construction of the Taj Mahal, which he built in the memory of his beloved wife, Mumtaz Mahal. Architecture in general saw the best of Mughal construction during his time. He is credited with constructing many beautiful monuments throughout the landscape of North India. Shah Jahan is also the founder of Shahjahanabad in Delhi. The exquisite 'Peacock Throne', which he got built for himself, is believed to be worth millions of dollars by modern estimates. During his final days, he was held captive by his son Aurangzeb, who went on to succeed him to the throne. 
Legend Associated With His Birth

Emperor Akbar's first wife Ruqaiya Sultan Begum was childless throughout her marriage. Though she couldn't give birth to a royal prince or princess, she was told by a fortune teller that she would be responsible in raising a future Emperor. The prediction was such that Akbar's favorite grandson, who would go on to become the the fifth Mughal Emperor, would be brought up by the childless Empress. So, when Jahangir's third son was born, Akbar instinctively knew that he would be raised by his childless Empress. 
Birth and Childhood

The child who would become Shah Jahan was born on March 4, 1592 in Lahore, now in Pakistan. His parents were Prince Jahangir and his wife Manmati ( Jugat Gosiami), a Rajput princess who was called Bilquis Makani in the Mughal court. The baby was Jahangir's third son. He was named Ala Azad Abul Muzaffar Shahab ud-Din Muhammad Khurram, or Khurram for short. As a child, Khurram was a particular favorite of his grandfather, Emperor Akbar the Great, who personally oversaw the little prince's education. Khurram studied warfare, the Koran, poetry, music, and other subjects suitable for a Mughal prince.As per the prediction of the fortune teller, Shah Jahan was born on 5thJanuary 1592, to Emperor Jahangir and his second wife, Jagat Gosaini (a Rajput princess). After naming him Khurram (the joyous one), his grandfather, Emperor Akbar took him away from his mother and handed him over to his Empress Ruqaiya Sultan Begum. Khurram, who was just six days old, started growing up under the care of Akbar and Ruqaiya Sultan Begum.  Quite naturally, young Khurram was fond of Akbar and his foster mother more than his biological parents. Ruqaiya Sultan Begum raised him with love and care and made that her top priority. In fact, Jahangir once famously said that he (Khurram) was showered with more love by Ruqaiya Sultan Begum than he or his wife ever could have. He received a traditional princely education that involved training in martial arts and cultural arts which included music and poetry.While Akbar would instill in him the different techniques of warfare and leadership, his foster mother would narrate him the importance of moral values. In 1605, post the demise of Akbar, a 13-year-old Khurram returned to his biological parents. [1] childhood  
Distinction from forefathers

Despite his Hindu mother, Shah Jahan did not follow the liberal religious policy instituted by his grandfather, Emperor Akbar. In 1632 he ordered all Hindu temples recently erected or in the process of erection to be torn down. Christian churches at Agra and Lahore were also demolished. In the same year the Portuguese settlement at Hooghly near Calcutta was also attacked. The Portuguese were accused of piracy and of kidnaping Mogul subjects, infecting them with Christian doctrines, and shipping them as slaves to Europe. The settlement was reduced, and several thousand Christians were killed. 
Engagement With Mumtaz Mahal

In 1607, the 15-year-old Khurram got engaged to Arjumand Banu Begum (Mumtaz Mahal). However, the court astrologers had predicted that the couple should not marry until 1612, for their marriage wouldn't be pleasant otherwise. Paying heed to the astrologers, Khurram's parents and well-wishers decided to put off his wedding with Mumtaz until 1612, making the couple wait for another five years. 
Khurrams Weddings

After he was told to wait until 1612 for his wedding with Mumtaz, Khurram went ahead with his first wedding with Kandahari Begum, a princess from Persia. He had his first child, a daughter, with her. He then married another princess before marrying Mumtaz Mahal in 1612. Their wedding did not took place until five years later, and Khurram would marry two other women in the meantime, but Arjumand was his true love. She later became known as Mumtaz Mahal – "The Chosen One of the Palace." Khurram dutifully sired a son by each of his other wives, and then neglected them almost entirely. He and Mumtaz Mahal had 14 children, seven of whom survived to adulthood. He also married two other women namely Akbarabadi Mahal and Muti Begum, but it is said that these marriages were for political reasons and the women he married for such reasons were considered more as 'royal wives.' 
Shah Jahans Excesses and Character
Shah Jahan saw himself as a sun king. Pictures show him with a gold hallow, dwarfing the people around him. He told his subjects to call him the "Shadow of God" and the "World Adorning Brilliance." The first British ambassador to India said that Shah Jahan never smiled, displayed little interest in the people around him, and showed "pride and contempt for all." 
Shah Jahan scoffed at the prohibitions of Islam. He drank alcohol and drank opium with his wine and decorated the tomb of his beloved wife with poppies. He loved jewels and constructed the famous peacock throne, which took seven years to build. One scene from the Padshahnama shows Shah Jahan being weighed on his 42nd birthday against gold and other precious substances, which were then given to the poor, while beautiful women danced around him. His exploits not only earned him a reputation in Asia but also in Europe.
Because the women in his harem were not allowed to be seen in public they traveled in veiled compartments on the back of elephants. The royal entourage also included his eunuchs, cheetahs, gunsmiths, tailors, servants and chefs.
Shah Jahan moved 36 times between 1628 and 1657, from Agra to Kashmir, from Delhi to Lahore and so on. Each time he moved he took all of his possessions and courtiers with him. It took 100,000 bulls to pull the carts loaded with wall hanging, carpets, paintings, pillows, clothes, embroideries, the entire imperial library and other treasures.
Accession

When descendants of the Lodi Empire rose up on the Deccan Plateau in 1617, Emperor Jahangir sent Prince Khurram to deal with the problem. The prince soon put down the rebellion, so his father granted him the name Shah Jahan, meaning "Glory of the World." Their close relationship broke down, however, over court intrigues by Jahangir's Afghan wife, Nur Jahan, who wanted Shah Jahan's youngest brother to be Jahangir's heir.  In 1622, with relations at their zenith, Shah Jahan went to war against his father. Jahangir's army defeated Shah Jahan's after a four-year fight; the prince surrendered unconditionally. When Jahangir died just one year later, in 1627, Shah Jahan became the Emperor of Mughal India. [2] Accession  
Road to Throne Part 1
The accession to the throne in the Mughal Empire was determined through military successes and display of power by potential successors. The Mughal had stayed away from the traditional primogeniture method of choosing the rightful heir and that made Khurram a potential successor to Jahangir, even though he was the third child of the emperor. In 1614, Khurram got an opportunity to display his military prowess, something he was so desperately waiting for.The moment he was waiting to seize came in the form of Maharana Amar Singh II, who was asked to surrender his Rajput state to the Mughal. Khurram led an army of more than 200,000 men and defeated the forces of the Rajput king. This brave act of his, paved the way for moresuch opportunities. Three years later in 1617, he was asked to conquer the Deccan Plateau in order to expand the empire. After his success in doing so, his father Jahangir bestowed upon him the title Shah Jahan, which literally meant King of the World in Persian. This made him the blue-eyed boy of the empire and his dream of succeeding his father strode a step closer to reality. 
Road to Throne Part 2
Though Shah Jahan had proved his abilities and prowess more than once, the fight for the throne was harder than he thought it would be. Jahangir married Nur Jahan and she along with her brother Asaf Khan, became important members in the court. Also, Nur Jahan got her daughter (from first marriage) married to Shahzada Shahryar, Shah Jahan's younger brother. She then continued to convince the emperor that Shahzada Shahryar was better than Shah Jahan and that he should be the one to succeed him. This led a rebellious Shah Jahan to build his own army with the help of a Mughal general named Mahabat Khan. He then led his army against his own father and Nur Jahan but was defeated comprehensively in the year 1623. Three years later, he was forgiven by the emperor but Shah Jahan continued to find ways which would lead him to the throne. In 1627, upon the demise of Jahangir, Shah Jahan crowned himself emperor as the entire military was under his control.  
Overcoming The Opposition

As soon as he became the emperor, Shah Jahan eliminated all his foes just to make sure the throne had no further contenders. He killed many in the year 1628 including his brother Shahzada Shahryar; his cousins, Tahmuras and Hoshang; his nephews, Garshasp and Dawar, and sons of prince Daniyal and prince Khusrau. Anyone he thought would be a threat to his throne was put to rest permanently. His step-mother Nur Jahan was spared but was imprisoned under tight security. 
North-West Frontier Policy

There was a long drawn conflict between India and Persia over the possession of the fort of Kandhar. The Persian emperor conquered Kandhar during the reign of Jahangir and the frontier became unsafe. Though Shahjahan recaptured the fort, he had to house it again to the Persian ruler Shah Abbas II in 1648. It was a severe blow to the prestige of the Mughal Emperor. Shahjahan sent three expeditions one after another under the leadership of his two sons Aurangzeb and Dara but they failed. There was a great loss of men and money. And the North-west Frontier remained exposed to dangers. The Central Asian policy of Shahjahan like his North-west Frontier policy ended in failure. He sent the Mughal army to conquer Samarkand. The Mughal army conquered Balkh and Badakhshan on the way. But the Mughal rule could not be established there as the local people were hostile to outsiders. Further, the climate of the place did not suit them. Shahjahan tried his best to establish the Mughal rule even sending his most capable son Aurangazeb to Central Asia. The Uzbek tribes of Central Asia fought against the Mughals ferociously. Aurangzeb could not suppress them. Therefore, Shahjahan's Central Asian dreams remained unfullfilled. [3] deccan policy  
The Deccan Policy

Shahjahan followed the Deccan policy of his predecessors. During the reign of Akbar, a part of Khandesh and Berar was annexed to the Mughal empire. Jahangir tried to conquer Ahmadnagar but he could not do it as its Prime Miniser Malik Ambar opposed the Mughal forces very bravely. He was a great warrior of his time. After the death of Malik Amber, his son Fateh Khan became the Prime Minister of Ahamadnagar. He was a contemporary of Shahjahan. He was not in good terms with his ruler. Taking that opportunity, Shah Jahan paid heavy bribes to Fateh Khan and conquered Daulatabad. After that Ahmadnagar was annexed to the Mughal empire in 1633. Shahjahan next proceeded against the rulers of Golkonda and Bijapur and they submitted to the Mughal ruler out of fear. They accepted the Mughal supremacy and paid huge tributes. Shahjahan appointed his third son Aurangzeb as the Governor of Deccan in 1636. After some time Aurangzeb left the Deccan to become the Governor of Gujarat and to head the Mughal army in Central Asian campaigns. Aurangzeb became the Governor of Deccan for the second time in 1653. This time he wanted to annex Bijapur and Golkunda in the Mughal empire in order to take the credit. And another reason for this move was that Aurangzeb was an orthodox Sunni Muslim who hated the Shia Muslims of Bijapur and Golkunda. He invaded Golkunda in 1656. Golkunda was about to fall when he received the news from the emperor to stop the war. Aurangzeb accused his elder brother Dara behind this political move not to allow him to take credit. Similarly, Aurangzeb had to stop the war against the state of Bijapur. Aurangzeb could not annex Golkunda and Bijapur and left for Delhi in 1657 after hearing the news of the illness of his father emperor Shahjahan. So the Deccan policy of Shahjahan was a mixture of successes and failures. 
Shah Jahan Art and Architecture

Shah Jahan ruled India during the golden age of Mughal art an architecture. He oversaw the merging of Hindu and Muslim art to produce spectacular miniature paintings and great architecture. One the greatest work of miniature painting is the "Padshahnama," a 10-inch-wide book with 478 pages of text handwritten on gold flecked paper. Commissioned by the Mughal Emperor Shah Jahan, the builder of the Taj Mahal, Padshahnama literally means "Chronicle of the King of the World." It is a handwritten history of the first 10 years of Shah-Jahan's reign, containing 44 paintings and two illuminations of major events such as battles. court scenes, executions and hunts. Most paintings measure 9 by 13 inches. Some are so detailed they must have taken years to paint.  [4] architecture  
Washington Post art critic Paul Richard wrote: "The pictures on its pages—which show elephants, walled kingdoms, dancing girls and diamonds—aren't like any pictures you've every seen. They're clearer and deeper. The little puff of dust in the upper corner of 'The capture of Orcha by imperial forces' becomes, if you peer into it, an army on the march, with cavalry and infantry and colored banners flying.If you look more closely you can see the saddle blanket on the elephant. If you peer close you can see the fringes on the saddle blanket."
Among the painting in the Padshahnama are "Prince Awrangzeb facing a maddened elephant named Sudhakar," "The delivery of presents for Prince Dara Shiko's wedding," and "Shah-Jahan honoring Prince Awrangzeb at Agra before his wedding." The "The death of Khan Jahan Lodi" shows severed heads with little specks that on close examination are flies with abdomen's full of blood. "The wedding procession of Prince Dara Shiko," is only 10-x-5 inches but contain 18 elephants, 31 horses and 282 different people."
Mughal architecture reached it apex under Shah Jahan, who built the Taj Mahal in Agra, the Red Fort and great mosque in Delhi, and Shalimar Gardens in Lahore. Trademarks of his building included white marble and scalloped arches. Some scholars have suggest that his motivation was a desire to outshine the Persian ruler, Shah Abbas I, who had created the magnificent capital at Isfahan. Before Shah Jahan Mughal rulers constructed their buildings mostly from red brick.
Monuments of Shahjahan

During the reign of Shahjahan, the Indo-Islamic architecture reached at its zenith which enhanced the glory of the Mughal rule. For his majestic achievements in the field of architecture, he is described as Shahjahan, the Magnificent. He outstripped his predecessors as a builder. His great grandfather Akbar had built the beautiful city at Fatehpur Sikri and the impressive gate-way named Buland Darwaza. It is said that "nothing like Sikri was ever created before or can be created again. It is a romance in stone." His father Jahangir had built a massive tomb of Akbar at Sikandra. He was more interested in painting. But Shahjahan proved to be the greatest builder among them. The Indo-Islamic architecture reached its highest point of glory under him. For this innovative idea some historians have described his time as the golden age of the Mughals.  [5] Monuments  
Agra Fort

Though Akbar had built the Agra Fort, it was completely remodeled by Shahajahan with additional structures in marble. Shahjahan reconstructed the old buildings with marble stone. He also constructed some new marble buildings. Among them Moti Masjid or Pearl Mosque and the Musamman Buri were most beautiful. The Moti Masjid which he constructed in the honour of his daughter Jahanara was one of the most beautiful mosques of India. It was in this beautiful building that Shahjahan spent the last years of his life as a prisoner. 
The Red Fort

Shahjahan's next great creation was the Red Fort of Delhi. It took almost nine years for completion. The buildings inside the Red Fort are the Moti Mahal, Hira Mahal, Rang Mahal, the Diwan-i-Am and the Diwan-i-Khas. These are the most wonderful marble structures with attractive decorations. Out of them the Diwan-i- Khas was the most ornamented and decorated with precious stones. It was the special chamber of the Emperor. On its body it is written. "If there be a paradise on the earth, it is this, it is this, it is this". The Red Fort is an architectural pride of India.   
The Jam-i-Masjid

The Jamma or the Jam-i-Masjid of Delhi is another great creation of Shahjahan. It is a structure of red sandstone. It is huge and spacious in size. The entrance to the Mosque looks majestic. It took six years for completion. 
The Taj Mahal

The Taj Mahal at Agra is the best monument of Shahjahan. It is famous as one of the wonders of the world. He built it in memory of his beloved wife Mumtaz Mahal. The best builders from the Empire and also from abroad were engaged to build it. The foreign traveler Tavernier wrote that the Taj Mahal was built in 22 years and three crores was spent for its construction. It is indeed a "Dream in the marble." It is the crowning glory of Indo-Islamic architecture. 
Peacock Throne

Apart from all these architectures, Shahjahan made a beautiful and fabulous throne famous as the Peacock Throne for himself. It is said that precious jewels worth 86 lakh of rupees was spent for its construction at that time. One lakh tolas of gold were used in its body. When finished, the peacock throne became 3 yards x 21 yards, and 5 yards in height. Its canopy was covered with rubies and gems.The canopy was supported by twelve pillars made of emerald. Two peacocks were designed on each pillar with gems fixed on them. Between each pair of peacocks, a tree was designed, with rubies, diamonds, emeralds and pearls fixed on it. This was like a fine piece of art made in jewels. Unfortunately this precious throne was taken away from India by invader Nadir Shah later on. 
Khaas Mehal

Khaas Mehal built by Shah Jahan Clearly reflects the essence of later Mughal architecture. The Khaas Mehal is airy edifice; facing the specially laid Angoori Bagh. On three sides of this garden are residential quarters for women. 
Sheesh Mehal

Opposite to the Musamman Burj and just below the Diwaan-e Khaas hall is the sheesh Mehal or Glass palace. It is believed to be the dressing room of Harem and its walls are inlaid with tiny mirrors, which are the best specimens of glass mosaic decoration in India. 
Diwaan-e Khaas
Diwaan-e Khaas or the Hall of private audience is a small hall with double marble columns inlaid with Pietra Dura decoration. Shahjahan Built the structure between 1636 and 1637 and it is where the Emperor used to receive the important dignitaries. 
Diwan-i Aam

Diwan-i Aam or the Hall of Public audience was again a building constructed by Shahjahan in 1628 , replacing an earlier wooden structure. Here was kept the famous Peacock Throne ordered by shahjahan. He met officials and commoners and listened to the petitioners in Diwan-i Aam.  
Shahjahan abad

 Old Delhi was founded as Shahjahanabad by Mughal emperor Shahjahan in 1639. It is approximately shaped like a quarter circle, with the Red Fort as focal point. The old city was surrounded by a wall enclosing about 15,00 acres with numerous gates: 
One of the most prominent market place was situated to the west of the Red Fort's Lahore Gate, presently known as Chandni Chowk.
Final Days

Shah Jahan became seriously ill in September 1658. During his days of recovery, Dara Shikoh, one of his sons, assumed the role of the ruler. This made his brothers furious and almost immediately, Shuja and Murad Baksh sought independent provinces and claimed their rightful share. Meanwhile, Aurangzeb had formed an army of his own and went on to defeat his brother Dara Shikoh. He then killed rest of the contenders and declared himself as the emperor. Though Shah Jahan later recovered from his illness,   Aurangzeb deemed him unfit to rule and imprisoned him in the citadel of Agra. He also imprisoned his sister Jahanara Begum Sahib who wanted to stay with her father in order to take care of him. Shah Jahan is said to have spent eight long years of his imprisonment by staring at the tomb of his beloved wife – the marvel that he built in her memory. 
Death

In the first week of January 1666, Shah Jahan once again fell ill and never recovered. On January 22, he is said to have summoned Akbarabadi Mahal and requested her to take care of his daughter, Jahanara Begum. He is then said to have recited a few lines from the holy Quran before breathing his last, aged 74. The emperor who once ruled the whole of India and more had died a prisoner. Princess Jahanara Begum wanted a procession with the state's noblemen carrying her father's body all over Agra so that the subjects could waive a final goodbye to their beloved emperor. However, Aurangzeb was in no mood for such an extravagant funeral. In the end, Sayyid Muhammad Qanauji and Kazi Qurban moved the body of Shah Jahan out of the prison, washed it and placed it in a coffin made out of sandalwood. The coffin was then brought to the Taj Mahal through the river, where he was laid to rest, next to his beloved wife, Mumtaz. 
Legacy

Shah Jahan built Taj Mahal over the tomb of his wife Mumtaz Mahal.
Shah Jahan's legacy has been one of the most profound of all the Mughals. A patron of the fine arts, he continued the Mughal patronage of painting, although his passion resided in architecture. Shah Jahan has left behind a grand legacy of structures constructed during his reign, with the the Taj Mahal standing in the spotlight. His other constructions include Delhi Fort also called the Red Fort or Lal Quila (Hindi) in Delhi, large sections of Agra Fort, the Jama Masjid (Grand Mosque), Delhi, the Wazir Khan Mosque, Lahore, Pakistan, the Moti Masjid (Pearl Mosque), Lahore, the Shalimar Gardens in Lahore, sections of the Lahore Fort, Lahore, the Jahangir mausoleum—his father's tomb, the construction overseen by his stepmother Nur Jahan and the Shahjahan Mosque, Thatta, Pakistan. He also had the Peacock Throne, Takht e Taus, made to celebrate his rule. Painting during his reign reflected the serene prosperity that the Mughals enjoyed with many scenes reflecting Shah Jahan's interest in romance. A crater has been named after Shah Jahan on the minor planet 433 Eros. Astronomers name craters on Eros after famous fictional and real-life lovers. [6] fate and legacy  
The following monuments were also constructed by Shah Jahan during his rule:
Red Fort or Lal Quila (Delhi)
Sections of the Agra Fort
Jama Masjid (Delhi)
Moti Masjid or Pearl Mosque (Lahore)
Shalimar Gardens (Lahore)
Sections of the Lahore Fort (Lahore)
Jahangir Mausoleum
Takht-e-Taus
Shahjahan Mosque ( Thatta)
Shahjahan's time was the golden age of the Mughals for its superb development in art and architecture. But beneath if, there were some signs of weakness which have created some amount of hesitations in the minds of the historians to give the credit of his age as golden age. The loss of Kandahar, tragedy in Central Asia, famines in Decean and Gujarat and above all, the war of succession which broke out, showed the darker side of Shahjahan's regime.