A Ceremony at Embassy of Turkey
Embassy of Turkey in Islamabad
Embassy of Turkey main staff
Embassy of Turkey outside
Embassy of Turkey Pakistan Culture day
About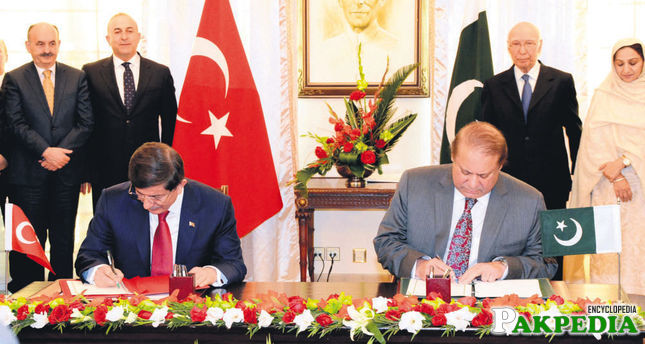 Responsibility of Embassy
The region that fall under the responsibility of our Embassy is all Pakistan. The region that falls under the responsibility of the Consular Office of our Embassy is all Pakistan, except the Sindh and
Balochistan
Provinces, which fall under the responsibility of Consulate General in Karachi.  Office of the Armed Forces Attaché, Office of the Counsellor for Commercial Affairs and the Office of the Security Counsellor are operating within the Embassy. 
[2]
Office of the Armed ------- Forces Attaché
Important events in the history of the Mission
1947  : Opening of the first resident Embassy of Turkey in Karachi
1967  : Shift of the Embassy from Karachi to Rawalpindi
1972  : Shift of the Embassy from Rawalpindi to Islamabad
2004  : The Embassy moved to its current building
Ambassadors Message
The Turkish Embassy was first established in Karachi in 1948, immediately following the founding of Pakistan, and was moved to
Islamabad
as it became the new capital. The Embassy is working towards furthering the brotherly relations between the two countries, which take root from the historical bonds between the Turkish and Pakistani peoples. Our primary aim is to strengthen our economic and cultural relations in order to bring them to the level of our excellent political relations. In this regard, a Consulate General in Lahore and Yunus Emre Cultural Centers in Lahore and Karachi will be established in the near future. 
[3]
Our primary aim is to strengthen our economic
Turkey Tourist Visa Requirements
Original Passport (6 months valid)
Photocopy of ID card
Passport size Three photoghraps with White background
Visa Application Form
Bank Statement of the last three months (Proof of sufficient funds for the stay)
Health report from a hospital or a doctor
Hotel booking confirmation
Return Air ticket 
Supporting documents
Business bank statement of last six months with letter from bank showing your ownership.
NTN copy / Tax returns / Tax challan form or payment receipts.
Chamber of commerce certificate copy & visa recommendation letter from chamber.
Types of Visa
Yourist Businessperson Visa
Touristic Visit
Single Transit
Double Transit
Business meeting / Commerce
Conference / Seminar / Meeting
Festival / Fair / Exibition
Sportive Activity
Cultural / Artistic Activity
Official Visit
Visit to Turkish Republic of Northen Cyprus
Student Education Visa
Internship Visa
Internship ERASMUS
Internship AIESEC
Turkish Language Course Purpose
Course Purpose
Education Purpose
Education in Turkish Republic of Northen Cyprus