France embassy Office Staff
France embassy Meeting
France embassy Ceremony
Ambassador of France
France embassy outside
About
Imformation
Embassy of France Contact Details
In case of emergency : +92 51 2011422
Address :             Diplomatic Enclave – G5 – GPO Box 1068 – Islamabad
Office timings : All Sections          Monday to Thursday : 8 AM to 1 PM and 1h45 PM to 5h00 PM
Friday : 8 AM to 12h00 PM
Telephone :        (+92) 51 201 14 14
Fax :       (+92) 51 201 14 00
In case of emergency :  92-51- 201 14 22
French Embassy Islamabad Pakistan web Site: http://www.ambafrance-pk.org/-France-in-Pakistan-
French Embassy Islamabad Pakistan Email : ambafrance.islamabad-amba@diplomatie.gouv.fr
For Tourist
For independent travellers, France is the world's number one tourist destination, and it's not hard to understand why. France has it all or more or less. It has tourist sights for all tastes; it has some of the greatest beaches in Europe, as well as the highest mountains and the finest historic monuments, the most beautiful cities, the most idyllic countryside, the most magnificent castles, the finest rivers, and plenty more, not to mention some of the best restaurants and the finest wines and more hotels than any other country in Europe.
[2]
France is the world's number- one tourist destination
AEG French Visa Services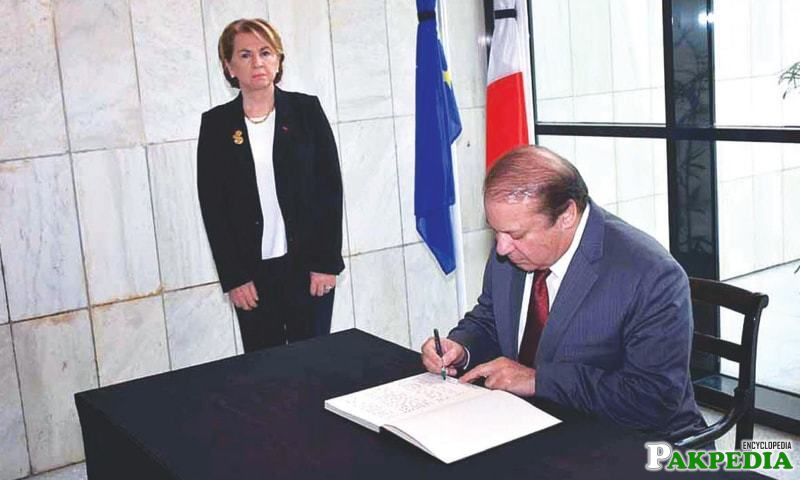 Note
"Group organizers are informed that appointments for Schengen visa applications should be requested at least a month in advance" 
All appointments to submit visa applications on ordinary passports are to be made through AEG Travel Services (Pvt) Ltd. in one of their 10 Locations in Pakistan. AEG offices will be opened from Monday to Saturday, 9am to 5pm, with the exception of bank holidays. All intended visa applicants are required to get the appointment in advance from AEG Office and pay service charges at the designated Public Service Centers.The Embassy of France strongly advises to book an appointment well in advance: one month before travelling is standard and it should not be less than 2 weeks in advance for a Schengen visa. Delays to get an appointment in the summer season have to be taken into account as well. Remember that you may apply for a Schengen visa up to 3 months before your actual travel.Applicants or their representative have to visit nearest AEG office with all the relevant documents and passport to get their appointment. No appointment will be issued over telephone.  
[3]
AEG offices will opened from - Monday to Saturday
Instructions for Student Long Stay applicants
Visa applicants for a Student Long Stay in France will have an individual interview at the Cultural Department of the Embassy prior to their appointment at the visa section. They should arrive at the Embassy no later than
9:00 AM
on the day of their appointment. AEG will issue interview appointment after
10:00 AM
at visa section to the students. Students are strongly advised to reach the shuttle service well in advance, in order to reach the Cultural department at
9:00 AM
sharp. 
Warning Notice
Entry into the Schengen territory : the possession of a visa is only one of the prerequisites for entry intothe territory of the Schengen state. Should the Schengen State's border authority refuse entry, no claim toreimbursement of the visa can be submitted. The border police at your Schengen destination may requestthe presentation of sufficient funds, a letter of invitation, hotel reservation, etc. Failure to present said funds/documents may result in entry being refused. AEG specialize in visa application processing outsourced by the Embassies & Consulates. These services encompass the whole process of collection of application & visa fee, scrutiny of documents, logistics of passports and visa applications, interview scheduling, web based visa status tracking etc. The key aim is to absolve the visa decision makers from the non-core administrative processes enabling them to focus on decision making function. Visa handling centers are maintained, across the country, to facilitate large number of applicants in a secured/ convenient environment.
[4]
These services encompass the -----   whole process
France Tourist Visa Requirements
Covering Letter (explaining the purpose of travel)
3 passport size photographs (white background-non glossy paper)
Salary slips (last 3 months) or income tax documents for people owning their own business
Personal Bank Statement of the last 3 months.
Copies of NTN, Chamber's Certificate, Import Export License and Company Registration.
AIG Insurance
Confirmed hotel reservation. (With full address & telephone no.)
Air ticket reservation (return reservation is required)
If the applicant leaves with his wife, Nikha nama, duly certified and translated by required authorities.
Personal Appearance.
Copy of CNIC Card
Visa Fee:
Short stay: Rs. 6030/-
Service charges Rs. 500/-
If you want to visit family or a friend, you have to provide the boarding and lodging certificate, which is named in French as "Attestation d'Accueil".[5] you have to the boarding and ---   lodging certificate
Business Visa Requirements
Covering Letter from employer
Invitation letter from the French company (with complete program and exact dates of visit)- 1 copy should be faxed directly to the Embassy
Letter of confirmation that all expenses will be borne either by the company invited or by the French company.
3 passport size photographs (white background-non glossy paper)
Salary slips (last 3 months) or income tax documents for people owning their own business
Company Bank Statement of the last 3 months
Personal Bank Statement of the last 3 months
Copies of NTN, Chamber's Certificate, Import Export License and Company Registration, Partnership Deed.
AIG Insurance
Confirmed hotel reservation. (With full address & telephone no.)
Air ticket reservation (return reservation is required)
D.D.T.E letter arranged by the host company in France (only in case of training)
If the applicant leaves with his wife, Nikha nama, duly certified and translated by required authorities.
Personal Appearance.
Copy of CNIC Card
Copy of "B" form-Nadra-computerized (incase of accompanying children)
Visa Fee:
Short stay: Rs. 6030/-
Service charges Rs. 500