Eid al-Fitr means "festival of breaking the fast" and marks the end of the fasting month of Ramadan. Traditionally, it is celebrated for three days and is an official holiday in all Muslim-majority countries.The festival of Eid al-Fitr, the Festival of Fast breaking, marks the end of Ramadan.
Ramadan is one of the five pillars of the Islamic faith and is sacred to Muslims as it was during this month that the Qur'an was revealed to the Prophet Muhammad.
As the date of Eid depends on the sighting of the moon, there may be variations in the exact date that is celebrated around the world. The announcing of the exact date of Eid may not happen until close to the start of Ramadan.
Muslims celebrate Eid by saying prayers, giving money to the poor, sending Eid greetings and feasting with their families.[1] Eid ul Fitr Summary
| Title | Description |
| --- | --- |
| Details | |
| Type: | Islamic |
| Observed by: | Muslims |
| Official name: | عيد الفطر‎‎ |
| Significance: | Marks the end of Ramadan fasting |
| Celebrations: | Family and other social gatherings, traditional sweet dishes, feasting, using perfume, wearing new clothes, shopping and gift-giving etc. |
| Observances: | Eid prayers, charity-giving |
| Related to: | Ramadan, Eid al-Adha |
| Celebrated by: | Muslims worldwide |
| Eid al-Fitr has a particular Salat: | two Rakats |
| Arabic greeting: | Eid Mubarak (Blessed Eid) |
| General rituals: | show happiness,Much charity as is possible , Go early for Eid salaat,Say Eid Mubarak to other Muslims,Women are encouraged to join Salat of Eid,No fasting on Eid al-Fitr |
| For Eid prayer: | People gather at large open areas |
| Eid ul-Fitr means : | Festival of breaking the fast |
| Muslims observe : | Strict fast and participate in pious activities such as charitable giving and peace-making. |
| Eid Ul Fitr Celebrates: | Around the World |
| Eid means: | Happiness is a festival that is celebrated twice a year in Pakistan |
| In Indonesia Eid Ul Fitr: | known as Lebaran. |
| In Turkey Eid Ul Fitr: | known as Ramazan Feas |
| In India Eid Ul fitr: | known as Idu'l Fitr |
| Date: | 1 Shawwal |
| Location: | Arounnd The world |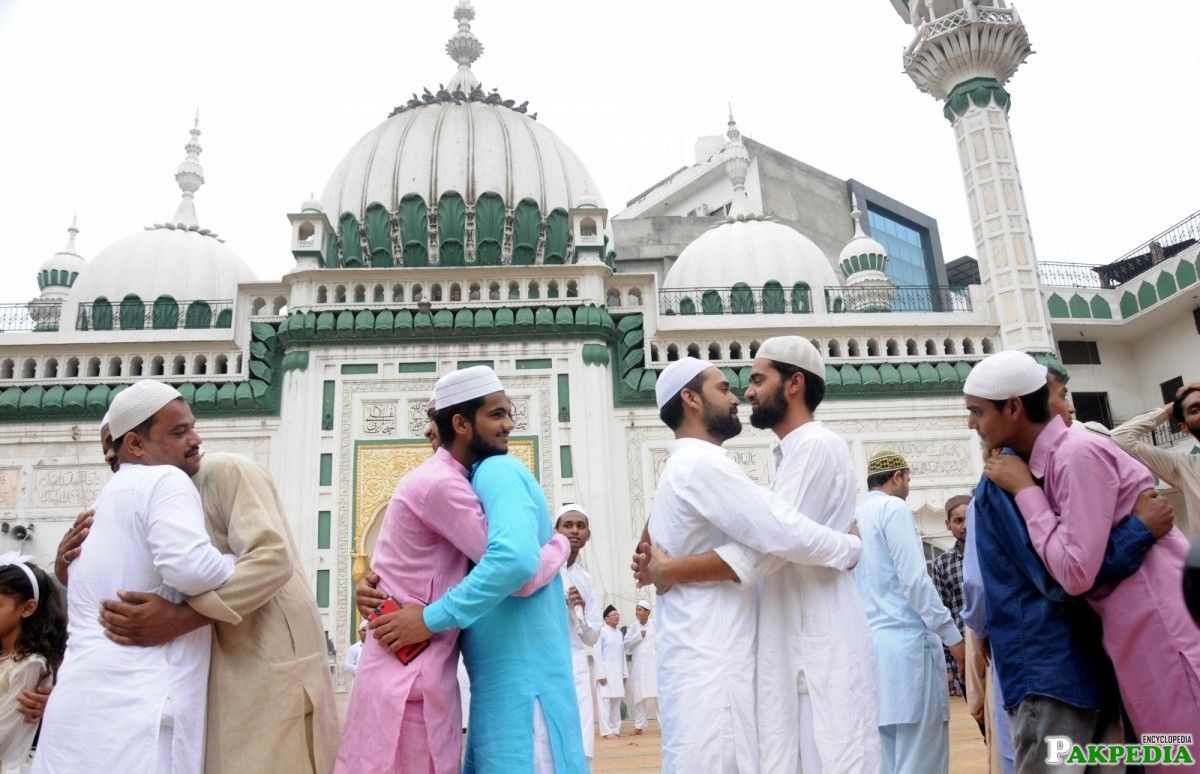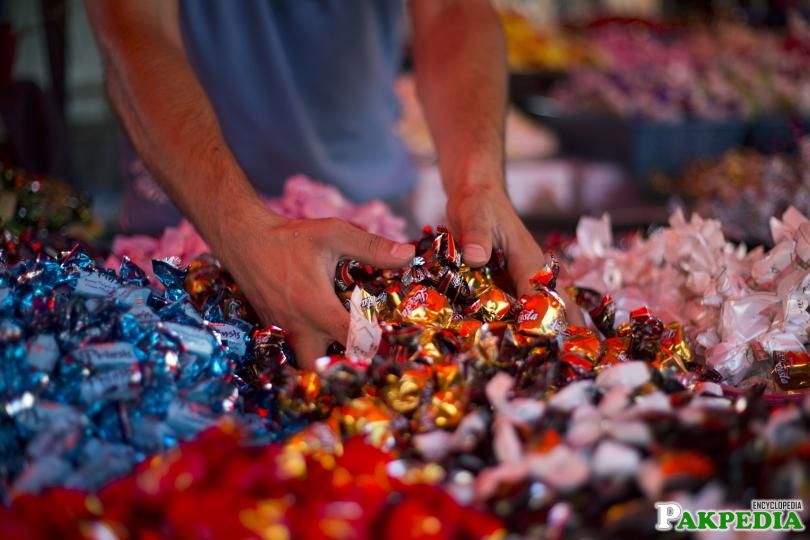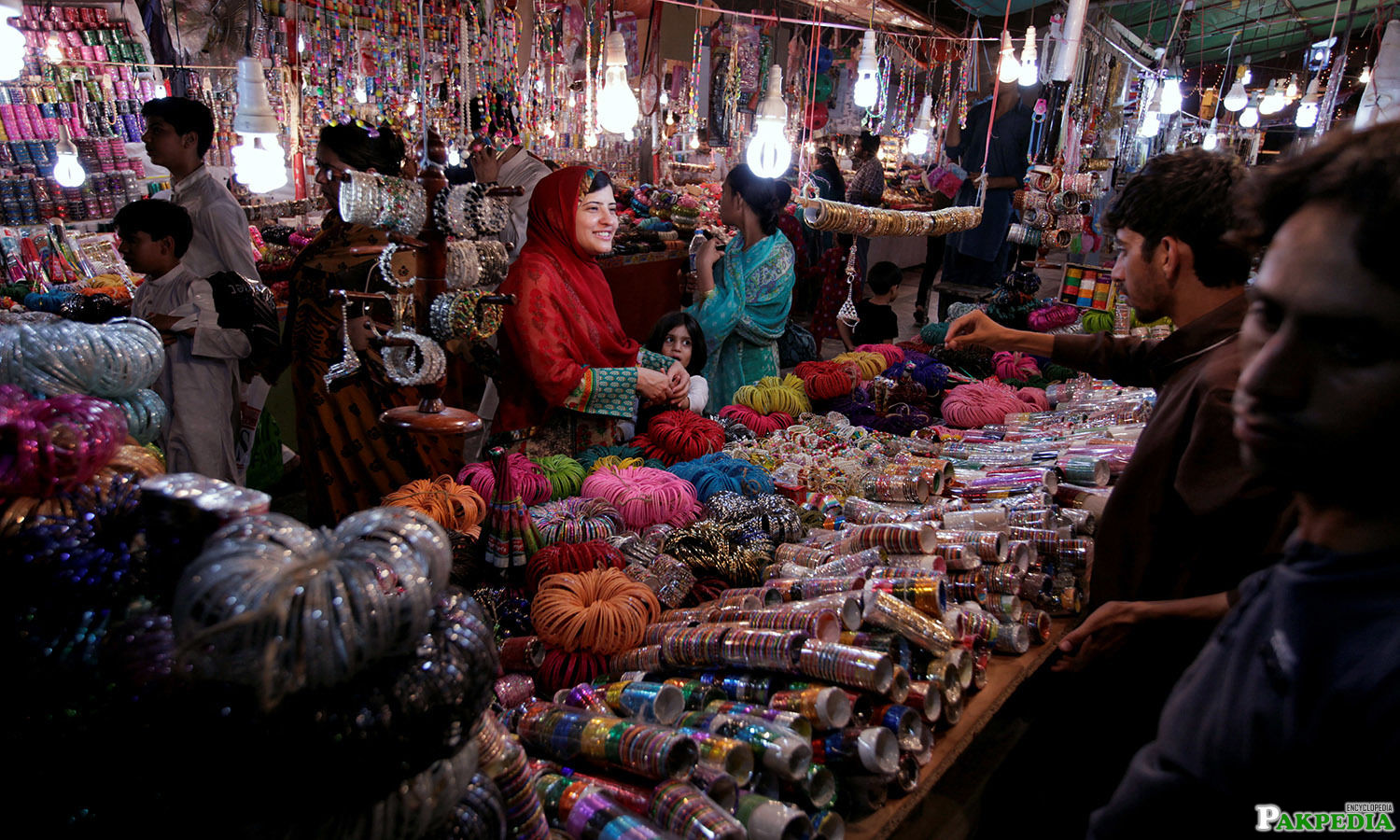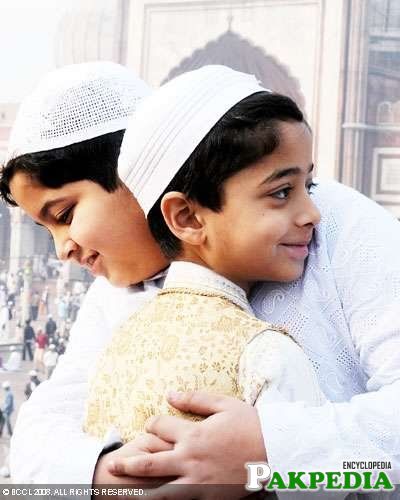 History

Before the advent of Islam in Arabia, there is mention of festivals as well as some others among the Arabs. The Israelites had festivals as well, some directly prescribed in the Torah and others commemorating important days of their history.
Eid al-Fitr was originated by the Islamic prophet Muhammad. It is observed on the first of the month of Shawwal at the end of the month of Ramadan, during which Muslims undergo a period of fasting.
According to certain traditions, these festivals were initiated in Medina after the migration of Muhammad from Mecca. Anas reports:
When the Prophet arrived in Madinah, he found people celebrating two specific days in which they used to entertain themselves with recreation and merriment. He asked them about the nature of these festivities at which they replied that these days were occasions of fun and recreation. At this, the Prophet remarked that the Almighty has fixed two days instead of these for you which are better than these: Eid al-Fitr and Eid al-Adha
For Muslims, both the festivals of Eid al-Fitr and Eid al-Adha are occasions for showing gratitude to Allah and remembering Him, as well as giving alms to the poor.
Eid Prayer and Eidgah
Eidgah
The Eid prayer is performed in congregation in open areas like fields, community centres, etc. or at mosques. No call to prayer is given for this Eid prayer, and it consists of only two units of prayer with an additional six incantations. The Eid prayer is followed by the sermon and then a supplication asking for Allah's forgiveness, mercy, peace and blessings for all living beings across the world. The sermon also instructs Muslims as to the performance of rituals of Eid, such as the zakat. Listening to the sermon at Eid is not required and is optional, a Sunnah i.e. while the sermon is being delivered. After the prayers, Muslims visit their relatives, friends and acquaintances or hold large communal celebrations in homes, community centres or rented halls.
Eid gifts, known as Eidi, are frequently given at eid to children and immediate relatives.
Eid Ul Fitr
Ramadan ends with the festival of Eid Ul Fitr, which in 2015 occurs on July 17. Literally the "Festival of Breaking the Fast," Eid Ul Fitr is one of the two most important Islamic celebrations (the other occurs after the Hajj, or pilgrimage to Mecca). At Eid al-Fitr people dress in their finest clothes, adorn their homes with lights and decorations, give treats to children, and enjoy visits with friends and family.
A sense of generosity and gratitude colors these festivities. Although charity and good deeds are always important in Islam, they have special significance at the end of Ramadan. As the month draws to a close, Muslims are obligated to share their blessings by feeding the poor and making contributions to mosques.[2] Eid Ul Fitr Introduction
Eid ul-Fitr Celebrate
During the month of Ramadan, Muslims observe a strict fast and participate in pious activities such as charitable giving and peace-making. It is a time of intense spiritual renewal for those who observe it. At the end of Ramadan, Muslims throughout the world observe a joyous three-day celebration called Eid al-Fitr (the Festival of Fast-Breaking).
Eid al-Fitr falls on the first day of Shawwal, the month which follows Ramadan in the Islamic calendar.It is a time to give in charity to those in need, and celebrate with family and friends the completion of a month of blessings and joy.
Determined Amount as a Donation to the Poor
Before the day of Eid, during the last few days of Ramadan, each Muslim family gives a determined amount as a donation to the poor. This donation is of actual food — rice, barley, dates, rice, etc. — to ensure that the needy can have a holiday meal and participate in the celebration. This donation is known as sadaqah al-fitr (charity of fast-breaking).
On the day of Eid, Muslims gather early in the morning in outdoor locations or mosques to perform the Eid prayer. This consists of a sermon followed by a short congregational prayer.
After the Eid prayer, Muslims usually scatter to visit various family and friends, give gifts (especially to children), and make phone calls to distant relatives to give well-wishes for the holiday. These activities traditionally continue for three days.
In most Muslim countries, the entire 3-day period is an official government/school holiday.[3]Eid Ul Fitr Celebrate
Eid Prayer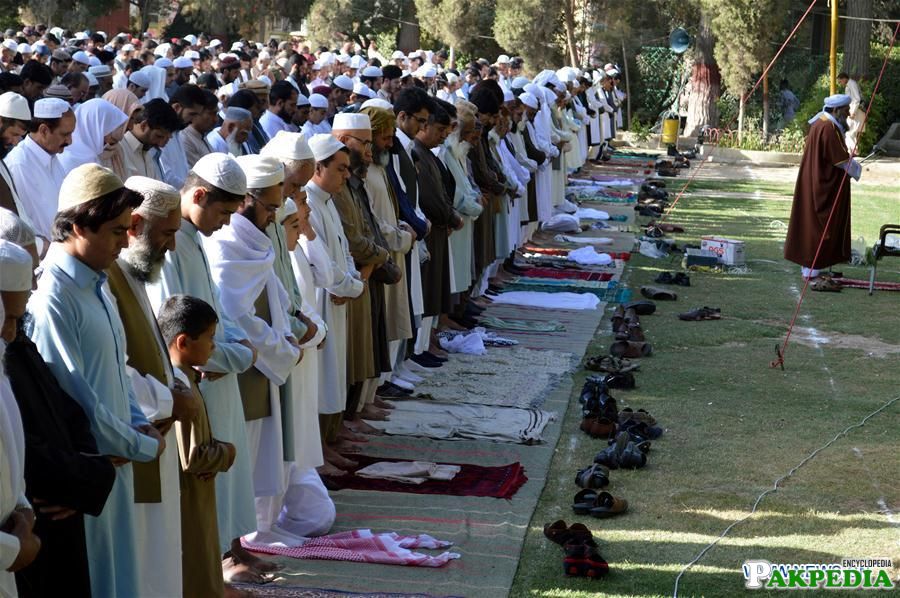 also known as Salat al-Eid and Salat al-Eidain , is the special prayer offered to commemorate two Islamic festivals. Both the Eids are collectively known as Eidain in the Arabic language.
This prayer consists of two Rakats. Niyyat (Intention) should be in these words: "I resolve to offer two Rakats Namaz-e-Eid, Sunnat Qurbatan Ellallah". This should be followed by "Takbir" (Allah-Ho-Akber). In the first Rakat after Sura 'Al-Hamd', recite Sura 'Ala' or The Most High. Then five times Dua-e-Qunoot, followed by Ruku and then Sajda. Then up again for the second Rakat. In the second Rakat after Sura 'Al-Hamd' recite Sura 'Shams' or The Sun and four times 'Dua-e-Qunoot'. After this the namaz should be completed like the Morning Prayer.[4] Eid prayers
Eidi
Eidi is a gift like money, presents or even flowers to:
Children by the other elders of the family;
Wives by their husbands;
Sisters/sisters in law by their brothers;
Mothers in law by their sons (who earn).
Usually Eidi takes the form of money.
Eid around the world
Pakistan

Eid" which means happiness is a festival that is celebrated twice a year in Pakistan. One and the first comes right after Ramadan and is called Eid Ul Fitur. This is a celebration for the fasting month and a token to make a commitment to one's self to be faithful and be kind to the poors.
Chhoti Eid
Eid al-Fitr in Pakistan is also known as Chhoti (urdu: small) or Meethi (urdu: sweet) Eid. It is celebrated for 3 days and there are 4 days holidays on this occasion.
Eid begins with a special prayer in all cities towns and villages, people make special dishes for the Eid which are mostly Sweets and deserts of different types specially Vermicelli
Eid preparations usually start with the beginning of Ramadan and continue throughout the month. It is customary for almost everyone to wear new dress. So the shopping of garments is ever more popular throughout the month of Ramadan.
Eid Shoppers
The bazaars  are decorated to welcome Eid shoppers. Special sale prices are offered on garments and shoes. Young girls and older women wear bangles made of fine glass. The night when the moon is sighted is fixed for this activity. Womenfolk in huge numbers throng the special bangle stalls and shops as soon as the Shawwal moon is sighted. Men and elders usually exchange moon greetings. Telephone these days are frequently used for this late evening exchange of greetings.
Public Holiday
The next day is Eid, a public holiday, and a great occasion for rejoicing. Rising early, the rich as well as the poor wash, dress up in new clothes, and start the day with a light breakfast which usually consists of fine wheat noodles mixed with milk and commonly known as Vermicelli.
Eidgahs
Then the men congregate at the mosques or Eidgahs (large enclosures for prayers). On the way they pass out the obligatory alms called fitra. When Eid prayers and Thanksgivings are over, they hug and congratulate each other and later during the day, they visit relatives, friends, and neighbors.
Zakah Zakat
The poor also join in the celebration because it is during Ramadan that Muslims give Zakah, which is a 2 and 1/2 percent payment on one year's savings or gold, silver currency, or goods for trade equal in price to 87.48 grams of gold or 612.36 grams of silver. Tens of millions are distributed in cash or kind among poor who also share in the festivities.
After offering Eid prayers, which is an occasion for expressing thanks to Allah, the men return home and wishing children, women and elders of the household Eid Mubarak eat the sweet dish known as Vermicelli or Sheer-Khurma (dates cooked in milk and served with wheat noodles). Also as an additional treat, a variety of dishes are cooked. Festivities continue till late night, and in some towns a popular fair or Mela is held for recreational purpose.
Receive Money
For the children it is a very happy day because they receive money from all the elders, to spend and enjoy themselves. They also can receive clothes or gifts. It is like Christmas. Employees get bonuses, factories and offices close down for a couple of days, and food and money are distributed to the poor. Because it marks the end of Ramadan, Eid al-Fitr is always an occasion for a big meal, and families come together like Thanksgiving.[5] Eid Ul Fitr In Pakistan
Indonesia

In Indonesia, Eid al-Fitr is commonly known as Lebaran. To mark Lebaran, every employee is enititled to a legally mandated salary bonus known as Tunjangan Hari Raya (THR).[6] Eid Ul Fitr In Indonesia 
Turkey

In Turkey, Eid is known as Ramazan Feast and is usually a three day holiday. The first day of Eid al-Fitr is called the Candy Festival (Seker Bayrami) as the tradition is to give children sweets or money wrapped in handkerchiefs.[7] Eid Ul Fitr in Turkey
India

In India, this festival is known as Idu'l Fitr and marks the end of the fasting period of the Islamic month of Ramadan.
It is a holiday in all states except Goa, Jharkhand and Uttar Pradesh.
The festival is a time for feasting, rejoicing and thankfulness.
The preparations for the festival start at the beginning of Ramadan.
When the day finally arrives and the period of fasting ends, children receive many gifts, there are fairs with street bazaars selling festive goods and traditional foods.
Many attend religious ceremonies and visit with friends and family.
This is one of the most anticipated holidays on the Muslim calendar[8] Eid ul Fitr In india
Malaysia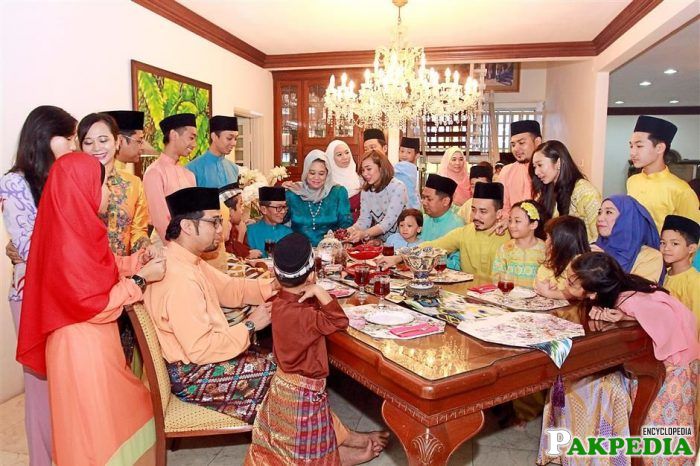 Muslims throughout Malaysia celebrate Hari Raya Aidilfitri in a big way following the month of Ramadhan, the Muslim month of fasting and abstinence.
It is very symbolic as it represents victory for Muslims who have successfully undergone a month-long battle of self-restraint and abstinence by fasting. Fasting in the month of Ramadhan, an obligatory practice, is one of the five pillars of Islam.
The celebration officially begins after the sighting of the crescent in the late evening on the last day of Ramadhan month, usually by religious officials at several vantage points throughout the country.
If the crescent is sighted, then the next day is declared as Hari Raya Aidilfitri as it is the first day of the Syawal month. Muslims celebrate it by going to the Hari Raya Aidilfitri prayers held at mosques early in the morning, then a visit to the cemetery to pray for their loved ones' departed souls after the prayers followed by the traditional Malaysian 'Open House' where relatives and friends visit each other.
Two special delicacies that could be savoured during Hari Raya Aidilfitri are ketupat (rice cooked in a packet woven from coconut leaves) and lemang (glutinous rice cooked with coconut milk in bamboo stems), both are served with rendang (meat cooked with spices and coconut milk until almost dry).[9] Eid Ul Fitr  In Malaysia