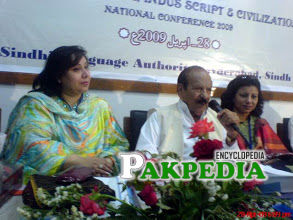 Early Life
Dr. Nabi Baksh Baloch, son of Ali Mohammad Khan Laghari Baloch, born in the year of 1917. Nabi Baksh Khan Baloch  was a revolutionary and passionate man. His place of birth was Sanghar but he did work for the world and particularly for the province of Sindh. He is extremely acclaimed Pakistani literary personality of the 21st century. His contribution and dedication for the "Sindhi Loc Adab" is notable and remarking, nobody can compete and never has done before. His contribution and devotion for "Sindhi Loc Adab" disclosed the history of province Sindh from various aspects; The individuals of Sindh acknowledge Dr. Nabi Bux Khan Baloch's work for the Urdu language and also for Sindhi cultural Heritage and Background.
[1]
Early Life
Education
When Nabi Baksh Khan Baloch was 6 years old his father left the world. Then, his uncle Wali Mohammad Khan became his mere guardian. In the year 1936, he passed the matric exams from Bombay University. For further studies he joined Bahaa-U-Deen College at the area of Johnagarh where he passed the degree of B.A in the year 1914.In 1941, he did BA honors first class from Bombay University, then an MA first class (first) and LLB from Aligarh University, where he made the company of luminaries such as Dr. Sir Ziauddin Ahmed, Nawab Bahadur Yaar Jang and Allama Inayatullah Khan Mashriqui and also joined the Khaksaar movement.
[2]
Education
 Baloch then moved to the US where he completed his MA and then took on a PhD in education from Columbia. He was a pioneer of the education department at Sindh University and was also appointed as VC of
International Islamic University
and Sindh University.
Appointed and Worked
Baloch was also appointed as a member of Hijra committee and decided to translate 100 top books in Urdu in different western languages, but due to some hurdles he left the project. He worked as a secretary of the Ministry of Culture and Education and also served the nation as the Chairman of National Institute of Historical and Cultural Research. Baloch was elected as a member of UNESCO's international scientific committee on the history and civilization of central Asia
A Workaholic Scholar
The inner thirst, dedication and passion of Dr. Baloch resulted in wonderful masterpieces. He did immeasurable research work on a spectrum of disciplines such as ancient history of Sindh, Sindhi Lexicography, folklores, Makran civilization, Islamic history, literature, Shah Abdul Latif Bhitai's work, languages of Kohistan and many more. Dr. Baloch has contributed some 150 books in Balochi, Sindhi, Saraiki, Persian, Urdu, Arabic and English.
1st Critical Research Paper
Nabi Baksh Khan Baloch's 1st critical research paper was published in the year 1946, in which he elucidated that the 1st Arab expedition to the province Sindh took place in the time period of 15 A.A and not in 24 A.H as it is generally organized by few scholars. Nabi Baksh Khan Baloch being a scholar represented the state Pakistan on various global literary seminars, gathering and corner meetings. In this link, he travelled to the states of America, Canada and countries of the globe.
Conducted Research
He conducted research on the Shah Abdul Latif Bhittai and after that he reorganzied "Shah Jo Risalo" and wrote various other books on Shah Abdul Bhittai such as "Yaad e latif", "Yaadgar latif" and various other research books. Nabi Baksh Khan Baloch wrote books in 6 different languages.
3 Primary Categories
Baloch's writing acquired the greatest standards in 3 primary categories. 1st remarkable literary merit. 2nd the most greatly original thinking in numerous branches of knowledge and 3rd is the thorough spiritual insight. Dr. Baloch also lost his wife in the year 2003.
Contributions
He is the first person to point out the ancient city of Debal where the final battle between Muhammad Bin Qasim and Raja Dahir took place. In early 1950s the Bhambhor excavations confirmed his analogy.
After his doctorate, he returned to Pakistan but failed to find any job for more than a year. In the meantime he traveled to every corner and village of Sindh to hear and write old folklores and turned the oral literature into a 46 volume opus.
When renowned scholar Dr. Prof. Hameedullah asked him to find a plant in the Sindh Delta, he traveled in a boat and finally discovered the tree which was mentioned in 10th century literature by Iraqi scholar, Abu Hanifa Dinwari.
In 1988, he presented a rare literary piece of Balochi literature in the Golden Jubilee ceremony at Baloch Academy, Quetta. He actually hired the manuscript from the British Library, UK.
He traveled to all the public and private libraries of Interior Sindh to make a bibliographical chart. He mentioned the title, author, subject, year and even condition of the thousands of books- all by himself!
He also compiled a small book about the sayings of the father of the nation, Muhammad Ali Jinnah, for the students and teachers.
Sindhi-Urdu and Urdu-Sindhi dictionary and his work on Shah Latif is another major triumph which took three decades of hard work.
Dr. Baloch caught rare deadly snakes from Tharparkar and other areas of Sindh and handed them over to the experts to produce anti-venom.
A few months ago, at the Karachi Literature Festival, I met Michel Boivin, a French expert on Sindhi culture. When I asked if he knew Dr. Baloch, he exclaimed, "Oh! Dr. Baloch is a mount of knowledge!" Indeed he was a scholar of international repute.
Dr. Baloch was always miserable about the education conditions in Pakistan. He was a strong advocate of literacy for all the children of Pakistan.
He said that not only Urdu but Sindhi, Balochi, Saraiki, Brahvi, Punjabi and all other languages are also the national languages of Pakistan as they successfully served the needs. 
However, he considered the Urdu language as state language. He was also a tireless discoverer of old manuscripts.
A year ago, he gifted me a book called 'Gulshan-e-Urdu' with his autograph and gave me remarkable advice for success. He said, "For research you should always look upon the original source, you will never fail".
Bibliography
Sindhi Jami'a Lughaat (First edition in 5 volumes 1960-1988 published by Sindhi Adabi Board; 2nd revised edition in 3 volumes, published by Sindhi Language Authority 2004-2006 (third volume in Press))
Roshni, Sindhi to Sindhi one volume dictionary, 1998, published by Sindhi Language Authority
Sindhi Lok kahaniyoon (7 volumes, a number of editionions)
Madahoon Ain Munaajaatoon
Munaqibaa
Moajiza
Molood
Teeh Akhriyoon
Hafta Deinh Ratyoon Ain Maheena
Jang Naama
Waqiaati Bait
Munazira
Sindhi Senghar (Shairy)
Paroliyoon, Dunoon, Muamaoon Ain Bol
Gujhartoon
Door
Geech
lok Geet
Bait
Narr Ja Bait
Kafiyoon
Mashahoor Sindhi Qisa
Rasmoon Riwaj Ain Sanwan Saath
Sindhi Hunr Shairy
Kulyat-e-Hamal
Mubeen Shah Jo Kalam
Miyeen Shah Inaat Jo Risalo
Khalifay Nabi Bakhsh Laghari Jo Risalo
Shah Lutfullah Qadri Jo Kalam
Nawab Wali Muhammad LAghari Jo Kalam
Kulyat-e-Sangi
Beylaain Jaa Bola
Laakho Phulani
Kazi Qazan Jo Kalam
Ragnamo
Soomran Jo Daur
Sindhi Mosiqee Je Mukhtasir Tarikh
Sindhi Boli Ain Adab Jee Tarikh
Sindhi Sooratkahti Ain Khatati
Gadah
Shah Abdul LAtif jo Risalo (10 volumes) , 1989 to 1999, published by various publishers
and many more books
[3]
Bibliography
Books in Other Languages
Sindh Main Urdu Shairy (Urdu)
Molana Azad Subhani (Urdu)
Deewan-e-Matam (Urdu)
Deewan-e-Shuq-e-Afza OR Deewan-e-Shair
Talaba Aur Taleem (Urdu)
Advent of Islam in Indonesia, 1980
Muslim Luminaries: Leaders of Religious, Intellectual and Political Revival in South Asia, 1988
Kabul Ki Diary (Memoirs of Mawlana Obaidullah Sindhi during his days of residence in Kabul, compiled by Mawlana Abdullah Laghari, edited by Dr. N. A. Baloch
Sindh: Studies Historical
Sindh: Studies Cultural(English)
Traditional Arts & Crafts of Hyderabad Region (Sindh, 1966, Mehran Arts Council
Musical Instruments of the Lower Indus Valley of Sindh, 1966, Mehran Arts Council Hyderabad
Gosha-e-Baloch, published by Urdu Department, University of Sindh
Chachnama edited and translated into English Persian, English
Baqiyaat az Kalhora (Persian)
Beglar Naama by Idraki Beglari(text in Persian)
Takmilatul- Takmilah, Addendum to Qania's Maqalatush-Shu'raa and Takmilla of Mohammad Ibrahim Khalil, published by Arts Faculty, Allama I.I. Kazi Campus, Sindh University, 2007
Vice Chancellor
In the year 1973, he became the VC (vice-chancellor) of the University of Sindh, Jamshoro. In the time period of 1975–1976 he was granted and awarded by "Nation Merit Professor."
Death
Dr Nabi Bakhsh Baloch, died of a cardiac arrest , the 6th of April 2011 at 3.00 am (morning), the first of Jamadil Awwal 1432 at his daughter's residence at Qasimabad
Hyderabad
. After suffering a heart attack , 93-year-old, Dr Nabi Bakhsh was admitted to the Red Crescent Cardiac Hospital, where he breathed his last. His funeral was held in kot mir muhammed, dist: Khairpur. The information on the place of burial has been confirmed from those who attended the funeral and the newspapers report received so far that late Dr. N.A. Baloch was buried at the feet of Allama I.I. Kazi at Jamshoro, University of Sindh. His Janaza Salat was led by Mufti Mohammad Rahim Maulvi of Dargah Sharif. The alternate arrangement of burial had been considered at Kot mir muhammed by the grave of Dr Sahib's mentor Tarik Miyandad Laghari if the University of Sindh had not allowed his burial at University of Sindh as he had requested in 2003. The government of Pakistan honoured Dr Baloch with several awards for his achievements.