Special Assistant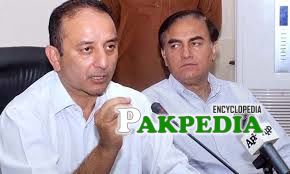 While Talking to Media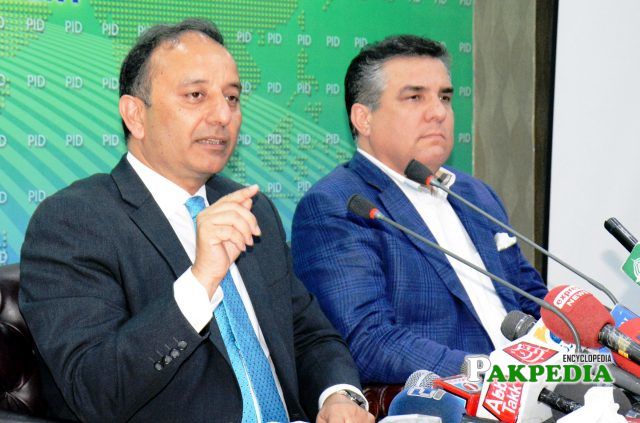 With PML-N MNA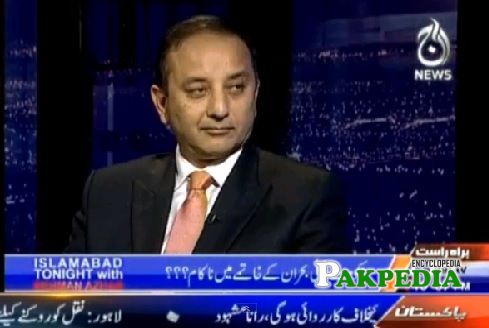 At Geo News as a Guest
Federal Minister for Water and Power
Biography
Dr. Musadik Malik has been entrusted to developed Energy Policy for Pakistan.He was appointed Federal Minister, Water and Power of the
Pakistan Government
in April 2013, when Khalifa Bin Zayed bin Sultan Al Nahyan Ruler of United Arab Emirates (UAE) and Hamad Bin Isa bin Salman, the King of Bahrain had sent a recommendation  note to
Asif Ali Zardari
, the former President of Pakistan, for his nomination as interim minister.
[1]
Biography
Education
Dr. Malik finished his Post-Doctoral Fellowship at the University of Illinois - College of Medicine in Health Economics and Medical Decision Making. He obtained Ph.D. and M.S. in Healthcare Administration and Policy and an MBA from the University of Illinois. He has taught and supported undergraduate and graduate courses in public policy and management. He has widely presented his policy frameworks and recommendations at international conferences and in front of senate and cabinet members across various countries.
[2]
Education
Political Career
Separately, he is an adjunct professor at the National School of Public Policy in
Lahore
. Earlier in his career, he held senior positions with Boston Innovation Partners, CRA International, Arthur D. Little, and SRI International.
[3]
Details
CEO and Managing Director
Malik is also CEO and Managing  Director  of the Boston Innovation  Group  based  in Bahrain  and Professor  of Strategy  at King  Saud University in Saudi Arabia.
Vice President and Regional Director
He has advised a large number of cabinet ministers on national health and economic policies in countries such as Saudi Arabia, Bahrain, Oman, Pakistan and Puerto Rico. Dr Malik's success also includes the establishment of two management consulting businesses in the Middle East and growing them to over $20 million in revenue. In  addition,  he  has  served  as  the  Vice  President  and  Regional  Director  of Charles River Associates (CRA International), and held leadership positions at Arthur D. Little and SRI International.
Significant Projects
He has led significant projects in different sectors for the Sultanate of Oman, KSA, Bahrain and science and technology based economic transformation strategy for the Government of Puerto Rico.
Managing Director
Until recently, he was the Managing Director of a leading public sector strategy consulting firm. He has served as an advisor to government bodies in North America, Middle East and South Asia. 
United on National Security Issues
Special Assistant to Prime Minister on Media Affairs, Dr Musadik Malik said all political leaders were united on national security issues.Talking to a private news channel, he said national interest was supreme than any other matters. Pakistan had always given priority to the national security issues, he added.He said Pakistan had highlighted Kashmir issue at all available international forums.Musadik Malik said Pakistan had eliminated menace of terrorism and destroyed the terrorists' network from its soil. Replying to a question, he said political parties except
Pakistan Muslim League-Nawaz
(PML-N) would contest the Senate elections under their party flags, adding that these tactics would open doors for horsetrading.He said some elements were trying to create troubles and difficulties for loyal party leaders.
[4]
United on National Security Issues
Biggest Political Party
Dr Musadik Malik said Pakistan Muslim League Nawaz (PML-N) was a popular and biggest political party in country. The PML-N government had launched number of welfare projects including
China Pakistan Economic Corridor
(CPEC) with aimed to bring prosperity and uplift, he said talking to a private news channel. He said judgment of the court could not affect the popularity of former Prime Minister Muhammad
Nawaz Sharif
. Musadik Malik said the workers and supporters were disappointed on the decisions against Nawaz Sharif. He said the PML-N had won bye-polls of
Chakwal
and
Lodhra
with thumping majority which reflected his party popularity and roots among the masses.
[5]
Biggest Political Party
Experience
Malik has extensive international experience in public policy with a focus on economic transformation, industrial development, labour reform, employment generation, education, and healthcare.
Nomination Papers for Senate Elections
The commissioner appro­ved the nomination papers of 24 candidates and allowed them to contest the Senate elections scheduled for March 3. The candidates in the run from
Punjab
are: Andaleeb Abbas,
Hina Rab­bani Khar
, Saadia Abbasi,
Nuzhat Sadiq
, Chaudhry Sarwar,
Asif Kirmani
,
Haroon Akhtar
, Shahzad Khan,
Kamil Ali Agha
, Rana Mahmoodul Hassan, Sheza Fatima, Samiullah Chaud­hry,
Musadiq Malik
, Shakeel Awan, William Michael,
Nawazish Ali Pirzada
, Naseer Bhutta, Rana Maq­bool, Zubair Gull, Shaheen Khalid Butt,
Kamran Michael
, Asif Javed, Victor Zaria and Hamid Meraj.
[6]
 Nomination Papers for Senate Elections 
Senate Election Results 2018
PML-N-backed candidate have gained the majority of seats in Senate polls with at least 15 seats to their name. PML-N won majority of its seats from Punjab while 
PPP
 won largely from 
Sindh
, getting 12 seats in total.20 candidates from 
Punjab
 contested the polls for 12 seats reserved in Senate for the province. Governing PML-N won 11 seats through independent candidates in Senate polls held at Punjab Assembly.
[7]
Senate Election Results 2018
Winning candidates are
Ishaq Dar elected on Technocrat seat
Asif Kirmani elected on General seat
Independent candidate  Haroon Akhtar elected on General seat
Sadia Abbasi elected on Woman seat
Nuzhat Sadiq elected on Woman seat
PML-N-backed  Kamran Michael elected on Minority seat
Hafiz Abdul Kareem elected on Technocrat seat
Maqbool Ahmed on General seat
Musadik Malik on General seat
Shaheen Khalid on General seat
PML-N-backed independent candidate  Rana Mehmood-ul-Hassan elected on General seat