While reciting Naat
Founder of Sirat-e-Mustaqeem Ashraf Asif Jalali
During protest for Khatm-e-eNabuwat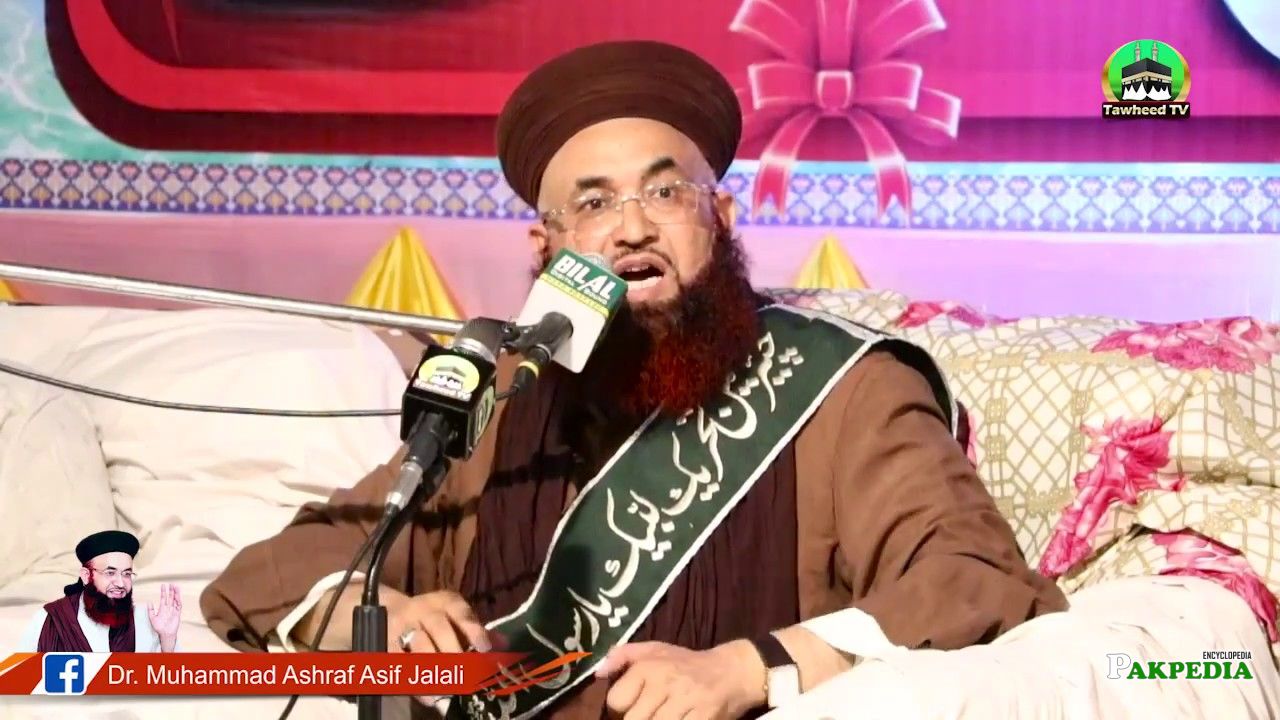 In a press conference for Labaik Ya RasoolAllah
Dr jalali visit zainab's house for Condolence
Biography
Muhammad Ashraf Asif Jalali is a Pakistani Sunni Muslim scholar and general secretary of the Sunni Ittehad Council. He always tried to spread Khatm-e-Nabuwat and to give the Islamic teachings to every Muslim. He is a founder of Tehreek-Sirat-e-Mustaqeem and chairman of Tehreek Labaik Ya RasoolAllah. 
Tehreek-e-Labaik
Tehreek-e-Labaik Pakistan is an Islamist political party in
Pakistan
. The movement was founded by
Khadim Hussain Rizvi.
The political party opposes any change in the blasphemy law of Pakistan and also claims hanging of Mumtaz Qadri was unjustifiable. They demand that Sharia law be established as law of Pakistan through a gradual legal and political process.This is a Sunni majority group and most of its members belong to Barelvi school of thought. It was formed on 1 August 2015, in Nishtar Park, Karachi. 72 people gathered to form this party and became first members of the party. 
[1]
Tehreek-e- elabaik
Publications
Milad-un-Nabi
Huzor Bahesiyat-e-Mubashir
Namaz-e-Taraweeh 20 Rakat Sunnat Hai
دفاع سیدنا امیر معاویہ رضی اللہ عنہ
Difa-e-Syeduna Ameer Muawiya Radi Allah Anho 
مناقب حضرت سیدنا امیر معاویہ رضی اللہ عنہ
Manaqib-e-Hazrat Syeduna Ameer Muawiya Radi Allah Anho
حضرت امام ابو حنیفہ بحیثیت بانی فقہ
Hazrat Imam Abu haneefa Ba Haisiyat e Baniye
Imam e Azam Bahesiat Bani e Fiqah
Han Ham Sunni Hen
Islam Ko Darpesh Challenge Ka Idrak Aor Unka Hal
Hazrat Umar Ka Ilmi Zoq
Ye Shan-e-Risalat Hy Zara Hosh Sy Bol
Khandani Mansooba Bandi Aor Islam
Hazrat Imam e Azam Abu Hanifa Ba-Hesiyat Bani-e-Fiqah
Salat-o-Salam Par Aytiraz Aakhir Kiyon
Dukhtaraan-e-Islam Ky Liye Ideal Kirdar
Gaybana Janaza Jaiz nahi       [2] Publications Publications
Views On Terrorism
He is of the view that hanging the terrorists is an Islamic act and the government should not bow to foreign pressures while taking such a step to curb terrorism. Those carrying out terrorist activities in the name of Islam were defaming this divine religion under a well thought-out conspiracy.
Demand of Disqualification
Dr Muhammad Ashraf Asif Jalali Demands to Disqualify All MNAs and also Demands Death Sentence of Members Who Support Qadiyanis. In 2017 he organized a press conference in which he demand for the disqualification of all MNA members. In start he thanked all those who gave their presence in that press conference. He talked about Khatm e Nabuwat that it's the responsibility of every Muslim to guard the mission of Khatm e Nabuwat. He added that the tehreek Labaik Ya Rasollalah which started from 2nd October, we are it's number 1 Stakeholders because we firstly raised voice for it. He told in press conference that how much struggle we did for this Tehreek of Khatm-e-Nabuwa So in the end he demanded the disqualification of all those who do not support Khatm-e-Nabuwat. 
[3]
Demand of Disqualification
Arrested on Violation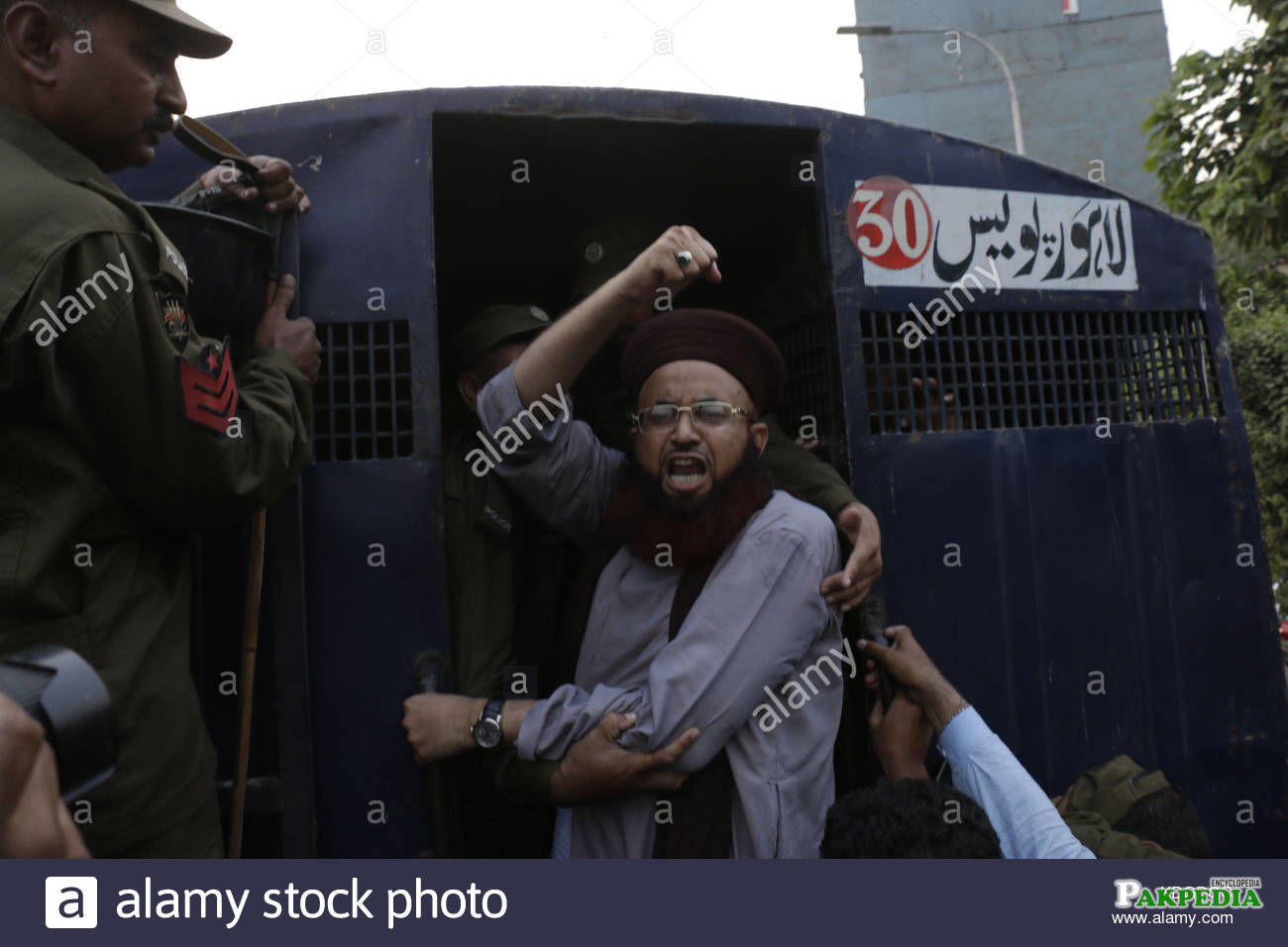 The
Punjab Police
on 12 October 2017 arrested Dr Ashraf Asif Jalali, chief of Tehreek-e-Labaik Yarasool Allah (TLY) and dozens of workers over the violation of section 144. A number of workers belonging to this religious faction staged a sit-in at Faisal Chowk (Charing Cross), Mall Road, against the detention of Jalali. On other hand, TLY claimed that there group will start a 'countrywide' protest campaign if the government will not accept their demands. Dr Jalali and other workers of TLY were gathered at the Lahore Press Club in a bid to challenge Senator Sajid Mir for manazara (argument) on anti-Ahmadi issue and were expecting Mir to arrive at the spot. The TLY workers along with their chief starting protesting against Sajid Mir when he didn't arrive at the spot. 
[4]
Arrestment Arrestment
Jail Bharo Tehreek
On 2nd October 2017 Ashraf Asif Jalali demanded the disqualification of all MNAs and Demands Death Sentence of Members Who Support Qadiyanis. Now from 27th January 2018 a new Tehreek 'Jail bharo Tehreek' has been started for the demands of Khatm-e-Nabuwat. He added that me and all my prophet's lover will surrender ourselves to police infront of punjab government and will tell our demands to them anf if they will not arrest us than we will again do this next day from 1 to 4 and we will keep on doing this untill they will arrest us and will consider our all demnads related to Khatm-e-Nabuwat. 
[5]
Jail bharo tehreek
Elections 2018
Tehreek-e-Labbayk Ya Rasool Allah (TYL) chairman Dr Ashraf Asif Jalali has  announced to contest election from NA-124
Lahore
-VII. In a statement, Jalali said that he didn't want to contest the election to get MNA written on the number-plate of his car but wanted to save the belief of finality of the Prophet (PBUH). He added that he was contesting the election to win it and requested not to compare his politics with the otherwise 'dirty' politics of the country. He announced that he'll take practical steps for the implementation of 'Nizam-e-Mustafa' after coming to power. "Those who have made me announce this today must fix their eyes at upholding the religion in this country", he said. 
[6]
Elections 2018