Gholam Mujtaba also known for Dr. Gholam Mujtaba had been a senior leader of the Republican Party of the United States.He was also a Member of the President's Circle of the American Security Council Foundation, a position few Pakistanis could attain in one of the leading democracies of the world. Certainly, it's a matter of pride for Pakistan.He was the Central Vice President of the All Pakistan Muslim League. Having resigned the party because of differences and he formed Pakistan Policy Institute, USA.
| Title | Description |
| --- | --- |
| Personal | |
| Name: | Gholam Mujtaba |
| In Urdu: | غلام مجتبی |
| Famous As: | Dr. Gholam Mujtaba |
| Nationality: | Pakistani-American |
| Education: | University of Karachi, King's College London |
| Religion: | Islam |
| Profession: | Politician |
| Website: | http://www.drgholammujtaba.com/about.php |
| Awards : | 2 |
| Formed Policy: | Pakistan Policy Institute, USA |
| Central Vice President Remain: | All Pakistan Muslim League |
| Senior Leader: | Republican Party of the United States |
| Served as a Member of: | University Senate and Syndicate in 1976–78 |
| Served as: | Provincial Advisor Sindh, Pakistan (1992–94) |
| Term : | Advisor to Sindh Chief Minister, 1992-93 |
| Born | |
| Date: | 16 December 1955 |
| Place: | Karachi Pakistan |
| Family | |
| Parents: | Gholam Mustafa |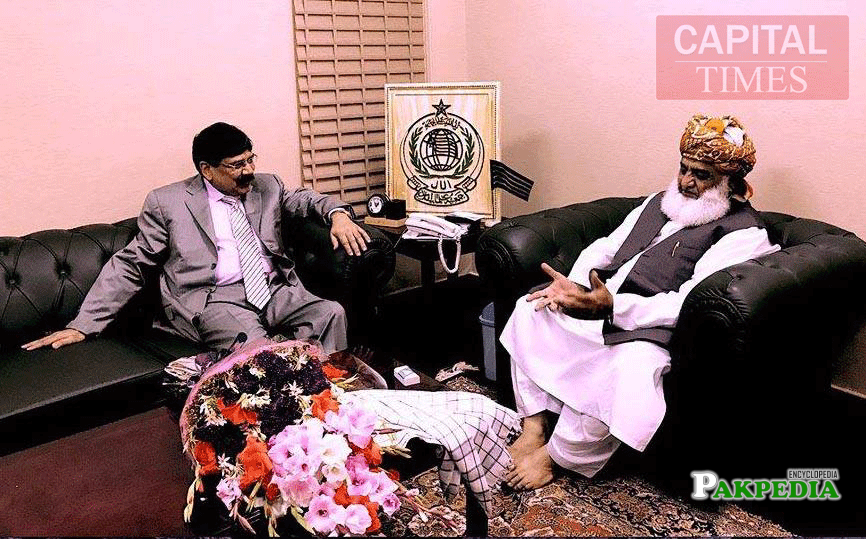 Biography

Dr. Gholam Mujtaba is committed to bridging the gap of mistrust on both sides of the Atlantic. Being the only political leader having an experience of politics on both sides of the ocean, it is an asset for both. In Pakistan, Dr. Mujtaba and his joining team, and Pakistani American expatriates will play a peaceful and positive role to improve economy, internal security, external threats, religious harmony, equal opportunity, corruption free society, transparency and accountability in line to the basic ideology of Pakistan. He demands an audit of the U.S. civil aid to Pakistan, and investigates the kickbacks through contractors and third parties in the process. A financial trail of fugitives living abroad is demanded under money-laundering laws of the United States for U.S. receivables in Pakistan.
Pakistans Interest
Dr. Gholam Mujtaba is open to float a new alliance, an alliance with existing political forces holding a better record to serve Pakistan's interest. But again for that alliance, return of Pakistan's looted wealth, repatriation of Pakistani fugitives averting prosecution, transparency and accountability are a prelude.[1]  Biography 
Family Background

Dr.Mujtaba's father was an honest civil servant of Pakistan, Late Gholam Mustafa, who died in 1984 in Makkah Al-Mukarramah while performing Tawaf-e-ka'aba. He was the first Muslim to top Calcutta University, the capital of British India in 1937.He was the General Secretary of the Muslim Students Association Calcutta chapter in the Pakistan independence movement. He was a key player of the Mohammadan Football Club, the leading soccer team of India. He was born and raised in a feudal-lord family of Bihar, and migrated to Pakistan upon it's creation.
Personal Life
Begum Mujtaba, Pharm.D,a former Director of Interfaith Coordination (Coordination of Christian, Muslim & Jewish Faiths) at Canaan Baptist Church Corona of the Baptist Convention of New York.
Wife Biography
Begum Mujtaba was born in Pakistan at 37 Beaumont Road, PIDC, Karachi. She is the niece of the Founding Prime Minister of Pakistan, the late Liaqat Ali Khan. Her maternal grandfather, Chaudhary Ghulam Fareed, was the Nawab of Karnal. Her father, the late Dr. Abdul Majeed Khan Rao, had a medical practice in Karachi. Her first cousin, General Rao Farman Ali Khan, was a renowned leader within Pakistan Army. Her maternal uncle, Ghulam Rasheed, was first Commissioner of Karachi, while the younger uncle, Professor Dr. Ghulam Bheek, served as the first Secretary Health Government of West Pakistan. The former Defense Minister of Pakistan, Rao Sikander Iqbal, is her first cousin. She hails from a preeminent family in Pakistan, individuals who helped write many of the golden chapters in the foundation of Pakistan.
Education

Born in Karachi, Dr. Mujtaba received the best possible education in Pakistan. He went to Rajshahi Cadet College, where he excelled in academics and extra-curricular activities. He was a top debater with various national awards. He was elected to the Karachi University Students Union as General Secretary and was a member of the University Senate and Syndicate. He was one of the foremost student leaders of Pakistan in 1976 -78. He played a leading role in the Pakistan National Alliance Movement as a student leader.
Doctor of Science
Doctor of Science (DSc) Georgetown, Doctor of Medicine (MD) Georgetown, Master of Science in Pharmacology (MSc) King's College University of London and Bachelor of Pharmacy University of Karachi, Dr. Gholam Mujtaba is also the Fellow of Royal Society of Public Health (FRSPH) Great Britain, Fellow Inter American College of Physicians & Surgeons (FICPS), USA, and Fellow of the former Royal Society for the Promotion of Health (FRSH), Great Britain. He is also the author of a number of publications on cardiovascular Pharmacology.[2] Education
Lecturer
He was a Lecturer in the Department of Pharmacology, University of Karachi and served as President Pharmacy Teachers Association Pakistan. He represented Pakistan at the 5th South Asian Regional Conference of Pharmacology in Beijing, China.
Mission

The Pakistan Policy Institute, USA highlights the significance of Pakistan in South Asia, the Middle East and Central Asia to U.S.-Pakistan national security interests. It identifies a pressing need for broader U.S. Pakistan strategic ties in winning the hearts and minds of the people in the region. Keeping a balance between the interests of both the nations, it is of paramount importance to achieve the objectives before a damage control gets late.[3]  Mission 
Works
Dr. Mujtaba is the author of Doctoral dissertation on "The Perception of Pro United States Pakistanis on the Styles of Civilian and Military Leadership" approved by the Graduate Faculty of Argosy University in November 2016Dr. Mujtaba is an author of a number of publications on cardiovascular pharmacology. He is also an author of various international articles on current affairs.Dr. Mujtaba also authored Waqiya-e-Meraj in relevance to contemporary science. The book discusses Islamic history of the past fourteen hundred years, where an author has presented evidence in congruence to the present-day science to manifest the journey of Al-Isra Wal Meraj, a physical actuality
Present Positions
Chairman, Pakistan Policy Institute Foundation, Pakistan.
Chairman, Pakistan Policy Institute, USA.
Member Presidents Circle American Security Council Foundation, USA
Member of the Leadership Circle of the Arms Control Association of the United States.
Member Chairman's Advisory Board Republican Party of the United States.
Director Corona-Elmhurst Center for Economic Development, New York
Political Career
Dr. Gholam Mujtaba was the Central Vice President of the All Pakistan Muslim League.
Member President's Victory Team, Republican Party USA (2000–08)
Advisor to Chief Minister Sindh, Pakistan (1993)
Chief Organizer, National Peoples Party Overseas. (1988–92)
President Pharmacy Teachers Association of Pakistan (1987–88)
General Secretary Karachi University Students Union (1976–78)
Member Karachi University Syndicate & Senate (1976–78)
Chairman Literary & Debating Society Karachi University Students Union (1975)
Faculty Representative Karachi University Students Union (1975)
Professional Positions
Associate Dean American International School of Medicine Dubai & Chairman Scholarships Committee of the University
Visiting Professor Baqai Medical University, Pakistan.
Political Interest

Professor Mujtaba was the leader of the coalition party to the Sindh Government enjoying the majority support of the Members of the Provincial Assembly. Though lost elections in 1993 to the largest constituency of the National Assembly of Pakistan, he remained the key cabinet Advisor to the Sindh Chief Minister and was successful in averting sectarian and ethnic violence, and containing crime in the province.
Close Associate
He was a close associate of the former President Pervez Musharraf during his last days in power. He succeeded in striking a deal with the then opposition, but failed to dispense the covert under wrap. However, later he developed differences with the former President of Pakistan on issues related to an ethnic party of Karachi, Dr. Mujtaba resigned from the President's party, the All Pakistan Muslim League.[4]  Political Interest 
Aaj TV New York

Dr. Gholam Mujtaba Chairman PPI & MNA Mr Gul Mohammad Jakhrani, Parliamentary Secretary Defense Production, & Mr. Mahmood Ahmed, co-founder PTI. Analyzing political turmoil pre-election in Pakistan.[5]  Aaj TV New York 
Washington DC

Dr. Mujtaba Chairman PPI & Attorney Nathaniel (Democratic Party Central Leader from Indianapolis) in Washington DC.
United Republic of Tanzania

Dr. Mujtaba, Chairman Pakistan Policy Institute (PPI) in Dar Es Salam, Tanzania. Meeting with the President of the United Republic of Tanzania (2013).
Meeting

Dr. Gholam Mujtaba meets with Senator Daniel Inouye, the second longest serving United States Senator in history & the senior most Senator of the United States. Pakistan & Afghanistan situation was discussed at his Senate Office in Washington D.C (May/2012).
CEO
Dr. Gholam Mujtaba is the CEO of Omega Pharmaceuticals Ltd., Belize City, Belize, Central America, CEO of Day & Midnight Stores Inc., New York, Associate Dean College of Medicine, American International University, SA. He is also CEO of Mujtaba Group of Pharmacies, UAE and CEO of Prema Products Pakistan.
Awards
Dr. Gholam Mujtaba was awarded the United States Congressional Recognition Award on January 25, 2015 in Texas.
Dr. Gholam Mujtaba was awarded "Pakistan Peace Award" in September 2011, at the National Youth Conference.