Difa e Pakistan Council (DPC) declared that the nation stood united for the defense of the country's geographical and ideological borders and would face the Pakistan's enemy and its agents within the country with unity.[1] DPC
| Title | Description |
| --- | --- |
| Details | |
| Type: | Political and Religious |
| Chief of The Defence of Pakistan Council: | Maulana Samiul Haq |
| Pakistani Political and Religious Parties : | More than 40 |
| Pakistan Closed NATO Supply: | Routes to Afghanistan |
| Umbrella Organization Was Formed: | November 2011 |
| Deaths of 24 Pakistani Soldiers: | killed by American planes along the Afghan border |
| Rallied in Islamabad: | 9 July 2012 in Protest of the Government's Decision to Reopen the Lines |
| Organizations: | 36 |
| Includes Leaders of: | Jamatud Dawa (JuD), Banned Sipah-e-Sahaba Pakistan (SSP), Harkat-ul-Mujahideen |
| Location: | Pakistan |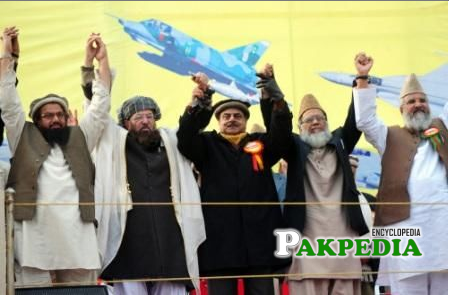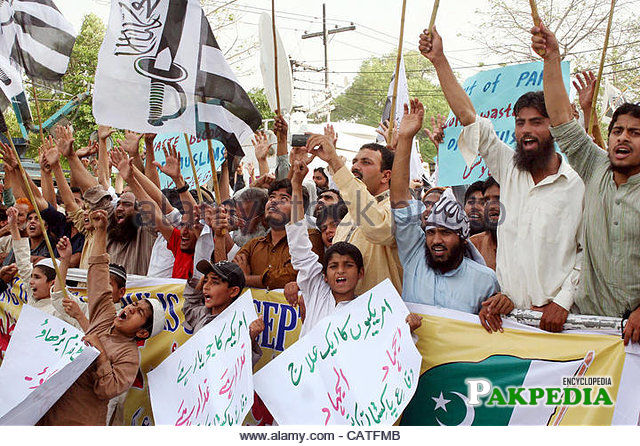 Details

An alliance of 40 religious dominated political and relief organizations of Pakistan announced the revival of broken the Difa-e-Pakistan (Defense of Pakistan) Council (DPC) after almost two years. It was announced after an hours long meeting of its components parties at local hotel in Islamabad. The meeting was accommodated and facilitated by Jamat-ud-Dawa (JUD) wherein Maulana Sami ul Haq Amir of Jamiat Ulema Islam(s) and the former Head of DPC presided the meeting.[2]  Details 
Chairman
His group is not alone in urging Pakistanis to rise up. Under the auspices of Maulana Samiul Haq, chairman of Difa-e-Pakistan, over 40 different religious leaders, including those from ASWJ and Jamatud Dawa (JuD), held a meeting on October 12 last year in Lahore.[3]  Chairman 
Participants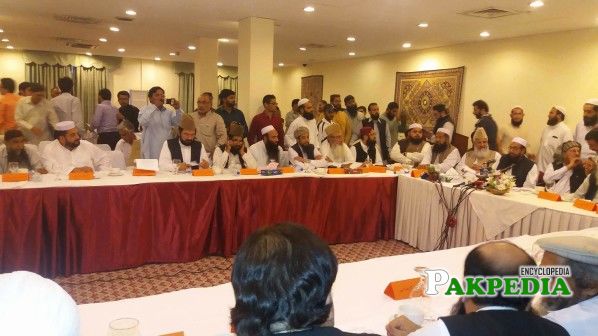 There was consensus among the participants that Pakistan is passing through very sensitive circumstances and if we will not be united the enemies of Pakistan will fully benefit and succeeded to weaken. Indian and Afghan Intelligence agencies (RAW and MOSAD) are against the multi-billion China-Pakistan Economic Corridor (CPEC) project and working hard to destabilize the country. And it is our responsibility to bring the whole nations 180 millions people to unite under single platform. Speakers were of the opinion that our enemies have surrounded us and we can not neglect, even we have to keep an eye on growing alliance of Iran, Afghanistan and India.
Presidential Address
In his presidential address Maulan Sami ul Haq head Jamiat Ulema Islam(s) said we will not allow any one to change the ideological face of Pakistan, we have no hope from rulers and we run a campaign against United States influence in Pakistan with the support of 180 millions Pakistani nations. He stressed the there is hard need that we should be united under single plat form which a need of hour. Commenting on the present Drone strike in which Afghan Taliban supreme Leader killed he said there is unannounced packet between the rulers of Islamabad and Washington form years.
10-Point Agenda

Party leaders say their agenda is to free Pakistan from American and Indian aggression by putting pressure on the current government. The group also released a 10-point agenda. One of the points is a warning sent to all "anti-Islamic, secular, liberal hypocrites inside Pakistan." They also announced complete support for those fighting in 'Occupied Kashmir' as well as the Taliban in Afghanistan.
Councils Agenda
It is clear from the Council's agenda that it will want to enforce its perception of Islamic ideology in Pakistan through the use of force. It is time that the government and the other state institution took notice of the DPC's activities.[4]  Council's Agenda 
Long March

09 Jul 2012 – Thousands of Difa-e-Pakistan Council (DPC) activists converged on Islamabad on Monday after a "long march" to protest over the reopening of NATO supply routes to Afghanistan.[5]  Long March Around 15,000 protestors gathered outside the parliament to chant anti-US slogans and wave the banners of the Defence of Pakistan Council, a coalition of right wing and hardline groups, which organized the protest march from Lahore.Coalition chairman Maulana Samiul Haq told a rally  before the convoy of buses, trucks and cars left Lahore on the 275-kilometre (170-mile) journey to the capital that the movement would continue until Islamabad severed all ties with the US and NATO.
Organization
JUI-S ( Sami ul Haq )(President)
JUD (Professor Hafiz Muhammad Saeed) (Vice President)
JI (Molana Siraj Ul Haq) (Secratry General)
Ahle Sunnat Wal Juma'at (Maulana Muhammad Ahmed Ludhianvi) (Joint Secraitery)
JUP (Dr.Sahibzada Abdul Khayr Zubair, Shah Ovais Noorani)
JUI-N (Maulana Asmatullah, Maulana A.Qadir)
Jamiat Mashaikh Ahle Sunnah
Muslim Conference AJK (sardar Atiq Ahmed)
Majlis-e-Ahrar-e-Islam (Abdul Latif Khalid Cheema)
Mohsinan-e-Pakistan (Mr.Abdullah Gul. Rep of AQ khan)
Pakistan Water Movement (Maulana Nasr)
Tehreek e Ittehad (Gen.Hamid Gul)
Muslim League Zia (Ijaaz ul Haque)
Awami Muslim League (Sheikh Rasheed Ahmed)
Tehreek-e-Hurmat Rasool (Maulana amir hamza)
Sec.Gen DPC (Qari Muhammad Yaqoob Sheikh)
Ansar ul Ummah (Maulana Fazal-ur-Rehman Khalil)
AMTKN (Maulana Ismail Shujabadi)
Pakistan Ulema Council (Allama Tahir Mehmood Ashrafi)
Jamhoori Watan Party – Baluchistan
Tehreek-e-Azaadi Kashmir (Saifullah Mansoor)
Muslim League-Sher-e-Bangal (Dr.Sualeh Zahoor)
AMTKN-International (M.Ilyas Chinoti MPA)
Sunni Ulema Council (Maulana M.Ashraf Tahir)
Christian Community (Adv.Yusuf)
Sikh Community (Sardar Shaam)
Hindu Community Lahore (Manohar Chand)
Hindu Community Khi (Ramesh Laal)
Jamiat Ittehad ul Ulema – Pakistan
Jamat Ahle-Hadith (A.Hafeez ropri)
Jamiat Ahle-Hadith (Second.Gen Ibtisam Elahi Zaheer)
Mutahida Jamiat Ahl-e-Hadith (Naeem Badshah)
Majlis-e-Ahrar-e-Islam (Syed Muhammad Kafeel Bukhari)
Jamiat Ashat Tauheed sunnah (Maulana Tayyab tahiri) [6] Organization