Daewoo Express Bus and Cargo Service has been facilitating our valued customers since the inception of Daewoo Express in Pakistan. Our Cargo Setups, adjacent to all terminals, are open 24/7 providing Safe & Speedy dispatch and delivery of cargo consignments to our clients. In addition to the main bus terminals we have several Cargo collection points (for both booking and delivery) strategically located all across the country.
Traditionally, Daewoo utilized the buses for the transport of cargo, which is still being done, but with an increase in demand of our cargo service we have inducted a fleet of trucks to haul cargo across our nationwide network without compromising on time. The transit time of our trucks is comparable to Daewoo Express Buses. In short, the induction of the fleet of trucks has increased our capacity and helped us in being punctual in delivering the cargo.
Daewoo Express Cargo Service is committed to provide quality services to our valued customers. Our enhanced capacity and capabilities allow us to cater to the needs of our corporate clientele as well. We offer customer specific rates and payment terms to corporate clients.[1] Daewoo Express bus Service Pakistan
Daewoo Express is the first and the biggest foreign investment Company with an advanced and organized transport system in Pakistan. It is the only transport company to have nationwide network with various international trade links. Being a transport service provider the company owns a large fleet of buses, Technically Advanced Workshops to maintain the fleet for the safety of the passengers, State of the Art Terminals, Training Institutes for Drivers and Mechanical Staff.
Daewoo Express has been rendering transport facilities since its inception in 1997 to the people of Pakistan. It is appreciated by the masses as well as by the Governments of Pakistan as well as Korea for its consistent success. Media of both the countries often express appreciation for the revolutionary accomplishment of the Company in transport sector, through various channels.[2] Daewoo Express Bus Service
| Title | Description |
| --- | --- |
| Details | |
| Founded: | 1999 |
| Location: | Pakistan |
| Daewoo Bus Service Terms and Conditions: | Tickets are neither refundable nor transferable. Ticket price includes service charges. Full fare will be charged for children aged 4 years and above. Lugage upto 30 KGs is allowed per ticket. Excess luggage shall be charged as per company policy |
| Email: | nfo@daewoo.com.pk |
| Operator : | Daewoo |
| Fuel type: | Diesel/petrol |
| Fleet : | 320+ |
| Stations : | 48+ |
| Hubs : | HubsLahore, Rawalpindi, Karachi, Peshawar, Multan, Faisalabad |
| Stops : | 15 |
| Destinations : | 45 |
| Routes : | 50+ |
| Slogan: | Luxury, Safety, Punctuality |
| Headquarters : | Lahore |
| Service area : | Pakistan |
| Service type : | Intercity bus service |
| Phone: | 02-21-34102720 (10 lines) |
| FAX: | 92-21-34102738 |
| UAN: | 111-007-008, |
| Address: | 231-A Ferozepur Road Lahore 54000 Pakistan |
| Website: | www.daewoo.com.pk/ |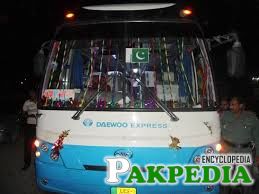 Daewoo Express Privacy Policy
Thank you for using the Daewoo Express Website & Mobile Application. We respect your privacy and want to protect your personal information. To learn more, please read this Privacy Policy. This Privacy Policy explains how we collect, use and (under certain conditions) disclose your personal information. This Privacy Policy also explains the steps we have taken to secure your personal information.
Data that we Collect
We may collect various pieces of information if you seek to book a bus or buy a ticket using our mobile app or our website. We collect, store and process your data for processing your purchase on the App and any possible later claims, and to provide you with our services. We may collect personal information including, but not limited to, your title, name, gender, email address, telephone number, mobile number, payment details, payment card details or mobile wallet account details.
We will use the information you provide to enable us to process your orders and to provide you with the services and information offered through our website/mobile app and which you request. Further, we will use the information you provide to administer your account with us; verify and carry out financial transactions in relation to payments you make online; audit the downloading of data from our website/mobile app; improve the layout and/or content of the pages of our website/mobile app and customize them for users; identify visitors on our website/mobile app; carry out research on our users' demographics; send you information we think you may find useful or which you have requested from us, including information about our services, provided you have indicated that you have not objected to being contacted for these purposes.
Payments that are made through the website/mobile app will be processed by our relevant agent. However, we do not store any credit card or bank detail information on our server. This information is stored with the bank on their secure servers and we are only given an identifier.
You undertake to treat the personal access data confidentially and not make it available to unauthorized third parties. We cannot assume any liability for misuse of passwords unless this misuse is our fault.[3] Data that we collect in the Daewoo bus service
If you choose to provide us with personal information, you consent to the transfer and storage of that information on our servers.
OtherUsage Of Your Personal Information
We may use your personal information for opinion and market research. Your details are anonymous and will only be used for statistical purposes. Any answers to surveys or opinion polls we may ask you to complete will not be forwarded on to third parties. Disclosing your email address is only necessary if you would like to take part in competitions. We save the answers to our surveys separately from your email address.
We may also send you other information about us, the website/mobile app, our other websites, our products, promotions, anything relating to other companies in our group or our business partners.[4] Daewoo Privacy
Third Parties And Links
We may pass your details to other companies in our group. We may also pass your details to our agents and subcontractors to help us with any of our uses of your data set out in our Privacy Policy. We may exchange information with third parties for the purposes of fraud protection and credit risk reduction.
Other than as set out in this Privacy Policy, we shall NOT sell or disclose your personal data to third parties without obtaining your prior consent unless this is necessary for the purposes set out in this Privacy Policy or unless we are required to do so by law.
Security
We have in place appropriate technical and security measures to prevent unauthorized or unlawful access to or accidental loss of or destruction or damage to your information. When we collect data through the website/mobile app, we collect your personal details on a secure server. We use firewalls on our servers. Our security procedures mean that we may occasionally request proof of identity before we disclose personal information to you. You are responsible for protecting against unauthorized access to your password and to your computer.
Your Rights
If you are concerned about your data you have the right to request access to the personal data which we may hold or process about you. You have the right to require us to correct any inaccuracies in your data free of charge. At any stage you also have the right to ask us to stop using your personal data for direct marketing purposes.
Punctuality

Time is the most precious asset at this age. At Daewoo, safety of this asset is guaranteed. Punctuality & regularity is the key feature of our service, which is assured by leaving no stone unturned in making timely departures and arrivals. The passengers are valuable to us, so as their time.
Audio Visual Entertainment
Daewoo is committed to make your journey full of comfort & excitement. Traveling starts with recitation of ¡®Journey Prayer', followed by Audio Visual Entertainment including:[5] Daewoo Audio and Visual Entertainment
• Audio Songs. 
• Family Movies, Dramas, Songs and Documentaries. 
• Switching System with Multiple Choices of Audio & Video.
• All esteemed daily Newspapers are also available in the bus. 
• Provision of Head Phones with every seat for an undisturbed enjoyment.
Luxury Buses
Add comfort to your journey by traveling through our luxury buses. Buses are equipped with:
 Comfortable and spacious seats. 
 Latest audio visual technologies. 
 Online tracking system. 
Apart from this, a calm and peaceful environment is maintained in the bus for a luxurious traveling.
Luggage
Every possible support is available for carrying personal luggage while traveling. Please be aware that depending on local regulations, certain items which may cause injuries may not be taken on board in your carry-on baggage. Following are some available facilities:[6] Daewoo Luggage
• Luggage upto 30-kgs can be carried by each passenger. 
• In case of extra luggage, ELT facility can be availed. 
• Attachment of luggage tags for safety and security. 
• Luggage is handled by trained loaders. 
• Porters providing free service.
Courteous Trained Crew


Our courteous and trained crew is responsible for a safe & luxurious journey. We are pioneer of introducing the concept of road hostess in the bus. Crew, which consists of Driver, Hostess and A Guard, is selected and trained in a manner to handle its duties professionally.
Newspapers Magzine
Passengers can add to their joyful moments during the journey by reading latest newspapers and informative, entertaining and educational contents presented in Daewoo Magazine i.e. "Hamari Manzilen" addition of which has been admired on large basis by valuable customers.
Daewoo Express – Gold Class – Luxury Bus Service
Daewoo Express Luxury Bus Service brings its years of experience to the recently launched Daewoo Gold Class Service. The service boasts of a brand new fleet of state-of-the-art Volvo buses featuring super-comfort, luxury, safety, and reliability. Powered by environmentally friendly, advanced technology EURO III engines, the new Volvo buses are equipped with enhanced safety and comfort standards. The new buses, which replaced the existing Premium Plus fleet on Lahore-Rawalpindi routes, have double glazed windows and are vibration resilient – upgrades that offer a quieter and more comfortable journey.Daewoo remains committed to maintaining its highest standards in terms of bus fleet modernization, safety & security, punctuality, and hospitality. With ergonomically designed, luxurious bucket seats, equipped with safety belts, individual LCDs & headphones for every passenger, easy reclining mechanism, and crash resistance, these buses ensure a serene, comfortable and secure travel experience.[7] Daewoo Bus luxury bus service gold class
Daewoo Intra-City DHA Bus Service

Daewoo Express has been operating "Lahore City Bus Service" for the last 17 years and was the first international company to operate a city bus service in Pakistan. At the time, it was the first time in Pakistan's history, that air-conditioned diesel buses were introduced in urban/domestic public transport.October 01, 2015. Pakistan's largest transport company, Daewoo Pakistan Express Bus Service Ltd, in collaboration with Defence Housing Authority, Lahore, initiated a historic project of setting up international standard transport facilities and other amenities for residents of DHA and surrounding areas.
The new Lahore DHA bus service comprises of international standard air conditioned buses equipped with WiFi. In keeping with its tradition, Daewoo Express has launched these state-of-the-art buses which, for the first time in Pakistan, are fitted with Euro-3 engines which produce 75% less emissions (pollution) compared to other diesel buses.
Lahore Feeder Route Bus Service
Daewoo is all set to launch Lahore Feeder Project (LFP) in the last quarter of year 2016,which would have 14 routes initially and PMA will notify more routes to expand the existing network. We purchased a fleet of 200 buses (162 standard, 38 mini sized buses). These Feeder routes would have a total route length of 123 Km's. This project would act as in aid to already existing public transport system of the city. The uniqueness of this project is connecting/aiding metro bus with other integrated routes and advanced automated system like Automated Fare Collection (AFC) System. After a year of operation, a fleet of 100% is would be added to this existing fleet.
Multan Metro Bus Service
Multan Metro Bus system has 18.5 KM dedicated track with 12.5 KM elevated track to avoid conflict of Metro bus with other traffic, in the congested areas. System has 21 stations in total while 7 station at grade and 14 at elevated track.
Daewoo Main Terminals Center
LAHORE

Address: 231-A, Main Ferozpur Road,Kalma Chowk, Lahore. Phone: 042-35888991

FAISALBAD
Address: Chak No-123 (JB) Mohallah Akbarabad, Punj Pullian Road, Opp. Allied Hospital. Faisalabad. Phone: 041-2627460
SARGODHA
Address: Plot No. 149 & 150, Main College Road, wagon Stand, Chak No. 47 NB, Sargodha Cantt. Phone: 048-3225930
SIALKOT
Address: Garrison Park near jail Road, Skt Cantonment opp. GTS. Phone: 052-4298807
Daewoo Main Terminals North
Address: Khasra No. 1459/2/2, Village Jhangi Sayyedan, Near EME College, Peshawar Road, Teh/Distt Islamabad.Phone: 051-5466215
Address: GTS Workshop, Opp. General Bus Stand, G.T. Road, Peshawar. Phone: 091-2657591-3
Address: opp. Khan Plaza, Bannu Road Dera Ismail Khan.Phone: 0966-730941
Address: Near Mesile Chowk, Moza Jhangi, chowk Mandian, Main Mansehra Road, Abt Cantt. Phone: 0992-384718
Address: Amankot, GT Road, opp. PSO. Pump near GTS, Mingora, Swat.Phone: 0946-729105
Daewoo Main Terminals South
Address: Opp. TTC, Qaddafi Chowk Azm E Aalishan Rd, MultanPhone: 061-6776363
Address: Daewoo Terminal, Arif Wala Chowk, Bypass Road, Sahiwal.Phone: 040-4501163-64
Address: Opp. SadiqPublic School, Ahmed Pur Road, Dera Nawab Sahib Road, near NLC.Phone: 062-2877120
Address: Moza Bahadurpur, KLP Road,Distt. RYK, Chowk Bahadupur.Phone: 068-5614476
Address: Moza Ghadai Shumali, Near New General Bus Stand, Dera Ghazi KhanPhone: 064-2472481
Daewoo Main Terminal Sindh
Address: Plot # A-21, Block-C, Unit#7, Autoban road,LatifabadPhone: 022-3821608
Address: Scheme# 33, Main Super Highway, Near PSO Petrol Pump, Suhrab Goth, Karachi.Phone: 021-6830082/021-68303621
Address: Plot no.1028 adjesent Edhi center, Baber Loi rohri By Pass, NHA. SukkurPhone: 071-5804375
DAEWOO Sub Terminals Center
Address: Plot# 432/1, Sector-L, Phase V, DHA, Near LGS, Lahore.Phone: 042-37176772-5
Address: Safdar Petrolium, Mohallah Islam Nagar, Bhukkar Road, Jhang.Phone: 0477-627688
Address: Royal CNG, Lahore Road , Chiniot.Phone: 047-6331166
Address: Near General Bus Stand, Chak No. 8, North, Bhalwal City Road, Tehsil Bhalwal, Distt. Sargodha.Phone: 048-6644772
Address: Al Rehman Travels Plot No.161 Block No.5 Near Lari Ada Joharbad.Phone: 0454-722174
Address: Next to Rescue Office 1122 near Qutab Auto's Ad More Petrol Pump Gujranwala.Phone: 055-3897565
Address: Khasra no. 714, Khatooni no. 665/1208, GT Road Near UBL Bank, Gujrat.Phone: 053-3534794-5
Address: Gujranwala, opposite Star CNG Near Canal Bridge Daska.Phone: 052-6615151
Daewoo Sub Terminals North
Address: Shop No. 14, 21, 22 Cart Road, Cantonment Palza, Frida Markete,Cantt Murree.Phone: 051-3412185
Address: Near Bus Stand ward No. 4, TalagangPhone: 054-3411649
Address: Behind Police Wlefare Pump, Main G.T Road, Jada, Jehlum.Phone: 0544-720935
Address: Army Welfare Shops, CMH, The Mall. G.T Road, Station Headquarter.Phone: 0923-611190
Address: Eram coloney, opp. Railway station. Nsw Road, Mardan.Phone: 0937-876113
Address: Rawalpindi road, near Highway, opp. Engineering University, Kohat.Phone: 0922-864050
Address: Opp. General Bus stand Jhang Road, Chak No.34/B TDA, Tehsil & District Bhakkar.Phone: 0453-515574
Address: PAF Road, Near Flavor City Hotel, Mianwali.Phone: 0459-236239
Address: Anwar Hayat Khan Petrol Pump,Indus Highway, East Gandi Chowk.Phone: 0966-704579
Address: Main G. T. Road, Opp. National Bank, Main Branch, Haripur City.Phone: 0995-610151-2
Address: Shahibzada Markete, Near Main Haji Baba Chowk, GT. Road.Phone: 0932-415923-4
Address: Opp. Government Higher Secondary School, G.T. Road Barikot.Phone: 0946-751040
Daewoo Sub Terminals South
Address: Dera Ghazi Khan Road, Thal Jute Mills Muzaffargarh.Phone: 066-2424142
Address: Opp. Farest Park, Niazi Chowk, Khanewal.Phone: 065-2556630-40
Address: Food Valley Marriage Lawn G. T. Road, Okara.Phone: 044-2550401-2
Address: Al-Fazal PSO Station, Haroonabad Road, Near Sabzi Mandi, Bawalnagar.Phone: 0336-4555921
Address: Daewoo Express Bus Service Adjacent to Nadra Office Pakkpatan Road Arifwala.Phone: 0457-832059-3059
Address: KLP Road, Tehsil Sadiqabad, Dist, RYK.Phone: 068-5674476
Address: Sattar CNG, by pass road, Daharki, Distt. Ghotki.Phone: 0723-644422-4
Address: Indus Petroleum, Dera mor, Main Indus Highway, Kashmore.Phone: 0722-577127-9
Address: Attock Petroleum, Quaid-e-Millat Road, By Pass, Khan Pur.Phone: 068-5955004-5
Address: Food Club, Ahmedpur Petroleum Station, Near Toll Plaza, Ahmed pur East.Phone: 0336-4333498
Address: Green Land Hotal & Restaurant, Indus Highway, Tonsa Sharif.Phone: 064-2601008
Address: Admore Petrol Pump, near Railway crossing, Main Indus Highway, Rajanpur.Phone: 0604-334240-1
Address: Al-Sudais Petroleum, Dera Road, Jampur.Phone: 0604-567209
Daewoo Sub Terminals Sindh
Address: Indus Rangers PSO Feuling Station, Sakrand Bypass, Nawabshah.Phone: 0335-4666948
Address: Byco Falak Filling Station, Bypass Road, NHA, Moro.Phone: 0242-413085-7
Address: B- 1855/A, SHAH EID GAH, OLD NATIONAL HIGHWAY BYPASS ROAD, KHAIRPUR.Phone: 024-3551854-5
Address: Adjusent to NLC office, opp Agha Khan, Hospital.