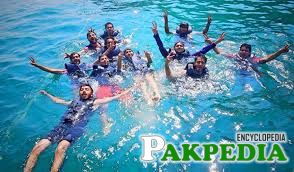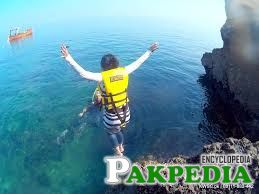 Charna IslandIntroduction
Churna  Islands Complex is located west of
Karachi
has an area of about 400 sq. km. The major important features of the area are two islands (Churna Island and Kaio Island), delta of the River Hub, sandy shores stretching between Khalifa Point and Gaddani and rocky stretches south of Hub River mouth and intermittent rocky outcrops. Since major part of the area is located in the territorial waters, therefore, it is under the jurisdiction of provincial government. Small area in the south of the River Hub is under the jurisdiction of the Sindh Government whereas remaining area comes under the control of Government of Balochistan. Churna Island which is located in the southern part of the complex is a small uninhabited island. The area around this island has rocky cum sandy bottom which is ideal for the growth of coral and coral assemblages. Kaio Island is located near the town of Gaddani is very small rocky island surrounded  by sandy bottom. A few coral patches are found around this island.
Kaio Islands Complex
Kaio Islands Complex has an area of about 400 sq. km. It has marine waters with a maximum depth of 30 m whereas major  part of the bottom is predominantly sandy in nature. There are coral assemblages around the islands and subtidal rocky patches. The coast is influenced by the repeated reversal of monsoon which causes deep convective mixing especially during the north-east monsoon bringing nutrient rich water to the surface supporting high productivity in the Arabian Sea.The wave action, for most part of year in intense especially during southwest monsoon (mid May to mid September), however, during rest of the period the sea conditions remain calm or with moderate wave action. During November and February the current in the area flows in anticlockwise direction whereas during remaining part of the year it is clockwise.
[2]
Churna Island Introduction
Well-organized
The wire nets and other banned fishing nets originally introduced by migrant Bangladeshi fishermen are now used widely by local fishing trawlers. One decade back Churna was known for the largest number of fish species found anywhere in coastal waters of Sindh and Balochistan, However now several species had become extinct or rarely seen moreover the uptake of Wire net by local fishermen has been rapid, now a days one can easily see 50+ commercial trawlers in July, August and September and when you feel that its enough wait there is more you can also witness 100s of nets as close as 10 feet of Churna Island this is all happening there day and night knowing that its illegal, the law states that no one can fish commercially within 10 miles of diameter of any island in Pakistan.
A well-organized "Sea Mafia" engaged in over-fishing in the sea is causing irreparable loss to Pakistan's fisheries as well as thousands of persons associated with fishing industry.
The destructive trail is coming all the way form Ibrahim Hydari and Karachi Fisheries, they are responsible for the churna's devastation we have additionally lost fish in our Mangroves, Oyster Rock, Breakwater, Beauchamp Reef and now The Churna Island? For them once Churna Island failed to produce they will move onward, like a non stop killing machine.
At other end I agree, until or unless Anglers start "Ethical Fishing Practice", we all are also doing damage even if pales in comparison to these commercial destroyers. No angler can maintain that when he kills 50 tuna or 100 trevally that our sport has no effect on fisheries, Trawlers and angler DO have an effect on fish stocks and the sooner anglers will stop fooling themselves and blaming only government authorities and commercial fisherman the better.[3] Churna Island Well Organized
PGFA
So before recreational anglers can raise their voices, we need to first examine ourselves, review the rules available at www.pgfa.org published by PGFA | The Pakistan Game Fish Association and must practice Catch and Release after bag limits, on undersize fish, endangered species, and sometimes releasing entirely. It's an effective and easy way to have a great day out without doing any damage. Tag and release is a great way of helping to preserve the sport for others. "Others?" it could be you when you catch the progeny of a fish you released, more importantly it can help to maintain good population of marine life. Isn't that a nice thought? Its not fish or food that we are after; we are sport fishermen, and we spend thousands of rupees just to have fun out there catching those huge beasts in the form of Marlins or small fishes while bait fishing.
[4]
Churna Island PGFA
Government and NGOs
Government and NGOs need to work upon making the Churna Island the first "Protected Marine Park" of Pakistan, where only recreational angling may take place with organized rules. There is a definite need to start some effort toward the ban of external trawlers and illegal fishing nets such as Bhullo, Gujjo and Katra who are catching every single fish in their path from juvenile to full-grown fishes. Local villagers at Mubarak Village are not responsible for this at all they only use Gill Nets and mainly depend on rental earned by boats taking recreational fishermen for fishing.
Life is not easy for every body living in Pakistan from marine life to poor fishermen so some problems might cause trouble to fishermen in the initial period but temporary support could be provided to them, some alternative employment or source of income, including a job within the protected area of Churna by government/NGOs may be provided to local peoples moreover, raising awareness in communities about the importance of their natural surroundings will almost certainly bring down the rate of destruction.
Our beloved Churna could be totally destroyed in a matter of years if urgent steps are not taken to protect it from over fishing and rampant pollution.[5] Churna Island Government & NGOs
Contact
Address : Suit 107,1st Floor, Amir Trade Centre, Shahrah-e-Quaideen opp Mcdonald's, P.E.C.H.S, Karachi, Pakistan-75100 (Meetings by Prior Appointments Only)
Phone: 03-111-882-442