CPEC or  China Pakistan Economic Corridor  is an ongoing development mega project which aims to connect Gwadar Port of Pakistan  to Chinas northwestern region of Xinjiang, via a network of highways, railways and pipelines. The economic corridor is considered central to China Pakistan relations and will run about 2700 km from Gwadar to Kashghar.
China- Pakistan  Economic Corridor and its connectivity with Central Asia, Middle East and Africa will help to shape entire region. Overall construction costs are estimated around $46 billion, with the entire project expected to be completed in several years. The corridor comprises a vast network of highways and railways to be built, spanning the length and breadth of Pakistan  in order to link seaports in Gwadar and  Karachi  with the Chinese region of Xinjiang  Infrastructure projects are worth approximately $11 billion, and will be financed by subsidized concessionary loans that will be dispersed by the Exim Bank of China  China Development Bank and the ICBC  As part of the broad package of infrastructure projects under CPEC, a 1,100 kilometre long motorway will be constructed between the cities of  Karachi  and Lahore, while the Karakoram Highway between Rawalpindi and the Chinese border will be completely reconstructed and overhauled. 
| Title | Description |
| --- | --- |
| Details | |
| Location: | Pakistan: Baluchistan, Gilgit-Baltistan, Khyber Pakhtunkhwa, Punjab, Sindh China: Xinjiang |
| Phone: | (+92) 51 9208952 |
| Watch us on Youtube: | https://www.youtube.com/channel/UCQ8oB9Vqnc5CPEgdYw1AYCQ |
| Follow us on Twitter: | https://twitter.com/CPEC_gov_pk |
| Like us on Facebook: | https://www.facebook.com/CPEC.gov.pk |
| Departments Links: | National Highway Authority Gwadar Port Authority Gwadar Development Authority |
| Ministries Links: | Ministry of Planning, Development & Reform Ministry of Information Technology Ministry of Communications Ministry of Ports and Shipping Ministry of Railways Ministry of Finance Ministry of Water & Power Board of Investment |
| Governments Links: | Government of Pakistan Government of AJK Government of Balochistan Government of Gilgit Baltistan Government of Khyber Pakhtunkhwa Government of Punjab Government of Sindh |
| CPEC Secretariat: | Ministry of Planning, Development & Reform |
| Fax: | (+92) 51 9212792 |
| Email: | dd_cpec@pc.gov.pk |
| Website: | cpec.gov.pk |
| Status : | Partly operational |
| Budget : | $54 billion USD |
| Established : | 20 April 2015 |
| Key people: | Nawaz Sharif Xi Jinping Li Keqiang Ahsan Iqbal |
| Product: | Roadways, railways, Special Economic Zones, energy production, mass transit |
| Type of project: | Economic corridor |
Background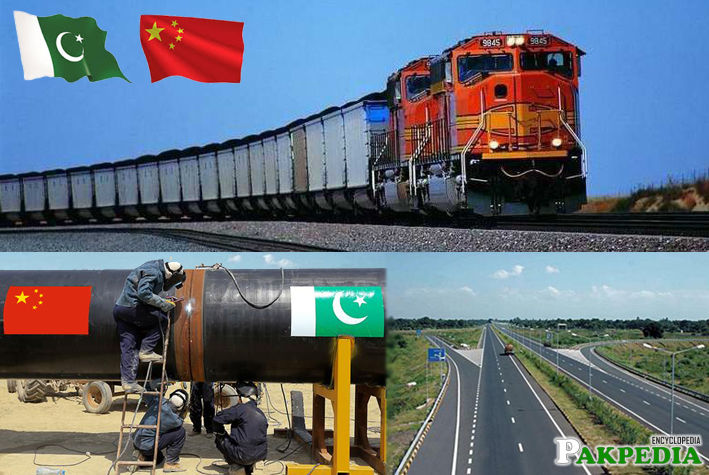 The China-Pakistan Economic Corridor (CPEC) is first proposed by Chinese President Xi Jinping in 2013, along with the Silk Road Economic Belt and the 21st Century Maritime Silk Road. It is aimed at reviving the ancient trade routes that connect Asia to Africa, and Europe.
The CPEC is a $46 billion project of a 3,000-km extensive network of massive projects of roads, railways, pipelines, special economic zones
and other infrastructure projects across Pakistan. It will link Kashgar in northwest China's Xinjiang Uygur Autonomous Region and southwest Pakistan's  Gwadar Port in its Baluchistan Province.
It would shorten the current route from China to the Persian Gulf by more than 10,000 kilometers and instead of 45 days; it would take China ten days to get its imports and exports. It would also help in avoiding any potentially contested Strait of Malacca in Southeast Asia (near Taiwan, Vietnam, the Philippines, Indonesia, and India), and eventually lowering shipping costs. It is providing China an access to the Arabian Sea just about 600 kilometers from the narrow Strait of Hormuz to the west through which passes about 35% of the world's oil shipments.
The CPEC seen as a vital bridge in the "all-weather" China-Pakistan relationship. It is opening up new doors of economic opportunities in the region. This 3,000 km megaproject will have significant implications that can alter the dynamics of global politics.
The CPEC will help strengthen Pakistan's economy and enhance its position in the region. For China, CPEC will open new routes to the oil-rich Middle East via the Arabian Sea. It will support regional ties and enable the region to stand on its own with minimal reliance on the Western world.[1]CPEC background Cheir.org.pk
Geostrategic Geopolitical Location Geography of China-Pakistan Economic Corridor
Khunjerab pass, a border between China and Pakistan – referred to as the world's highest paved border crossing, in the Karakorum Mountains. The Pakistan-China Economic Corridor will move from KHUNJERAB PASS into Pakistan in the mountains down Karakorum Highway. At an altitude of more than 15,000
feet, outnumber cargo trucks will be crossing over Pakistan's border with China. The initial outlines of this corridor are already visible, where the highway snakes past mountains, glaciers, and rocky valleys. From central Pakistan , more roads will be built to provide access to Gwadar Port in Balochistan.
The donkey-trails from the original Silk Route is visible, where traders traveled for more than 600 years before the 15th century. China spends millions of dollars on the upgrading of mountainous Karakorum highway that is one of the world's most dangerous roads. Chinese engineers are drilling through mountains to build dozens of miles of tunnels to make it safer, some of which are celebrated with the phrase "Pak-China Friendship Tunnel". They are adding bridges, guardrails and concrete overhangs to funnel landslides and avalanches away from travel lanes. For example, Attabad Lake is created as a result of a landslide in 2010, which blocked the Hunza River and caused flooding the Karakorum Highway and surrounding villages. China has recently built four large tunnels on the south end of the 13-mile lake to reopen the highway that also benefits the water locked local villagers.
Strategic Location
Pakistan benefits from its strategic location and China is taking advantage of that. Around 80% of China's trade and energy imports travel through the pirate-swarmed Strait of Malacca and Indian Ocean, both patrolled by the United States and Indian Navies.
These possible chokepoints at Malacca Strait are a security issue for China, particularly regarding oil as 40% of china's general consumption passes through the Malacca Strait. Any conflict could block the China's energy supply, as a result, supply ships would need to travel an extra 500 miles to avoid the Malacca Strait, currently the fastest route from the Indian Ocean to the Pacific. China is aware of this vulnerability and is looking to Pakistan to provide a shorter and safer alternative.
The CPEC would not only be the alternative to Strait of Malacca but also provide China with an entry point to the Persian Gulf. Strategically some countries are worried that the China is broadening its geopolitical influence and possibly its military presence in the region. For example, some Indian intellectuals suspect the Gwadar port will serve as a Chinese Naval facility, and it only comes at a cost of about $46 billion.[2] CPEC Strategic location
CPEC Global Trade Impact
China-Pakistan Economic Corridor (CPEC) is a massive infrastructure that includes roads, pipelines, and railways, those will pass through the entire length of Pakistan  which includes  KPK ,  Azad Kashmir (PoK), Punjab, and  Baluchistan . CPEC will shrink the distance for Chinese goods bound for Europe, Africa, and the whole western hemisphere, substantially by almost 3000 km/13,000 km and vice versa. Goods trade by CPEC will not only provide safe route but also avoid the unsafe Strait of Malacca in Southeast Asia by many km. CPEC has global trade implications, for example, if the Chinese ships were to be unloaded at New York rather than California, it would travel less by two thousand miles through the Suez Canal route. There is also an existence of anticipation that when the CPEC is completed, a reduction in the voyage of merchandises from the western hemisphere may also become the same distance route and compete with the Panama Canal.
Consequently, CPEC has global trade implications, and even if Northwestern Indian states use the port of Gwadar to do business, it would be cheaper and quicker through the corridor. You never know, it could be possible because precedence exists for the use of Fazilka-Amruka-Bahawalpur route was known as "The Golden Route" before 1947.
Whereas, there are undeniable facts that, there are some other geopolitical considerations with multiple competing political interests relating to CPEC. About a 120 km west of Gwadar, the Iranian port of Chahbahar was built by Pakistan's rival India to bypass Pakistan to reach its interests in Afghanistan in the early nineties. Despite US and EU pressure, India conducts a trade of about 15 billion dollars with Iran and imports about 15% of its oil needs from Iran as India is the world's fourth largest consumer of petroleum. Furthermore, India is building the railway links from Chahbahar to connect to the Iranian Railway to tap the mineral-rich Afghanistan and to reach the Central Asian markets.
With the possible inclusion of these new states in the deal, the possibility of CPEC becomes more tangible and resilient. However, for Pakistan, Iran's inclusion in the deal will increase and multiply the corridor's advantages. For this reason, Islamabad extended an invitation to Tehran, which Iran has agreed to consider.[3] Global trade impact sheir.org.pk 
Chinese Investment in Pakistan
China-Pakistan Economic Corridor is an extensive network of roads, railways, pipelines, special economic zones dry ports, electricity generation and other infrastructure projects. Following is the list of under-construction China-Pakistan Economic Corridor (CPEC) projects.[4]Special economic Zone 
 Gwadar Port
 QAU Solar Power Plant Bahawalpur
 Karot Hydropower Plant 
Port Qasim Coal-fired power Plant 
 Punjab Initiative to setup Coal-fired Power Plants 
Karakorum Highway (KKH) 
 Karachi-Lahore Motorway (KLM) 
 Link Road to Gwadar 
 Lahore Orange Line Train
 Industrial Zone 
Gwadar Port
Gwadar port is a warm-water and deep-sea port along the Arabian Sea at Gwadar Baluchistan, Pakistan. Gwadar port is the hub for China-Pakistan Economic Corridor, and is the nearest seaport to the energy-rich Central Asian Countries.
Warm water sea port means it can be used throught the year, that is, its water does not freeze in the winter.
Deep-Sea port means the port allows access to the very large and heavy ships.
The Gwadar Port started its long waited operation on May 11, 2015 when the first container vessel docked to export the local fish to the international market through containerized shipment. The Pakistani government has shown a high enthusiasm to thrust forward the construction of the CPEC to make Gwadar Port fully operational to maximize its benefits. Prime Minister    Nawaz Sharif  directed that the projects under the CPEC should be completed on fast-track through mobilization of all available resources and completion of financial and technical formalities.
China and Pakistan agreed to form a 1+4 integral structure with the CPEC at the center and the Gwadar Port (a), transport infrastructure (b), energy (c) and industrial (c) cooperation being the four critical areas to achieve a win-win result and joint development. Among all the projects, Zonergy 1000 MW solar power plant is expected to be the first one to inject electricity into Pakistan's national grid.[5]CPEC Gawadar Port Detail  Gwadar Port
CPEC Geopolitical Challenges
There is a bigger challenge for Pakistan that may eventually lead to a greater difficulty, for example, how the United States is going to act in the region in future In this context, one should not forget that the United States had earlier blocked the construction of a gas pipeline from Iran to energy-starved India through Pakistan. Even after striking the nuclear deal with Iran, USA still does not have a complete and clear policy.[6] CPEC Geopolitical challenges
On the other hand, Iran has already completed the gas pipeline from its Pars gas field up to the Pakistani border and the construction from the Iranian border to Gwadar has already started. Meanwhile after signing a civilian nuclear deal with USA, India pulled out to show a renewed interest in trans-Pakistan Iranian gas via sea.
The idea of Turkmenistan-Afghanistan- Pakistan -India (TAPI) pipeline came later with the support of the USA because it will provide an alternate route to the Central Asian Gas. It would no longer be necessary for the Central Asian Republics (CARs) to depend on the existing Russian pipelines that carry the gas to the Russian ports on the Black Sea. Furthermore, TAPI could satisfy gas thirst of the India and Pakistan, without the involvement of Iran. Currently, TAPI is in its initial phases of design and may not be completed even until 2020 due to the security problem that looms over TAPI in Afghanistan. After originating from the Galkynysh gas field in Turkmenistan, TAPI will follow the Herat-Kandahar road and then enter Pakistan through the Bolan Pass in Baluchistan. It will enter in India at Fazilka border crossing with Pakistan. Safety of TAPI is a cause of concern in restive southern Afghanistan, as NATO troops have largely departed from Afghanistan.[7] CPEC   Geopolitical challenges 
The idea of building mega projects through Baluchistan is not new. In the 90's an earlier American project, in which the oil and gas would have been transported by a pipeline from the oil-rich Central Asian Republics (CARs), through Afghanistan and Pakistani Baluchistan was dropped due to the security issues. It shows the pivotal role of Baluchistan in the overall economy and the national interest of Pakistan as times have changed, and Pakistan is looking to improve a lot of its largest province.
Prime Minister of Pakistan; Nawaz Sharif is determined on improving the economy of Pakistan and Balochistan  in particular. The USA has quietly left Afghanistan at the end of 2014, and Taliban terror appears to decline after Pakistani military action. He has limited choice to look to China, in the context of India's intentions and the confusing policy of the USA about the region. The United States has been ignoring Pakistani issues while dragging along the European Union in its pursuit of the Iranians nuclear issue.[8] CPEC  Geopolitical challenges 
Fears and Doubts along CPEC
Before the first Karakorum Highway opened in the 1970s, Gilgit-Baltistan residents depended on ponies and mules for transportation and had to make wool overcoats to stay warm. Now, however, they have a primary transport system, and sleep in a sub-zero, synthetic sleeping bag that are made in China.
But fear is growing among many residents of  Government of Gilgit-Baltistan , around Khunjrab Pass, where CPEC enter into Pakistan. Living insight of some of the world's most stunning scenery, including five of the world's 14 tallest mountains, residents worry about traffic, pollution, and their lifestyle. There will be a lot of environmental issues in the future, and if residents don't get anything out of it, their kids will just be collecting the garbage and rubbish from the trucks.
The doubts here in Gilgit-Baltistan also are rooted in history as some residents believe Pakistani businesspeople and politicians have looted the region's vast mineral deposits and lucrative timber fields from the southern part of the country. Other think that they will not get anything, and they will load the gems in containers and move down to the Arabian Sea, or take them to China where they will polish, and foreign investors are the only ones likely to benefit from the project.
On the other hand, some residents of the area believe that China would be offering a lot to Pakistan which could be evident along the border, for example, cell phone coverage is sparse but when you reach the top of Khunjerab Pass, 3G service from a Chinese cellular provider bleeds across the frontier.[9] Fear and Doubs along CPEC
Pakistans trade imbalance with China
Pakistan recorded a trade deficit of $2266 Million in November of 2015. The Balance of Trade in Pakistan averaged $-243 Million from 1957 until 2015, reaching an all-time high of $62 Million in June of 2003 and a record low of $-2663 Million in August of 2014. The Balance of Trade in Pakistan is reported by the Pakistan Bureau of Statistics.Pakistan has been running a persistent trade deficit since 2003 mainly as a result of high imports of energy. Since 2012, China has developed as Pakistan's largest trading partner substituting the United States. Recently, the biggest trade deficits were recorded with China and India. Pakistan records trade surpluses with the Afghanistan, the United States, Germany and the United Kingdom.
Data released by the State Bank shows that during July-March of this fiscal year, trade was 200% surplus in China's favor. Imports from China rises to $5.092 billion against $4.40 billion at the same time of last year, $4.3 billion in 2012, $4.72 billion in 2013 and $5.979 billion in 2014. The government of Pakistan is showing interest in developing trade relations with China. Both countries in recent times have signed a MoU of $46bn investment in Pakistan by China. Specialists say that Pakistan requires reducing its trade deficit with China. Pakistan's overall trade deficit increased to $17.9billion in the first ten months of 2015. The expected investments by Chinese companies would increase remittances from Pakistan, which have already crossed $1bn by September. The trade deficit with China during the nine months was $3.398billion which was 200% more than Pakistan's exports to China. China's exports during nine months were $1.694billion compared to imports of $5.092billion.
Strategically important Baluchistan Militancy
Background
By area, Baluchistan is the largest province of Pakistan that is historically ignored for a variety of reasons including complicit negligence by the feudal tribal lords, corruption, and deficiency of education. To a certain degree of neglect on the part of the central Government, this mineral-rich province is not developed as rest of the country.Baluchistan's natural resources need to be untapped, for example, it has the world's fifth-largest reserves of gold and copper, that is containing the Tethyan belt of a curve of copper and gold and reserves. This serpentine belt stretches from Hungary in Europe to Indonesia in the Far East across Eurasia but is much readily available in Baluchistan.
The low-level insurgency in Pakistani Baluchistan has been present in the province since independence. There were, at least, five significant spikes in violence that have occurred over the same period with the latest starting in 2006 as a result of the killing of Akbar Bugatti in a military operation and continuing till today up to some extent.[10]Strategically    Baluchistan & militancy 
While the Baluch is Sunni Muslims, one-fifths of them inhabit  China Pakistan Economic Corridor  the Sistan, a southeastern province of mostly Shi'a Iran. In fact, at the beginning of the seventies, the Shah of Iran together with Pakistan had conducted a campaign against the Baluch in Pakistan, fearing the wave of Baluch nationalism. Since then Iran has executed many of the leaders of a nationalist movement, Jundallah on the Iranian side of the border with Pakistan.[11]Strategically important Baluchistan & militancy
Fear and doubts among people in Balochistan
The native people of the coastal town of Gwadar, which is a gateway to the a much discussed China-Pakistan Economic Corridor (CPEC), should have their strong opinions when it comes to securing the benefits from this $46 billion project. As such, the concern is rising over speculation that the project will help only China, with little to offer locals. Baloch nationalist leader assumed that It is a conspiracy against locals to convert their population into a minority, rather than to empower them. They do refer Karachi as an obvious example where the local people are marginalized in the name of economic development. The Baloch nationalist fears the same with Gwadar unless precautions are taken place to ensure the constitutional rights of indigenous Balochs before the massive construction kicks-off under CPEC. Pakistan establishment denies the allegation and insists that Balouchistan would be a major beneficiary from CPEC with drastic improvements in the economic and social lives of residents.
Baluchistan Insurgency
Baloch militancy is one of the other few challenges faced by   that need to be addressed, which may be the result of the absence of political will or incompetence. Although many militant groups are operating in the region, Balochistan Liberation Army (BLA) is one of the deadliest militant groups which takes responsibilities of regular attacks on security forces and installations in Balochistan. In late August 2015, heavily armed militants stormed Jiwani Airport, which is coastal town of Gwadar district and located strategically near the Pakistan-Iran coastal border. In the attack militant destroyed its radar system, killing two engineers.
In another assault, on the outskirts of Gwadar port, four workers were kidnapped and killed, and containers carrying cement were burnt. The Baloch Republican Army (BRA) claimed responsibility and reasoned that workers were engaged in building a road that is opposed by the militants.
Baloch militants have been attacking vital government installations, security forces, multinational companies, gas pipelines, construction companies, and containers for years now. Recently, laborers have also become their primary target.
A total of 22 Pashtuns passengers of a  Karachi -bound bus were killed in the attack on May 29th by disguised in the uniforms of the paramilitary police. The gunmen checked the ID cards before slaughtering all those they considered not native to the province of  Balochistan . This time, responsibility was claimed by the United Baloch Army, part of a tangle of separatist groups in the region.
A deadly attack of killing 20 workers and wounding three took place in April 2015 when Baloch militants attacked a labor camp near the construction site of the dam in southwestern Balochistan.
A large number of companies are working, connecting the port city of Gwadar with other parts of Pakistan, between Gwadar and the provincial capital  Quetta . These companies workers are never safe in the region, because of the activities of Baloch militants, an insurgency by nationalist, and separatist Baloch groups those want complete autonomy from Islamabad.[12]CPEC  Baluchistan insurgency
Baluchistans Peaceful solution through dialogue
No doubt, the Chinese would pay attention to the security issues within Pakistan, it's hard to improve the infrastructure in the country with no help from the West and the US. Keeping a large defense budget may not help to solve poverty related issues, so Pakistan has no choices but to make peace with neighbours specially India and Afghanistan for better economic reasons. Mr. Sharif's vision and leadership have realized that the Baluch insurgency has multifacrorial reasons. He understand that if the security is better in the country and Chinese invest heavily, the resulting prosperity will address their grievances, as continued low-level insurgency is in nobody's interest.
After winning the election in 2013, prime minister Nawaz Sharif is trying to encourage Baloch moderates and helped them to make the provincial government and started a dialogue with the rebels. But the new government has found it difficult to persuade the security forces to curb their excesses. It is widely observed that although there has been a pause in the extrajudicial killing and dumping of the dead bodies of suspected militants, the problem of "forced disappearances" continues. It is expected that the army may support a political dialogue for a few more months, after which it will fight the militants as fighting Zarb-e-Azb in FATA. [13] Balochistan  peacefull solution through dialouge 
Many Pakistanis believe the CPEC will boost Balochistan's economy and thus may help to restore stability. If confidence is not restored, much of the business it generates is likely to edge most of Balochistan and would move to less-troubled Punjab. Baloch politicians believe the Punjabi establishment is hoping for just that outcome. A notable recent development was a declaration of Brahamdagh Bugti on BBC interview, where he hinted a peaceful solution to the Baluch grievances. Brahamdagh Bugti is one of the leaders of the separatist movements, the grandson of the late Nawab Akbar Bugti, and the most radical separatist.[14] Balochistan peacefull solution through dialouge
Security measures along CPEC
To provide secuirty to workers along CPEC, instead of a three-layer security plan that was envisioned earlier,  Pakistan and China have agreed on a four-layer security plan. The Plan will be for over 3,000km-long trade route that will connect the Gwadar port to China's north-western Xinjiang province. An estimated 32,000 security personnel will be trained to guard over 14,321 Chinese workers engaged in nearly 210 small and mega projects in Pakistan. The current plan of providing security to Chinese nationals also includes over 500 Chinese security personnel for capacity building of the newly-raised special force as well as local police to better guard the precise routes surrounding the port.
According to the plan, Balochistan will be getting more security, as six wings (5,700 personnel) of the Frontier Corps, 3,000 police officers, and 1,000 Levies personnel would guard all the roads. It is also assumed that the Pakistan Marines and the border security forces would also defend the port and its adjacent roads. More than 3,500 police officers, 900 Rangers, 4,100 private security guards, and 740 Askari Guards would protect several projects linked to the economic corridor in Punjab.
It is already evident that the military is setting up a special security force (nine battalions) containing a serving major general will head an estimated 12,000 personnel, who would be inducted into the separate division. To ensure the safety of the Chinese citizens, the ministry of interior has suggested registration of Chinese nationals and NADRA is evolving a procedure. NADRA would maintain the record of Chinese citizens residing in or visiting Pakistan, and would share its files with all the federal and provincial authorities of the country.[15] Security measure along CPEC
Operation Zarb-e-Azb
The Nawaz government after assuming power started peace dialogue process with militants in North Waziristan. And, the law & order situation became better for a short period of time. The first session of talks between the Pakistani government and a Taliban-nominated committee was held on 6 February 2014 at KPK House in Islamabad. But, on 17 February 2014 militants killed 23 Pakistani Frontier Corps prisoners.
Later, on 1 March 2014 militants announced a ceasefire for one month. But, again on 3 March 2014 a faction of militants attacked district court in Islamabad killing 11 people and wounding 25 others. In spite of deadly killing of 23 frontier corps soldiers, and deadly attack on district court in Islamabad, Pakistani government continued the dialogue process, and on 26 March 2014 a team of four Pakistani government representatives travelled to the area under militants control near the Afghan border by helicopter. It was the first direct contact between the Pakistani government representatives and the militants since the start of the peace dialogue process.
Not only Pakistani nation but also the militants were divided on the peace dialogue process. Besides, militants' infighting since the start of the ceasefire killed dozens of militants.
Again on 8 June 2014 Tehrik-i-Taliban Pakistan  (TTP) militants attacked Karachi airport, killing 28 people including security personnel and wounding at least 18 others. After this deadly attack,  Pakistan on 15 June 2014 launched full-scale military operation against TTP militants in North Waziristan.According to Inter Services Public Relations (ISPR) Pakistan has successfully cleared 90% of the tribal area from militants, and around 40% of internally displaced persons (IDPs) have returned to their homes in the region.[16]Operation Zarb-e-Azb 
Pakistans Inconsistent policies
The Gadani Power Park (simulated pictured) was to include ten power plants with a capacity of 660 MW each at Gadani in  Balochistan . The plants were supposed to run on imported coal. According to initial reports, the projects were meant to finance by different companies.
Chinese investors financing six of the projects, two by Dubai-based construction firm ANC Holdings, one by the Pakistani government and one by a Turkish investor, Nurol Group. Pakistan Power Park Management Company was to develop, maintain and operate the infrastructure for the project, including a jetty to handle 20 million tons of imported coal, water supply, wastewater disposal, ash handling and elimination, cooling tower, switchyard, residential facilities and grid connection. The company received $9.86m in seed money from the government, while the Balochistan government contributed 5000 acres (2000 ha) of land.
Chinese investors were set to provide technical and financial assistance after signing several memoranda of understanding. The projects were launched on a fast-track in July 2013, but Chinese investors withdraw in October 2014, allegedly calling the project unviable due to lack of existing infrastructure in the area. Pakistan has invited expressions of interest through its Private Power and Infrastructure Board (PPIB), but no new investors have stepped forward. Critics are calling the government's approach to the project inconsistent, with a change from public to private financing and conflicting discussions with several investors. Bureaucratic loopholes have also been noted, including allegations that the government wanted exemptions for the Chinese investors from procurement procedures and international competition. Contrarily, Chinese firms are building coal-fired power projects in another place in Pakistan, such as a scheduled 700 MW in  Karachi , that is expected to be operational by 2018.[17] Pakistan inconsistence policies
Chinas perspective of new silk road
Though the trade and energy corridor may be great for Pakistan, for China it is part of more motivated plans to beef up the country's global economic muscle. Chinese officials describe the corridor as the flagship project of "One Belt, One Road" policy, which aims to connect China physically to Asia, Europe and beyond. This initiative includes the New Silk Road, which will link China's market with Europe through Central Asia and the Oceanic Silk Road to ensure a safe passage of China's shipping by avoiding the Indian and the South China Sea.
The corridor will provide China an alternative route to the Gulf region through the Arabian Sea. The cost efficient route will not only make it conceivable for China to grow its trade with African, Central Asian, and Middle Eastern markets but also with Iran. Chinese exports to Iran would become increasingly competitive and simultaneously, Iran is eyeing as much as $100 billion worth of energy deals in the future, and Tehran's abundant oil and gas reserves could find a growing demand in China too. It is all part of China's mission for influence throughout the continent via aid and investment. After decades of limiting itself from aggressive foreign policy, China now wants to play a much greater regional role and is pushing plans for interconnected infrastructure networks to link better its economy with rest of the world.
On the other hand, China is increasingly worried about the domestic threat posed by the Muslim separatist group, East Turkestan Islamic Movement (ETIM) that is irritating countries establishment to create an independent state in the western province of the China. China believes that the group had found havens in Pakistan's tribal belt and the group is stimulating violence in the province of Xinjiang. Chines think that Pakistani transport routes will allow China to expand its economy in the western part Xinjiang, where ferocious attacks by ethnic Uighurs have risen severely in recent years. The investment could lead to increase in job opportunities in that region, laying a more diverse population that China anticipate could make it more difficult for groups such as ETIM to thrive. Western analysts also perceive the potential for China to become a dominant influence in keeping  Pakistan  focused on its struggle against terrorist groups.
China hopes that the CPEC will enable oil and gas from Gulf to be piped through Balochistan over the Hindu Kush mountains into China. Chinese goods would have a much shorter distance to world markets as compared to the Malacca Strait, which China consider is at the mercy of American and Indian Navy.
Balochistan's turmoil is also a reason to bring doubts in Chinese investment. Although Pakistan has promised 30,000-strong force with four layer security plane to protect Chinese workers; China, however, still worries. As there have been occasional kidnappings and killings of Chinese workers in Pakistan in recent years, including in  Balochistan .[18] CPEC  China perspective of silk road 
Optimistic Chinese President Xi Jinping is confident and intent on extending China's influence in Asia, and understand that his country can avoid the old drawbacks and accomplish a new economic and political predominance in the region. Trucks carrying Chinese goods could soon start a 3000-km descent to a saltish and warm water Gwadar port, where the cargo will be put on ships bound for markets in Africa, the Middle East, and Europe. If China can export more of its merchandise along CPEC instead of the Malacca Strait, not only it will reduce transportation time to the world's fastest-growing markets but also China will be able to shift more of its manufacturing base to it's rural and remote, western provinces. Economic growth will help the poor region with weakening political unrest and cutting pollution in China's eastern cities. During the process, China hopes to accomplish somewhat the United States has been unable to do over the past decade: Improve Pakistan's economy to keep down poverty and increase job opportunities that will help to curb terrorism.[19] CPEC  China perspective of silk road
Pakistans Perspective of CPEC
Since the announcement of the $46 billion China-Pakistan Economic Corridor (CPEC) in 2014, the project has become the center point of relations between the two countries. CPEC massive infrastructure development project that will include highways, railways, and oil and gas pipelines – mostly constructed by Chinese companies. Pakistan sees the CPEC as a way of stabilizing the troubled province of Baluchistan and boosting its economy, perhaps even easing tensions by providing employment for locals.
Pakistan is eager for CPEC-related projects to succeed, especially considering that it loses 4-6% of its GDP annually because of inadequate infrastructure.  Pakistan  has failed to meet energy demands since 2004, while power companies are heavily relying on government subsidies to cover production costs, thus hiking up energy process that results in slow business growth and an increase in poverty. Businesses have suffered from power shortages that pushing smaller firms out of the market, and few government-owned companies are privatized so as to cope with Pakistan's risky financial system.
Investors from China have promised Pakistan  to fill the gap in energy production by focusing on coal, but Pakistan, take this as short term solution as Coal is one of the biggest air polluters. Coal doesn't offer Pakistan the sustainability it needs, in fact, even China is moving away from the fossil fuel as recently promised to the world. But, at least, these plans offer Pakistan a chance at normalizing its economy and may add 2% of GDP growth.
For Pakistan, the benefits of  CPEC have already started showing both nationally and internationally. Instant benefits for Pakistan is that the CPEC's partial achievement has injected optimism in a country starved for infrastructure and energy investment. The deal has also greatly helped the government to improve the image of the country and attract more foreign investment.
Pakistan's relationship with the United States is deteriorating on the investment front, and the country needs to prosper economically, making it less reliant on the IMF and the United States. The economic corridor will provide Pakistan with the perfect opportunity to stabilize itself economically while cultivating ties with its neighbors. It also helps to realize the US regarding imbalance policies in the region and may rethink their mix of engagement.
Similar to USA approach towards India, China is interested in leveraging Pakistan as a "launching pad" for greater connectivity with energy producers in the Gulf and the Middle East, as well as markets in the West. Although Pakistani businesses still prefer the attraction of technology transfer and innovation offered by U.S. companies, for Pakistanis, Chinese investment is better than no investment. Pakistan also assumes that the Chinese investment may provide another reason that the United States should reassess its relation with Pakistan.
Pakistan has invited Iran into trilateral China-Pakistan-Iran relationship with the hope to improve inter-regional trade and waiting for Iran decision. Iran's decision to join CPEC would help to improve everyday living across the Sistan- Balochistan  region and could also be facilitating trade between Islamabad, Beijing, and Tehran. It also provides an economical gateway to the Gulf region for other regional countries like Russia and even India.
On diplomatic front, Pakistan has already started seen the positive effects, for example; Pakistan and Saudi Arabia have historically been close allies, but following China's financial pledge, the country chose to remain neutral regarding Saudi Arabia's involvement in the Yemen conflict. Add the fact that Pakistan is coming out of diplomatic isolation as China's money is turnout be a game changer.
The journey will exemplify China's efforts to rebuild the old Silk Route that for eras linked Asia to the Middle East, and brought wealth to Pakistan. And along the way, China will try to use its "Belt and Road" economic development strategy to lift Pakistan toward prosperity.[20]CPEC   Pakistan perspective of CPEC
Irans Perspective of CPEC
Iran's economic growth has been underdeveloped as a result of global sanctions over its nuclear program. But, Iran's historic nuclear deal with the P5+1, when effected, will open up new possibilities. With 10 percent of the world's established oil reserves, Iran's entrance into the business community has gotten Pakistani trade and economic representatives to journey to Tehran with the intention of win Iranian business interest. With a billions of dollars worth of Iranian funds entering the global economy, nations are tweaking their financial plans to accommodate this flow of income. The oil-rich country's admittance into the world market will considerably alter the global oil market as well.
Energy-hungry China is looking for alternative routes to import oil and gas, with Iran in the loop; China can double-down on its access to Iranian oil and gas. Additionally, the decades-old vision of the Iran-Pakistan gas pipeline can now be fully realized, and CPEC will provide the country with much-needed accessibility to the east.[21]CPEC  Iran perspective china
Indias Perspective of CPEC
India assumes China is increasing its presence in the Indian Ocean with its 'String of Pearls' strategy to which it has recently been added the island nation of Seychelles and now Gwadar and CPEC in Pakistan. The term 'Sting of Pearls' was coined by the United States, but Indian defense analysts frequently use it.
Indian viewed Gwadar as a large-scale naval mobilization program by China and in a worst-case situation, Beijing could use these Navel bases to threaten India's security, risk global sea lanes and challenge the United States for regional naval superiority.India is also worried about China's growing investment in Pakistan, predominantly to fund a new batch of nuclear reactors to help Pakistan's plans to add four new nuclear plants by 2020, with four more reactors in the pipeline (adding up to a total power capacity of 7,930 MW by 2030).
Since long India is also worried as it has its eyes on energy assets in Central Asia and Afghanistan to fulfill its energy thrust, but China has eaten up many of these in recent years.[22]CPEC India perspective of CPEC
United States Perspective of CPEC
China is putting $46 billion in Pakistan, and they will be looking to protect that too. It means China is stepping into a vacuum left by the United States when it declined to invest in Pakistan, despite the strategic alliance between the two countries during the Cold War as well as after the 9/11, terrorist attacks.
Over the past 13 years, the United States has given Pakistan about $10.5 billion in economic assistance, $7.6 billion in security-related aid, and $13 billion as a reimbursement in counterterrorism support. But USA is not interested in building infrastuctures such as dams, electrical power plants, railways, roads and bridges and ports in Pakistan.
By comparison, China views its relationship with allies on the geopolitical, geostrategic, and geo-economics basis. As per Chinese viewpoint, "if you want to achieve some goal, you have to take a comprehensive approach which includes, political, economic, military and social."
Robert Hathaway, former director of the Asia Program at the Woodrow Wilson Center in Washington, said that U.S. officials appeared to be comfortable to let China become the dominant influence over Pakistan. U.S. policymakers are skeptical that China's $46 billion aid will never be fully materialized. They think a significant terrorist attack or Pakistani political crisis, the country with a history of three successful military coups since its creation in 1947, could quickly reason the Chinese to reconsider their relationship. American alleged that they never get results commensurate with the effort or money they put into Pakistan over the years.
Pakistan has the potential to be an overall turnaround story, and it is important to convince the U.S. policymakers and business leaders to look at Pakistan beyond the security lens. Getting USA's relationship right will require deeper thinking and action on issues around trade and investment, education, and broader economic development. The United States should be Pakistan's preferred partner given its 70-year relationship. But to participate in the upside of the Pakistan story, the United States will need to view Pakistan not as a part of the problem but part of the solution and as a potential partner.
Even today USA media still portrait Pakistan as a failed state and associated with terrorism, although there are several changes and improvement have been made that suggest the United States should soon act on CPEC opportunities. Contrarily, Western media headlines on Pakistan highlights over the progress on the security front, the increased political stability, and incremental advances in the economic field. Sadly, in spite of the potential in Pakistan, USA continues to brand it as a dangerous country and never look at Pakistan beyond the security lens.[23]CPEC  United state perspective of CPEC
CPEC New Provincial Projects
CPEC Social Sector Development Projects
People to People exchanges 
Transfer of Knowledge in different sectors
Energy sector projects
Pakistan's current energy generating capacity is 24,830 MW,though the country currently faces energy shortfalls of over 4,500MW on a regular basis with routine power cuts of up to 5 hours per day, which has shed an estimated 22.5% off its annual GDP.Energy generation will be a major focus of the CPEC project, with approximately $33 billion expected to be invested in this sector. As part of the "Early Harvest" scheme of the CPEC, an estimated 10,400 MW of electricity are slated for generation by March 2018 as part of CPEC's "Early Harvest" projects.
The energy projects under CPEC will be constructed by private Independent Power Producers [30] Independent Power Producers rather than by the governments of either China or Pakistan. The Exim Bank of China will finance these private investments at 56% interest rates, while the government of Pakistan will be contractually obliged to purchase electricity from those firms at pre-negotiated rates.
Renewable-energy
Pakistan aims to produce 25% of its electricity requirements by renewable energy resources by 2030. China's Zonergy[31] Zonergy company will complete construction on the world's largest solar power[32]CPEC  Solar Power plant  the 6,500 acre Quaid-e-Azam Solar Park near the city of Bahawalpur with an estimated capacity of 1000MW is expected to be completed in December 2016. The first phase of the project has been completed by Xinjiang SunOasis, and has a generating capacity of 100 MW. The remaining 900 MW capacity will be installed by Zonergy under CPEC.
The Jhimpir Wind Power Plant [33] Jhimpir wind power plant built by the Turkish company Zorlu Enerji has already begun to sell 56.4 MW of electricity to the government of Pakistan,though under CPEC, another 250MW of electricity are to be produced by the Chinese-Pakistan consortium United Energy Pakistan and others at a cost of $659 million.Another wind farm, the Dawood wind power project [34] Dawood wind power pllant is under development by HydroChina [35] Hydrochina at a cost of $115 million, and will generate 50 MW of electricity by August 2016.
SK Hydro Consortium is constructing the 870 MW Suki Kinari Hydropower Project[36] Suki kinari hydrpower project  in the Kaghan Valley of Pakistan's Khyber Pakhtunkhwa[37]CPEC   Khyber pakhtukhwa province at a cost of $1.8 billion,SK Hydro will construct the project with financing by China's EXIM bank.
The $1.6 billion 720 MW Karot Dam which is under construction is part of the CPEC plan, but is to be financed separately by China's Silk Road Fund.[38] Silk road fund
Pakistan and China have also discussed the inclusion of the 4,500MW $14 billion Diamer-Bhasha Dam as part of the CPEC project,though as of December 2015, no firm decision has been made  though Pakistani officials remain optimistic at its eventual inclusion.
The $2.4 billion, 1,100 MW Kohala Hydropower Project being constructed by China's Three Gorges Corporation predates the announcement of CPEC, though funding for the project will now come from CPEC fund.
Coal
Despite several renewable energy projects, the bulk of new energy generation capacity under CPEC will be coal-based plants, with $5.8 billion worth of coal power projects expected to be completed by early 2019 as part of the CPEC's "Early Harvest" projects.
Balochistan
In Balochistan province, a $970 million coal power plant at  Hub  near Karachi, with a capacity of 660MW to be built by a joint consortium of China's China Power Investment Corporation and the Pakistani firm Hub Power Company [39] Hub power company  as part of a larger $2 billion project to produce 1,320MW from coal.
A 300MW coal power plant is also being developed in the city of Gwadar, and is being financed by a 0% interest loan.
Punjab
The $1.8 billion Sahiwal Coal Power Project is an under construction project in central Punjab that will have a capacity of 1,320MW. It is being constructed by a joint venture of two Chinese firms: the Huaneng Shandong company and Shandong Ruyi Science & Technology Group, who will jointly own and operate the plant.Pakistan will purchase electricity from the consortium at a tariff of 8.36 US cents/kWh.
The $589 million project to establish a coal mine and a relatively small 300MW coal power plant to be built in the town of Pind Dadan Khan by China Machinery Engineering Corporation in Punjab's Salt Range. Pakistan's NEPRA has been criticized for considering a relatively high tariff of 11.57 US cents/kWH proposed by the Chinese firm,which had been initially agreed at 8.25 US cents/kWH in 2014. The Chinese firm argued that coal transportation costs had greatly increased due to the nonavailability of coal from nearby mines which had initially been regarded as the primary coal source for the project. The company argued that coal would instead have to be transported from distant Sindh province, which along with inefficiencies in mining procedures, increased the cost of fuel by 30.5%.
Sindh
The Shanghai Electric company [40]Sindh  Shanghai electric companyof China will construct two 660MW power plants as part of the "Thar-I" project in the Thar coalfield of  Sindh  province, while "Thar-ll" will be developed by a separate consortium.The facility will be powered by locally sourced coal, and is expected to be put into commercial use in 2018. Pakistan's National Electric Power Regulatory Authority (NEPRA) has agreed to purchase electricity from both Thar-l and Thar-ll at a tariff of 8.50 US cents/kWh for the first 330 MW of electricity, 8.33 US cents/kWh for the next 660 MW, and 7.99 US cents/kWh for the next 1,099 MW as further phases are developed.
Near the Thar-I Project, the China Machinery Engineering Corporation in conjunction with Pakistan's Engro Corporation will construct two 330MW power plants as part of the "Thar-ll Project" (having initially proposed the simultaneous construction of two 660MW power plants) as well as developing a coal mine capable of producing up to 3.8 million tons of coal per year as part of the first phase of the project." The first phase is expected to be complete by early 2019, at a cost of $1.95 billion.Subsequent phases will eventually generate an additional 3,960MW of electricity over the course of ten years. As part of infrastructure required for electricity distribution from the Thar l and ll Projects, the $2.1 billion Matiari to Lahore Transmission Line [41] Matiari to lahore transmission line and $1.5 billion in Matiari to  Faisalabad transmission line are also to be built as part of the CPEC project.
The 1,320MW $2.08 billion Pakistan Port Qasim Power Project near Port Qasim will be a joint venture of Al-Mirqab Capital from Qatar [42] Qatar  and China's Power Construction Corporation a subsidiary of Sinohydro Resources Limited. Pakistan's NEPRA and SinoHydro agreed to set the levelized tariff for electricity purchased from the consortium at 8.12 US cents/kWh.
Liquified natural gas
Liquefied natural gas[43] Liquidfied natural gas   power LNG projects are also considered vital to CPEC. The Chinese government has announced its intention to build a $2.5 billion 711 kilometre long liquid natural gas pipeline from Gwadar to Nawabshah in province as part of CPEC. The pipeline is designed to be a part of the 2,775 kilometre long Iran Pakistan gas pipeline, with the 80 kilometre portion between Gwadar and the Iranian border to be connected when sanctions against Tehran are eased; Iran has already completed a 900 kilometre long portion of the pipeline on its side of the border.
The Pakistani portion of the pipeline[44] Pakistan pipeline is to be constructed by the state-owned China[45]CPEC china Petroleum Pipeline Bureau [46] Petroleum bureau It will be 42 inches in diameter, and have the capacity to transport 1 billion cubic feet of liquified natural gas every day, with an additional 500 million cubic feet of additional capacity when the planned off-shore LNG terminal is also completed The project will not only provide gas exporters with access to the Pakistani market, but will also allow China to secure a route for its own imports.
The project should not be confused with the $2 billion 1,100 kilometre North-South Pipeline liquified natural gas pipeline which is to be constructed with Russian assistance between  Karachi  and Lahore with anticipated completion by 2018. Nor should it be confused with the planned $7.5 billion TAPI Pipeline which is a planned project involving Turkmenistan, Afghanistan,  Pakistan , and India.
Other LNG projects are currently under construction with Chinese assistance and financing that will augment the scope of CPEC, but are neither funded by nor officially considered a part of CPEC. The 1,223MW Balloki Power Plant is currently under construction near Kasur, and is being constructed by China's Harbin Electric Company with financing from the China's EXIM bank, is one such example. In October 2015, Prime Minister Nawaz Sharif also inaugurated construction of the 1,180MW Bhikhi Power Plant near Sheikhupura,which is to be jointly constructed by China's Harbin Electric Company and General Electric from the United States.It is expected to be Pakistan's most efficient power plant [47] Pakistan port qasim power project and will provide enough power for an estimated 6 million homes.
Other areas of cooperation
The CPEC announcement encompassed not only infrastructure works, but also addressed areas of co-operation between China and Pakistan.
Agriculture
The long-term plan for the period 2025-30 during the CPEC summit held in Islamabad on August 30, 2016. The plan includes coperation over livelihood, water resources, livestock, people-to-people communications and financial matters. Under the plan, agricultural information project, storage and distribution of agricultural equipment and construction project, agricultural mechanisation, demonstration and machinery leasing project and fertiliser production project for producing 800,000 tons of fertiliser and 100,000 tons of bio-organic fertiliser will be implemented.[48] CPEC introduce technology in agriculture
Science and technology
As part of CPEC, the two countries signed an Economic and Technical Cooperation Agreement, as well as pledged to "China-Pakistan Joint Cotton Bio-Tech Laboratory" The two countries also pledged to establish the "China-Pakistan Joint Marine Research Center" with State Oceanic Administration[49]State oceanic and administration and Pakistan's Ministry of Science and Technology[50] Ministry of science and technology Also as part of the CPEC agreement,  Pakistan  and China have agreed to co-operate in the field of space research.[51] Space resarch wikipedia
In February 2016 [52]Detail of  agreementa sign during xis visit to Pakistan the two countries agreed to establish the "Pak-China Science, Technology, Commerce and Logistic Park" near Islamabad at an estimated cost of $1.5 billion.The park will be situated on 500 hectares, which will be provided by Pakistan to China's Xinjiang Production and Construction Corps [53]Xianjiang production and construction crops with all investments expected to come from the Chinese side over the course of ten years.[54] Logsitic tech park to be built
In May 2016, construction began on the $44 million 820 kilometer long Pakistan-China Fiber Optic Project [55] China fiber optic project an optical fiber cable that will enhance telecommunication in the Gilgit-Baltistan[56] Gilgit baltistan region, while offering Pakistan a fifth route by which to transmit telecommunication traffic.[52]Detail of  agreementa sign during xis visit to Pakistan 
Other fields
The two nations also pledged co-operation in field ranging from anti-narcotic efforts,to co-operation in an effort to reduce climate change[57]Detail of agreementa sign during xis visit to Pakistan .The two nations also agreed to increase co-operating between the banking sectors of the two countries, as well as to establish closer ties between China Central Television[58] China central television and the Pakistan Television Corporation [59] Pakistan television corporation
The Final Route
After evaluating various possible routes, The All Party Conference held in May 28, 2015 unanimously decided
to adopt a modified Western Route for CPEC that would pass through:
Gwadar-Turbat-Hoshab-Panjgur-Besima-Kalat-Quetta-Qila Saifullah-Zhob-Dera Ismail Khan-Mianwali-AttockHasanabdal-and
onwards
This route is considered better than other routes in terms of opportunity cost of land and dislocation
compensation costs.[60] CPEC The  final route
Nepal Joins CPEC

Pakistan and Nepal have good relations from decades. The Newly elected president of Nepal Khadga Prasad Sharma Oli understands the economic outcome of CPEC for Nepal hence he is more inclined towards Pakistan and China . 
Conclusion
The CPEC appears to be a very crucial project for both the countries. For China it provides an alternate secure
route to import Energy and find new markets for its goods and services. For Pakistan it helps counters Indian
influence in the region, position itself as a major transit point connecting Eurasian region with South Asia and
South East Asia and provide a much needed base to kick start its economic growth.[61] CPEC Conclusion