Chhipa Welfare Association is purely a non-profit, non-government Organization registered with Government of Pakistan and Government of Sindh vide Registration No. DSW (2068) – K.Government Registered NGO Chhipa Welfare Association having global love and affection for the humanity and strong commitment to serve the common people without discrimination of any caste, creed or color under all circumstances.
| Title | Description |
| --- | --- |
| Details | |
| Founded: | 2007 |
| In Urdu: | چھیپا ویلفیئر ایسوسی ایشن |
| Founder: | Ramzan Chhipa |
| Abbreviation: | CWA |
| Motto : | Love the Human Being, Respect the Mankind, Be the Ambassador of Peace |
| Services: | Financial Aid and Free or Low-Cost Food to People with a Low Income |
| Location: | Karachi |
| Phone: | 111-92-1020 |
| Address : | Shahrah-e-Faisal Karachi Pakistan |
| Inadequate Ambulances: | 73 |
| Centers: | 24 |
| Location : | Shahrah-e-Faisal |
| Purpose : | Welfare Work |
| Legal Status : | Association |
| Type : | INGO |
| Website: | http://www.chhipa.org/ |
| Organisation | |
| Head Office: | Karachi, Pakistan |
| Services | |
| Emergency Department : | Ambulances, Palna, Sacrificial Animals |
| Twitter: | http://twitter.com/ChhipaWelfare |
| Google+: | http://google.com/+ChhipaWelfare |
Details
Basic Information
With the dedicated volunteers with well-equipped CHHIPA AMBULANCES carrying oxygen & first-aid box all the time ready in the mega city Karachi, Pakistan where frequent road accidents, sudden events and emergency daily occur. Their ambulances always rush and reach the spot on Save Our Soul public calls for immediate help to the suffering people and remain Day & Night 24 hours busy on roads with lifting and shifting the accidentally injured sobbing sighing wriggling persons and emergency patients to hospitals and nearby medical aid centers in attempts to daily save the valuable human lives.[1]  Basic Information 
History
The  idea was materialized in the year 1986 and this gave birth to Chhipa Welfare Association (CWA) in the port city of Karachi. When Karachi was rocked by two bomb blasts, leaving scores of people wounded and dead, this noble man Mr. Ramzan Chhipa was shocked by the horrible scenes witnessed at a local hospital here when the victims were lying in the pool of their own blood. It was then decided by him to take a single step towards a long journey and thus CWA came into being.[2]  History 
Founder

Mr. Muhammad Ramzan Chhipa had started his social and welfare work from scratch, staying before the gate of Civil Hospital in Karachi and using his own pocket-money on different heads of charity. He used to help those who were sick, penniless and needy. He provided comfort and mental solace to the poor, worried and wretched persons through all possible means. He used to provide help and succour to the suffering people in times of their extreme needs. This God-fearing man was inspired by the green colour of our National Flag. As such, from the prime of his life he has still been putting on green coloured dress of Shalwar and Kameez with ordinary rubber slipper in his feet round the year in all seasons.[3]  Founder 
Humanitarian Services
The humanitarian services of Mr. Muhammad Ramzan Chhipa and his welfare work for the causes of humanity caught sight of local philanthropists and drew the attention of businessmen community who extended to him their helping hands and generous supports. Those helps and supports encouraged and exhorted Mr. Muhammad Ramzan Chhipa to organize and form a welfare organization.
Registered

Chippa Welfare Organization is registered with the Government of Pakistan and Government of Sindh vide Registration No. DSW(2068)-K and National Tax No. 2205404-9. The accounts of Chhipa Welfare Association are regularly audited each year and are exempted from Income Tax.[4]  Registered 
Services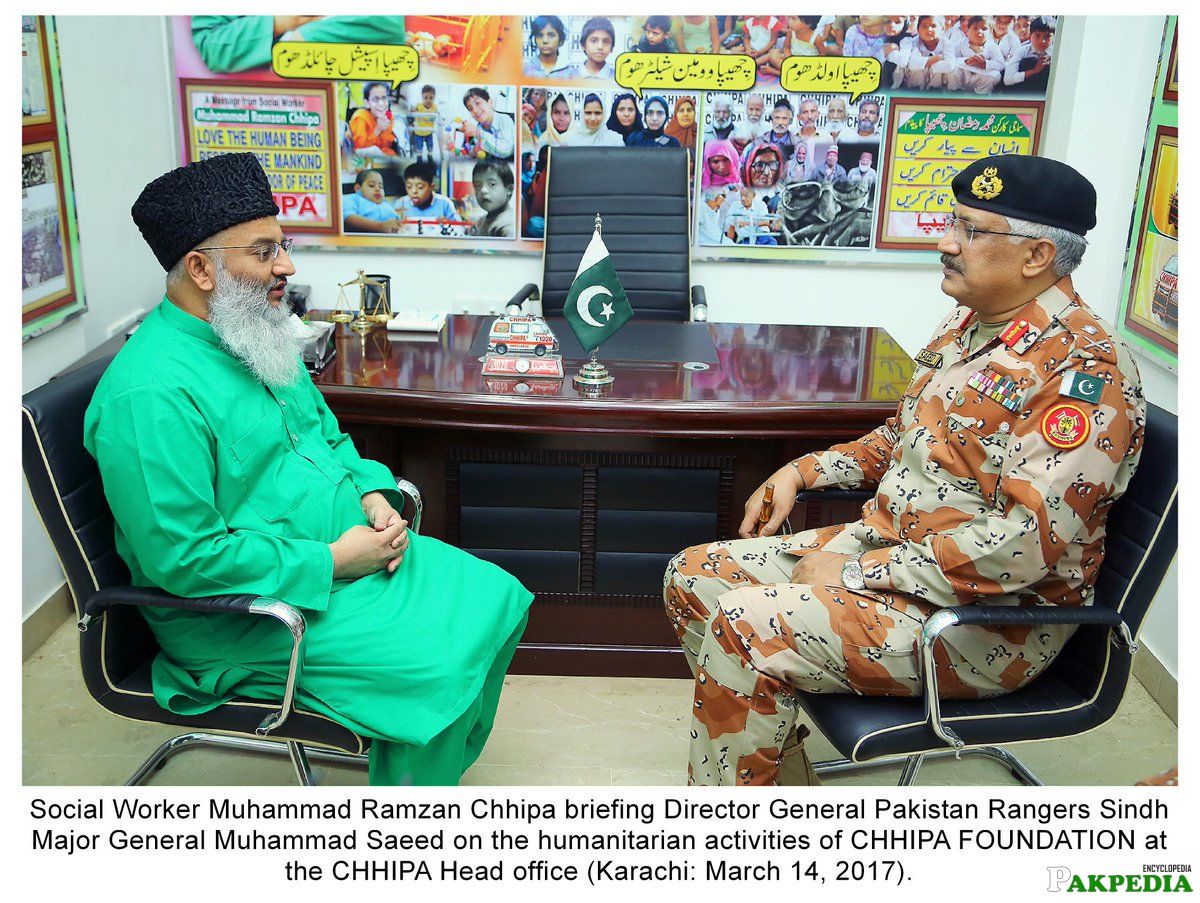 Presently Chippa welfare organization has a big fleet of CHHIPA AMBULANCES, spread over CHHIPA AMBULANCE EMERGENCY CENTRES in prominent places, on various roundabouts and near Government Hospitals across Karachi city for providing immediate help and assistance to the needy, sick, suffering people and emergency patients while the responding time is within 7 minutes. His Chhipa Ambulances are always on the alert and ready to meet any emergency situation.
24 Hour Services
On spot Emergency Medical Aids & Services to all kinds of victim & emergency patients.
On 24 hours Chhipa Ambulance Free Rescue Operations in accidents, emergency& disasters.
On 24 hours Free Ambulance Service to the deserving people, who cannot afford the charges.
On Marriage grant, furniture, dowry & Cash Payments to orphan & poor young females.
On Daily Food expenses to the deserving poor & starving persons.
On providing facilities of CT-Scan, MRI, X-Ray & Lab. Tests to the deserving needy persons.
On Monthly Stipends to the poor wretched families calmly and secretly.
On Monthly Ration to the poor deserving families.
On Payment of Monthly Electric, Gas & other utility bills to white-collared indigent families.
On providing Fan, Sewing Machine, Water cooler etc to the needy poor persons.
On Eid Packages to the poor families in Ramzan-ul-Mubarak to celebrate Eid Festival.
On Yearly Uniforms, School Fees & Courses to the poor students.
Free Food Service Through Chhipa Dastrkhawan
Chhipa Welfare daily provides 2 times free foods to 30,000 thousands of the poor, labours and low-income group worried & starving people on Chhipa Dastarkhawan spread over at all Chhipa Centers with respect, proper attention and due care regularly, so that from the savings they can spend money on their children's education, health and utility bills and could heave a sigh of relief in these days of great hardship.
Ration
Chhipa also remains busy with distribution of Free Monthly Ration to the poor white-collared families, free medicines, free clothes, blankets, etc., to the deserving indigent people and many others social and welfare activities, humanitarian work, financial helps and supports to the poor worried aged persons, widows, orphans, paupers & daily wages workers every month round the year.[5]  Free Food Service Through Chhipa Dastrkhawan 
Action Against Infanticide
Chhipa Welfare has placed Chhipa Palna (Cradle) at all Chhipa Emergency Ambulance Centers with an appeal to people to calmly throw the un-wanted newly born child in Chhipa Palna (Cradle) for adoption by interested childless married couple registered with Chhipa Head Office who gladly want to adopt and bring up the deserted newly born minor child to make worthy citizen of country, which is most admirable step of Social Worker Ramzan Chhipa.[6]  Action Against Infanticide 
Lifeguards Services
Chhipa also gets out of ocean drowned people through expert divers posted on the brink of ocean. This measure has reduced death toll and suicide attempts of general public.[7] Lifeguards Services
Assets of Chhipa Welfare Association
At present Chhipa Welfare have 24 Chhipa Centers, 73 inadequate ambulances. They have made the feasibility to set up our 50 centers across Karachi at a distance of every 10 km with 05 ambulances in each center to help minimize the responding time by 07 minutes on each public call.[8]  Assets 
Donations
You can send your Crossed Cheque, Pay Order or Online Bank Transfer towards NOBLE CHARITY, BOUNTIFUL DONATION, and GRANT OR GIFT in favor of CHHIPA WELFARE ASSOCIATION.[9]  Donations 
Contact Chhipa Welfare Association
Pakistan Chhipa Welfare Association 
Head office  Jiwanjee Building, Aslam Road, Bohra Pir, Karachi 74200 Pakistan.
Ph:      +92 21 111-111-134
Fax:    +92 21 111-111-136 
Email:  info@chhipa.org