Memoir of CH. Khaleeq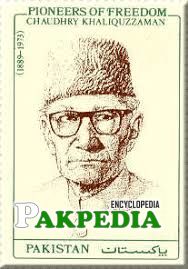 CH. Khaleeq-uz- zman
A paragraph from his memoir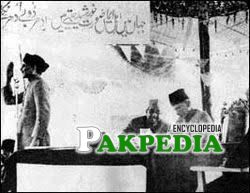 Adressing on Pakistan resolution
Political Career
His made his first great contribution in 1912, when Balkan War was being fought and Turkey was a belligerent state. a medical team that was organized from India by the Red Crescent comprised Ch. Khaliquzzaman. He remained its member for two years and rendered valuable services in the Balkan War for Turks. In 1916, he joined the Home Rule League that was founded by Mrs. Annie Besant with the collaboration of Gokhle. Its main objective was Self-rule for the inhabitants of India. He remained its member for two years. He gained a prominent position amongst the Muslim leaders of United Provinces. He started practising law in Lucknow in 1917 and was appointed Joint Secretary All India Muslim League. He became a very active worker of the 'Khalifat Movement' and 'Non-Co-operation Movement'. He even gave up his practice and was arrested in November, 1921 for organizing a public boycott of the visit of the Prince of Wales to Lucknow and released from Jail in December, 1922. For a brief period he was associated with the All India Congress and remained as one of its front rank leaders but gave it up it to join the Muslim League. 
[1]
political
Role in Lucknow pact 1916
He played a pivotal role on behalf of Indian National Congress in hammering out the Lucknow Pact of 1916. This pact was the first formal step towards the Hindu-Muslim unity at the political level. He was also the chairman of the Lucknow Municipal Board. Chaudhry Khaliquzzaman supported the amendment that made the attainment of 'Swaraj' one of the aims of the League (13th Session, All India Muslim League, Nagpur, December, 1920). He was a Member of the Muslim League Committee to frame a constitution for India (15th Session, Lahore, May, 1924). He was Muslim League Delegate to All Parties Convention (20th Session. Calcutta. December. 1928).
Joining of All India Muslim League
When Khilafat Movement began in 1919, he was practicing as a lawyer at Lucknow, as demanded by Khilafat Movement, he boycotted the civil courts and became a pro-active member of Lucknow Khilafat Committee. After joining All India Muslim League, he became its joint secretary and also presided Muslim League United Provinces for some years. Soon he acquired prominence amongst the Muslim League leaders. Before 1937, When elections were held in India, he was the member of the Muslim League Working Committee.
Ch. Khaleeq and Quaid-i Azam
Ch. Khaliquzzaman had close relation with Quaid-i-Azam Muhammad Ali Jinnah. He organized a fund for the people of Anatolia on the behest of the Quaid. In 1940, when Lahore Resolution was passed, Ch. Khaliquzzaman was one of those who seconded the Lahore Resolution on 23rd March 1940. He said in his speech, "Muslims of the minority provinces of India should not have concerns regarding the partition of India into Hindu India and Muslim India. What they would get at the hands of Hindus, same treatment would be meted out to the Hindus of the Muslim majority areas." 
[2]
Quaid
Political Achievements
He was a Member of All India Muslim League Parliamentary Board 1937 and became Muslim League Member of the UP Legislative Assembly in the 1937 Elections and sat in the Opposition Benches as its Leader. Chaudhry Khaliquizaman worked whole heartedly for the All India Muslim League and supported its policies and programmes. He seconded the Pakistan Resolution (27th session, Lahore March, 1940). He proposed a resolution for the appointment of Committee for the protection of the life, honour and property of Muslims (29th session, Allahabad, April, 1942). He moved a resolution on setting up an .Action Committee' to prepare the people for the achievement of Pakistan (3lst Session, Karachi, 1943) and in the same Session he was also elected President, All India Muslim League Parliamentary Board. He was Muslim League Member UP Legislative Assembly in 1946, defeating Syed Ali Zaheer. Later the same year he became the Muslim League Member of Indian Constituent Assembly (1946-47). He was also elected as a Member Subjects Committee, League Legislative Convention. Delhi. 1946.
[3]
achieve
Career after independence
After Independence Chaudhry Khaliquzzaman led the Muslim League Members in the Indian Constituent Assembly. He migrated to Pakistan in November, 1947 and was appointed the Chief Organizer of the Pakistan Muslim League in February 1948 and later served as its President till August 1950. He was the Governor of East Pakistan from April 1953 to May 1954 and later served as Ambassador to Indonesia and Philippines in Nov. 1954.
Memoir and death
Chaudhry Saheb's Memoirs 'Pathway to Pakistan' is a rare treasure house of information on the Freedom Movement.  He died in 1973.