Changa Manga is a man-made forest which includes a wildlife preserve, approximately 80 kilometres southwest of Lahore.Pakistan is home to many wonderful places. One of these is the Changa Manga forest. It is believed to be one of the world's largest man-planned and man-grown forests. Planted in 1890 by the then ruling British, its aim was to provide wood fuel for the railway steam engines.The forest is located close to Lahore around 70 Kilometers from the city and covers a massive 48.6 square kilometers, or 12,000 acres.
| Title | Description |
| --- | --- |
| Information | |
| Location: | Chunian Tehsil Kasur District and Lahore District, Punjab, Pakistan, Pakistan |
| Nickname: | Changa Manga |
| Type: | Forest |
| Local Language Name: | Changa Manga |
| Coordinates : | 31°05′N 73°58′E |
| Established : | 1866 |
| Governing body : | Punjab Forest Department, Government of Punjab, Pakistan |
| WWF Classification : | Indomalaya ecozone |
| Indicator Plants : | Dalbergia sissoo (Sheesham), Acacia nilotica (Kikar), Morus alba (White mulberry), Bombax ceiba (Simal) |
| Located Approximately: | 80 Kilometers south-west of Lahore |
| Known More: | One of the Oldest Hand-Planted Forests in the World |
| 14 Species of: | mammals |
| 50 Species of : | Birds |
| Six Species of : | Reptiles |
| Two Species of : | Amphibians |
| 27 Species of: | Insects |
| Area : | 12,423 acres (5,027 ha) |
History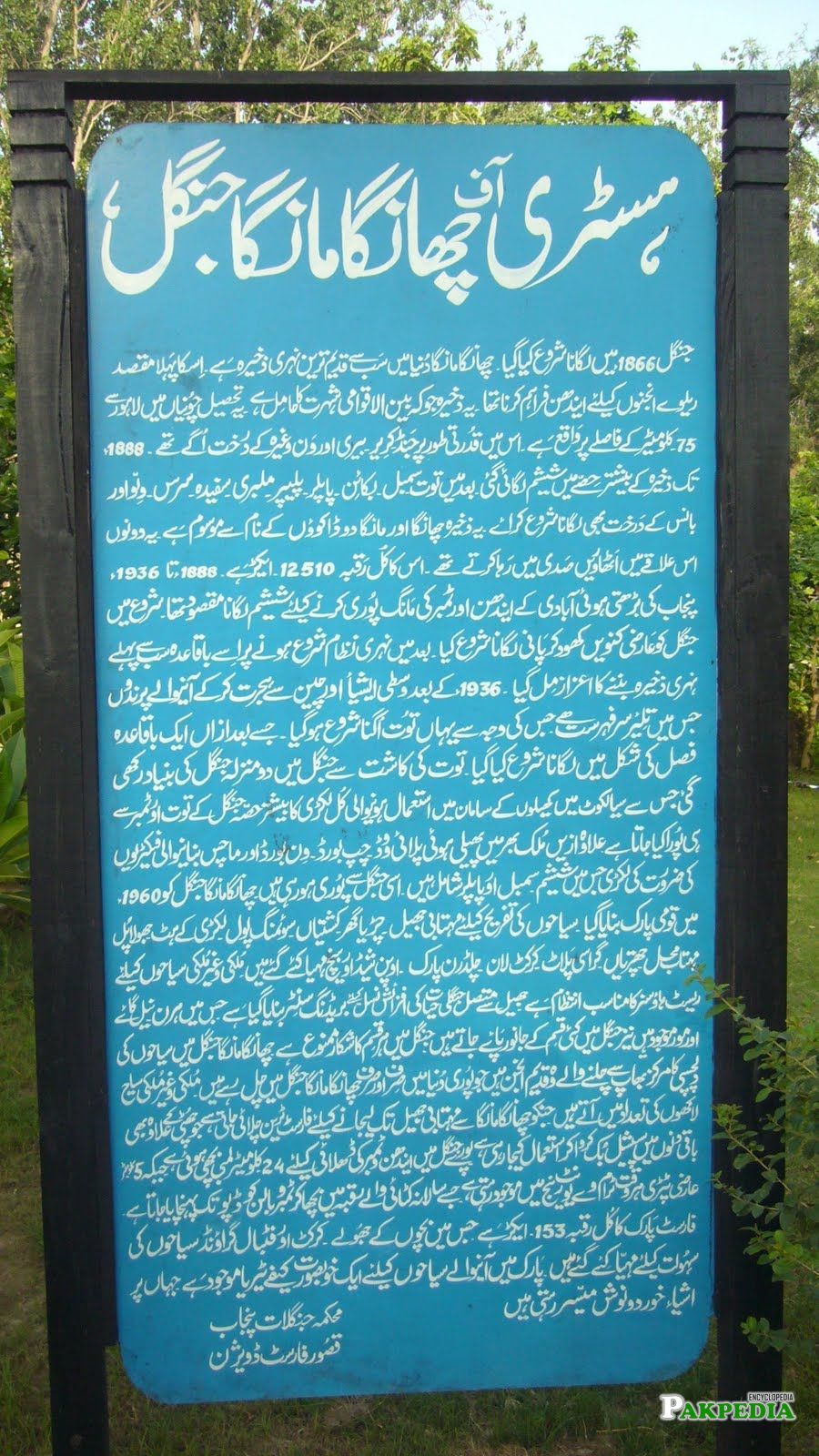 The Forest of change manga has been started to plant in 1866 in British Raj and within few years it was completed.A story of two brothers is related this area. Change and Manga was two real brothers and were famous as looter. They used the jungle to hide in thick forests. In 1960, a national park, called Changa Manga Forest Park, was developed. And same time Mehtabi Jheel, Mehtabi Lake was made. Mehtabi Lake is the biggest man made lake. One wildlife park is also here where many wild animals are present.[1]  History 
Location
Changa Manga jungle is located in the tehsil Chunian, District Kasur, 75 KM away from Lahore. Distance from Pattoki city is just 7 KM approximately.
Beautiful Green Forest

Changa Manga Lush green forest,the biggest effort of the human planting comprises of beautiful lake with boating area , railway track multiplying charm of forest, lake with natural beauty and wild life park.An ideal resort for picnic, recreation and families. One is forced to apprase beautiful views, landscapes and exotic weather was the biggest effort of the human planting a forest.So you can say Changa Manga forest is largest man planted forest in the Asia.
Area
The forest covers an area of 48.6 square km, or 12510 acres. BRB canal and railway track passing in between the jungle is multiplying the beauty of the jungle and seeing the nature. Most common trees in the jungle are Dalbergia Sissoo (sheesham), Acacia nilotica, (kikar), white mulberry (Morus alba) and Eucalyptus, Populus etc. One wildlife park is also here where many wild animals are present. Changa Manga is also serving as a wildlife breeding center. This beautiful forest is being administrated by Punjab Forest Department at district level. Many people country wide come here to celebrate their picnics and parties. The visitors come here to enjoy and to give the beauty to their album of Changa Manga forest pictures.[2] Area
Maintain By
Currently, it is maintained by the Punjab Forest Department. Over the years it has become one of the most visited recreational spot for people of all walks of life.  It provides a wide range of facilities ranging from Lanar Lake for boating to picnic lawns. It also hosts pagoda, suspensions and cantilever bridges, swimming pools, mini zoo and other wild-life parks.[3]  Maintain By Although the forest still suffers budget constraints, it has managed to do a wonderful job to provide excellent services to its visitor's in fact, since 1963 Changa Manga Plantation is being managed as an outdoor recreation park also.
The Habitat

The forest is an amazing habitat and has various types of trees. The species of trees found in the forest are Acacia Nilotica (Kikar), Dalbergia Sissoo (Sheesham), Eucalyptus (Safaidah), Morus Alba (White Mulberry) and some Populus species.Changa Manga is also a very important place for restocking projects of Asiatic vultures in Pakistan. The WWF started a restoration program for Gyps Vulture in 2006 to help conserve and breed endangered species of Gyps.
Tourist attractions
The forest houses a wildlife park, a water turbine, waterfall, and a children's play area. Tourists can also enjoy a train ride through the forest and boating on the Lunar Lake.In addition to all of this there is also a Changa Manga Tourist Resort situated around 80 km from Lahore.
Being Cut Down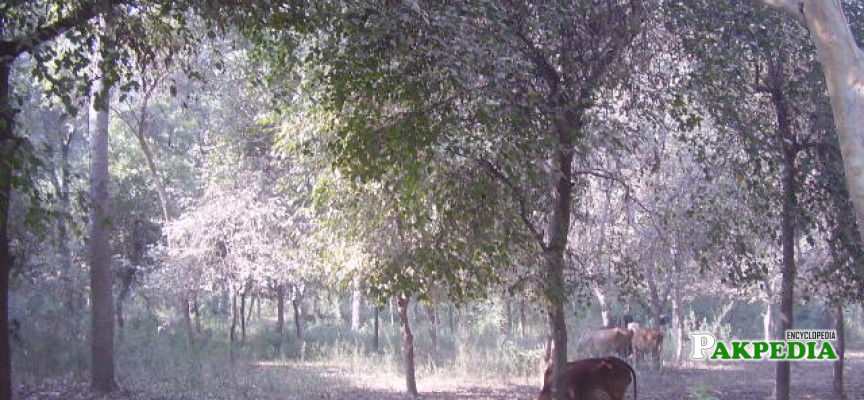 The issue of deforestation has however hit Changa Manga hard as well. The forest is being cut down so quickly that more than 60 percent of the Changa Manga Wildlife Park has been deforested![4]  Being Cut Down According to the report, out of the total area of more than 4,000 acres, as much as 3,000 acres of plantation has become barren owing to illegal cutting and theft of wood.Around 10 years ago, there were over 50,000 Shisham trees, which have been cut down to a meagre 4,500 due to illicit cutting which, the report asserts, was done with assistance from the field staff and supervisory officers.[5] Being Cut Down
Changa Manga Park
Changa Manga Park being maintained by the Punjab Forest Department, Kasur Forest Division is one of the very few parks for out-door recreation in Pakistan. Every month about large number of peoples from all walks of life visit this spot. Due to lack of recreation facilities in the Province in general and the adjoining areas of Lahore in Particular, it has over the years become one of the most frequently visited parks in the country. Some facilities for recreation in the form of Lunar Lake for boating, a pagoda, picnic lawns, suspensions and cantilever bridges, swimming pool, mini zoo and the wild life parks which are connected by a Tramway have been developed from the resources of the Forest itself. 
Rest Houses
In addition there is four bed room Motel and the new four beds and five bed Forest Rest Houses for visitors. Due to financial constraint, most of these facilities has suffered a setback and are not maintained in the required standards. Keeping in view the number of visitors who come and want to visit this recreational park, the information, culture and tourism Department provided funds for improvement of existing facilities and addition of new facilities. Since 1963 Changa Manga Plantation is being managed as an outdoor recreation park also. Having felt the need of outdoor recreation sports for population of big urban centers in Lahore, Changa Manga was first to be selected for the purpose on account of reasonable distance from Lahore.
Plantation
 Apart from the basic ingredients of greenery and scenic beauty, outdoor activities have been constantly added according to the funds available for the purpose. However, replacement of existing facilitates and addition of further are badly required. The plantation in its own is a source of recreation in addition to the recreational park, source of demonstration for education and extension activities for the tourist and adjoining farmers for agroforestry, bamboo culture and resource of honey, medicianal plants and other major and minor forest produces like timber, firewood, grasses etc.[6] Changa Manga Park
Famous Attraction for Students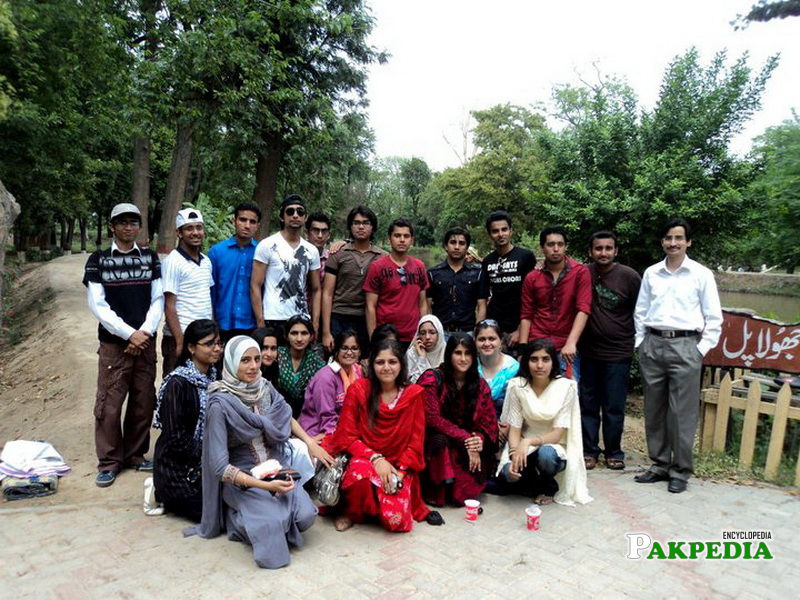 The park is also a famous attraction for students who are usually studying environmental and biological sciences. It makes an ideal location for demonstration of education and extension activities for the tourist and adjoining farmers for agroforestry and bamboo culture.
TDCPEstablished Resort
TDCP established a beautiful resort in eco-friendly environment of Changa Manga forest. There is a Recreation Park with mini train that gives visitors a 5-kilometre hilarious ride through the forest. Other attractions include a children's playland area, and an artificial lake with boating facility. The Tourism Development Corporation of Punjab (TDCP) arranges picnic trips for families, educational institutes and corporate sector from Lahore to Changa Manga throughout the year.[7] TDCP Established Resort