Chaman (also spelt Chamman)  is the capital of Qilla Abdullah District, Balochistan, Pakistan. It is situated south of the Chaman border crossing with neighbouring Spin Boldak in Kandahar Province of Afghanistan.The Wesh–Chaman border crossing is one of the major international border crossings between Afghanistan and Pakistan. Located on the Pak-Afghan border, it leads north from the town of Chaman, Balochistan into Wesh in Spin Boldak, Kandahar province. More generally, it links the two provincial capitals: Quetta and Kandahar.
| Title | Description |
| --- | --- |
| Information | |
| Details | |
| Region: | Pk |
| UTM: | 42R 255821 3423781 |
| Geo URI: | geo:30.922222,66.444722 |
| Decimal: | 30.922222, 66.444722 |
| Coordinates: | 30°55′20″N 66°26′41″E |
| Number of Union Councils: | 13 |
| Time zone: | PST (UTC+5) |
| Population (2015) Total: | 180,161 |
| Elevation: | 1,338 m (4,390 ft) |
| District : | Qilla Abdullah District |
| Province: | Balochistan |
| Afghan War: | Chaman is used by NATO forces as a major supply route into Afghanistan since 2000 till now. On August 30, 2009, an attack on a NATO convoy destroyed 20 fuel tankers and other supply trucks. The attackers reportedly fired rockets and small arms before destroying the trucks. Afghanistan Former President Amanullah Khan escapes to Europe by the route of Chaman. Thousand of Afghan Refugees came to Pakistan, using Chaman routes. |
| United States military presence: | The Wesh-Chaman border crossing has been used by international forces (ISAF) in Afghanistan as part of a major supply route stretching from the Port of Karachi to Kandahar, with roughly 60 to 100 trucks traversing Chaman daily |
| Address: | Chaman |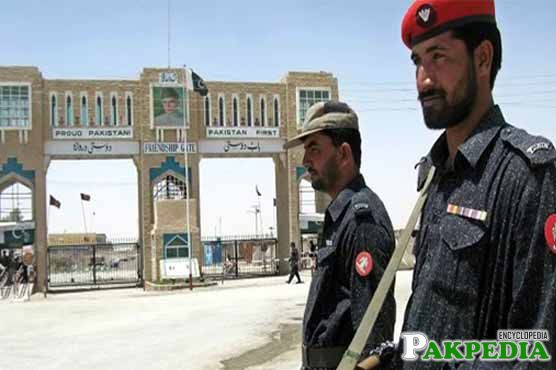 Bio-metric screening introduced at Chaman border post
Along the Pakistan-Afghanistan border in the Chaman area the biometric computerised control system to check illegal crossing of people and vehicles from both sides of the border.Under the system, people living on both sides of the border and doing business in Chaman and Vesh would get new border passes on the basis of computerised national identity cards issued by the National Database Registration Authority (Nadra), abolishing the old system of issuing permits.However, the Afghan authorities are opposing the system, demanding that Pakistan should instal the same system on the other side of the border. According to reports, Afghan soldiers posted in Vesh tore many computerised border passes issued by Nadra to the people crossing into Afghanistan."We will not allow people from Pakistan to cross into the Afghan area on these passes," Abdul Raziq Panjsheri, a border commander of Spin Boldak, told Pakistani newsmen over telephone.However, FIA Balochistan director Iqbal Mehmood, who inaugurated the new system at the border, said that such objections rose whenever a new system was introduced. "The Afghan officials have also expressed their apprehensions, but it would not affect the working of the new system."
He said the same system was already successfully working at all Pakistani airports, adding that Prime Minister Shaukat Aziz had discussed the issue with Afghan President Hamid Karzai during his recent visit to Kabul."The FIA would run this system through which all data of the people would be recorded," Mr Mehmood said, adding that it would also stop illegal crossing.Eight computerised doors have been installed at the Friendship Gate and six of them would be used for pedestrian and two for crossing vehicles.Nadra director-general Brig (retd) Akhtar Hussain Shah said that such system was already working in all over the world, adding that Pakistani officials were in contact with the Afghan authorities to remove their apprehensions in this respect[1] Chaman Border dawn.com .
Transport
Chaman has a railway station which accommodates services with Kandahar as well as other parts of Afghanistan. A slow passenger train runs between Chaman and Quetta daily. In 2008, it was proposed to extend this railway through Afghanistan to Central Asia. Chaman is on the silk road on the eastern side.
50 cross into Afghanistan thru Chaman border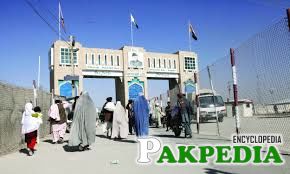 Quetta – After nine-day closure of Pak-Afghan border, Pakistan  allowed 50 people having visa and valid passport to leave for Afghanistan through Friendship Gate at Chaman border.However, no one was permitted to come to Pakistan from other side of the border.According to reports, the authorities allowed 50 people to leave for Afghanistan through Friendship Gate after nine days during which all movements between the two countries remained suspended. The Pakistani authorities adopted the measures for security reasons to halt the border movements after fresh spate of terror strikes which shattered peace and calm in the country.The authorities had issued shoot-at-sight orders for any suspect near the Chaman border, besides putting security on high alert and imposing Section 144 the border city of Chaman.It merits mentioning here that due to the closure of Pak-Afghan border, the Nato supply to Afghanistan remained suspended for nine days. Long lines of containers were witnessed on both sites of the border after closure of Friendship Gate at Chaman border.[2] 50 Cross into Aghanistan thru chaman border
Survey agreed to resolve border area dispute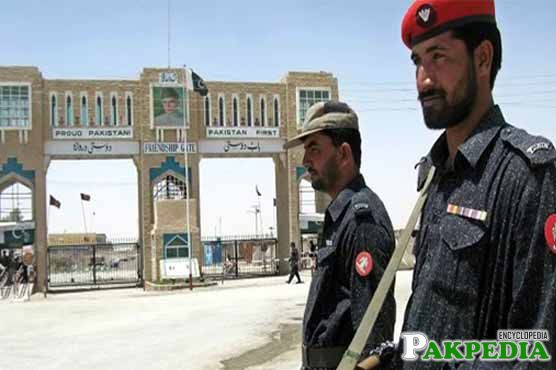 Quetta/Chaman – Pakistan and Afghanistan have agreed to conduct geological survey to determine which border areas rightfully belong to which side.Military officials held a flag meeting at Bab-e-Dosti (Friendship Gate) and Chaman crossing in an attempt to quell the mounting tensions. Frontier Corps North Sector Commander Brigadier Nadeem Sohai led the Pakistani side while Afghan National Army Col Sharif headed the Afghan delegation.It was decided in the meeting that the geological experts would conduct a survey of areas along the border with the help of Google and geological maps.At the centre of the recent dispute are two villages – Killi Luqman and Killi Jahangir – which lie between Pakistan's Chaman and Afghanistan's Spin Boldak district and are claimed by both sides fully or partially.In the meanwhile the fresh Pak Army and Balochistan Frontier Corps battalions stand high alert for tackling any untoward situation at border while the aerial monitoring of Chaman was also carried out.Earlier at the first and second flag meetings, each delegation stuck to their stance which resulted in a deadlock.The Pakistani delegation claimed that the disputed areas belonged to Pakistan and its possession can be checked on Google Maps, while the Afghan delegation claimed the areas were theirs and demanded their hand over to Afghanistan.The security forces on both sides remained high alert while a pall of dead calm prevailed at Babe-i-Dosti, which was shut down on Friday.Commander Southern Command Lt-Gen Aamir Riaz  inquired after the wounded at Chaman Civil Hospital who were injured on Friday by Afghan shelling.Talking to the media on the occasion, General Aamir said the Friendship Gate will remain closed "until Afghanistan changes its behaviour".The NATO supply and Pak-Afghan Transit Trade goods containers again lined up in hundreds on various sites between Quetta and Chaman thoroughfare.The migration of people to safer location from adjacent affected areas continued as warning were issued to vacate the areas which are too close to border in view of the tense situation.The director general of Provincial Disaster Management Authority said that around 2,000 families had been affected by the shelling of Afghan forces and they had been shifted to safer places.Qilla Abdullah Deputy Commissioner Qaiser Khan Nassar said a tent village has been set up at Purana Chaman for the affected families who have been evacuated from affected and risk-prone areas. He said all fundamental amenities were being provided to the displaced families.However, reports said that a large number of migrated families preferred staying with their relatives in Qilla Abdullah, Pishin, Quetta, Yaro and Kuchlak.[3]Survey agreed to resolve border area dispute  
Situation Returning To Normalcy RoutineLife Along Chaman Border
The situation in Chaman area along the Pak-Afghan border in Balochistan is returning to normalcy and routine life activities have been restored in the area.District Police Officer Qilla Abdullah, Sajid Memon told our Quetta correspondent that the process of census has been resumed in the area on Monday.He said that nearly fifty percent educational institutions were opened today but Bab-e-Dosti on Pak-Afghan border is still closed for routine trade activities.Pak Army and Frontier Corps are patrolling the affected areas.[4] Situation  Returning To Normalcy RoutineLife Along Chaman Border 
Chaman border crossing remains closed After Afghan attack
CHAMAN: Pak-Afghan border-crossing remains closed in Chaman after Afghan forces martyred 11 Pakistanis including a soldier and injured many others.Afghan border police shelled the villages in Chaman for 10 hours, prompting the Pakistani forces to retaliate.According to Geo News, the Nato supplies and Afghan Transit Trade activities are suspended in the area after the attack.After the incident, Islamabad sent out a clear warning to the Afghan leadership saying in case, Afghanistan does not take measures to stop its provocations, Pakistan reserves the right to fully respond with a view to protect its sovereignty and citizens."Pakistan expresses its deep concern and the Afghan Charge d' Affairs was summoned to the Foreign Office today (Friday) to lodge a strong protest over the unprovoked firing by the Afghan forces in Chaman area.Action should be taken against those responsible for this violation and the Afghan government should take immediate steps to bring an end to this unprovoked firing," spokesman at the Foreign Office told the weekly media briefing.Kabul was told that the Afghan firing took place when the census teams were undertaking population census in that area as part of the national census exercise all over the country. The Afghan government was informed about the census being undertaken on Pakistan's side of the border and exact coordinates of the areas were also shared with the Afghan government.
Pakistan also blamed India for using the Afghanistan territory against Pakistan. "We have continued to underline that 'India is part of the problem and not solution'. India is also using Afghan soil for its nefarious designs to destabilise Pakistan and spoil Pak-Afghan relations," said the spokesman.[5]Chaman border closed After Afghan attack