Raja Muhammad Sarwar Nishan e Hadier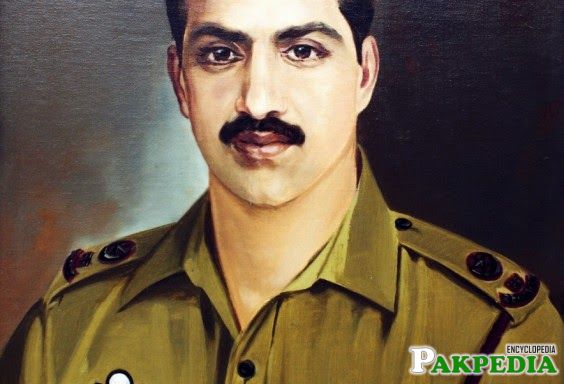 Raja Muhammad Sarwar army officer
Raja Muhammad Sarwar Shaeed
Captan Raja Muhammad Sarwar
Raja Muhammad Sarwar super hero
Raja Muhammad Sarwar Shaeed
History
Martyrdom anniversary of  Captain Raja Muhammad Sawar Shaheed was observed on Wednesday. Captain Raja Muhammad Sarwar holds the distinction of being awarded with the Nishan-e-Haider, Pakistan's highest military award, for the first time in the country s history,[2] Singhori village -  Muhammad Sarwar owing to the tremendous valour that he displayed in the battlefield during the war in Kashmir and achieving martyrdom in the process.
Raja Muhammad Sarwar was born in Singhori village in Gujar Khan Tehsil on November 10, 1910. His father, Raja Muhammad Hayat Khan, served in the British army as a constable.[3] Raja Muhammad Sawar -  Pakistan
Captain Raja Muhammad Sarwar Bhatti Shaheed Nishan e Haider
Wreath Laying Platform at the monument at Sanghori (native village of Captain Raja Muhammad Sarwar Bhatti Shaheed Nishan e Haider) astride GT Road near Mandra to commemorate the sacrifice made by the Shaheed. One of the two recipients of Nishan e Haider (the highest gallantry award of Pakistan) who are not buried in
Pakistan
. War Account: The Battle of Tilpatra, Uri Sector (Kashmir Campaign: 1947-48)
[4]
 Kashmir Campaign -  1947-48
Captain Muhammad Sarwar was completing the professional course at School of Signals, General Headquarters Rawalpindi, in 1948 when his unit 2 Punjab Regiment was ordered to join the Kashmir Campaign. Captain Sarwar insistently requested the Officer Commanding at Signals School to join his unit in war. He was appointed as Signals Officer after joining 2 Punjab Regiment in Kashmir. He volunteered himself to lead the troops in attack on Tilpatra Ridge. On 27 July 1948 (20 Ramzan 1367 AH), Captain Sarwar along with his troops launched the offensive at 0300 hrs in the morning. The attack was launched fiercely and progressed consistently with Capt Sarwar leading the front. At a time once the Machine Gun Firer of his platoon was martyred, Capt Sarwar himself assumed the responsibility of Machine Gun Firer and inflicted heavy losses onto enemy (the troops quote the death toll to be around 40 solely due to Capt Sarwar's action). During the attack, Capt Sarwar crawled forward close to enemy defenses and neutralized enemy Machine Gun bunker by lobbing a hand grenade. He got wounded during action, but never let go his spirit of advance.
[5]
  GT Road near Mandra -  Pakistan
Punjab Regiment
He joined the Punjab regiment in 1946 and achieved the rank of Captain, months before the creation of Pakistan. Once the country emerged on the map of the world in 1947, Raja Muhammad Sarwar volunteered to be a part of the battalion formed to regain Kashmir. 
He was given the rank of Company Commander of the Second Battalion of the Punjab Regiment. Under his leadership, the regiment was able to force the Indian forces to retreat out of certain regions of Gilgit-Baltistan. However, his battalion faced heavy resistance from the opposing forces present in the Uri sector as the soldiers pushed forward to take over a well-guarded enemy position. [6] Gilgit-Baltistan -  Pakistan
Martyrdoms
Captain Muhammad Sarwar launched an attack causing heavy casualties against a strongly fortified enemy position in the Uri Sector under heavy machine-gun, grenade and mortar fire. But on 27 July 1948, as he moved forward with six of his men to cut their way through a barbed wire barrier, he got martyrdoms when his chest was hit by a burst of automatic fire. 
[7]
 Punjab regiment -  Muhammad Sarwar