Pakistan is the most popular country in the world and Karachi is the heart of  Pakistan . Karachi is known to be as the City Of Light. It is the economic backbone of Pakistan. It is the largest and most popular city of Pakistan  for main seaport and financial center. It is an agricultural city which is famous as a capital of Pakistan province of  Sindh . Karachi is no doubt a beautiful city where people come to visit beautiful places. There are many places that give eye-catching sights.Although Karachi is the commercial centre of Pakistan, it is also one of the most richly cultural regions of the world to visit for its impressive history and local traditions as well as breathtaking geography.[1] Best Places to visit in karachi
| Title | Description |
| --- | --- |
| Information | |
| Location: | Pakistan |
| Details | |
| Location: | Karachi Pakistan |
| HDI : | 0.69 |
| HDI Category: | Medium |
| Postal codes: | 74XXX – 75XXX |
| Dialing code : | +9221-XXXX XXXX |
| Time zone: | PKT (UTC+05:00) |
| Demonym(s): | Karachiite |
| Population (2016) Rank: | 1 (Pakistan) |
| Population (2016) Total: | 27,506,000 |
| Elevation: | 8 m (26 ft) |
| Area Total: | 3,780 km2 (1,460 sq mi) |
| Deputy Mayor of Karachi: | Dr. Arshad A. Vohra |
| Mayor of Karachi: | Waseem Akhtar |
| Government Type: | Metropolitan City |
| District: | 6 |
| City council: | City Complex, Gulshan-e-Iqbal Town |
| Metropolitan Corporation: | 2011 |
| Weather: | 30°C, Wind SW at 23 km/h, 70% Humidity |
| Population: | 27.51 million (2016) |
| Province : | Sindh |
| Country : | Pakistan |
| Region: | Pk |
| Type: | city |
| UTM: | 42R 298936 2750914 |
| Geo URI : | geo:24.86,67.01 |
| Decimal: | 24.86, 67.01 |
| Coordinates: | 24° 51′ 36″ N, 67° 0′ 36″ E |
| Website: | www.kmc.gos.pk |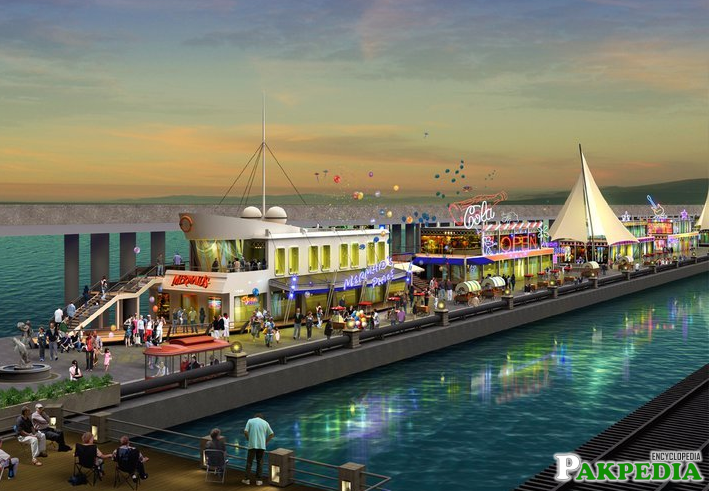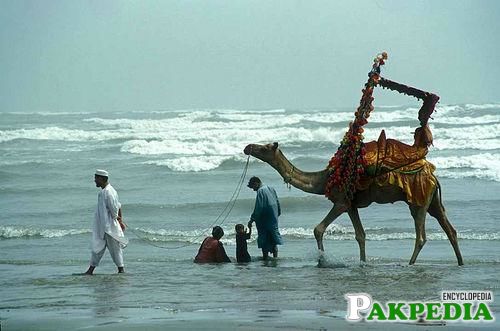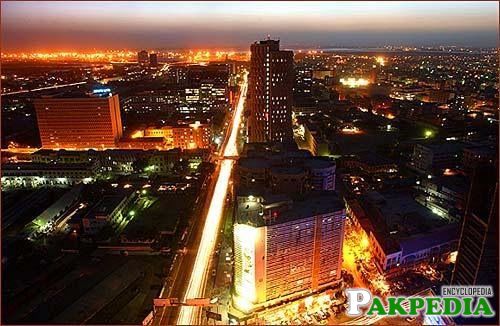 Mazar-e-Quaid Jinnah Mausoleum

Mazar-e-Quaid is one of the most impressive landmarks in Karachi which refers to the tomb of the founder of Pakistan, Muhammad Ali Jinnah . It is also known as the Quaid-E-Azam's Mausoleum or National Mausoleum. This monument is situated at the heart of the city which was completed in 1960s. The graves of the 'Quaid-e-Millat' i.e. Liaqat Ali Khan who was the first Prime Minister of Pakistan and Quaid's sister Mohtarma  Fatima Jinnah  are located nearby.[2] Mizare Quaid
Masjid-e-Tooba

Masjid-e-Tooba is another beautiful & attractive place for the visitors. It is also called the Gol Masjid because it is dome shaped & probably considered as the largest dome shaped mosque in the World. The diameter of the dome is about 236 feet. It is located in Defence society near korangi town.[3] Masjida toba
Cliftonn Beach

Karachi is the most prominent coastal city of  Pakistan.The beach lovers here have a lot of opportunities to visit different beaches of the Arabian Sea. Out of all the options, Clifton Beach holds the most critical value among all for giving fun seekers and beach lovers some excellent leisure and recreational opportunities. The Clifton Beach is also alternately known as Sea view which actually is a prominent and the busiest spot of the beach where you will see so many people at any time of the day and night. Some come from beach sports/ activities, some come for cool breeze, some want to have a walk along the coast while some come for so many other recreational activities which include food at the top.The Clifton Beach, Karachi in the 20th century was rated amongst the most popular and top silver sand beaches of the world.[4] Clifton beach
French Beach
Located halfway between Hawkes Bay and Paradise Point, French Beach also known as Haji Ismiil Goth is mostly and frequently visited by the elites of Karachi. An ideal place for hangouts and spending the day by the clear beach, French place is one of the must visit places of Karachi.[5] French beach 
Bhambore
Bhambore is lovely place & situated about 64 kilometers from Karachi. This is a good place to rest & entertain himself. Muhammad Bin Qasim defeated Raja Dahir in 712 AD & captured the whole area of Bhambore. The visitors can enjoy from this place due to the unique look of the Bhambore. Here is a small museum & an old mosque which attracts the tourist.[6] Bambore place to visit in karachi
Dolmen Mall
On the other extreme of the Clifton Beach or on the left hand side of the Seaview point is the famous Dolmen Mall. It is a very famous shopping destination which was inaugurated in 2011. The mall is popular primarily because it was the first mall to introduce the top international brands in Pakistan such as Debenhams, Next, Timberland and Monsoon etc. The mall is good for its restaurants as well and you can find all your favorite international fast food franchises here.
Mohatta Palace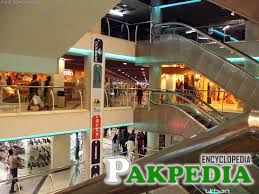 Mohatta Palace is the most famous and beautiful place in Karachi where people come and enjoy the attractive scenic views. The building is in pink color in combination of Jodhpur stone and local yellow stone of Gizri. The Mohatta Palace consists of museum where you will see the statues of some legends like Queen Victoria and Soldiers of Raj. This museum is open for visitors from 11.00AM to 6:00PM and closed on Monday.[7] Mohatta Palace 
Haleji Lake
Haleji Lake is situated 70 kilometers (43 miles) from Karachi in District Thatta of Sindh, Pakistan. Being Asia's largest bird sanctuary the lake is a paradise for bird lovers. Every winter between November to February thousands of migratory birds come from as far as Siberia to this lake to find refuge. It is regarded as one of the most important wintering areas of migratory waterfowl in Eurasia. Total area of Lake Haleji is about 19 kilometers (12 miles). The main water reservoir covers an area of 10.59 square kilometers (6.58 square miles) and maximum depth being 5.18 meters (17 feet).Haleji Lake along-with nearby Hudero Lake and Keenjhar Lake forms a very large complex of waterfowl habitat. These lakes are now home of divers, dabblers, surface and deep water feeders and fresh and brackish water lovers [8] Haleji Lake place visit in karachi 
Frere Hall

Frere Hall is one of the finest architecture of the British Colonial Era which is one of the most significant tourist spots in Karachi. The hall was built in the honor of Sir Henry Bartle Frere who was acknowledged for his services in the promotion of the regional economic development and in making Sindhi as the one and only official language of the Sindh region. The hall served as the largest library in the region for quite a number of years which was later abandoned for some reasons. The hall however reopened for the public just recently in the year 2011.[9] Frere Hall 
Hindu Gymkhana
Hindu Gymkhana is a historic & the beautiful place for the tourists to visit. It is the beautiful mixture of the Mughal & the Hindu Style. The Hindu Gymkhana was constructed in 1925. Now he Gymkhana is used as a national academy of performing art. This academy was established to preserve & teach the performing art & music.[10] Hindu Gymkhana 
PAF Museum

PAF museum is another most famous museum in Karachi. It is an air force museum and park situated near Karsaz flyover on Shahra-e-Faisal . The main attraction of this museum is that there are many aircraft, radar and weapons which are displayed in the park area. The museum also features fighter aircraft and scale models of WWI, WWII and modern aircraft. The museum was established in 1990 and it is open for visitors daily between 8:30 AM to 10:00 PM.[11] PAF Museum 
Port Grand
Built along the waterfront of the 19th century native jetty bridge, Port Grand is one of the best recreational places in Karachi. With a food street at your disposal and a shopping mall where you can shop, Port Grand is the stop where all the major events are celebrated on a grand scale. From concerts and celebrations on the 14th august, to the Defense day celebrations to the new year's and Christmas, Port Grand is all lit up and ready to provide you with the best possible place to spend your time, with family or friends.
Churna Island
Churna Island is also known as Charna Island located near Mubarak Goth, Kimari Town in Karachi. Churna Island is a small island in the Arabian Sea. The Churna Island is now popular for scuba diving, free diving, underwater photography, trekking, speed boating, camping, hiking, knee boarding, jet skiing, snorkeling and many more. This island is very beautiful place in Karachi that people must have to visit once in a life [12] Churna Island 
Paradise Point
Another beauty & Attraction is the Paradise point which is actually a beach in Arabian sea & it is a sandstone rock. It is not good for swimming due to its location but tourists can enjoy on the side of the beach like horse riding & camel riding etc. Its no doubt about that it is really a paradise for the Tourists in Karachi [13] Paradise Point palces visit in to karachi
Karachi Zoo

Karachi Zoo is also known to be as the Karachi Zoological Garden. It is located on Nishtar Road and Agha Khan III Road. It was established in 1878 and was called as Mahatma Gandhi Garden the Zoo, but after the 1947 Independence of Pakistan , its name was officially changed to Karachi Zoo. In this zoo, you will find the attractions like Elephant House, Natural History Museum, Reptile House, Veterinary Hospital, Mughal Garden and Karachi Municipal Aquarium.
Ibn-e-Qasim Park
Ibn-e-Qasim Park is one of the most beautiful places in Karachi. It is located in suburb of Clifton. It is known to be as the largest urban park in the city. This park has a very interesting view of thousands roses, turtle pond and murals of dinosaurs. There are so many rides for children and adults in this park that visitors enjoy very much.
The National Museum of Pakistan

The National Museum of Pakistan houses historical items that reflect our country's heritage, culture, religion and traditional arts and crafts. The historic and Islamic sections help children gain information about early Arab settlements as well as a worth seeing Quran gallery. The freedom movement gallery, on the other hand, depicts the struggle for independence from the British rule. Moreover, there are various collections of sculptures, statues, books and old coins preserved in the museum that provide children an opportunity to learn about different eras[14] The National Museum of Pakistan 
The Maritime Museum
The Maritime Museum portrays  Pakistan  country's naval heritage. The museum is divided into numerous sections, including a lush green lawn that houses replicas of the famous sea monuments and vessels, a beautiful marine life gallery, a collection of artifacts that reflect the history of sea trade as well as Pakistan Navy's achievements, a computerized orientation lobby, an art gallery, a segment of the Daphne submarine among many other things. Educational and recreational at the same time, a visit to the Maritime Museum can be a great learning experience for children.
Arabian Sea Country Club
Arabian Sea Country Club is another must visit place in Karachi. It is a recreational club with golf course and all other sport game. This club has a golf courses, steam bath and fitness center. The main attraction of this club is the international standard cricket ground which is using for domestic matches.
Do Darya
Do Darya is the place in Karachi where people come and enjoy dining with friends and family. Do Darya is the popular food street point in Karachi now a day. There are so many famous restaurants are offering Pakistani and international foods that people can enjoy with the view of sea. This place is the must visiting place in Karachi for visitors.
Zamzama Park
Zamzama Park is one of the best parks in Karachi. It is a well-maintained park with trees, plants and grass plains. With a 1KM length jogging track, it is the most visited place by the residents of Defence area.[15] Zamzama Park 
Mrugavani National Park
Mrugavani National Park is a beautiful place, located in the Hyderabad district of the state of Telangana. The park is situated at Chilkur in Moinabad mandal at a distance of about 25 km away from Hyderabad city.This park is officially declared a National Park in 1978. Total area of the park is about 3.60 Km2. The park has been home to over 600 species of plants and animals.
Dreamworld Resort

Located in Karachi's outskirts, Dream World Resort is one of the most happening places the city. Some of its most popular  include a golf course, a water park with amazing slides, swimming pools, motor riding, parks with a plethora of swings along with a huge range of outdoor and indoor sporting facilities. A true depiction of its name, it is definitely the kind of world that children dream of.[16] Dreamworld resort
Karachi Safari Park

Karachi Safari Park was inaugurated in 1970 by Lieutenant General Atiq-ur-Rehman. It was an independent project of the then Karachi Municipal Corporation. The creation of an independent zoo, safari and aquarium department followed in 1995. Karachi Safari Park is now an independent wing of the Community Development Department of City District Government of Karachi and has been designated as a 'family park'.
Seaview Park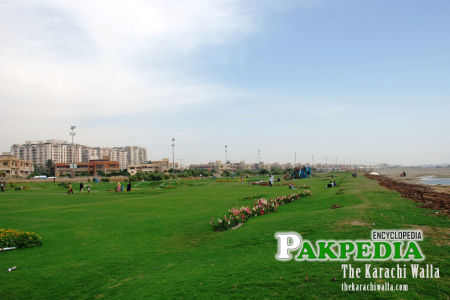 An excellent place to spend quality time, with the wind blowing from the sea and grass spread all around it is like a paradise for the residents of Karachi. With the payment of a nominal fee, one can sit and feel the waves of the sea while eating snacks and having a cup of tea or coffee. It is a nice place to visit with the family and children can enjoy playing around. Since facing toward the sea it is a bliss to spend the hot evenings of Karachi during summer. This place is a must visit especially for those visiting Karachi for the first time. And do remember to bring your camera to grab some pictures at the park.[17] Seaview Park –  Seaview Park 
State Bank Museum of Pakistan

The rationale of the establishment of SBP Museum is to introduce first Money Museum of Pakistan. The Main objectives of the Museum are to (i) preserve our cultural heritage that exists in the form of the old SBP Building and the acquisitions we have made over time; (ii) provide an opportunity to the general public and especially the younger generation to learn about SBP's history, money and coins, monetary policy and its evolving role over time; (iii) encourage the development of artistic talent in the country, and (iv) establish a tradition of cultural exchange with other museums around the world.[18] State Bank Museum of Pakistan 
Hilal Park

Hilal park is located right in the middle of a residential area. It is a tiny park by international standards but is one of the few parks which has been maintained well by the authorities. The park is lush green with many seasonal flowers.There is no entry fee. While one can find many serious walkers and few joggers in the mornings and during the evenings, the narrow path for walking / jogging is tortuous with many steps which makes it difficult for jogging.[19] Hilal Park –  Hilal Park