Serving as the capital of Pakistan since the Sixties, Islamabad was built according to a carefully organized plan, divided into sectors along a grid of clean, tree-lined streets. The city is sheltered by the Margalla Hills, the foothills of the Himalayas and the home of rare species of leopard, deer, birds, and even porcupines. Several hiking paths end at Daman-e-Koh, [1] Islamabad was built according –  carefully organized plan, a picnic spot with a splendid view of the entire city, including the massive modernist Faisal Mosque and even the Rawal Dam.
| Title | Description |
| --- | --- |
| Information | |
| Location: | Pakistan |
| Type: | Capital City |
| Local Language Name: | اسلام آباد |
| Coordinates : | 33°43′N 73°04′ECoordinates |
| Website: | www.islamabad.gov.pk |
| Founded by: | 1960 |
| Language | |
| Official Language: | Urdu |
| Native Language: | English |
| Other Languages: | English.Punjabi.Urdu |
| Government | |
| Governing body: | Islamabad Metropolitan Corporation and Capital Development Authority (CDA) |
| Chief Commissioner: | Zakaullah |
| Chairman CDA: | Sheikh Ansar aziz |
| Deputy Commissioner: | Mujahid Sherdil |
| Mayor: | Sheikh Ansar Aziz Political party PML-N |
| Area | |
| Demonym(s): | Islamabadi or Islamabadis. |
| Capital city: | 906.00 km (349.81 sq mi) |
| Urban: | 906.00 km (349.81 sq mi) |
| Population | |
| City: | 1.9 million |
| Metro: | 2.2 million |
| Urban: | 1,829,180 |
| Time zone | |
| Time zone: | PKT (UTC+5) |
| Codes | |
| Postal code: | 44000 |
| HDI: | 0.87 |
| Dialing code: | 051 |
| Vehicle registration: | Three letters beginning with I and random four numbers |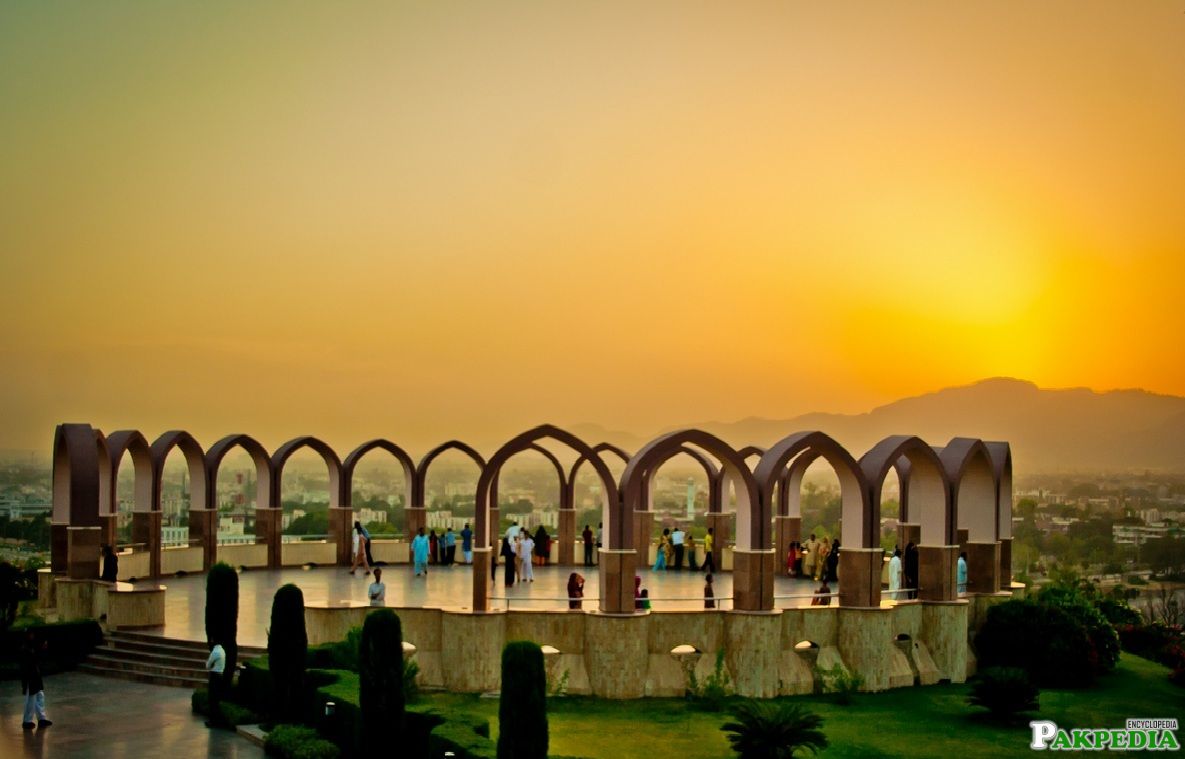 ABOUT
History
There is much for visitors to see and do in the city of Islamabad and its neighbor Rawalpindi, whether you are there for the history, the adventure, or the shopping.[2] visitors to see –  the city of Islamabad  
For those interested in history, the Islamabad Museum and The Museum of Natural History should be the first places you go. Both museums house incredible treasures from some of the world's earliest civilizations, and it is fascinating to view these items in their home region.[3] those interested in history –  Islamabad Museum
For other sightseeing, there is also the Islamabad zoo and the very popular Rose and Jasmine Garden. This must see landmark of Islamabad is 20,360 sq. meters of garden, which has 250 different varieties of roses as well as a dozen types of Jasmines. It is a very popular spot for tourists and locals alike to relax, get outside, and enjoy the lovely fragrances. [4] landmark of Islamabad –  is 20,360 sq. meters  Spring and Autumn flower shows are arranged here by the Horticultural Society of Pakistan every year, and there is also a Tourist Camping Site nearby.
Best Places to Visit in Islamabad
Islamabad welcomes travelers and tourists from around the world. People should really take the chance to go and visit all the beautiful places in Islamabad.[5] tourists from around the world –  Islamabad When visiting Islamabad do go to the following places:
Margalla Hills
Shakarpariyan Hills
Daman-e-Koh
Peer Sohawa
Saidpur Village
Islamabad Club Golf Course
Simly Dam and
Best Buildings to visit in Islamabad
Islamabad is a newly built and planed city of Pakistan. It is rich in beauty and attracts the foreign and nationwide tourists with some monumental buildings like: Presidential House, Faisal Mosque, Prime Minister Secteriat, National Assembly, Liaqat Gymnasium, National Arts Council, Saudi-Pak Tower and Lok Versa Museum. Check out Independence Day Celebrations 2011 in Islamabad and see these beautiful luminous buildings.[6] Islamabad is a newly built  –  planed city of Pakistan
Top Islamabad places to visit for Shopping
A haven for the shopping enthusiast, Islamabad is fast acquiring a great reputation for having some of the cleanest, [7] most accessible –  interesting shopping places most accessible and interesting shopping places in the country. Some of them include:
F-7 Markaz (Jinnah Super Market),
F-6 Markaz (Super Market),
G-6 Markaz (Melody Market),
G-9 Markaz (Karachi Company) and Aabpaara Market.
Best Islamabad places to visit for Eating Out
Civil Junction is a great addition to Islamabad's popular food spots. It is located in Sector F-7/3's famous Gol Market.[8] Civil Junction  –  great addition to Islamabad
Melody Food Park is, in essence, an outdoor food court offering a huge variety of cuisines, from the cheap meat rice, 'pulao', to the high-end Italian food of Pappasallis.
Kitchen Cuisine and KC Grill
Kitchen Cuisine initially opened up as a takeaway bakery, offering some of the best sweet and savories in the market[9] sweet and savories –  Kitchen Cuisine and KC Grill .
Top Places to Visit in Islamabad
Islamabad is the loveliest city & the Capital of Pakistan. It has full attractions & colors for the Tourists. The city is full of entertainment, rich in culture & Beautiful natural places to visit. Now the city is progressing rapidly. Overall Islamabad is the prettiest city & there are lots of places to visit for the tourists but some are really amazing spots to visit. The top ten Places of Islamabad are mentioned here.[10] Islamabad is the –  city & the Capital of Pakistan
Shah Faisal Mosque
The Faisal Mosque is really a master piece for the tourists. The Mosque is located in the Margalla hills & its four Minarets looks like missiles on the launching pad. In the evening its lighting adds magical beauty & feelings which is the beautiful view for the visitors. The Faisal Mosque is the gift of Saudi Arabia for the People of Pakistan. Its foundation was laid by the Late Shah Faisal of Saudi Arabia.[11]  Faisal Mosque is –  really a master piece for the tourists
Daman-e- Koh
Daman-e-Koh is located on the Margalla hills & is one of the beautiful places to watch. While Standing on Daman-e-Koh, one can view the Islamabad city below. There is lot of entertainment here for the tourists. There are couples of snack bars & Restaurants. Another major picnic spot on Daman-e-Koh is pirsohawa. The Government provides lot of facilities & lightening which makes it so beautiful.[12] Daman-e-Koh –  located on the Margalla hills
Rawalpindi
Rawalpindi is another beautiful place & located just near to the Capital Islamabad. This city is thousands of years old but its modern History starts with the British influence when they establish a military garrison in this town. There are beautiful places in it which are really watchable. The Military Head quarter is also in Rawalpindi. This city is a loveliest picnic point for the tourists.[13] Rawalpindi –  near to the Capital Islamabad
Talkinfish Seafood Restaurant
If you are in Islamabad & wants a dinner then the only place which comes in your mind is the Talkingfish Seafood Restaurant in Jinnah Super 7. This is an amazing & lovely place to spend some unforgettable moments here. So whenever you are in Islamabad, come to this elegant place to enjoy the natural view & meal.[14] Talkingfish Seafood Restaurant –  Jinnah Super 7
Rawal Lake in Islamabad
The Rawal Lake is an elegant picnic point for the tourists. It is located in Islamabad park area. Rawal dam was built in the lake in 1962 which has a storage capacity of about 47,500 acre feet. Here tourists can enjoy fishing, picnic & boating. There is also a terraced Garden on the side of the lake which provides splendid beauty to the visitors.[15] The Rawal Lake –  elegant picnic point for the tourists
Islamabad Zoo
Islamabad Zoo is an outstanding & beautiful picnic spot especially for the Children which are located at the base of Margalla hills. It is near the children play land. Here are number of animals, birds & variety of species which adds an extra beauty to this zoo. From here elegant Margalla hills can be viewed.[16] outstanding & beautiful –  picnic spot especially for the Children
Shakarparian Hills
Shakarparian is also a beautiful place & located near zero point. From here the twin cities Islamabad & Rawalpindi can be viewed clearly. The main special thing about the Shakarparian is that whenever any country head comes in Pakistan he/she plants a tree as a symbol of friendship. That's Strengthen the relations between two countries.[17] Shakarparian –  also a beautiful place
The Monal Restaurant
The road to The Monal undulates along the thick verdure of the Margallas as if etched in emeralds. It opens up both to the local and tourist a panorama of Allah's glory. The Faisal Mosque and the white rise of the Constitutional Avenue melt away picturesquely into the bucolic horizons of the Punjab and the Frontier.
Merely driving up to The Monal is an experience that the heart cherishes long after. Whether you choose to begin your journey whilst the sun shines down on the hills, or whether you prefer the romance of a moonlit drive, your experience shall remain unforgettable.[18] Whether you choose to begin –  The Monal Restaurant
Pakistan Museum of National History Islamabad
Pakistan Museum of National History IslamabadPakistan Museum of National History was established after 29 years of independence in 1976 which is located Garden Avenue, Zone-III near Shakar Parian Islamabad. There are amounts of historical items can be seen in National Museum of Pakistan. Pakistan Museum of National History Islamabad is opened for every one every day. It is historical place therefore educational institutions manage their trip to visit this museum for enhancing their knowledge. Foreigners love to visit national Museum of Pakistan to get information about the history of Pakistan.[19] Pakistan Museum of National  –  History was established after 29 years
Safa Gold Mall
Safa Gold Mall is home to just about every major fashion brand in the world and is on its way to become the next fashion capital of the world.Dining forms an integral part of the overall shopping experience. That is why Safa Gold Mall has gone the extra mile to bring in the finest culinary sensations from the four corners of the globe.A universe of family entertainment unfolds at Safa Gold Mall with mega attractions in epic proportions! It is a leisure and entertainment destination for the entire family.[20] Safa Gold Mall 
Lake View Park
Lake View Park (also called Rawal Lake Park) is situated on Murree-Islamabad Highway. While traveling from Islamabad to Murree a road turns right just before Barakahu and leads to this beautiful park. The newly constructed park has become a favorite picnic spot for people of Islamabad and Rawalpindi. It  is constructed alongside Rawal Lake, which is an artificial reservoir that fulfills water needs for cities of Rawalpindi and Islamabad.[21] Lake View Park 
Jasmine Park
Famous for its ravishing roses, the Rose and Jasmine Park is one of the perfect place for family picnics, reunions, camping, and also has a great play area for kids. The garden is home to some 250 varieties of roses as well as a dozen types of Jasmines. Seasonal flower shows are a regular feature of Rose and Jasmine Garden.[22] Jasmine Park – Jasmine Park