Gilgit Baltistan is, perhaps, the most spectacular region of Pakistan in terms of its geography and scenic beauty. Here world's three mightiest mountain ranges: the Karakoram Highway, the Handukuch and the Himalayas – meet. The whole of Gilgit Baltistan is like a paradise for mountaineers, trekkers and anglers. The region has a rich cultural heritage and variety of rare fauna and flora. Historically, the area ha remained a flash point of political and military rivalries amongst the Russian, British and Chinese empires. Immediately after the end of British rule in the sub-continent in 1947, the people of this region decided to join Pakistan through a popular local revolt against the government of Maharaja of Kashmir.
| Title | Description |
| --- | --- |
| Information | |
| Location: | Gilgit Baltistan |
| Nickname: | Heaven On Earth |
| Type: | Tourist place |
| Name: | Best places to visit in Gilgit Baltistan |
| Local Language Name: | گلگت بلتستان میں سَیروتفریح کےلئے بہترین مقامات |
| Coordinates : | 35.35°N 75.9°E |
| Details | |
| Lakes: | Stpara Lake, Naltar Lake, Attabad Lake,Khachora Lake, Rush LAKE,Crubar lake, Rama Lake, Khalti Lake, Borith Lake and Phander Lake |
| Valleys: | Hunza Valley, Nagar Valley,Bagrot Valley, Gojal Valley,Taisot Valley |
| Mountains: | K2, Laila Peak, Broad Peak and Muztagh Tower |
| Sights and Landmarks: | Baltit Fort, Karakoram Highway and Chaqchan Mosque and Khunjerab Pass |
| Districts: | Gilgit-Baltistan consists of seven districts |
| Names of Districts: | Gilgit, Skardu, Diamer, Ghizer, Astore, Ghanche, and Hunza-Nagar |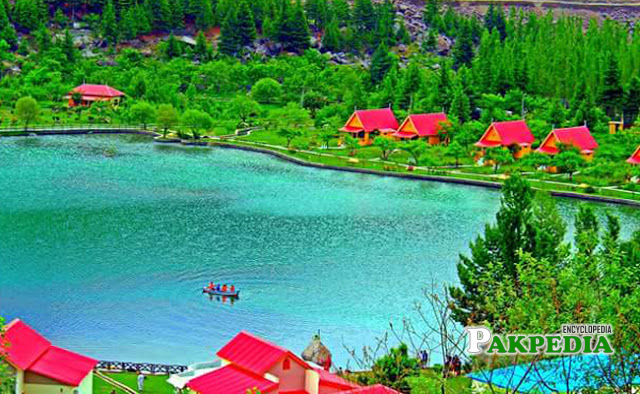 Details
Tourism
Everyone knows that Gilgit Baltistan is the most famous and amazing place to visit, no matter what the season is. It is the most spectacular region of Pakistan in the terms of its beautiful scenery and marvelous mountain ranges. There are many Places To Visit In Gilgit Baltistan to admire all the breathtaking views there. Gilgit Baltistan is like the paradise, including rich cultural heritage and a variety of things to do. In the spring season, the flowers and beautiful trees will make your visit unforgettable in the presence of lakes, hill stations and valleys. In summer, mountain climbing is the best way to explore this place. In the winter, skiing and all the snow activities are there for you to enjoy and autumn brings you the pure and eye-catching greenery everywhere.[1] Tourism –  Tourism 
Geography
Gilgit has an area of 38,000 square kilometers (14,672 sq mi). The region is significantly mountainous, lying on the foothills of the Karakoram mountains, and has an average altitude of 1,500 meters (4,900ft). It is drained by the Indus River, which rises in the neighboring regions of Ladakh and Baltistan. The Gilgit-Baltistan borders the Wakhan corridor of Afghanistan to the northwest, China's Uygur Autonomous Region of Xinjiang to the northeast, the Indian-controlled state of Jammu and Kashmir to the south and southeast, the Pakistani-controlled state of Jammu and  Azad Kashmir to the south, and Pakistan's North-West Frontier Province to the west.[2] Geography –  Geography 
TopValleysin Gilgit Baltistan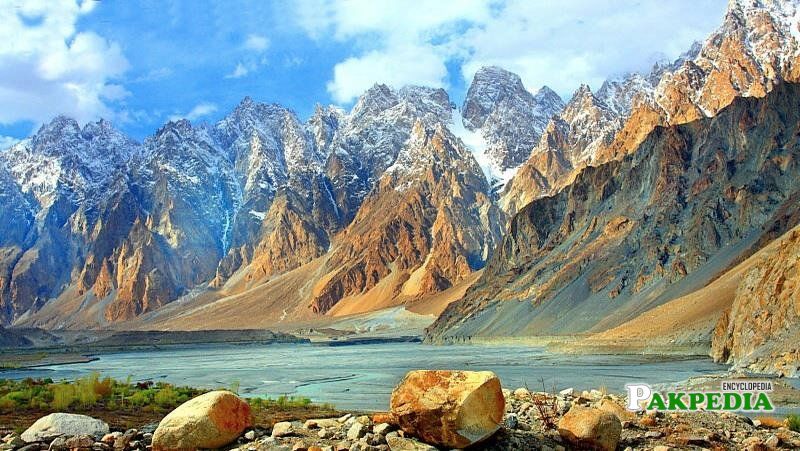 Hunza Valley
Hunza Valley is about 3 hours' drive from Gilgit. Hunza Valley is a mountainous valley in the Gilgit Baltistan province of Pakistan. Hunza Valley is at extreme north of Pakistan. Hunza valley is astonishing valley; it has many snow-packed mountains. This valley is consists of three regions i.e. Upper Hunza Gojal Valley, Central Hunza and Lower Hunza. Hunza Valley has great attraction for tourists, tourists all over the world visit Hunza Valley whole year but best time to visit Hunza Valley is from May to October. When we talk about the temperature of Hunza Valley, in May max temp is 26°C while minimum is 15°C and in October max temp 10°C and minimum temp 0°C. Explore Altit & Baltit Fort.[3] Hunza Valley –  Hunza Valley 
Nagar Valley
In the north of Pakistan lie an absolutely stunning district Nagar, previously known as Brushal, this place is a lakeside paradise. Nagar valley is situated at an elevation of 2,438m. Nagar Khas is the paramount of Nagar valley. Ghulmet, Minapin, BAR, Chaprote and Hopper Valleys are also admired tourist attractions in the Nagar region because of the spectacular scenery and bewildering views throughout the valley. It is situated at front of Hunza. Moreover Hooper is another most beautiful place in Nagar, a land of snow-clad mountains, but the sheer power of glaciers to carve out new landscapes makes them intricately gorgeous too. The valley is surrounded by Rakaposhi Mountain whereas the Diran Peak stands tall in Minapin.
Astore Valley
Astore Valley is located in Astore District in the Pakistani region of Gilgit-Baltistan. The valley, linked up Nanga Parbat to the east, is about 120 km. The entrance of the valley is courtyard, located about 60 km southeast of Gilgit. Astore is a desired location for the trekker and provide a spell bounding views to the nature enthusiastic and photographers. The valley has more than 100 villages including Gudai, Shekong, Dass Kariam, Loas, Louze, Chilm, Bubin, Gorikot, Parisheng Eid Ghah, Fina, Bulen, Chongra, Tari Shing, Rattu, Kamri, and Minimerg. Rama Lake and pastures are the most famous tourist attraction in the region. The climate of the valley changes according to the season, it's mild in summer and harsh in winters. Astore town is an excellent base for many of climbing, trekking and jeep riding activities. A broad area starting from the Nanga Parbat to Deosai and Kamri has enough of interest for tourists and adventure affector.
Gupis Valley
About 70 miles in west Gilgit along with river is a valley popularly known as Gupis. Gupis Valley in Ghizer district is full of beautiful landscapes and breathtaking views. The turquoise water of river flowing along the road and surrounding fields and forests presents are very charming for tourists. A few kilometers from the valley of Gupis there lie a charming lake is Khalti Lake. It is famous for being habitat of trout fish. The lake is formed due to stretch of river near the village of Khalti. In summer the lakes turn into dark blue add more charm to scene. The lake usually freezes during winter one can easily walk on. There is beautiful restaurant near the Khalti Lake.
Shiger Valley
One of the amazing wonders in Gilgit Baltistan, there lay a valley Shigar along with the Shigar River. It is about 170 km from Skardu. This is a great gateway to the Karakoram Mountains via Shigar. The town of Shigar is the largest settlement in valley, Shigar Fort, along  Amburik Mosque and Khilingrong Mosque. Khanqah e Muallah Shigar, Hashoo pi Bhag, Marapi Ranga. Ree masjid.K2 Basecamp, Astana of Syed Mir Yahya is some famous places of Shigar Valley. There are several villages in the valley. The valley is very fertile and rich in fruits apples, cherries, apricots, pears and walnut. The amazement of valley increased if one explores the mighty cold desert in the valley. The cold desert is one of its own kinds. The hanging clouds give the unforgettable experience of lifetime. Askole is the last station in the Shigar Valley, which is still far from the high mountains. The town is a popular site for tourists and trekkers and contains many historical buildings of architectural significance associated with the Noorbakhshi Sufi community.
Khaplu Valley
Khaplu is the administrative capital of the Ghanche District of Gilgit-Baltistan in Pakistan. It is one of the historical and ancient towns from Gilgit. Khaplu is the gateway to Masherbrum Peak lying 103 km in east Skardu; it was the second-largest kingdom of Yabgo dynasty. It guarded the trade route to Ladakh along the Shyok River.  In Khaplu there are many historical places like the beautiful Chaqchan Mosque and many others. Khaplu is only approachable by road. Khaplu Valley is much popular in tourist from all over world because of its panoramic views and provides a facility for mountaineering and trekking.
Skardu Valley
In the extreme north of Pakistan, Skardu the central valley of Gilgit-Baltistan is an epitome of beauty, serenity and wilderness. Paths to some of the world's highest mountains that includes K2, K3, and Gasherbrum; all are connected through this valley. These towering mountains attract thousands of climbers from all over the world each year; some have even lost their lives in efforts to summit these steep climbs. During the seven-hour journey, one is greeted with several streams, springs, and the hospitality of the local people. Some of the notable places of Skardu are off course its lakes Satpara and Kachura then the Shigar and Skardu Fort is the most famous places in all.
TopSights Landmarksin Gilgit Baltistan
Chaqchan Mosque Khaplu
The Masjid Chqchan means the Miraculous mosque in Khaplu, Baltistan built by Mir Sayyid Ali Hamadani or by Shah Syed Muhammad Nurbakhsh Qahistani Sufi in 1370(A.D) is one of the oldest mosque in Baltistan and Pakistan. It is one of Baltistan's most famous landmarks and a major tourist attraction. The Government of Pakistan also listed the inclusion of the Chqchan Mosque as a Pakistan Heritage Site Planning Khaplu trip won't be overwheling when you use's Insprock itinerary maker.[4] Chaqchan Mosque, Khaplu
Kharphocho Fort Skardu
Kharphocho Fort is located in Skardu. Add Kharphocho Fort and other attractions to in Skardu trip. Nice place to visit located at the main bazar of the Skurdu City. Its a trekking place nearly take 25 minutes to reach at the top depending upon your health dont forget to put water bottles in your bag because no facilities available there. There is 1 point which is extremely dangerous and difficult to climb. This place is not suitable for you if you've children or family.
Baltit Fort Karimabad
Survey the scenery from the upper terrace of Baltit Fort, an ancient clifftop fortress. In 1996, the fort became a museum, exhibiting artifacts belonging to Mir of Hunza and providing an overview of the historical heritage and culture of Hunza. On the ground floor, see the fort's storage chambers, then proceed to the large open hall on the first floor. Continue to the second floor, which contains an audience hall the quarters of those who used to live here. From the fort's terrace you can enjoy sweeping views of Rakaposhi. You have to climb up to the fort by foot, taking a path which will lead you along cobbled streets lined with old houses and stores, giving you a taste of the local lifestyle.
Deosai National Park Skardu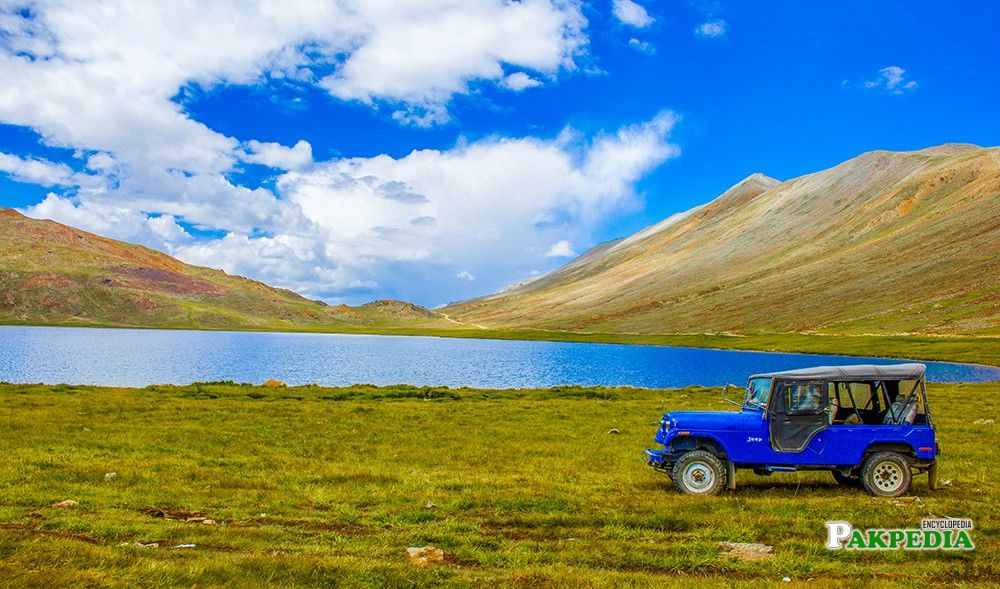 Explore the untouched nature with a hike through Deosai National Park–at 4,114 m (13,497 ft) above sea level, the world's second-highest plain. The snow cover that lasts much of the year makes access rather difficult, but in spring and summer it comes alive with an endless sea of alpine flowers. The area is known for its wide variety of both plant and animal species, from colorful butterflies to marmots and wild horses.
Satpara Lake
Satpara Lake is a natural lake near Skardu, Gilgit-Baltistan, Pakistan, which supplies water to Skardu Valley. It is fed by the Satpara Stream.Satpara Lake is situated at an elevation of 2,636 meters (8,650 ft) above sea level and is spread over an area of 2.5 km².The completion of Satpara Dam downstream of the lake has enlarged the size of Satpara Lake.
K2 Museum Skardu
K2 Museum is located in Skardu.K2 mueseum sponsered by Italian government and established on 50th anniversary of 1st successful ascent of K2 by Italian climbers. Located at Ptdc K2 Motel Skardu. The whole motel itself is a history. Great review of the flora and fauna and the various early attempts to scale K2. Great large scale photographs. This Museum is sponsored by the Italian Govt and is located int he grounds of the PDTC House.
Altit Fort
The majestic historical Altit fort is center of attraction due to its architectural design and strategic location. Altit is one of the oldest settlements of Hunza valley. During the time when Hunza was under the central government of Gilgit principality, Altit served as the capital and sitting place of Hunza. Altit is the birth place of the HunzaKingdom and Altit fort is the first fort of the region. During early period of former Hunza state Altit was the capital. The artisans from Baltistan who accompanied the wife of Mir Ayasho II constructed this fort during 1540s A.D.The fort has been constructed in six different stages by using various natural levels of the rock. The construction has been made right on the edge of a sheer rock cliff that drops 1000 feet straight down to the Hunza River.[5] Altit Fort –  Altit Fort 
Kharpocho Fort
Gilgit-Baltistan is an undisputed paradise for tourists. It is an embodiment of nature's perfection. The most popular destination in Gilgit-Baltistan is Skardu Fort is situated in Skardu. This fort is an excellent example of mastery of ancient engineering techniques. Skardu Fort named as Kharfocho Fort is the definite crown jewel of the city. Kharpocho fort which means king of forts in Balti is the mesmerizing site for a tourist. Fort stands at a height of 40 m above the city. Monarchs of Baltistan built this seven storey fort. An instinctive wad of stone and rock along with the rough edges make it look like being forged out of the mountain itself. This fort dates back to 8th century CE.[6] Kharpocho Fort – Kharpocho Fort
Khilingrong mosque
Khilingrong mosque is located in Shigar town of Shigar valley at an altitude of 2300 m. It is in the vicinity of the restored Shigar Fort. It was constructed in the earlier years of 17th century which makes this structure more than 400 hundred years old. Khilingrong mosque is a unique two storey wooden building, with the  ground floor used in winters and first floor mainly in summers. The mosque was built in the traditional way using stone and timber, with cribbage columns, and exquisitely carved motifs with geometrical and floral patterns in abundance.  As was the tradition, emanating from the region's Buddhist influence, the mosque is topped of with a Tibetan Tower. [7] Khilingrong mosque – Khilingrong mosque
TopMountainsin Gilgit Baltistan
K2 Mountain
The one of most famous trekking route in the world is K2 base camp, a strenuous and demanding but rewarding as well..whole journey is full of scenic views, K2 stands so proud with steep slopes giving it look to die for. For long treks, like K-2 is strenuous. You need to be an accomplished hiker : fit and strong,. The routes do not always follow trails, and the terrain is frequently rough, with loose rocks, hills, exposed edges, and stream crossings.[8] K2 Mountain –  K2 Mountain 
Base Camp Nanga Parbat
Base Camp Nanga Parbat is located in Gilgit. To visit Nanga Parbat base camp was a dream come true and the best way to do it is to hike if you have stamina else you can hire a pony and you get everything at Fairy Meadows but I recommend to take snacks to munch on with you.The staff at cottages are super frinice belt and helpful, you just need to ask, it's a 2 hour trek from Fairy Meadows to Bryan a base camp or view point which again is awe inspiring and it's a must do if you are in Pakistan.
Rakaposhi
Eric Shipton called the Hunza vallay "the ultimate manifestation of mountain grandeur". Rakaposhi is valley's most famous peak. The huge massif dominates the skyline for a vast stretches of the Karakoram highway, first seen North of Aliabad yet still visible as far south as Gilgit. The peak is located in the Rakaposhi-Haramosh range which forms the south-western corner of the Karakoram and is part of the Lesser Karakoram. The mountain is extrememly broad measuring almost 20km from East to West. It is the only peak on Earth that drops directly, uninterrupted, for almost 6000m from the summit to the base. Besides the highest peak of the Rakaposhi massif is Rakaposhi East (7010m). The peak also holds significant value to Geologists as it is the prow of the Eurasian land mass with Nanga Parbat representing the prow of the Indian land mass.[9] Rakaposhi –  Rakaposhi