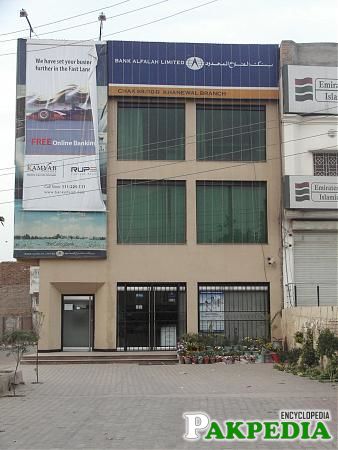 Bank Alfalah Limited Building
Bank Alfalah Limited Bulliding View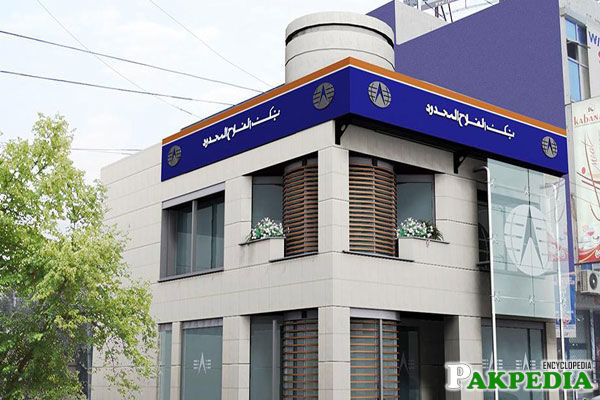 Bank Alfalah Limited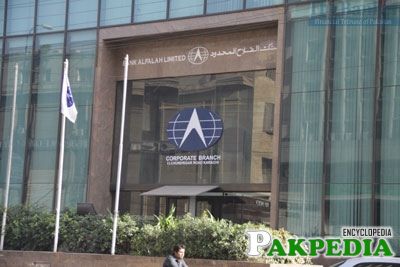 Bank Alfalah Limited
Bank Alfalah Limited
History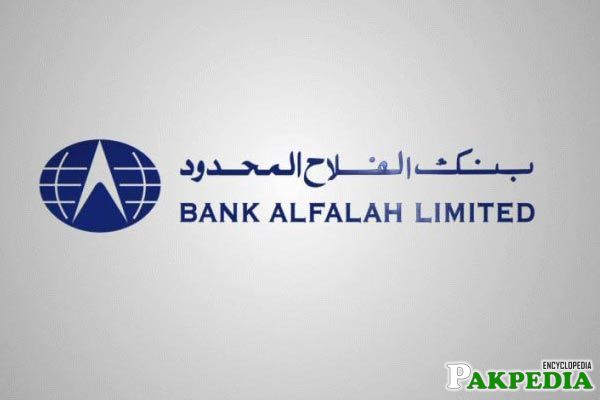 Bank Alfalah Limited was launched on June 21, 1997 as a public limited company under the Companies Ordinance 1984. The bank commenced its operations on November 1,1997. The bank introduced commercial banking and related services as defined in the Banking companies ordinance, 1962.After a few years, the bank introduced its new identity of H.C.E.B after the privatization in 1997.The management of the bank had implemented strategies and policies so the bank would become a major player in the market. With a partnership with the Abu Dhabi Group the position of the bank became stronger which allowed the bank to invest more in revolutionary technology to increase its range of products and services.
Bank Alfalah Limited was incorporated on June 21st, 1992 as a public limited company under the Companies Ordinance 1984. Its banking operations commenced from November 1st ,1997. The bank is engaged in commercial banking and related services as defined in the Banking companies ordinance, 1962. The Bank is currently operating through 195 branches in 74 cities, with the registered office at B.A.Building,I.I.Chundrigar, Karachi.Since its inception, as the new identity of H.C.E.B after the privatization in 1997, the management of the bank has implemented strategies and policies to carve a distinct position for the bank in the market place.Strengthened with the banking of the Abu Dhabi Group and driven by the strategic goals set out by its boardof management, the Bank has invested in revolutionary technology to have an extensive range of productsand services.This facilitates our commitment to a culture of innovation and seeks out synergies with clients and service providers to ensure uninterrupted services to its customers. We perceive the requirements of our customers and match them with quality products and service solutions. During the past five years, we have emerged as one of the foremost financial institution in the region endeavoring to meet the needs of tomorrow today.[1] Bank Alfalah History
Bank Alfalah Car Financing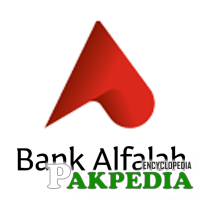 Alfalah Auto Loan is a popular product of Bank Alfalah. Alfalah Auto Loan provides flexible auto-financing options for those who wants to own a car. It also gives the customer ease of choosing a suitable payment plan, customers can calculate Monthly Loan Payment through Alfalah Car Loan Calculator. Moreover, the whole process is hassle-free and quick. 
Bank Alfalah also have Alfalah Car Ijarah which is designed according to the principles of Shariah. Alfalah Car Ijarah is considered completely interest-free.
KEY FEATURES AND BENEFITS
Bank alfalah car financing calculator gives Residual Value option which can lower monthly installment. For selected cars, Bank Alfalahas customer can pay a lump sum balloon payment (up to 50% of Financing Value) at the end of the financing tenure for increased affordability and ease of repayments.
Alfalah Auto Loan gives the option of choosing a new, used, or imported vehicle. The Loan tenure ranges from 1-7 years. Alfalah Auto Loan offers fixed and variable pricing plans. For imported (new/used) and brand new locally manufactured vehicles, one can get financing up to PKR 6,000,000. For used locally manufactured vehicles, the financing limit is PKR 4,000,000. Another salient feature of Bank Alfalah Car financing is that there are no charges on car replacement. Special comprehensive insurance rates offered by Bank Alfalah makes Alfalah Car finance more attractive. Moreover, Alfalah Auto Loan also gives the option of paying insurance and registration charges in installments instead of paying upfront. Not only it reduces the down payment, but it also increases customers affordability. 
BANK ALFALAH CAR FINANCING CALCULATOR
Bank Alfalah has an installment car loan calculator available on its website for calculating monthly installment on Bank Alfalah Car Loan. The installment calculator can be used to find out markup rate options. One has to input total value of the car, down payment, financing (banks participation), and total financing years. The Bank Alfalah Car Loan calculator will output current markup rates and approximate equal monthly installment (EMI). This online calculator with same functions can also be accessed on PakWheels.com 
ELIGIBILITY FOR BANK ALFALAH CAR FINANCING
A Pakistani national having a stable and verifiable income source can apply for Bank Alfalah car financing. The age range for a self-employed/other it is 21-65 and for a salaried person (Government/Semi-Government, and Armed Forces employees) is 21-60 years. The other category includes professionals (Charted Accountants, Doctors, and Consultants), self-employed individuals, landlords, housewives, and retired individuals who can apply for Bank Alfalah Car Finance.
Required Documents
For Alfalah Auto Loan, required documents are passport size photographs, a copy of CNIC, last six months bank statement, and salary certificate. Moreover, SBP undertaking on Loans availed and monthly liabilities is also required. Required documents may vary depending on the profession or source of income of the customer. 
[2]
Bank Alfalah Car Finanicing
Bank Alfalah Programs
Sahara
Retirement is that stage of life when you want to live your dreams, spend comfortable and relaxed life with your loved ones, free of all the worries. However it may also be a time of financial anxiety as sources of income become limited and expenditures multiply.
Jubilee Life presents you Sahara Plan to help you save for joyful and comfortable retirement and fund the lifestyle you want in retirement. Sahara Plan is a unit-linked endowment plan that acts as a protective cover while you save for your retirement, and provides you with regular pensions once you retire. [3] Bank Alfalah Sahara Programme
Roshni
As parents, we all dream about fulfilling our childs dreams and aspirations. We strive to ensure that we provide them the best of everything a good life, good education, and finally a splendid wedding.
Jubilee Life presents Roshni Plan to safeguard your childs education and ensure that your loved ones stay financially secure in your absence. It is a life insurance product specially designed as a savings tool to provide your child flexible educational benefits. [4] Bank Alfalah Roshni Programme
Bank Alfalah Islamic Banking
Bank Alfalah Islamic Banking was established as a dedicated Islamic Banking Division within Bank Alfalah Limited in 2003 to offer its customers products that are Shariah compliant. By introducing Islamic financial solutions, we are fulfilling our promise of being responsive to our customers needs
Bank Alfalah Islamic Banking comprises a team of qualified professionals who design and structure Islamic financial solutions and ensure that they are in line with Shariah principles on Islamic banking and finance. These solutions are developed under the guidance of a dedicated Shariah Advisor. [5] Bank Alfalah Islamic Banking
Board of Directors
H.H. Sheikh Hamdan Bin Mubarak Al Nahayan
Chairman
Abdulla Nasser Hawaileel Al-Mansoori 
Director
Abdulla Khalil Al Mutawa
Director
Khalid Mana Saeed Al Otaiba
Director
Kamran Y. Mirza
Director
Atif Bajwa
Director & CEO
Efstratios Georgios Arapoglou
Director
Khalid Qurashi
Director [6]

Bank Alfalah Board of Directors
Address
Satyana Rd, Faisalabad 38000
Hours: Closed today 
Phone: (041) 8559640