Bahadur Shah Zafar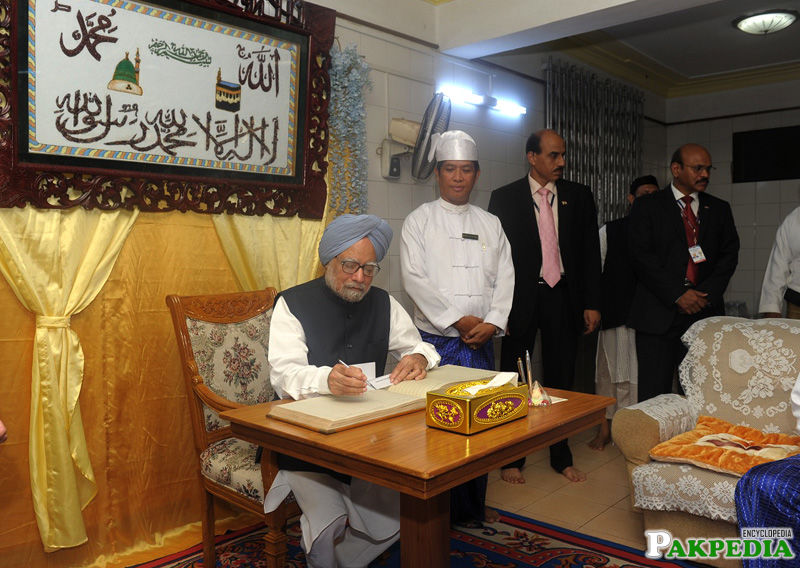 Prime Minister, Dr. Manmohan Singh signing the visitor's book during his visit to the Mazar of Bahadur Shah Zafar, in Yangon, Myanmar on May 29, 2012.
Zafar Mahal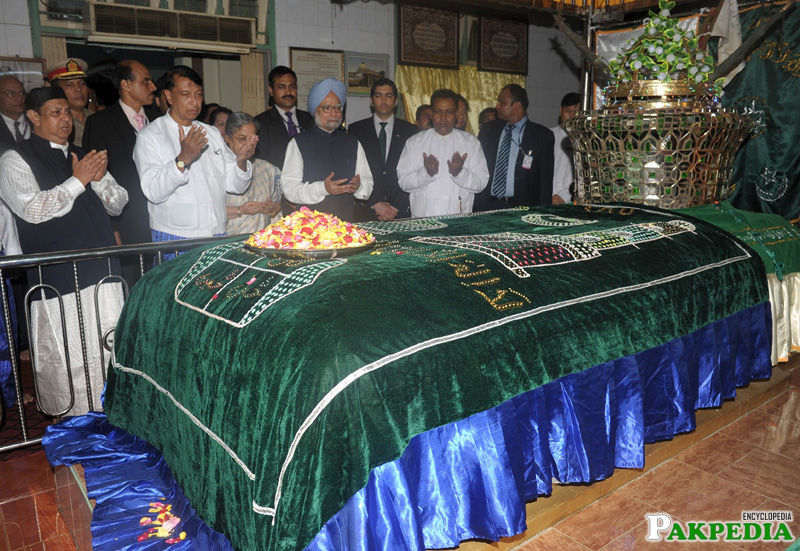 Prime Minister, Dr. Manmohan Singh and his wife Smt. Gursharan Kaur pray after offering chadar at the Mazar of Bahadur Shah Zafar, in Yangon, Myanmar on May
Bahadur Shah Zafar
Personal Life
 Akbar Shah Saani II, father of Bahadur Shah Zafar, had a difficult time holding on to his Mughal Empire under the accelerating control of British Empire over India. The East India Company even took off his name and details from the currency of India of that time. He had to give up his throne but he was not in favor of Zafar succeeding him. His queen, Mumtaz Begum, was pressurizing him to make her son, Mirza Jahangir, as the king after him. But before any of that could happen, Mirza Jahangir had got into great conflict with the British Empire and the British made sure that did not happen.
[2]
Personal  Life 
Major Works
As Emperor
Bahadur was the son of
Akbar Shah
II and his Hindu wife Lalbai. Over 60 when he became Emperor, he inherited little territory apart from the city of Delhi, itself occupied by the British since 1893. In fact, any authority he did have barely extended outside the Red Fort. The last Moghul to exercise any real authority had been Alamgir II, and he had ruled as a puppet of the Afghan King, Ahmad Shah Durrani and as a tool in the hands of his own vizier, who made him emperor and later killed him. The Moghuls were already impoverished (ever since the 1739 Persian sack of Delhi under Nader Shah) when the Peacock Throne, Koh-i-Noor diamond and the contents of the state treasury, were carried off.Alamgir's own son, Shah Alam II became the first Moghul to live as a pensioner of the British (1803-1805). His son, Shah Bahadur II's father, Akbar enjoyed the title of emperor but possessed neither money nor power. Legally agents of the Mughal emperor under the Treaty of Allahabad (1765) when Shah Alam II surrendered them the right to collect taxes in Bengal, Orissa, and Bihar, the British maintained the fiction that the emperor was sovereign while extending their own power and authority at the expense of his. The emperor was allowed a pension and authority to collect some taxes, and maintain a token force in Delhi, but he posed no threat to any power in India.
[3]
Bahadur shah zafar   as emperor 
As A Poet
 Regarded as one of the greatest Urdu poets in the history of India, Bahadur Shah Zafar wrote a large number of Urdu Ghazals most of which were lost during wars fought in the year 1857. Yet, many of them were saved and were later on compiled as Kulliyat-I-Zafar. His Ghazals are a beautiful collection of words that spell magic and are read with awe and admiration even today. In his court, there boomed many Urdu poets like Ghalib, Dagh, Mumin and Zauq. It is said that during his exile, he was not even given a pen and paper to jot down his thoughts. He used to write his poetry on the walls with black ink. 
[4]
Bahadur Shah Zafer  As a Poet 
As A Religious Man
Zafar was a follower of Sufism. He used to speak the message of sufisim and used to take disciples under him. The newspaper of those times called the Delhi Urdu Akhbaar declared him as a Sufi saint. In his youth, Zafar used to dress up very normally even when he could have dressed up lavishly like the other members of his royal family. He tried to live ad be like a poor scholar. He acquired the highest teachings in the mystical studies of Sufism. In the course of following Sufism with his full dedication, he also got attracted to the magical and superstitious side of Sufism. He thought himself to be spiritually powerful enough to cure people of their problems and despair. He used to practice the charms to ward off evil. He used to often get involved in performing rites to cleanse himself of the effects of the evil eye. He used to keep pirs, magicians and Hindu astrologers in his court, and used to take their advice on important matters. Sacrifices of domestic animals and ample donation to the poor and unfortunate were regularly made to ward off the evil. Zafar was of the view that Hinduism and Islam are essentially made of the same element. He followed this philosophy in his own empire by having a composite culture, including the Hindus and Muslims in his court. He used to celebrate Hindu festivals in his court. For example, during the festival of Holi he used to spray colors on his wives, friends and relatives and during Dusshera he used to distribute gifts to his Hindu officers and courtiers. All of this is to present a picture of how Zafar was sensitive towards Hindu religion.Read more at 
Family
Bahadur Shah Zafar is known to have had four wives and numerous concubines. In order of marriage, his wives were:
[5]
Bahadur Shah Zafar  Family 
Begum Ashraf Mahal
Begum Akhtar Mahal
Begum Zeenat Mahal
Begum Taj Mahal
Zafar had 22 sons, including:
Mirza Fath-ul-Mulk Bahadur (alias Mirza Fakhru)
Mirza Mughal
Mirza Khazr Sultan
Jawan Bakht
Mirza Quaish
Mirza Shah Abbas
He also had at least 32 daughters, including:
Rabeya Begum
Begum Fatima Sultan
Kulsum Zamani Begum
Raunaq Zamani Begum (possibly a granddaughter)
Most of his sons and grandsons were killed during or in the aftermath of the rebellion of 1857. Of those who survived, the following three lines of descent are known:
Delhi line - son: Mirza Fath-ul-Mulk Bahadur (alias Mirza Fakhru); grandson: Mirza Farkhunda Jamal; great-grandchildren: Hamid Shah and Begum Qamar Sultan.
Howrah line - son: Jawan Bakht, grandson: Jamshid Bakht, great-grandson: Mirza Muhammad Bedar Bakht (married Sultana Begum, who currently runs a tea stall in Howrah).
Hyderabad line - son: Mirza Quaish, grandson: Mirza Abdullah, great-grandson: Mirza Pyare (married Habib Begum), great-great-granddaughter: Begum Laila Ummahani (married Yakub Habeebuddin Tucy) and lived with her children in anonymity for years (her surviving sons Ziauddin Tucy is a retired government employee and Masiuddin Tucy is a food consultant).
Descendants of Mughal rulers other than Bahadur Shah Zafar also survive to this day. They include the line of Jalaluddin Mirza in Bengal, who served at the court of the Maharaja of Dighapatia, and the Toluqari family, which also claims to be descended from Baron Gardner.
Acsension Reign
He became the 17th Mughal emperor on 28 September 1837 after the death of his father. In fact, he had not been his father's preferred choice to succeed him. Akbar II was planning to name Mirza Jahangir, son of his wife Mumtaz Begum as the successor but could not do so after Mirza Jahangir got into serious conflict with the British.
Zafar was not an ambitious person and did not exercise much power even after becoming the emperor. The British, who were by now gaining much political control over India, did not consider him to be a threat.
His empire barely extended beyond Delhi's Red Fort; he had power only over a limited area of land though he had the authority to collect some taxes and to maintain a small military force in Delhi.
As an emperor he saw to his best that all his subjects belonging to different religions were treated fairly. He believed in the equality of religions and felt it was his duty to protect the religious rights of the Hindus along with the Muslims.
During his reign, he ensured that the major Hindu festivals like Holi and Diwali were celebrated in the court. He was very sensitive towards the religious sentiments of Hindus and did not support the extremist views of some Orthodox Muslim sheikhs.
He was a devout sufi, a poet and a dervish. He was a noted Urdu poet who composed several ghazals which were known for their emotional and intense content. He was a prolific writer and even though much of his poetry collections were destroyed in the Indian Rebellion of 1857, the remainder of his poems was later complied into Kulliyyat-i-Zafar.
In 1857, as the Indian rebellion against the British was spreading, Sepoy regiments seized Delhi. Rebelling Indian kings felt that Zafar would be the most suitable person to be the Emperor of India under whom the smaller kingdoms would be united in the fight against the British.
He gave his public support to the rebellion and even appointed his son Mirza Mughal as the commander in chief of his forces. Mirza Mughal was very inexperienced, and did not lead the army competently. The city's administration was in disarray and the army was in a chaos.
When it became apparent that the British would emerge victorious, Bahadur Shah sought refuge at Humanyun's Tomb at the outskirts of Delhi. However, British officials led by Major William Hodson discovered his hiding place and forced him to surrender on 20 September 1857.
Many male members of Zafar's family including his sons Mirza Mughal and Mirza Khizr Sultan were killed by the British, while the surviving members, including Bahadur Shah himself, were imprisoned or exiled.
Bahadur Shah Zafar was exiled to Rangoon, Burma, in 1858, along with his wife Zeenat Mahal and some of the of the remaining members of the family.[6] Acsension and Reign  thefamouspeople.com
Events of 1857
As the Indian rebellion of 1857 spread, the Indian regiments seized Delhi and acclaimed Zafar their nominal leader, despite his own reservations. Zafar was viewed as a figure who could unite all Indians, Hindu and Muslim alike, and someone who would be acceptable to the Indian princes as sovereign. Zafar was the least threatening and least ambitious of monarchs and the restoration of the Mughal Empire would presumably be more acceptable as a uniting force to these rulers than the domination of any other Indian kingdom. Now an octogenarian, Zafar did—although he had deep reservations—allow his name to be used as titular leader of the revolt. War of independence is a more appropriate description, although because the war began with soldiers in the employment of the British, rebelling against their officers, it was called a "mutiny." Whatever description is preferred, it was a war in which the people of India rebelled against rule by a foreign, colonial power and in allowing his name to be used Shah Bahadur II did so as the legal sovereign of, in theory, a large part of India. Sadly, he then saw what had been a thriving city of culture, and a city at peace, transformed into a bloodbath of death and destruction.
[7]
Events of  1857 
When the victory of the British became certain, Zafar took refuge at Humayun's Tomb, in an area that was then at the outskirts of Delhi, and hid there. British forces led by Major Hodson surrounded the tomb and compelled his surrender. Numerous male members of his family were killed by the British, who imprisoned or exiled the surviving members of the Mughal dynasty. Zafar himself, found guilty of treason, was exiled to Rangoon, Burma (now Yangon, Myanmar) in 1858 along with his wife Zeenat Mahal and some of the remaining members of the family. His trial could not have been legal. Nonetheless, it marked the end of more than three centuries of Mughal rule in India. The British declared Victoria of the United Kingdom as sovereign (later Empress} of India, which itself indicates that she did not claim sovereignty before 1858. Bahadur Shah died in exile on November 7, 1862. He was buried near the Shwedagon Pagoda in Yangon, at the site that later became known as Bahadur Shah Zafar Dargah. His wife Zinat Mahal died in 1886 
Legacy
Modern India views him as one of its first nationalists, someone who actively opposed British rule in India. In 1959, the All India Bahadur Shah Zafar Academy was founded expressly to spread awareness about his contribution to the first national freedom movement of India. Several movies in Hindi/Urdu have depicted his role during the rebellion of 1857, including Bahadur Shah Zafar (1986) directed by B.R. Chopra. In 2002 Arjeet gupta directed a short TV film about his living descendants, The Living Moghuls: from Royalty to Anonymity. There are roads bearing his name in New Delhi, Lahore, Varanasi and other cities. A statue of Bahadur Shah Zafar has been erected at Vijayanagaram palace in Varanasi. In Bangladesh, the Victoria Park of old Dhaka has been renamed as Bahadur Shah Zafar Park. His poetry remains a cultural legacy of value. He was as much a victim of circumstances as a maker of history, yet he can be credited with sustaining pride in India's past and with nourishing, in Delhi where he did have some authority, a multi-religious society that reflects the best periods of the Mughal heritage, rather than its more intolerant episodes.