Biography
Dr Badshah Munir Bukhari achieved his Phd degree in Urdu literature and linguistics from Peshawar university. Earning a PhD degree in the youngest age is another distinction of him. He has attained 24 professional trainings so far for six he went abroad.
Achievements
The list of Dr Badshah bukhari is very long. He is a man with exceptional qualities. At a very young age he achieved such milestones and honors for himself and for Pakistan off course that usually are assumed to be achieved only when u have 15-20 years of experience. The list includes: 
[1]
Achievements
 He is the only Pakistani on the World Linguist List
 He is the member of Linguistic Society America and International Phonetic Alphabet Association (IPA).
 He has added four new sounds to the (IPA) list which were discovered in Chitrali dialects like Yadgha, Palola, Kalasha and Gwarbati. 
It is an honour that Dr. Bukhari is the first writer of Khyber Pakhtunkhwa whose book on comparative Linguistics "Linguistics Linkages in Urdu and Khowar" is published in 2003 by National Language Authority Islamabad. 
Apart from this, his four books have been published on linguistics.
 Dr Bukhari is an editor of a Research Journal Khayaban. Twenty eight volumes of this journal have been published so far.
 Again Dr. Bukhari proves the first to coin alphabets for eleven languages of northern areas and northern Afghanistan as something not done before. He also registered these alphabets of the World Unity Code Authority. 
Besides, he also uni-coded Urdu, Pashto, Hindku, Dari and Khowar that made typing, reading and searching of these languages on computer possible. 
His 47 research papers and 58 book reviews have been published in recognized research journals.
Dr. Bukhari's books are taught in six world reputed universities and nine universities of Pakistan as comparative linguistics course. Earning a gold medal, throughout he holds marvellous academic record.
 He is a member of National Curriculum Committee and National Curriculum Review Committee. For the first time, Dr. Badshah Munir Bukhari formally introduced phonetics in Pakistan that are now equally followed. 
Internationally recognized personality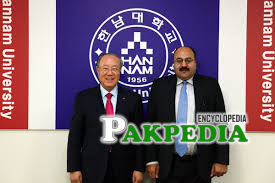 Dr Badshah Munir Bukhari is or only famous on national level, His tremendous work for linguistics was also recognized internationally. 
[2]
international
He presented his research papers in seminars and conferences in Finland, Turkey, South Korea, China, England, Dubai and America. On the basis of these conferences, he was re-invited for lectures and workshops in Turkey, Korea and USA. 
He is a part of the editorial board of the two national research journals and three international research journals.
He is the youngest approved supervisor of Higher Education Commission in the field of Linguistics and Literature. Under his supervision seven PhDs and four M.Phil researches have been conducted so far. Eight PhD scholars are doing their research under his supervision.
He has attended 29 national and 25 international research conferences, seminars and workshops. His research proceedings have been published in 19 different universities and institutions.
 His authored two chapters are included in the curriculum of Allama Iqbal Open University and one chapter is included in the curriculum of Shah Latif University Khairpur. 
He has an extensive experience of e-translation. He has done the Urdu e-translations of all windows of Microsoft introduced since 2005. 
He has also done all work of the Nokia mobile and facebook Urdu version.
 He has accomplished 25 research projects each worth a million uptil now.
Other services
He has worked on various administrative posts in the University of Peshawar. He has been discharging an additional duty of the Director Planning and Development for four years. He prepared 'Distance Education Plan' that was launched by the
Higher Education Commission
in the biggest universities of Pakistan. Institute of Peace and Conflict Studies and Centre for Social Invention are also his plans that have now been made functional in the University.  He has also conducted Linguistic Survey of Northern Pakistan, Afghanistan and Citizen Satisfaction Survey that are the greatest surveys of their nature in Pakistan.
Publications
He is a translator of Urdu, Pashto , Khowar and Dari . He published on the following languages of North Pakistan and Afghanistan: 
[3]
publications
Askunu language
Kashmiri
Dameli Language
Dari
domaaki
Gawar-bati
kalasha
kamkata-viri
Khowar
kohistani of the Indus
nangalami
Nourishing languages
Urdu
Pashto
pashayi
Palula language
prasun (vasi-vari)
shina
shumashti
tregami
waigali .
Books
He has also penned down following books as a part of his service to linguistics:
[4]
Books
How to learn another language (How to learn another language)
Linguistics research methodology for the languages of Pakistan and Northern Afghanistan ( Linguistics Research Methodology for the Languages of Pakistan and Northern Afghanistan )
Languages of Pakistan (Pakistan Languages)
Pashto Language Manual (Manual Pashto language)
Learn Urdu in 45 days (Learn the ordn in 45 days)
Learn Dari in 45 days (Learn Dari in 45 days)
Learn Pashto in 45 days (Learn Pashto in 45 days)
Speaking Pakistani Pashto (Talking Pakistan Pashto )
Today's Grammar of Khowar ( Today's Khowar Research Grammar) 
He is a poet in the Urdu language . He contributed to a five-volume account of the roots of the language currently used in Pakistan. His contribution focuses on the similarities between Urdu and Khowar.
PD of Chitral University
On March 12,2017 The KP government has finalized the name of Prof Dr Badshah Munir Bukhari as the project director (PD) of the new Chitral University. A notification in this regard was issued in this regard. It may be noted that in the fiscal year 2016-17, the provincial government had planned to set up a new university in Chitral. Since then, work on the university has been progressing in phases with the latest one being the hiring of the PD. Before this, a summary containing the names of Dr Ismail Wali from Chitral, Prof Mumtaz Hussain from Swat and another professor had been sent to Chief Minister Pervez Khattak. However, the chief minister rejected the summary and sought another list of names. Later, the name of Dr Jamil Chitrali was sent to the chief minister which was also not approved. Finally, the name of Prof Bukhari was presented to the CM which he approved as the PD. It may be noted that Dr Bukhari has worked on different key posts at the Peshawar University.–Karimullah. 
[5]
Chitral