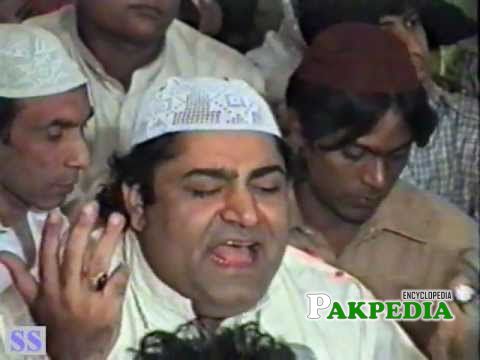 Qawwal
Singer
Badar Miandad
Dum Dum HUSSAIN Mola HUSSAIN (A.S) Kalam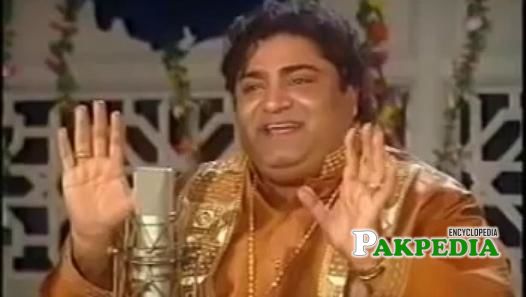 Ghazal Singer
Biography
Badar Miandad Qawwal was an accomplished qawwal of
Pakistan
who made a name for himself competing with that renowned icon qawwal Nusrat Fateh Ali Khan while he was still living ! Nusrat Fateh Ali Khan was his cousin and both of them come from a family of qawwals who have been in this business for many generations.Badar Miandad's grandfather Deen Muhammad Jallandhri Qawwal,affectionately nicknamed by the Punjabi public as 'Deena Qawwal' for his pioneering efforts in developing qawwali in the Punjabi language.Deena Qawwal is a legend among the Punjabi public with dozens of super-hit qawwalies to his credit.Badar Miandad himself created more than a dozen of super-hit qawwalies.
[1]
Biography
Career
The late Badar started enthralling qawwali lovers in 1975 and by the mid 80s he had earned fame. He composed the music of some of the Bollywood films, including Virod, in which Salman Khan was in the lead role. Pakistan film industry also benefited from his enormous talent. He composed the music of Chupkay Chupkay, Janat Ki Talash and But Shikan.
Famous Qawwali
His famous qawwalis are: Dam Dam Hussian Maula Hussian, Jashan-e-Aamad-e-Rasool, Tu Nahi Tay Tairiyan Yadan Sahi and Ganj Shakar Walian Da Raja.The most radiant feature of his style was that he mixed classical with folk.
[2]
Famous Qawwali
Familiarity
Badar had made his name when Nusrat Fateh Ali Khan was alive because and in Nusrat's times no other qawwal could compete him.
Award
Badar had been nominated for Pride of Performance award.
Fond of
Badar was fond of all sufi poets and had done qawwalis based on the poetry of Bulhay Shah, Hazrat Sultan Bahu, Hazrat Baba Farid, Shah Hussain, Mian Muhammad Buksh and Hazrat Ameer Khusro.
List of KalaamPoetry
Dam Dam Hussain, Maula Hussain
Jashan-e-Amad Rasool, Allah hi Allah
Kalam-e-Sultan Bahu 24MB 
Ratan Diyan Needran 
Sajan Ke Bin 
Bai Ja Mahi 
Dil To Jerai 
Haseeno Ka Hai 
Ishq De Roog 
Mere Dham Wich Hardam Ali Ali 
Na Javeen Dholna[3]  List of Kalaam/Poetry 
Death
He died of a sudden heart attack at the young age of 45 in 2007.