ANP Members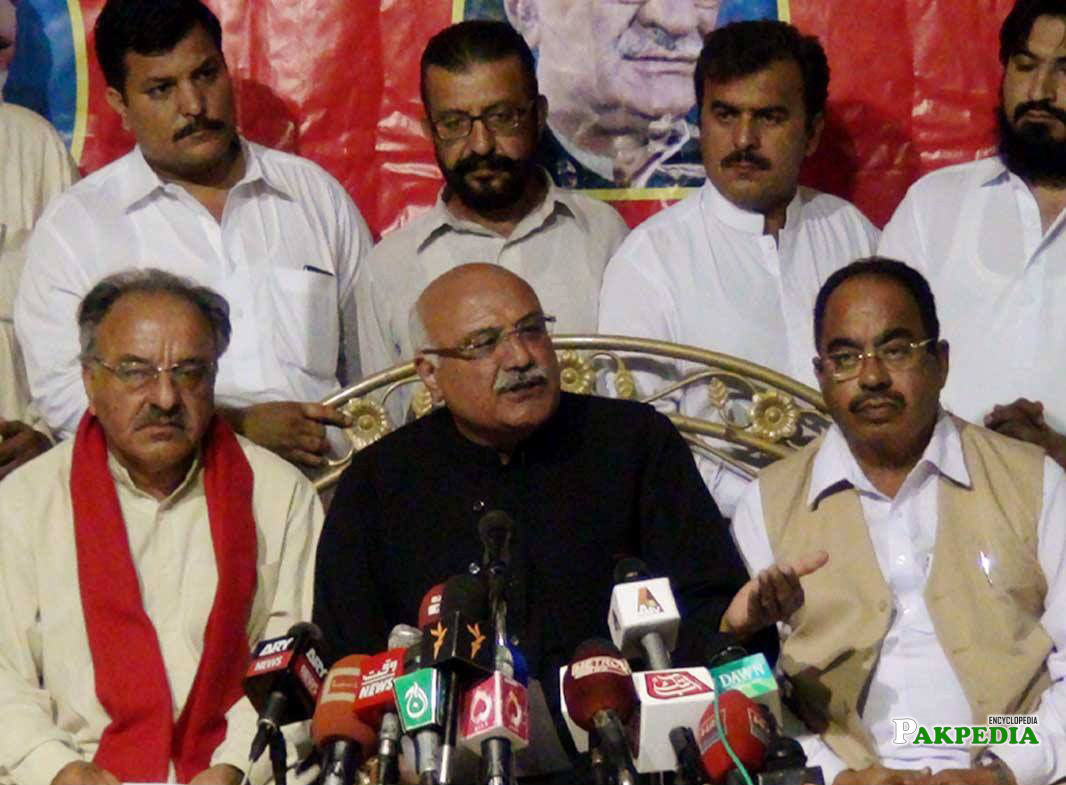 General Secretary Mian Iftikhar Hussain in front of Media
ANP Rally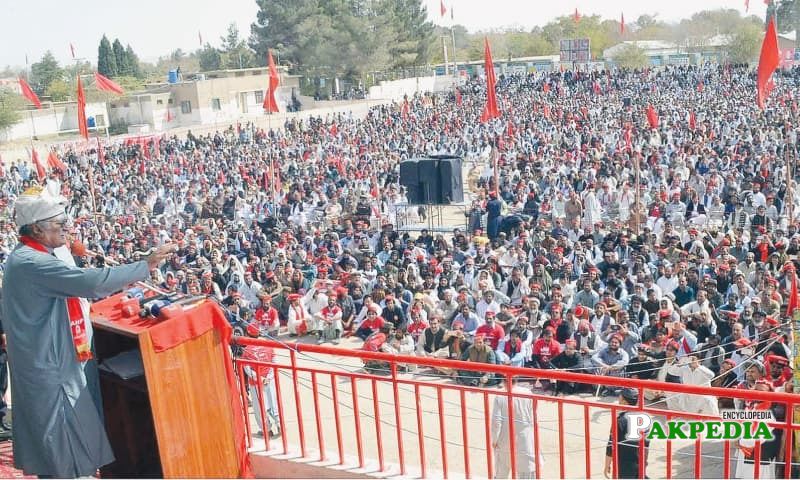 Awami National Party chief Asfandyar Wali Khan addresses a public meeting
ANP Flag
History
Origins of Party
The origins of the Awami National Party (ANP) can be traced back to
Bacha Khan
's Khudai Khidmatgars (KK) party in the 1930s a leftist, anti-imperialist and secular movement.The ANP has seen several ups and downs in its fortunes and while it remains ostensibly secular, much of its leftist agenda seems to have been replaced by de facto pragmatism.The party is dominated by the Wali Khan family and the Bilour family, and has transitioned to focus more on Pakhtun nationalism as part of its agenda. It most recently held 13 seats in the National Assembly and 12 in Senate.
Banned the Party
Zulfikar Ali Bhutto
banned National Awami Party (NAP) after the assassination of
Pakistan Peoples Party (PPP)
leader Hayat Mohammad Khan Sherpao. At the time, Bacha Khan's son, Khan Abdul Wali Khan, who had a crucial role in NAP, was suspected of involvement in the killing and was arrested and sent to
Sahiwal
jail.
Party Founded
Later in 1986, NAP re-emerged as Awami National Party under Wali Khan's leadership. Although the party's cadre comprised of Sindhi, Baloch and Pakhtun nationalists, it eventually boiled down to a group representing the Pakhtuns.After the end of
Zia ul Haq
's regime, ANP entered into ruling alliances with PPP and Pakistan Muslim League in late the 80s and 90s but these associations proved to be short-lived, especially with civilian governments being sent packing one after the other.
Ajmal Khattak andAsfandyar
Meanwhile, ANP's reigns switched from Wali Khan to senior leader and poet Ajmal Khattak who led the party through the 90s. Wali Khan, who had retired from politics, continued to play a role in the party through his wife, Begum Naseem Wali.After
Pervez Musharraf
's coup in 1999, Khattak left ANP over political differences which developed in the wake of his meetings with the former military ruler and the endorsement of the latter's policies.After Khattak's departure, Wali Khan's son,
Asfandyar
, took charge of the party. And although ANP did well in previous polls, it saw a dismal performance in the 2002 election, which according to many political observers were rigged in favour of religious parties.
2008 General Election
In the 2008 general election, ANP turned out to be the dominant party in Khyber Pakhtunkhwa and allied with
PPP
at the centre.Political stance The ANP's ancestors had strong leanings toward Marxism but the party has seen significant ideological modifications over time.The party has strongly supported provincial autonomy and Pakhtun nationalism. It successfully lobbied for the North West Frontier Province to be renamed as Khyber Pakthunkhwa.
Secular and Liberal Party
The ANP has also put itself forward as a secular and liberal party. This, however, has gone alongside alliances with right-wing political groups, including Jamiat Ulema-i-Islam (JUI) in 1970 and
Pakistan Muslim League (PML)
in the 1990s.
Over the Years
ANP has managed to come forward as a party with stakes beyond its traditional stronghold of KP. The influx of the Pakhtun population in
Karachi
in the past few years has made ANP a significant force in the country's financial capital. This has resulted in a new kind of conflict in the metropolitan city between claimants of the Pakhtun voice and Karachi's major political force the
MQM
.
[1]
History
Presidents
Abdul Wali Khan(1986 − 1990 )
Ajmal Khattak(1991 − 1999)
Asfandyar Wali(1999 − 2002)
Ehsan Wyne(2002 − 2003)
Asfandyar Wali(2003 − 2007 )
Asfandyar Wali(2007 − 2011 )
Asfandyar Wali Khan (2011 - Present )
Key Figures
Asfandyar Wali Khan
Mian Iftikhar Hussain
Afrasiab Khattak
Amir Haider Khan Hoti
Ghulam Bilour
Shahi Syed
Zahid Khan
Aqil Shah
Prominent Personalities
Afrasiab Khattak,
Ghulam Ahmad Bilour
Haji Muhammad Adeel
Latif Afridi
Shahi Sayed
Ameer Haider Khan Hoti
Bushra Gohar
Mian Iftikhar Hussain
Zahid Khan[2]  Prominent Personalities 
Party Main Aim
The party also aims to unite the people of
Pakistan
, irrespective of their faith and race, by empowering individual units and races established in Pakistan and giving them their share of autonomy and rights.
[3]
Party Main Aim
Seats Distribution
| Seat Type | No. of Seats |
| --- | --- |
| General | 2 |
| Reserved | 0 |
| Minority | 0 |
| Total: | 2 |
General Seats
| Constituency | Name | Party | Address (Permanent/Local) | Phone |
| --- | --- | --- | --- | --- |
| NA-1 Peshawar-I | Alhaaj Ghulam Ahmad Bilour | ANP | 3/2 Bilour House, Peshawar Cantt.  | +91 5276688-5274485 |
| NA-9 Mardan-I[4] General Seats | Mr Amir Haider Khan | ANP | Near Khyber Tobacco Company Nowshera Road Mardan  J-207, Parliament Lodges, Islamabad. | +92 334 9175667 |
ANP Names Candidates for 2018 Elections
The parliamentary board of the Awami National Party (ANP) has announced names of candidates for seven national and provincial assembly seats.A statement issued  stated that board named Gul Nawaz Khan for the NA-11 Mardan.It said that Himayatullah Mayar would get the party ticket for the PK-25, Mardan, Sher Afghan Khan would get ticket for PK-26,
Mardan
, Nasir Khan for PK-27, Farooq Akram Khan for PK-28, Shah Rukh Aman for PK-29 and Humayun Khan for PK- 30.The parliamentary board meeting was held at the Bacha Khan Markaz with the board chairman
Ameer Haider Hoti
in the chair.  Meanwhile, at a separate meeting at the Bacha Khan Markaz, ANP decided to award party ticket for the next general election for PK-85 Swat to Syed Jaffar Shah.
[5]
  Candidates for 2018 Elections 
Contact Infromation
Address:Bacha Khan Markaz, Pajagi Road, Peshawar Pakhtunkhwa (NWFP), Pakistan.
Tel No:+92 - +91 - 5246851-2
Fax:+92 - + 91 - 5246853