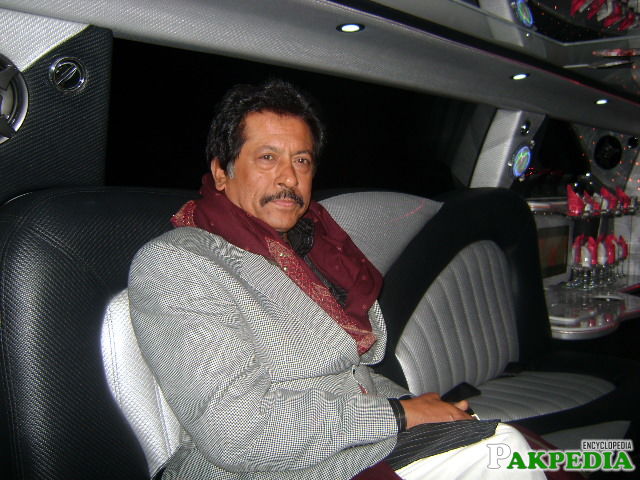 Attaullah Khan Esakhelvi Live Luxury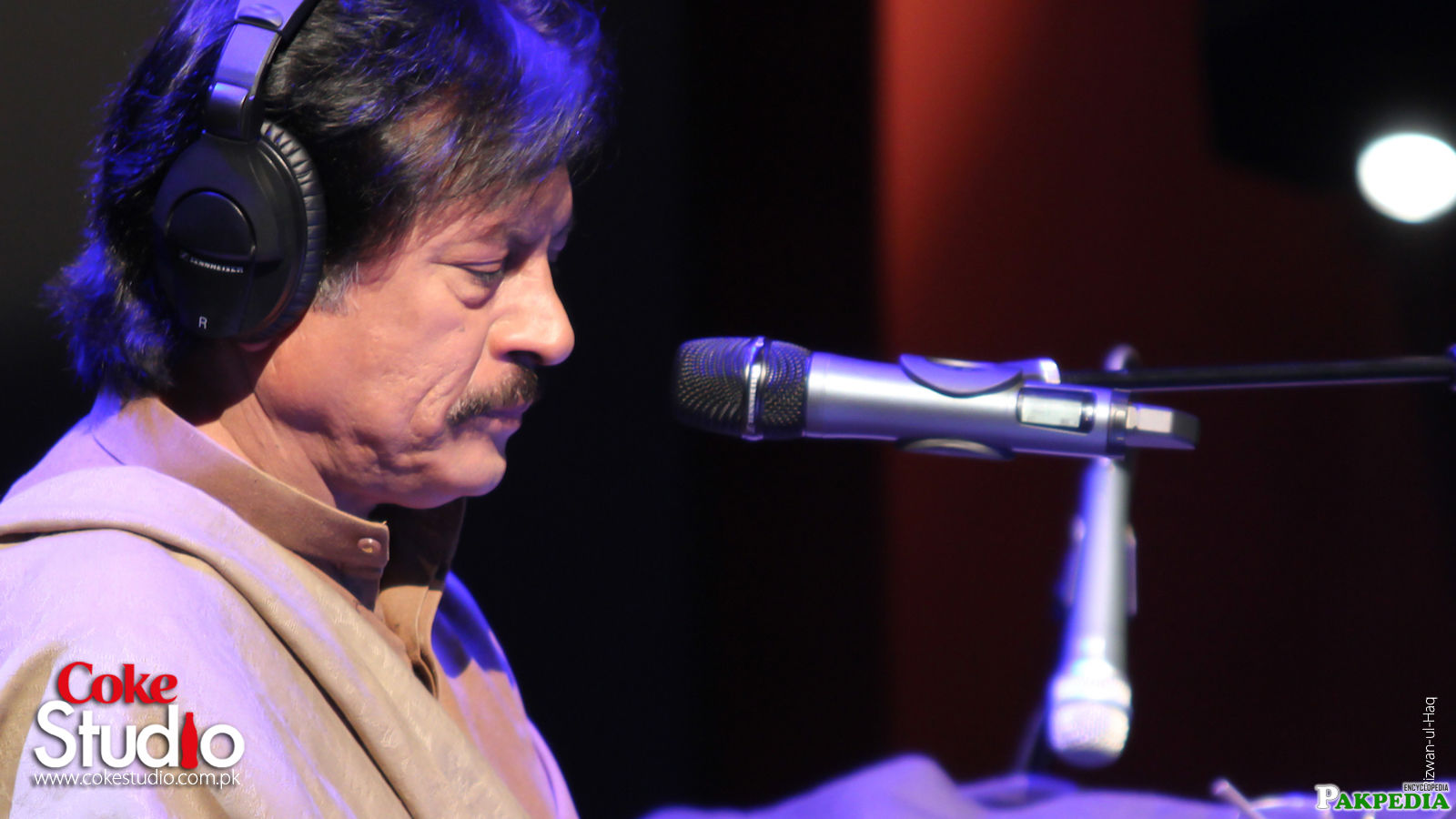 Attaullah Khan Esakhelvi in Coke Studio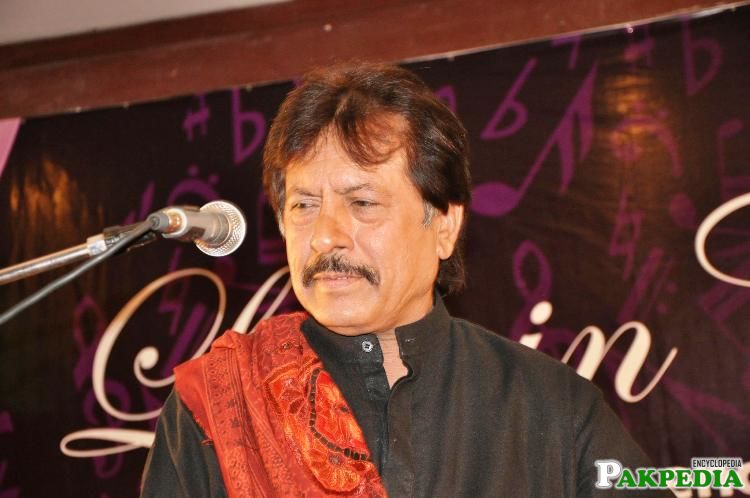 Attaullah Khan Esakhelvi Live on Stage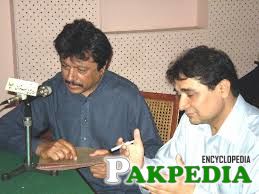 Attaullah Khan Esakhelvi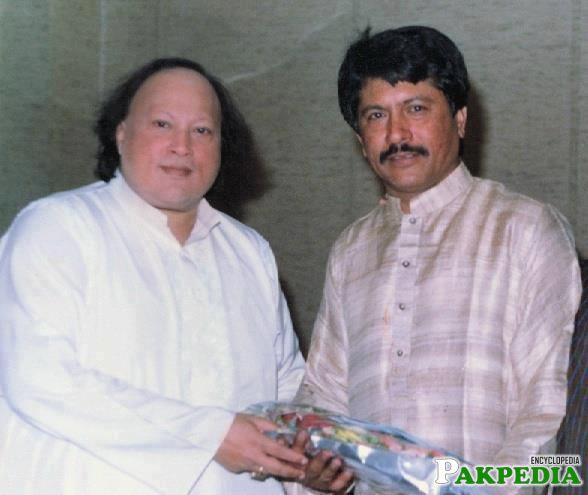 Attaullah Khan Esakhelvi with Nusrat
Career
Early Career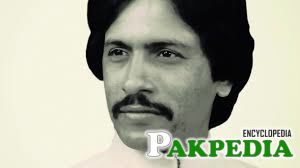 He spent the next few years moving from Islamabad to Lahore to
Faisalabad
. When cassette recorders became popular in the late 1970s, Ataullah used to sing for his friends, who would record his voice. One of these cassettes reached the market and was heard by Chaudhry Rehmat Ali, who seized the opportunity to produce Ataullah's first album. His Urdu song, "Idhar Zindagi Ka Janaza Uthey Ga", was an overnight hit and changed the fortunes of both singer and producer.Ataullah can mesmerize a crowd for hours with folk songs in Urdu, Saraiki, Punjabi, Pushto, and Sindhi. He is a tireless performer and has performed charity shows to raise funds for flood victims. He has recorded dozens of albums, mostly in Saraiki but also in Urdu. For his lyrics, he selects poetry by Farooq Rokhri, Malik Sona Khan, Munawar Ali Malik, Fata Khan, and several little-known poets of Esakhel. Atullah Niazi is married and has three children, two boys and a girl.
[2]
songs in Urdu, Saraiki,Punjabi, Pushto - and Sindhi
Personal Life Family
He has been married four times and has three children. He is currently married to Bazigha, who is the mother of his children Sanwal Atta (son), Laraib Atta (daughter), and Bilawal Atta (youngest son) and living with his 4th wife and children in Lahore,
Pakistan
. After spending many years in Lahore, Attaullah moved back to Isakhel. He built a mosque, Laraib Masjid, near Government Degree College, Isakhel.Attaullah Khan is also a Sufi Murid and regularly visits his Murshid in Taunsa Sharif.His father name is Ahmed Khan Niazi. He has one brother named Sanaullah khan.
[3]
Personal Life & Family - travel - culture.com
Popularity
Attaullah Khan visited India during 2014. The Times of India wrote: "TNN | Apr 17, 2014, 12.00 AM IST: A Sufi concert, Ibaadat, organized in association with Navbharat Times, was recently held at Purana Quila in the capital. Pakistani folk singer Attaullah Khan performed for the first time in Delhi at this event. Khan sang his Achha Sila Diya Tune Mere Pyaar Ka, and other Pakistani Sufi hits for the audience. The concert was organized by the AAS group, an NGO which works to spread awareness about cervical cancer among women and ways to prevent it, and this concert was organized to spread that message."  Attaullah Khan had gained a lot of popularity in India during the 1990s. There were stories about his failed love which were doing rounds. While these were all fake, many people in India had taken them to be true. These added to his popularity and at one point of time, he had become almost a cult figure.
[4]
Sufi concert at Purana Quila - indiatimes.com.
Famous Songs
Qameez Teri Kaali
Idhar Zindagi ka Janaza
Raatan
We Bol Sanwal
Ishq Main Hum Tumain Kya Batayain
Theva Mundri tha Theva
Woh Bahar Ka Zamana
Mahi Wasey Mera and Aaaj Kala Choda Pa
Personal life
Attaullah khan is basically from district mianwali and his hometown is esakhel.He received his early education from esakhel.He is traditonally considered as seraiki artist.Attaullah relocated to
Lahore
after becoming a professional musician performing in Seraiki, Urdu and English. He has been married three times and has four children. His daughter Laraib Atta is a professional VFX artist who has worked for several Hollywood films. His son Sanwal Khan Esakhelvi is also pursuing a career in music.
[5]
Personal life
Legacy
He is considered a folk icon in Pakistan and consider as the most popular singer of Pakistan and one of the most popular folk singers in world.Apart from the loneliness of highways, the other constant companions of Pakistani truck drivers are the lilting tunes of Attaullah Khan Esakhelvi. This Mianwali-born vocalist with his swashbuckler moustache,
Shalwar Kameez
and shawl on one shoulder became the poster boy for traditional Pakistani music.
[6]
Legacy
SingingSeraiki
Singing in Seraiki, the dialect of Punjabi that dominates western and southern
Punjab
, his searing impassioned songs caught on like wildfire almost from the moment he recorded his first session for Radio Pakistan Bahawalpur in the mid 1970s. For years, Esakhelvi reigned supreme and unchallenged, in a universe that existed parallel to the cultured music salons of the elite.The Government of Pakistan awarded him the Pride of Performance Award in 1991.He has recorded more than 50,000 songs in seven languages.He has received a lifetime achievement award from Queen Elizabeth II of Great Britain, and had his name entered in the Guinness Book of World Records in 1994 for the highest number of audio albums released.
Musicians
Attaullah has his own band which travels with him. Members of the band include:
Salamat Ali Khan (tabla)
Javed Ali (dholak)
Babar (flute)
Sabir Ali (harmonium)
Performed Many Countries
Attaullah Khan Esakhelvi performed in many countries which include United States of America, Japan, Canada, United Kingdom, France, Spain, Germany, India, Italy, Australia, newzealand and many countries of the world in all these tours his band was also with him.
[7]
Performed Many Countries
Attaullah Khan Film Hit Songs
Jadon Chankey teri Wang
Sarrke Sarrke Jandiye
Aa Thewa Mundri Da
Tanoon Takna Ni
Lal Paranda Tera
Dil Lagaya Tha
Qameez Tendi Kali
Hath O Mere Vich
Kesy Da Nain Koi
Gare Chitte Mukhrre Te
Mithian Tu Mithian Tere
Yeh Zindagi kay Mele
Famous Pakistani Folk Singer Attaullah Khan Esakhelvi Who has Recorded More than 45000 Songs In Seven Languages
The Government of Pakistan awarded him the Pride of Performance Award in 1991.
Guinness Book of World Records
His name entered the Guinness Book of World Records in 1994 for the highest number of audio albums released.At very young age he was forced to leave his home as he wanted to become a singer but his father disliked it. He pursued his passion for singing and started singing.
Radio Pakistan Bahawalpur
In 1972, Attaullah was invited to perform on Radio Pakistan,
Bahawalpur
. That same year, he performed in a concert in Mianwali. In 1973, he performed on the television show Neelam Ghar.
Invited By a Company in Faisalabad
Attaullah was invited by a company in Faisalabad to record folk songs in their studio, and he recorded four albums in one recording session.The albums were released at the end of 1977 and became national bestsellers.
[8]
 Invited By a Company in Faisalabad 
Popularity in India
Attaullah Khan (as he is commonly known in India) became famous in India in the beginning of nineties for his Gazals and poetry used in the Gazals. His albums were released by T series music company. 'Main ro padta hun jab guzra zamana yaad ata hai' was his top hit that made him popular. Many albums were released which became instant hit. Bollywood movie 'Bewafa Sanam' came in 1995 and benefited from Ataullah Khan's popularity as his lyrics were used in the film, Music By Famous Deo Nadeem Shravan. Kumar Sanu, Udit Narayan, Anuradha Paudwal, Sonu Nigam, Noa, Dianna Agron and Paul Simon sang his songs. But People in India loved his gazals in his own voice.
[9]
 Popularity in India