President Mamnoon Hussain Being Presented Pictorial Biography Of Renowned Writer And Chairman PTV Atta Ul Haq Qasmi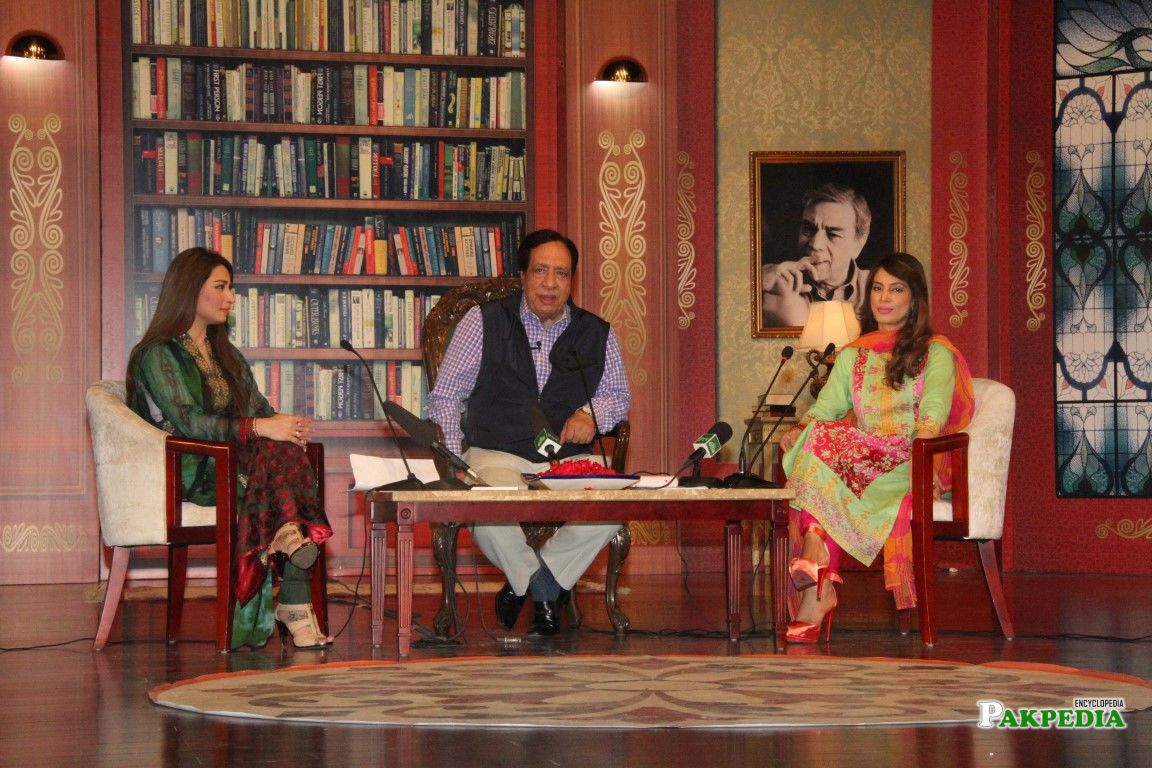 Ata ul Haq Qasmi Addressing the Gathering in Live with a Legend Show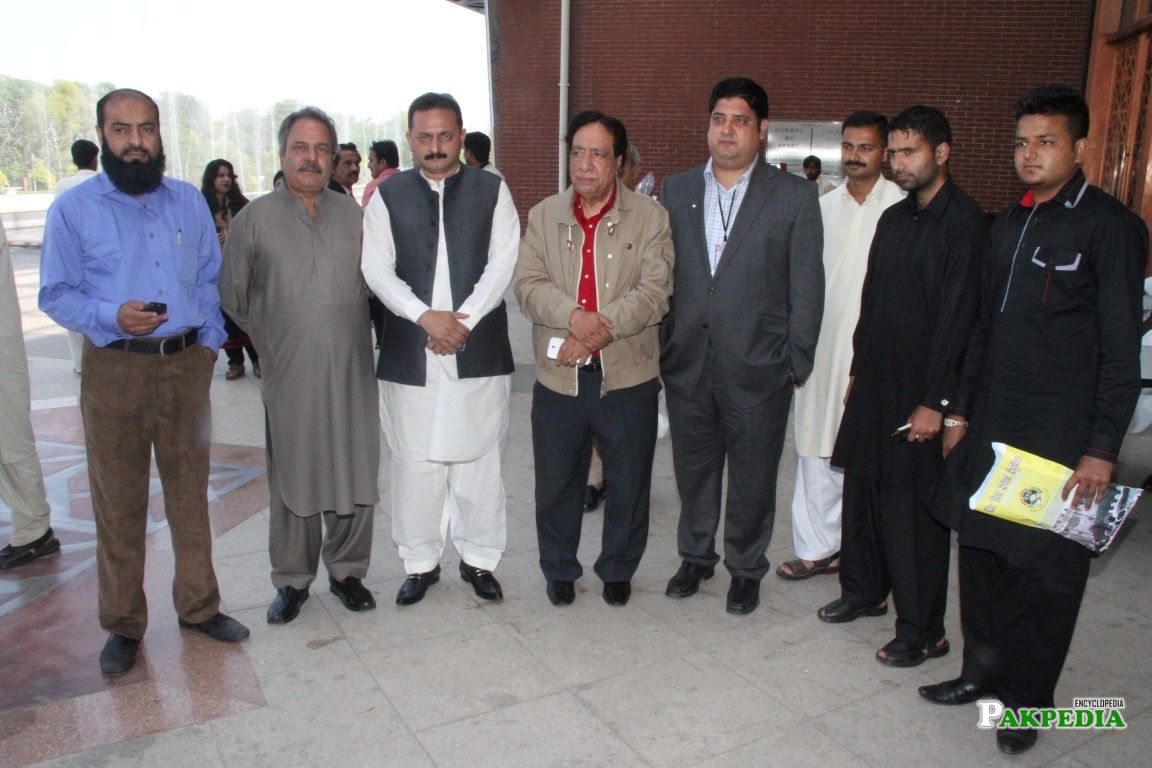 A Group Photo with Pan Humanity Team Members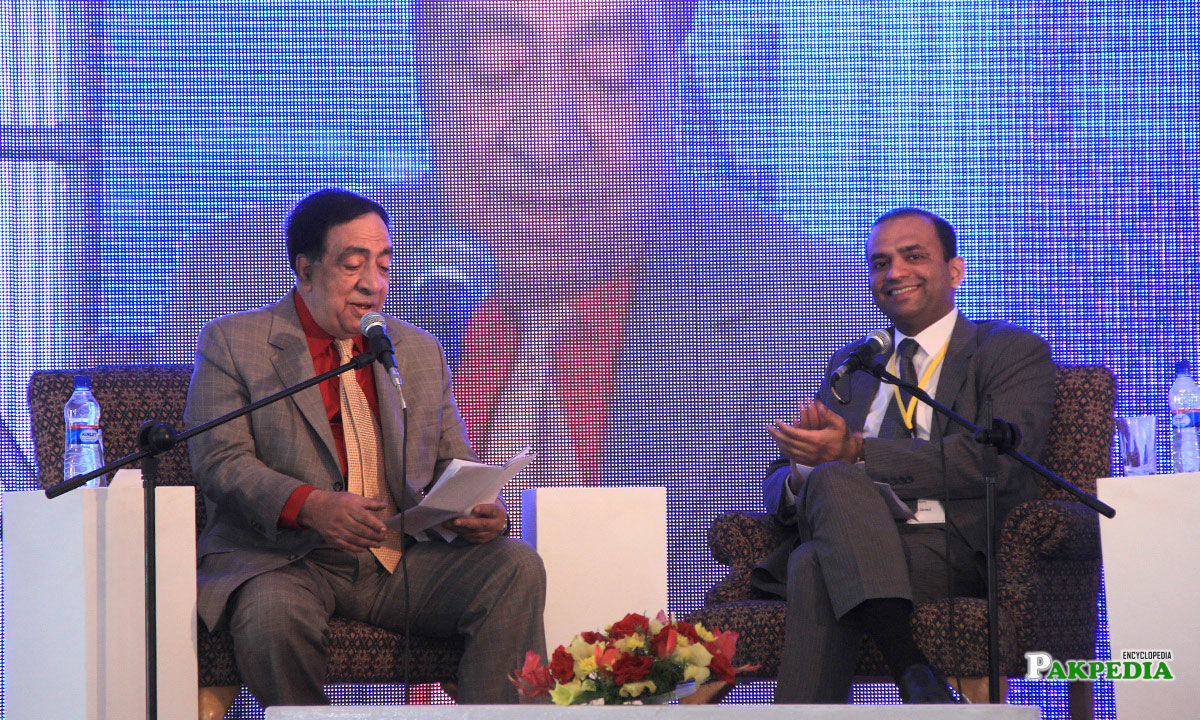 Ata ul Haq Qasmi with Irfan Javed
Intizar Husain seen with Ata ul Haq Qasmi at a panel discussion held at the National Book
Biography
Ata ul Haq Qasmi is one of the leading and most popular columnist of
Pakistan
who has written Urdu columns for more than last 45 years in the leading newspapers with the name of "Rozan-e-Dewar Sey". He has a unique style of writing incomparable to any other columnist because of his humorous way which holds the reader till the last line of his column which is his punch line.He is also a very famous drama writer.His books of columns include "Column Tamam", "Shar Goshiyan", "Hansna Rona Mana Hay", "Mazeed Ganjey Farishtey" and many more while his TV Drama Serials include the most popular "Khwaja and Son", "Shab Daig", "Sheeda Talli" etc. His travelogues are also very popular and one of the best is "Shoq-e-Awargi".
[1]
Biography
Family and Education
Ata ul Haq Qasmi was born in Amritsar Punjab British in India. His father whose name was Maulana Baha ul Haq Qasmi, used to teach at MAO High School.His father Maulana Baha ul Haq Qasmi was an eminent religious scholar.One of his father's teacher Maulana Mufti Muhammad Hassan (the founder of Jamia Ashrafia) advised him to go to Model Town, Lahore and preach Islam to the people who lived there.After the
independence of Pakistan
in 1947, his family shifted to Pakistan and first lived in Wazirabad and after that moved to
Lahore
where Ata finished his high school.Ata ul Haq graduated from MAO College, Lahore Pakistan.
[2]
Family and Education
Early Career
He joined the "Nawa-e-Waqt" as sub-editor and his initial salary was PRs. 323. In the meantime, he was appointed as a lecturer at MAO College, Lahore. Thus, he continued teaching and writing at the same time.He has made some great contributions in the print and electronic media, but his main strength is columns and article writing in different newspapers and on different subjects. 
Participated and Pakistans Best Columnist
He also participated in many conferences and represented Pakistan and expressed his expert views on Urdu Literature and fine arts. He is a true inspiration for the young columnists and poets. Mushtaq Ahmad Yousafi has termed Qasmi as the best columnist of Pakistan while Altaf Gohar has termed him as the wittiest columnist of current era.
Books and Urdu Columns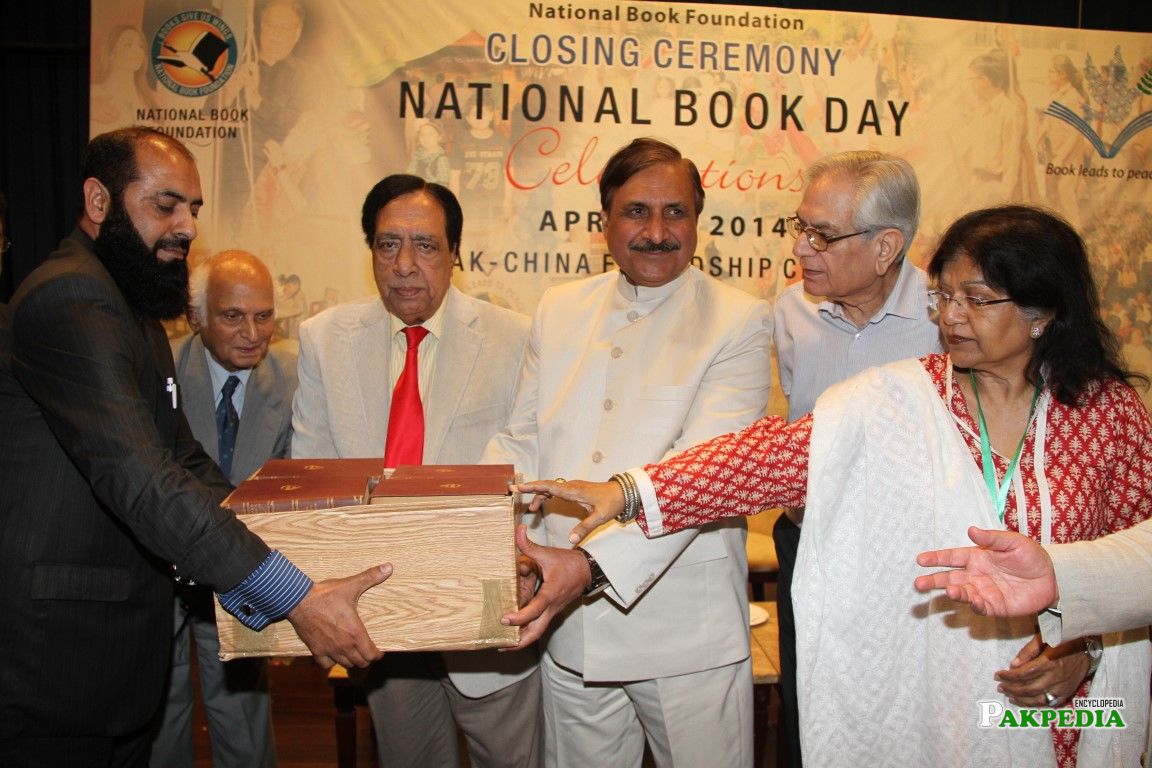 Ata ul Haq Qasmi has been writing Urdu columns for more than last 45 years in the leading newspapers with the name of "Rozan-e-Dewar Sey", out of which he spent 35 years with Majeed Nizami in "Nawa-e-Waqt. His first book named "Rozan-e-Diwar Say" was published in 1977 and received Adam Ji Award. So far, he has written 18 books. It is generally believed that whatever is written in a newspaper is a column. However, it is not so. Some of his columns are genuine short stories. For instance, the title of one of his columns is "Alahdin Kay Jin Ka Zawal." In one of his columns, Intizar Hussain described it as a high class short story.
Unique Style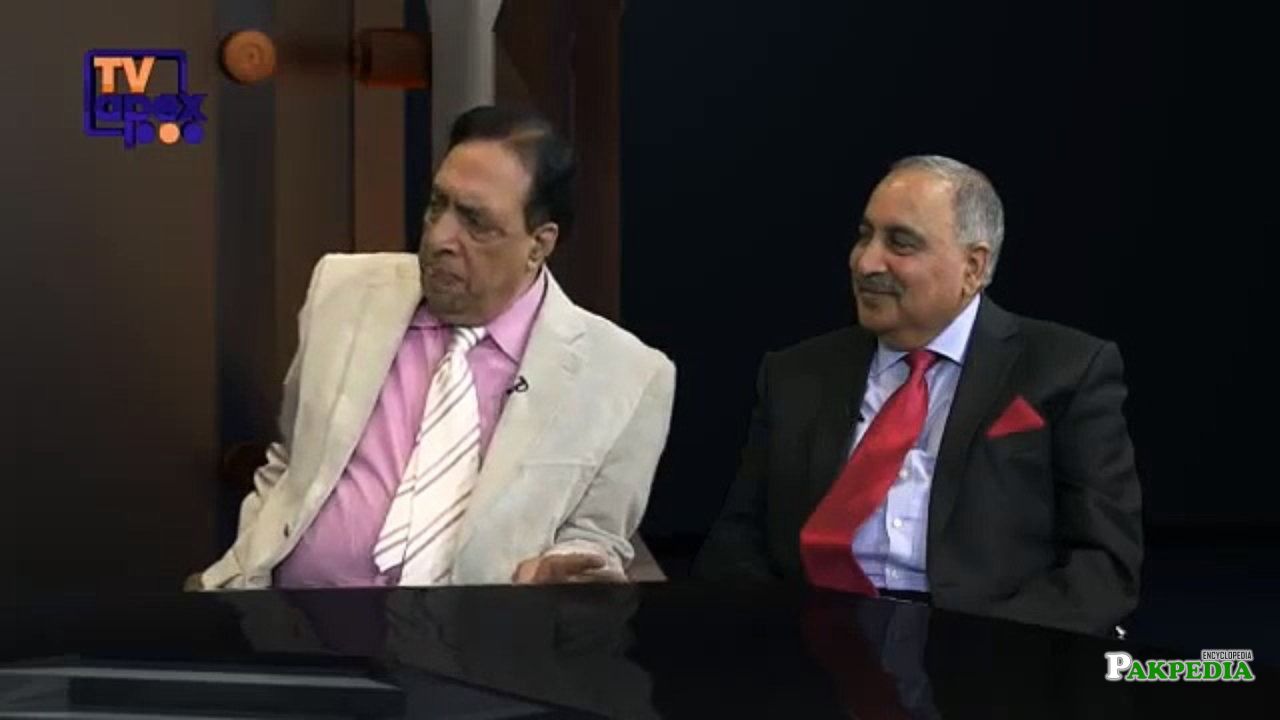 He has a unique style of writing incomparable to any other columnist because of his humorous way which holds the reader till the last line of his column which is his punch line.
Ambassador of Pakistan
Ata ul Haq Qasmi is widely known for his services to arts and literature, not only in Pakistan but in other countries as well. Despite of his services for arts and culture, Qasmi was also elevated to the position of Ambassador of Pakistan in Norway and Thailand during 1997 to 1999.
[3]
Ambassador of Pakistan
Chairman of PTV Channel
Famous columnist, poet, scholar and former ambassador of Thailand and Norway, Ata ul Haq Qasmi served as chairman of state-owned television channel
PTV
. According to the media reports, the summary of his appointment signed by the Prime Minister
Nawaz Sharif
. Summary of his appointment was sent to the PM House on 30th of October, 2015. Another renowned and experienced journalist Mohammad Malik is already performing his duties as MD PTV.
[4]
Chairman of PTV Channel
List of Columns
Munnu Bhai Ke Baad Saqi Farooqi Aur Tahir Saeed Haroon 
Darinday Ki Giraftari Aur 
Imran Khan Aur Jung Geo Group 
Muhammad Hussain Ki Kahani 
Ye Column Media Ke Bare Main Nahi Hai 
Aik Jalsay Ki Dardnaak Kahani 
Hakumat Qadri Ki Baat Maan Kion Nahi Leti 
My Dear Dr Safdar Mehmood Sahab 
Aik Gharelu Mehfil 
Tahir Ul Qadri. Aisi Namaz Se Guzar, Aise Imam Se Guzar 
Imran Ki Chothi Shadi 
Nawaz Sharif Milne Ke Nahi Nayab Hain Hum 
Mera Chirya Ghar 
Insaf Marhoom Ki Lehed Per 
Lanat Hai Shaitan Mardood Par 
Mujhe Bhi Nawaz Sharif Se Ikhtilaf Tha 
Siyasi O Ghair Siyasi Jumlay Baziyan 
Tv Channels Se Bajrangi Bhai Jaan Tak 
Pakistan Kay Halaat Aur Sir Winston Churchill 
Smart Rehna Seekhain 
Beghairat Insaan Tujhe Kya Pata Ghairat Kisay Kehte Hain 
Tumhare Naam Aik Khat 
Samarkand Aur Bukhara Ki Sair 
Aur Ab Shahbaz Sharif 
Hazrat E Mayosi Khayali 
Pagal Khana 
Ilaj Ba Zarea Taveez 
Astana Aliya Pirzada Ata Ul Haq Qasmi 
Mahir Fanoon Lateefa 
Aik Bail Kay Taaqub Main 
Aik Tha Bara Admi 
Nazariya Kabhi Minus Nahi Hota 
Hamara Media Aur Nizam E Adal 
Aik Angrez Babay Se Mulaqat 
Tanka Jhanki 
Nawaz Sharif Khawas O Awam Kya Sochte Hain 
Akhir Gunah Gaar Hoon Kafir Nahi Hoon Main 
Apni Wafat Par Aik Tehreer 
Khwahishon Ki Qaid Se Aazad Hona Chahiye 
Kuch Aaj Aur Kal Ke Shairon Ke Baray Main 
Maryam Nawaz Ka Interview 
Na Maloom Afraad Aur Na Maloom Mausam 
Khan Mein Kya Rakha Ha 
Ap Kisi Bhi Waqt Bhatak Sakte Hain 
Aunty, Uncle Aur Baba Ji 
Zalimo Ke Khilaf Muzahimat 
Ilaaj Mualja 
Jis Ka Kaam Usi Ko Sajhay
Tanziye Aur Phuljhariyan 
Mere Kaan Main Kon Kya Keh Raha Hai 
Khabardar Agar Kisi Ne Ayadat Karne Ki Koshish Ki 
Sharif Family. Insaf Hota Nazar Nahi Aa Raha 
Mehnat Raaygan Nahi Jati 
Hasidon Ko Daratay Raha Karain 
Nawaz Sharif Sirf Nazriya Nahi Shakhsiyat Bhi 
Majma Baaz Mutawajja Ho 
Waghera Waghera Bara E Farokht 
Nawaz Sharif Aur Mojuda Surat E Haal 
List of Books
Ataiye
Dunya Khubsurat Hai
Goron Kay Des Main
Jurm-e-Zareefi
Majmua
Mulaqatein Adhuri Hain
Aap Bhi Sharamsar Ho
Hansna Rona Mana Hay[6] Ata ul Haq Qasmi
Shoq e Awargi
Aik Ghair Mulki Ka Safar Nama Lahore
Dilli Door Ast
Barah Singhay
Mazeed Ganjay Farishtay
Rozan e Deewar
List of Magazines
Muasir(1999)
Muasir(2001)
Muasir(2002)
Muasir(2004)
Muasir(2007)
Awards
Pride of Performance Award by the President of Pakistan Ghulam Ishaq Khan in (1991)
Sitara-i-Imtiaz (Star of Excellence) Award by the President of Pakistan
Hilal-i-Imtiaz (Crescent of Excellence) Award by the President of Pakistan  Mamnoon Hussain in (2014)[8] Awards
Appointment of Mr. Qasmi declare illegal
Supreme Court has declared the appointment of Chairman and director of PTV illegal today on 8th November 2018. According to Chief Justice Saqib Nisar, all the benefits and salary given to Atta ul Haq Qasmi was illegal and not according to his position that's why he will not hold the office from now and also order to appoint the permanent chairman as soon as possible. The 48-page verdict also stated that Mr. Qasmi along with a few other members will also pay the fine of Rs 197 Million.